Microsoft's 3D soundscape technology helps visually impaired people navigate with ease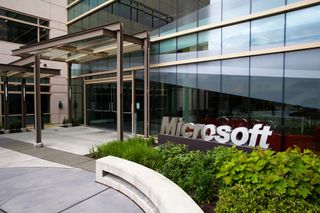 Microsoft is launching a prototype version of its 3D soundscape technology that allows visually impaired people to navigate with ease thanks to verbal cues. Created in collaboration with charity Guide Dogs UK and urban design firm Future Cities Catapult, the technology involves pairing a Windows Phone with a bone conducting headphones. The smartphone is used to communicate with indoor and outdoor sensors, and relay that information to the headphones, which in turn transmit the information directly to your inner ear.
Microsoft states that the technology is "an audio-rich experience in which the headset, smartphone and indoor and outdoor beacons all work together to enhance the mobility, confidence and independence of people with vision loss."
To ensure that you can always listen to verbal cues, the headset will suggest a route that features boosted Wi-Fi and Bluetooth signals. The verbal cues include anything from GPS navigation, nearby points of interest notifications, real-time bus and train times, and even navigating directions for indoor locations, like a grocery store. Since the bone-conducting headphones rest against the sides of your head, you will be free to listen to environmental noise. Microsoft states that while the technology is primarily designed to assist visually impaired people navigate, it may also see usage in activities like checking train arrival times or exploring a foreign city.
To know more about the technology in action and see how the audio cues work in real life, head to Microsoft Stories (opens in new tab). As the technology is still in its nascent stages, Microsoft is limiting prototype testing to Windows Phone devices. Once it is closer to a wider release, we'll see compatibility with other mobile platforms.
What do you guys think of Microsoft's 3D soundscape technology?
Source: YouTube
Thanks Jason and Rokibul!
Microsoft should have been first in the Forbes List as they do these sort of public welfare things which nor SourApple or Oogle does..

More like "Hypocrite Oogle"

One step closer to being the best and making apple juice out of Apple.

Anyone else getting double notifications for the app??

That's what Microsoft is all about... Bringing technology closer to more and more people at an affordable rate... Not generating revenue by selling overpriced crap..

kinect are used in hospitals. i hope such kinect use comes here in indian hospitals

Happy to see good tidings for MS. People just don't realize, if not for MS, there probably wouldn't have been a computing revolution...Neither the fruit nor the oogle can match the market penetration of computers to people across the world for this to happen...yeah, some decisions were not good, so what...everybody screws up...and look at the big man....how many founders can even reach or match the level of doing good he's doing...

Dat comments on YouTube...

if anyone can use this, its basically google glass without the camera.

I was thinking if they paired this with Google Glass-like tech it could be something really awesome.

Mmm... No, it is more like a productive idea, that can help people to live better.

Microsoft is getting better n better in every field

I dig the style they rolled with on this video.

Is that Jen Taylor's (Cortana US) voice ??

Don't talk about her.
About the video. Yes I liked the part where it announces nearby places like city lens for the ears. Looks like MS's strategy is to attack where no ones looking. Good going MS.

But if your blind how will you operate a WP.....awesome tech nevertheless

IF MS wants to win more public hearts they should make these kind of ads, not sponsoring NFL or people who dont like or want to use their products.
Help the ones who needs help, then you gain recognition.

This is seriously, 100% freaking amazing! I don't really have much else to say. Wow.

Thank you Microsoft for Healing the World!

This is truly an admirable innovation. However I think at this rate we need to drastically improve battery technology and the standards for crash proofing computer based systems. The more simmering helps the more we become dependent on it and the more dependable it needs to be.

The MS blog entry starts with "Reading, a suburb 30 minutes west of London". Hmm. Reading isn't a suburb of London, it's a separate town (that's been applying for city status for over a decade and only keeps failing because of how close it is to London). It's also home to Microsoft UK HQ, and to me. And it's only 30 minutes west if you take the high speed InterCity trains going to Cardiff! Try driving it... it will take 3 times that long.

I personally tried experiencing what a visually imparied person go through by walking in total darkness in various environments and it is super hard even with a stick and a voice guiding you. A humbling experience indeed. With this tech I can only say kudos to Microsoft and their project partners.

Erm... Shouldn't that read vision impaired. "John is as vision impaired as a bat" vs "John is as visually impaired as a bat". The latter means that John is as ugly as a bat :-)
Windows Central Newsletter
Get the best of Windows Central in in your inbox, every day!
Thank you for signing up to Windows Central. You will receive a verification email shortly.
There was a problem. Please refresh the page and try again.