Microsoft's E3 2016 plans include inviting 500 people to attend Xbox FanFest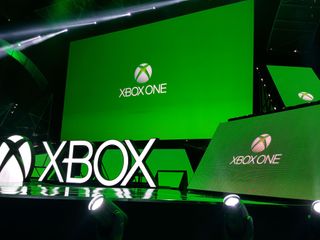 Microsoft has announced details on its E3 2016 plans, which include its press briefing in Los Angeles on June 13 that will showcase its upcoming Xbox One and Windows 10 games. It will also invite 500 people in the L.A. area to attend its E3 2016 Xbox FanFest event.
Xbox Wire reports (opens in new tab) that Microsoft's E3 2016 press briefing will be live streamed on Xbox.com, the Xbox Twitch Channel, and on the Xbox Live Events Player on Xbox One and Xbox 360 consoles. People who go to their local Microsoft Store location can also watch the briefing on a big-screen TV, or if you want to stay at home it will be shown on the Spike cable TV channel.
Microsoft added:
In addition, the Xbox Twitch channel will be streaming directly from E3 for several hours each day from June 14-16.
Finally, Microsoft will hold Xbox FanFest during E3. 500 fans will participate in the event from June 13-15 which will offer a number of experiences:
Entry into the Xbox E3 2016 Briefing on Monday, June 13th, 9:30 am PDT, in downtown Los Angeles
A custom-built backpack filled with gaming swag
Access to play all-new exclusives and our biggest blockbuster games coming this holiday
The chance to meet some of the industry's top developers, leaders and influencers
Even more surprise events during the week
More information on how fans can get tickets to Xbox FanFest will be revealed soon, but they must be 21 years of age or older and they must be in the L.A. area during the event, as Microsoft will not be offering travel or accomodations.
Windows Central Newsletter
Get the best of Windows Central in in your inbox, every day!
Hmmm, whatever could it be???

I wonder what kind of dancers they will have there. Hmmmmmmmmmmmmmmmmmmmmmmmmmmmmmmmmmmmmmmmm...

I think the writer of this article would have first reserved his position and then published this for rest 499 persons lol....XD

Worst mistake Microsoft does is have Sony's Presentation after theirs. Sony changes the presentation based on fan reactions. Prime example was the XB1 debut at E3. If I was Sony I'd always go after XB. Microsoft wake up and demand you flip spots every year.

I agree. Always wonder why they go first.

True to a point. On the flipside, they stole Sony's thunder last year with the announcement of backwards compatibility. Beside the FFVII remake, there wasn't nearly as much buzz about Sony's presentation last year. This year is still up in the air since MS has been playing their Xbox cards close to the vest.

Funny you say they stopped Sony's thunder when many Gaming sites said Sony had a better E3. I was frickin' floored because XB killed. Sony just pandered vaporware and crowd funded games as their own. The bias is amazing.

That so many gaming websites and the readers of those sites claimed Sony's E3 2015 conference outdid Microsoft's E3 2015 conference is all the proof you need of media bias and fanboyism. Microsoft's was one of the strongest E3's in years, showing off several unannounced new IP, backwards compatibility, and freaking holographic Minecraft. In contrast, Sony's was one of the weakest I've ever seen, and I've been following E3 for decades: all they did was make a promise that a game they announced like 8 years ago was still in the works, and then let two third-party companies announce two multiplatform games that were 2-3 years away. It was really weak.

Not sure which sites you went to but a number were generally more impressed by the Xbox announcements. Of course the comment sections are full of fanboys so it was a mixed bag there but Sony definitely had the weaker presentation last year. I still think there are some nice things incoming on the Xbox that they aren't leaking ahead of time. If the rumored info about hardware that they've been working on since 2014 is true, I'm genuinely curious as to what they have up their sleeve.

Representatives of a multi-billion dollar international corporation on stage promoting a fricking Kickstarter was absolutely disgusting. But that's the cancer that gamers have turned their industry into.

Yep. You think they would've learned their lesson after E3 2013, but apparently not, as they keep going first. Especially this year they should go after Sony, no matter what, so that they can turn the inevitable backlash from the PS4.5 announcement back on Sony by proclaiming how, unlike Sony, they will not be abandoning their early adopters and screwing over developers: they're committed to Xbox One. That's all they ahve to do and they can't do that if they go first, which they are.

buddy! that's called Backstabbing....only bad guys do it.....and that will continue to Happen until someone come up and said "Microsoft! we got your back now go and win"..... :)

buddy! that's called Backstabbing....only bad guys do it.....and that will continue to Happen until someone come up and said "Microsoft! we got your back now go and win"..... :)
....But this time Rivals come up with a sword(Hardware Upgrade) instead of Knife(Previous Gen Console) and Microsoft gonna Present Whole New Weapon system with Sniper Scope (new Controller Upgrade with more Accuracy), Auto Tracking (Kinect), more Futuristic Concept (new Xbox, Hololens, New Tools, new Games ) and in the end they will win.

Ain't that the truth. Its pure bullshit they did that for Xbox one announcement. They actually had the similar ideas but scrapped it after gamers reactions.

So similar to their x events

I was invited to E3 by Ubisoft for being a "dedicated lifelong fan" but I'm not 21 so I can't go :(( Posted via the Windows Central App for Symbian

I went last year and it was awesome! I'm going to do everything in my power to go again this year.
Windows Central Newsletter
Thank you for signing up to Windows Central. You will receive a verification email shortly.
There was a problem. Please refresh the page and try again.