Why Microsoft's original Surface Pro is still a great 2-in-1
Microsoft's Surface Pro 1 is now four years old, so we thought we'd see if the device still holds up.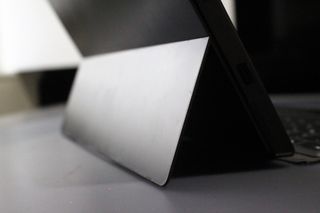 Microsoft's original Surface Pro tablet was somewhat of a hit when compared to the Surface RT, which had launched a couple months before with an underpowered ARM processor. The Surface Pro line of devices was aimed at professionals. Microsoft has since released several new Surface Pro devices, and it arguably perfected the 2-in-1 form factor with the Surface Pro 3.
Four years is a long time for a PC, especially one that can't be upgraded by hand. So, is the Surface Pro 1 still a great device in 2017? I went out and purchased a used Surface Pro with an Intel Core i5 3317U CPU, 4GB of RAM with 64GB of storage to find out.
Surface Pro build quality
If Microsoft's original line of Surface tablets nailed one thing, it's build quality. Although slightly thicker than the Surface RT, the Surface Pro was rocking the same magnesium chassis with that "luxury-car-door-sounding" kickstand that just screamed premium when you closed it shut. Microsoft spent an impressive amount of time on the build quality of the Surface Pro, and it really shows.
Although the kickstand looks and feels incredible, it's actually the worst of the Surface Pro kickstands. Original Surface devices came with just one kickstand position, meaning the Surface Pro had poor "lapability", and it wasn't very comfortable to use depending on your height. It never feels like it is at the correct angle when doing work with a Type Cover, and as a result it makes the kickstand feel rather annoying.
This holds true in 2017, even more so now that we've got the Surface Pro 4 kickstand that can be adjusted to pretty much any angle. Unless you're sitting at a table that's at the right height compared to your head and hands, the Surface Pro 1 just feels angled incorrectly.
Another issue I'm having with the kickstand after four years: The hinge is now a little loose. It still works, but it's not as strong as it used to be on a brand new one. It's an understandable weakening of the hinge over prolonged use, and it can actually be mended by tightening the screws, keeping the kickstand attached to the device. So that's what I did, and the kickstand is back to full form.
The Surface Pro 1, instead of being grey like all other Surface devices these days, is coated in black. I really like this design choice, as I feel it gives the Surface Pro a stealthier premium look compared to the Surface Pro 4 or a MacBook. It's the same sort of design you get from the Razer Blade line of devices, and they look sexy as hell.
Moving onto the screen, which is still one of the Surface Pro's star features. It's a 1080p display, which at 10.6 inches looks phenomenal. You can't see pixels, and colors seem to just pop. Windows 10 scales at about 150 percent by default on the Surface Pro, which isn't terrible and actually makes icons and text look great.
Your Surface Pro may have held up differently over the years. As you can tell by the photos in this post, this particular Surface Pro isn't in perfect condition. It's got scratches here and there, but the entire thing still works exactly like you'd expect. I'm having no hardware issues at all, just a bit of cosmetic damage.
Ports
Ports are an important factor in any laptop or tablet running Windows, and the Surface Pro is no different. Back in 2012, the Surface Pro had an admirable amount of ports considering the form factor and the fact that this kind of device was essentially still new. It's rocking a USB 3.0 port, headphone jack, microSD port and a Mini DisplayPort.
That selection of ports is still admirable today, however, it might not be perfect for everyone. Although USB-C isn't "mainstream" yet, the age of the USB-C port is fast approaching, and the Surface Pro will be stuck with the older USB-A port. Sure, that's still a few years out, but it's definitely something to keep in mind.
In the meantime, that one USB 3.0 port is super handy. You can plug in a flash drive, or a wired mouse or a USB mic or any USB peripheral, and have it simply work with your 2-in-1. It would be nice to have a second USB port on the other side, but even the latest Surface Pro devices don't have two USB ports, so I'll let this one slide for now.
The Mini DisplayPort is very nice for plugging your Surface Pro into a monitor for some extra real estate. You can essentially use your Surface like a PC. Just hook it up to a monitor, connect a Bluetooth keyboard and mouse and away you go. I did this a few times, and if I didn't know it was coming from a Surface Pro, I would've simply thought I was using a normal PC.
I'm a big fan of expandable storage, and since the Surface Pro has a microSD card slot, I can do just that. My Surface Pro is a 64GB model, which isn't huge, so being able to expand storage up to 128GB or even more is a godsend. I can have my apps, documents, photos and music spread out across both the internal drive and SD card and not have to worry about space, as I can simply upgrade the SD card when needed.
Overall, I think for the majority of people, the port selection on the Surface Pro is still good enough in 2017. It might not remain that way for long, but in the meantime, I'm able to get by just fine with the Surface Pro.
Surface Pro performance
How does the Surface Pro stack up in 2017 when it comes to performance? It's running an Intel Core i5 chip from 2012, which in computing standards is almost ancient. I have good news, however. The Surface Pro holds up just fine. In fact, I'd say it holds up great. I've had no issues with slowdowns, stutters or lags with the Surface Pro, Everything just works like you'd expect, nice and fast.
I think a lot of that has to do with Windows 10 and its incredible resource management. Windows 10 was able to make the Surface 3 feel way faster, and I believe it's doing the same thing here. I've been using the latest Insider Preview builds on my Surface Pro, and I honestly can't fault performance in any way. It feels just as quick as my Intel Core i5 Surface Book, and that's great.
This particular Surface Pro is also rocking 4GB of RAM, which I thought would be a bit of a bottleneck when it came to performance. For the most part, it isn't. I can multitask fine, run Photoshop, Edge, Groove Music and Word all at the same time, and I don't really feel any major slow downs. Editing video is where you will see slowdowns, however, especially when multitasking.
You can absolutely get by editing videos on the Surface Pro, just make sure you're not doing anything else at the same time or you will notice lag.
One of the main reasons I wanted to try out the Surface Pro again was because I needed a dedicated Windows Insider machine for testing the latest builds. I was originally using the Surface 3, but it was just so slow when downloading and installing updates. I was hoping with the Surface Pro I'd be able to get fast app-opening performance and quick installs of new builds.
I can happily say the Surface Pro delivers. I'm able to get a build installed in about 20 minutes, which is relatively quick. Apps open pretty much instantly, and overall use of the OS is just great.
Battery life is a different story. It wasn't really great when the Surface Pro 1 originally launched, and it's not great now. You can get around four hours off a single charge, which is pretty poor compared to the industry standard. Make sure you've got your charger with you if you're planning to go anywhere with the Surface Pro.
Type Cover
The Type Cover is arguably the most important accessory available for the Surface Pro, as it adds additional functionality to a tablet that essentially turns it into a full-on laptop. I picked up a Type Cover 1 alongside the Surface Pro for the optimum 2012 experience. You can also use a Type Cover 2 on the Surface Pro 1, which is nice as it's slightly thinner with backlighting. The Type Cover 1 doesn't have these improvements, but that doesn't make it terrible.
The typing experience is OK. It's not amazing, but it's not bad. The Surface Pro 1 and Type Cover 1 don't have that magnetic strip that allows you to prop up the keyboard like on newer Surface models, meaning the typing experience when on your lap is not optimal. It feels flimsy and weak and isn't something I recommend. If you are going to do any typing on the Surface Pro 1, do it on some kind of table.
Typing on the keyboard when at a table is not bad. I'm able to output 80 to 90 words per minute on the Type Cover, which is a compliment in itself. The trackpad, on the other hand, is not a pleasant experience. It's small and doesn't use Microsoft's own precision touchpad drivers. It's a basic trackpad with gesture support that works 40 percent of the time on the first try.
The trackpad being small makes the entire "laptop mode" experience feel really cramp. I'd definitely recommend picking up the Type Cover 2 rather than the original Type Cover if you are considering a Surface Pro 1, as it does improve on all of these issues ... somewhat. Plus, it has backlit keys, which in 2017 is basically a must.
Final thoughts on the original Surface Pro
The Surface Pro 1 was an excellent, innovative device when it first hit the market back in 2012. Is it still a great device in 2017? Yes!
Sure, the kickstand may be a little awkward and the Type Cover might not be amazing, but considering you can grab a Surface Pro 1 used for less than $300 these days it's an awesome deal.
The Surface Pro 1 is still an excellent tablet, and a great 2-in-1. Battery life is poor, but performance is excellent. And at the end of the day, you're getting yourself a sweet Surface that's built with premium materials, and it looks great in black.
Get the Windows Central Newsletter
All the latest news, reviews, and guides for Windows and Xbox diehards.