Why Microsoft's original Surface Pro is still a great 2-in-1
By Zac Bowden last updated
Microsoft's Surface Pro 1 is now four years old, so we thought we'd see if the device still holds up.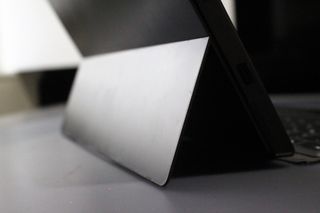 Microsoft's original Surface Pro tablet was somewhat of a hit when compared to the Surface RT, which had launched a couple months before with an underpowered ARM processor. The Surface Pro line of devices was aimed at professionals. Microsoft has since released several new Surface Pro devices, and it arguably perfected the 2-in-1 form factor with the Surface Pro 3.
Four years is a long time for a PC, especially one that can't be upgraded by hand. So, is the Surface Pro 1 still a great device in 2017? I went out and purchased a used Surface Pro with an Intel Core i5 3317U CPU, 4GB of RAM with 64GB of storage to find out.
Microsoft Surface Pro 1 (opens in new tab)
Surface Pro build quality
If Microsoft's original line of Surface tablets nailed one thing, it's build quality. Although slightly thicker than the Surface RT, the Surface Pro was rocking the same magnesium chassis with that "luxury-car-door-sounding" kickstand that just screamed premium when you closed it shut. Microsoft spent an impressive amount of time on the build quality of the Surface Pro, and it really shows.
Although the kickstand looks and feels incredible, it's actually the worst of the Surface Pro kickstands. Original Surface devices came with just one kickstand position, meaning the Surface Pro had poor "lapability", and it wasn't very comfortable to use depending on your height. It never feels like it is at the correct angle when doing work with a Type Cover, and as a result it makes the kickstand feel rather annoying.
This holds true in 2017, even more so now that we've got the Surface Pro 4 kickstand that can be adjusted to pretty much any angle. Unless you're sitting at a table that's at the right height compared to your head and hands, the Surface Pro 1 just feels angled incorrectly.
Another issue I'm having with the kickstand after four years: The hinge is now a little loose. It still works, but it's not as strong as it used to be on a brand new one. It's an understandable weakening of the hinge over prolonged use, and it can actually be mended by tightening the screws, keeping the kickstand attached to the device. So that's what I did, and the kickstand is back to full form.
The Surface Pro 1, instead of being grey like all other Surface devices these days, is coated in black. I really like this design choice, as I feel it gives the Surface Pro a stealthier premium look compared to the Surface Pro 4 or a MacBook. It's the same sort of design you get from the Razer Blade line of devices, and they look sexy as hell.
Moving onto the screen, which is still one of the Surface Pro's star features. It's a 1080p display, which at 10.6 inches looks phenomenal. You can't see pixels, and colors seem to just pop. Windows 10 scales at about 150 percent by default on the Surface Pro, which isn't terrible and actually makes icons and text look great.
Your Surface Pro may have held up differently over the years. As you can tell by the photos in this post, this particular Surface Pro isn't in perfect condition. It's got scratches here and there, but the entire thing still works exactly like you'd expect. I'm having no hardware issues at all, just a bit of cosmetic damage.
Ports
Ports are an important factor in any laptop or tablet running Windows, and the Surface Pro is no different. Back in 2012, the Surface Pro had an admirable amount of ports considering the form factor and the fact that this kind of device was essentially still new. It's rocking a USB 3.0 port, headphone jack, microSD port and a Mini DisplayPort.
That selection of ports is still admirable today, however, it might not be perfect for everyone. Although USB-C isn't "mainstream" yet, the age of the USB-C port is fast approaching, and the Surface Pro will be stuck with the older USB-A port. Sure, that's still a few years out, but it's definitely something to keep in mind.
In the meantime, that one USB 3.0 port is super handy. You can plug in a flash drive, or a wired mouse or a USB mic or any USB peripheral, and have it simply work with your 2-in-1. It would be nice to have a second USB port on the other side, but even the latest Surface Pro devices don't have two USB ports, so I'll let this one slide for now.
The Mini DisplayPort is very nice for plugging your Surface Pro into a monitor for some extra real estate. You can essentially use your Surface like a PC. Just hook it up to a monitor, connect a Bluetooth keyboard and mouse and away you go. I did this a few times, and if I didn't know it was coming from a Surface Pro, I would've simply thought I was using a normal PC.
I'm a big fan of expandable storage, and since the Surface Pro has a microSD card slot, I can do just that. My Surface Pro is a 64GB model, which isn't huge, so being able to expand storage up to 128GB or even more is a godsend. I can have my apps, documents, photos and music spread out across both the internal drive and SD card and not have to worry about space, as I can simply upgrade the SD card when needed.
Overall, I think for the majority of people, the port selection on the Surface Pro is still good enough in 2017. It might not remain that way for long, but in the meantime, I'm able to get by just fine with the Surface Pro.
Surface Pro performance
How does the Surface Pro stack up in 2017 when it comes to performance? It's running an Intel Core i5 chip from 2012, which in computing standards is almost ancient. I have good news, however. The Surface Pro holds up just fine. In fact, I'd say it holds up great. I've had no issues with slowdowns, stutters or lags with the Surface Pro, Everything just works like you'd expect, nice and fast.
I think a lot of that has to do with Windows 10 and its incredible resource management. Windows 10 was able to make the Surface 3 feel way faster, and I believe it's doing the same thing here. I've been using the latest Insider Preview builds on my Surface Pro, and I honestly can't fault performance in any way. It feels just as quick as my Intel Core i5 Surface Book, and that's great.
This particular Surface Pro is also rocking 4GB of RAM, which I thought would be a bit of a bottleneck when it came to performance. For the most part, it isn't. I can multitask fine, run Photoshop, Edge, Groove Music and Word all at the same time, and I don't really feel any major slow downs. Editing video is where you will see slowdowns, however, especially when multitasking.
You can absolutely get by editing videos on the Surface Pro, just make sure you're not doing anything else at the same time or you will notice lag.
One of the main reasons I wanted to try out the Surface Pro again was because I needed a dedicated Windows Insider machine for testing the latest builds. I was originally using the Surface 3, but it was just so slow when downloading and installing updates. I was hoping with the Surface Pro I'd be able to get fast app-opening performance and quick installs of new builds.
I can happily say the Surface Pro delivers. I'm able to get a build installed in about 20 minutes, which is relatively quick. Apps open pretty much instantly, and overall use of the OS is just great.
Battery life is a different story. It wasn't really great when the Surface Pro 1 originally launched, and it's not great now. You can get around four hours off a single charge, which is pretty poor compared to the industry standard. Make sure you've got your charger with you if you're planning to go anywhere with the Surface Pro.
Type Cover
The Type Cover is arguably the most important accessory available for the Surface Pro, as it adds additional functionality to a tablet that essentially turns it into a full-on laptop. I picked up a Type Cover 1 alongside the Surface Pro for the optimum 2012 experience. You can also use a Type Cover 2 on the Surface Pro 1, which is nice as it's slightly thinner with backlighting. The Type Cover 1 doesn't have these improvements, but that doesn't make it terrible.
The typing experience is OK. It's not amazing, but it's not bad. The Surface Pro 1 and Type Cover 1 don't have that magnetic strip that allows you to prop up the keyboard like on newer Surface models, meaning the typing experience when on your lap is not optimal. It feels flimsy and weak and isn't something I recommend. If you are going to do any typing on the Surface Pro 1, do it on some kind of table.
Typing on the keyboard when at a table is not bad. I'm able to output 80 to 90 words per minute on the Type Cover, which is a compliment in itself. The trackpad, on the other hand, is not a pleasant experience. It's small and doesn't use Microsoft's own precision touchpad drivers. It's a basic trackpad with gesture support that works 40 percent of the time on the first try.
The trackpad being small makes the entire "laptop mode" experience feel really cramp. I'd definitely recommend picking up the Type Cover 2 rather than the original Type Cover if you are considering a Surface Pro 1, as it does improve on all of these issues ... somewhat. Plus, it has backlit keys, which in 2017 is basically a must.
Final thoughts on the original Surface Pro
The Surface Pro 1 was an excellent, innovative device when it first hit the market back in 2012. Is it still a great device in 2017? Yes!
Sure, the kickstand may be a little awkward and the Type Cover might not be amazing, but considering you can grab a Surface Pro 1 used for less than $300 these days it's an awesome deal.
The Surface Pro 1 is still an excellent tablet, and a great 2-in-1. Battery life is poor, but performance is excellent. And at the end of the day, you're getting yourself a sweet Surface that's built with premium materials, and it looks great in black.
Zac Bowden is a Senior Editor at Windows Central. Bringing you exclusive coverage into the world of Windows 10 on PCs, tablets, phones, and more. Also an avid collector of rare Microsoft prototype devices! Keep in touch on Twitter: @zacbowden.
We still have one. Other than the size of the screen it is still a great machine almost as good as my SP3. My wife uses it daily.

Man, that thing is as thick as Texas Toast!😂😂😂

Given the specs and the age, I'd say that's some damn good toast. This is a full fledged PC, not some toy.

Still better in so many ways than MacBook 2017. It even has useful ports !!

My two daughters use Surface Pro 1 and 2. While my wife uses my Surface Pro 3 and I use my Surface Book. Surface family 👪🙂

Same, kind of. We don't have kids, so my (good) nephew got the Pro 1. Father in-law has my RT, wife is rocking Pro 3 and I am loving the Surface Book. (Wish I could buy the performance base separately though). Surface family here too!

Now all you need is a Surface Studio and your life will be complete.

Dont forget surface hub... just for Netflix and Hulu lol

I have one that we use every day as a sort of media streamer, running Netflix, Filmstruck, Amazon Prime, assorted online videos and even DVDs through a peripheral player/reader. But in a pinch we also use it for everything else, emails, browsing, documents and wireless printing. I keep it updated and it's still better than most of the laptops we've bought more recently. Never had a capacity or memory problem. The only issue I have is the keypad isn't as responsive as I'd like and I've missed the stylus.

I used the Surface 1 for about 2 yrs at my office. I liked it for It's portablity and it even got me into artwork again. That tiny screen size though... And the keyboard back then really wasn't great

Still using the SP1 - set it up with latest Insider build for a kitchen/family room device with Cortana on. It's (almost) like an Alexa...Still have the pen so kids can grab it and doodle, write notes, etc. But yeah, battery life has never been a bright spot for the SP1. And the fan noise - don't try to play a game without noise canceling headphones!

AFAIK Surface Pro 1 (as all other Surface pro since then) has Mini-DP and not MiniHDMI as statet in the article...

I still use my SP2 daily. Even more so than my iPad mini which is probably much easier to pick up and use for everyday tasks. I love having 2 in 1 capabilities readily to hand. My only issue with it is its just too thick and heavy for tablet use for long periods. If a new non-Pro Surface 4 gets released soon I'll probably switch to that or even pick up a Surface 3. Until recently I still thought the non-pro still ran RT (or equivalent) and wouldn't run full desktop apps like iTunes or Vuze which are the only real regular things I need full Windows for so when I read reviews recently I was pleasantly surprised. As well as iPads I also have a Samsung Galaxy Tab but again I normally pick up the Surface because I love having the integration with my Lumia 950 XL.

Surface Pro 2 with 8GB is a portable powerhouse. Love mine. It's a little heavy in tablet mode, but totally worth it when attaching keyboard and plugging into dual monitor docking station and having full windows to run any program.

I still use it as my daily driver, although frequently use remote desktop to my workstation at home. To be honest no reason to replace it, unfortunately...
One remark as far as I know it has a mini display port not miniHDMI

That external display port on the SP1 (and all of the other Surface Pro models for that matter) is a minidisplay port, not miniHDMI. I just recently sold my SP1 to my cousin as he was looking for something for college. I sold it for $250. It was really hard to let it go even though I didn't use it any longer.

I still have mine, and it's great.

The weight is a bit heavy compared to the 3 Pro and 4 Pro. Otherwise, hardly a complaint for it! Still a great tablet 4 years on now.

I still use mine which I bought on launch day. It had it's 4th year birthday yesterday. I was p-o'd when Microsoft announced Surface Pro 2 just 8 months after the original. I will only upgrade to a new model when prices become more reasonable considering the specs of the 3 or 4.

Still have mine, works great.

I never upgraded my Surface RT because it still works fine for what I do with it. Which is YouTube, Netflix or just browse the internet. But if they would release say a surface 4 in the black color scheme and no bigger than my screen size is now I would jump on buying one. Really I was originally holding out for a surface mini. But the punks canned that model sadly. I just don't want a big screened tablet but want something bigger than phones.

I still using my Surface RT. I have a type cover 3, perfect but the gestures don't work, i try it with my boss SP1 and it works like a champ. Until it works i'd usi it an not upgrading, because i can't afford any unnecesary gadget now. If i could, i'd grab any newer Surface.

Yea I have the touch cover for my rt but it doesn't work any more. So I just use it as a screen cover for when not in use and as a platform for the kickstand when laying in bed or the couch with it.

Oh, and for the record... Surface (RT) release date: Oct. 26, 2012 (4.25 years old) Surface Pro release date: Feb 9, 2013 (4 years, 1 day old)

Not a bad device for the money depenong on what you need. You can look around and find one for around $200 with a touch/key keyboard. Not a bad device for office type work, just the screen is a little small.

Does anyone have a Surface 3, and have this pixel issue where in the center of the screen there are hundreds of pixels turned on? Looks like stars in outer space.. How do I fix this?

That seems like a hardware issue. Only a display replacement can help.

My SP1 has been relegated to media duties on a docking station in my bedroom ever since I picked up an SP4. It's still kickin.

I still have mine bought for $1100 with type cover. It starts Windows 10 in 4 seconds and shuts it down in 2 seconds....

I still use an i5, 8GB Pro 2 as my daily driver. 2 in 1 mode while on the job, docked desktop mode at home. The only complaint I had was the crappy trackpad on the original type cover, which I solved by upgrading to a Pro 4 type cover. The cover overhangs the Surface when it's closed, but the better key feel and far superior trackpad are worth the goofy looks.

i still use the surface pro 1 everyday. never had a problem with it. have replace 1 power supply though. i use a bluetooth mouse and keyboard, and a power cover which gives me 3 more hours of batttery life. i do video editing, light gaming, and tons of music production on it. its nearly the most powerful pc i have compared to even desktops. i am still using windows 8.1, and will NEVER upgrade to windows 10, because 10 is useless for me, and a downgrade with problems running programs i use. (a lot of older windows comptabile programs). i don't plan on ever upgrading to surface pro 3, or 4 because they are downgrades also, especially in CPU power / fan, and n-trig stylus. i might upgrade to a used surface pro 2 if this gives out, but that could be a few more years. later -1

Who still remembers the official name for this machine? 😁

Was that PixelSense or something when the original Surface was going to be a tabletop console (like a PacMan arcade tabletop machine)? Now you got me thinking.

They called it "Surface for Windows 8 Pro" when they introduced it. And they changed the name later.

I gave mine to my daughter with a 23" display she use it as a desktop. And she brag about it to her cousins, I have to say, when i was setting it up i notice the speed was still the same and very fluid.

We still have a couple of first generation units at work and no complaints from the users at all. They run like champs and are used at council meeting to present and project on to dual televisions.

I've had a SP1 since launch, don't quite use it every day, but love the machine. I was considering upgrading to a Surface 3, I found a good price on a used one on Craigslist. But from reading this article, it looks like it might not be an upgrade if you went the other way. Any advice?

Get the one on Craigslist. Chances are good it will come with a prostitute.

I'm using mine for in-home streaming of my steam games. It sits behind my tv and I use my Xbox one controller to play games from my gaming PC. Works great!

Mine has seen some majot performance hits. A few tabs open in Edge has it very laggy and way too hot. Batter life has also gotten worse, averaging about 2 hours on a charge. The build quality is still top notch though, kickstand is still as robust as ever.

Still got mine with a Power Cover which still works with my SP3! Really wish third parties jumped on making keyboard covers that used the same magnetic spine. All I needed was a cover without the keyboard that was affordable, but the only alternative at the time was the touchcover (which I still really like and swap every so often depending on what I need to do). The first SP1 was really, truly, a work of perfection imo. The smallest details were taken into account of. What I mean by that is that kickstand was the best sounding, best feeling kickstand out of all of the SPs. You close that kick stand it was like closing the door of a Mercedes. You can try to shut it as hard or as fast as you can and you'd get this subtle "whump" and a puff of air. It was like those slow closing toilet seats, you can never really slam them. SP1 was just solid. It just needed a better CPU that was less power hungry, but just as fast, thinner, bigger, etc. Basically the SP3, but the SP3, just didn't feel premium. The screen flexes (especially for heavy hand writers), the kickstand felt flimsy, etc. Not that the SP3 isn't a great device, but it just lost the premium feel for me that the SP1 brought.

My Surface Pro 2 is starting to feel its age. Everytime I shutdown, it is 25% chance that I don't get a B/GSOD. It makes applying these Insider builds a particular pain. Otherwise, it works great. It's usually what I take with me when I travel.

I got the 128 version. Still use it for netflix in bed. I have a v2 touch cover for it.

Just in case anyone is looking pick up a SP1 used, it's a mini-display port not a mini HDMI port.

Still rocking my Surface Pro 1 with an external monitor after all these years and it runs great! The battery life is still as abysmal as in the beginning, which isn't great when taking notes at uni, but otherwise I'm enjoying it till it eventually dies, or I need something more powerful, which I don't right now...

That would be sweet, but don't think it's in the cards sadly. It was a good run.

My Surface Pro 2 is still running strong with Windows 10 Pro, and I'll be keeping it until the Surface Pro line finally gains a Thunderbolt 3 port. Without that port, I have no compelling reason to upgrade, so, I won't...

I'm still running my Surface Pro 2 as my main PC. It's still a great device and holds up well in a lot of areas, even if the battery life has expectedly declined, it feels heavy after a SP3/4, and the screen size and aspect ratio are cramped (the resolution and colours are great). The biggest issue has been software, since the W10 Anniversary update I've had regular crashes and display freezing. I've been unable to even clean install W10 again because it crashes every time. I need an upgrade but once you've had a premium device its hard to go back to something more affordable. I wouldn't recommend a pre-SP3 Surface to anyone now, but it was interesting being an early(ish) adopter and seeing how workflows and use cases were changed by the device.

I use VS2015 on mine:) It's a great device, it still works great, so no reason to upgrade for me

I've purchased all Surface variants over the four years and very happy with the product line, and its evolution from being fantastic into a masterpiece (studio and book are just... Wow). We use pro 1 and 2s in docks as venue media control interfaces and they're perfect.

I had a OG RT, good design. Really liked that one.

Still have my Surface Pro with win10Pro on it now. Quite the snappy pc actually(i5). Even compared to modern laptops it holds it's own against a wide range of them.

I too have and continue to use my orginal Surface Pro (now with Windows 10), it went with me to the North Pole on December 9, 2016. . . however, I must admit because it was too cold for my to remove my mittens and a few other things . . . I did manage to turn it on to snap a few photos. The Surface Pro 1 is a wonderful machine.

How ironic. My surface pro 3 is being refurbished by Microsoft right this minute, and I come on here to read this article on my Surface Pro1 that was indispensible in both undergrad and medical school. (My classmates used to get so jealous when I could just draw a lewis structure on my screen or write a stoichiometric ratio without having to try to jump between subscript and superscript on the keyboard.) Aside from battery life (which I more or less solved by reducing the processor power and display brightness, shutting off the search function, and adding the battery type cover ( I get between 6-8 hours of battery life at a time now with Windows 10)) this is a solid machine. Of course, the OS plus Office 2016 plus an ebook reader takes almost 2/3s of the hard drive, but for basic functions, it's great. Sure it's 5 years old. sure it's smaller and a bit hard to type on - but we've got history. And as long as it'll keep powering up, I'll keep using it.

Completely agree about the continuing utility of this early model, which I think of as basically a proof-of-concept device that was actually good enough to do some real work. Mine is like yours except for 128GB storage and the battery cover, which makes for a kind of thick and heavy device compared to the SP3 and SP4, but at least lets you get in half a day's worth of constant computing if you are away from a charger. Yeah, the touchpad is kind of feeble; sometimes the magic works, and sometimes it doesn't. My solution to the lack of kickstand adjustability was to carry a piece of sanded 1x4 clear fir about nine inches long. When you set up in a coffee shop, just let the bottom edge of the tablet and its connected touch cover rest on the piece of wood, and let the kickstand rest on the tabletop just behind the fir. That pushes the screen back to a better angle and provides a nicely inclined keyboard as well. The original dock also turns the first Pro into an adequate (for its time) desktop replacement. I don't think I actually needed the dock, but they were kind of unobtainale for a period of time so I bought one just to be safe when they reappeared in the store late in the model's production run. I have faster Surface models now, but I still carry this one when I'm going to be out and about. The tablet, battery type cover, piece of wood and decent mouse all fit in a carrying case for one of the smaller old VAIOs that I had lying around. Very convenient. The original pen technology is maybe not as refined as what comes with a Surface now, but it's good enough for most things. Fast Ring updates run just fine on this unit. It feels like it will be a reliable backup device for years.

I still rock my surface pro, with a Freedom Case the best investments I ever made. I have it in my Bag pack every day it made it through 4 years of school and college by now and still holds up strong.

I have a Surface Pro 2 that I bought the moment they went on sale. Complete with the dock. I have taken it everywhere I have travelled to... many miles. I have dropped it three times. No cover no special case... not a scratch... not a dent.. never been a problem. I have dropped a Samsung Galaxy 6 inches and it died. I have dropped an iPad and it died... I have even dropped a MacBook. Also died. I also ran over my Nokia 1520... no probs. Even dropped it into the toilet. .. yuck.. but still works fine.

You need the battery cover to make it worth while

Yup, and when you get one, expect to run into this issue due to them sitting too long on store shelves: https://answers.microsoft.com/en-us/surface/forum/surfpro-surfhardware/p...

I'm in IT and still use mine for work at least weekly. OneNote with the stylus is my preferred notepad, Office 2016 and Office 365 work great, it's light and with a couple adapters is still my preferred mobile for presentations. I did add a Bluetooth keyboard and mouse, a big improvement in usability from the connected kb. Awesome device!

Nice Article. I own two identical surface pro first gen. I can vouch that these are premium devices and still work fine today even with windows 8.x or windows 10 insiders builds. I use one for insiders the other as a daily driver. Both are quite zippy. Screen is still beautiful. The only three things I would miss compared to then were models are the 3:2 aspect ratio, battery life and weight. On a personal note I miss the newer stylus technology.
The Type cover is fine, even after 4 years. There is a bug where if the type cover is stressed to much on the connectors it can cause windows to shut down and restart. Bit it only happens to one of both devices.
With the touch screen and stylus I have hardly use the trackpad. Touch is more convenient, even with browsing the web, all else I have found the stylus more natural and precise for creative work. In essence the trackpad I think is obsolete. That's how good I think the surface experience with touchscreen is. More apps and websites are being coded for touch input which only improves and caters to that experience. The biggest flaw I think is a relative minor feature. For the zeitgeist of the first generation surface pro I felt the cameras were an afterthought of aftermarket cheap parts that underdelivered for a premium device. Better cameras were already out there. i think they could have gone the extra mile, certainly compared to the cameras in the new models. If the battery were somehow replaceable, I'm sure the first gen devices could still stand the test of time and hild their value another decade. A testament to solid engineering and a good balance in the marriage of hardware and software.

The Surface Pro 1 is probably the best PC I've used and owned. I started out with the RT, but it refused to charge after 2 years of daily usage. I then moved on to a used Pro 1 as my daily driver. I use it for the usual Office document creation, content and media creation using Adobe and other software, and it has been faultless. My only gripe with it is that the keyboard isn't backlit. My Pro 1 charger also died, and I'm using the charger from the RT now. The Pro 1 is still fast, and works without any issues. Currently on Windows 10 Insider too. Splendid machine with an excellent and very sharp display. I'll continue to use the Pro 1 until it 'gives up the ghost'. It's built like a tank. Battery life is, as expected, poor, for a 4 year old machine, but you can't have it all.

The Surface Pro 3 is a great buy, due to how cheap you can find it, and is easily the best buy among the Surface line, imo. That said, every single generation of the Touch Cover Keyboard except for the #4 is a pile of garbage. If you are going to buy a SP3 (and, the price difference between a SP3 and SP4 makes the SP3 an obviously better purchase imo), you need to buy the Touch Cover Keyboard that came out with the SP4. It is the ONLY Touch Cover Keyboard that isn't complete garbage, and its the ONLY Touch Cover Keyboard that has a touchpad that isn't terrible, as it doesn't suffer the issue of being very difficult to drag and drop (or register physical clicks, vs taps) when using your keyboard on a non-firm surface that all the other versions of the Touch Cover Keyboard have. Surface fandom's insecure inability to admit the previous generations of the Touch Cover Keyboard are hot garbage as if criticizing any aspect of the Surface in some way invalidates everything else good about the line has done no one any favors over the years, imo.

Still use mine everyday, waiting on it to break (which may never happen) so I can convince my wife I need to upgrade to a newer one 😁.

Just wanted to say I bought a surface pro1 after reading this. Needed a laptop but dont want anything too crazy. Am able to do everything I need. Even able to play some older games and League. Very impressed with how this holds up. I also got the power cover which is a second battery which is a must. the battery on this is very poor.

2 1/2 years later... my SP is still going strong. Is Zac still around? Maybe a fresh take with updated comparisons (Surface Go, or whatever). This thing is pleasantly durable.

Mine still works even though I dropped it a few times. I do have screen protector on it (and my EMR pen still works on it 😀). I can get about 2-3 hours of battery life still after having limit cpu performance to 66% when on battery (in windows power plan, 80% might be a better sweet spot for others though). The main disadvantage is actually the weight if using it as a tablet.
Windows Central Newsletter
Get the best of Windows Central in in your inbox, every day!
Thank you for signing up to Windows Central. You will receive a verification email shortly.
There was a problem. Please refresh the page and try again.