Microsoft's small Columbus Circle store won't close when new flagship NYC location opens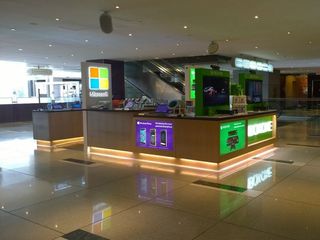 Earlier today, Microsoft announced that its massive 22,269 square foot "flagship" retail store on 677 5th Avenue in New York City will finally open on October 26. However, that doesn't mean the end for a older and smaller store located a number of blocks away at The Shops on Columbus Circle.
The location is labeled as a Microsoft "specialty" store and was launched a few years ago as a kiosk-like place that sold Windows Phones, Surface tablets and Xbox consoles. Today, a Microsoft spokesperson told Windows Central:
Besides the new NYC opening on Oct. 26. Microsoft has announced new stores that will launch in Tampa, Florida on November 5; King of Prussia, Pennsylvania on November 7; and its first non-North American store in Sydney, Australia on November 12. Beyond that date, Microsoft told us, "While we're exploring several locations for future Microsoft stores, we have no other new store locations to share at this time."
At least there is a store - I'm in London. I'd love to have a store that size :-/

I think it's 677 on 5th avenue.

That's where I got my Surface Pro 1 back in 2013. Yay, memories.

Yay too! That's were I bought my Band back in Dec 2014 when I was on vacation from London!

Who thinks that the NY store will open with the new devices launching at the same time?

Wish we had a MS store in the UK... (preferably in the south east)

Yup - London or canary wharf, preferably both!

Well Kent would be better for me, but London's ok :-)

Bluewater would actually be a good match!!!

Yeah, to compete with apple's

Kingston or Westfield Shepherds Bush would be good locations in terms of demographics for London

Make that 2 stores, another for the North East

Is this where the Lumia 950/XL will be sold in NYC prior to the 5th ave store opening?

Who said they will be sold prior to the store opening?

That's the date of the official annoucement. I can't figure out why people can't understand there's a difference between an annoucement and a release date.

yeah? did Microsoft announce a release date somewhere that I am missing?

I would love to see a store in Germany!

I've been to this store! It's more of a Microsoft Kiosk than an actual Store.

Whoo! New KOP store. 15 mins from home

is anyone going to this grand opening?

Please bring a store to Ireland (don't care where, country is small!)

Worst customer service imaginable at that kiosk. I needed Microsoft extended warranty coverage for a new laptop. I was ignored and then passed on to different (miserable) workers. I nearly walked away, it was terrible. I tweeted Microsoft Store to let them know. Hope the new store isn't anything like that!

I mean, the employees when I was there were very helpful in describing features of the band.

This is by no means a store, You can walk right by it if your not looking hard for it I have seen apple crates larger than this fruit stand. Made a special trip to Columbus circle to see this what a big mistake but the mall was nice, Sure hope the new store will be more impressive.

I think the 5 floor store will likely be.. JUST, impressive!

It's nice that we're getting a store in Australia. It's just a shame it's 855miles away from where I am. :) I'll just have to go Sydney on vacation one time and visit the store as well.

Yall need to bring a store down in Richmond VA

That's as big as our specialty store is that I work at.

There's a store in the DC area that's bigger then most other Microsoft stores but know body talks about it
Windows Central Newsletter
Thank you for signing up to Windows Central. You will receive a verification email shortly.
There was a problem. Please refresh the page and try again.