Microsoft's Windows 10 upgrade path chart shows Windows RT is officially dead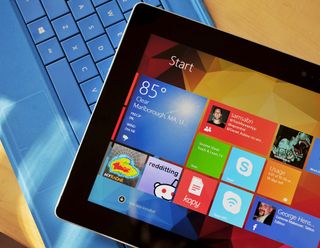 Microsoft displayed a chart at today's WinHEC conference in China showing all of the update paths for Windows 10, which confirms that Windows RT devices like the Surface RT and Surface 2 are being denied a way to get the company's next operating system.
In January, a statement from Microsoft indicated that the Surface RT and Surface 2 tablets would receive some sort of update in the future "which will have some of the functionality of Windows 10." However, this new chart from Microsoft shows flat out that Windows RT won't get the full Windows 10 treatment, either via an automatic update or via a manual download of ISO files.
The chart does show that all versions of Windows 7 and Windows 8/8.1 can be updated to Windows 10 via ISO files, and Windows 7 SP1 and Windows 8.1 S14 will have the additional option of getting the download via Windows Update. Smartphones that are still running Windows Phone 8 will have to update to Windows Phone 8.1 in order to download Windows 10 for phones.
Update: Many people are gawking at the 'Windows Mobile 10' mention. This is not a name change. There are different SKUs for Windows 10 so at some place in the backend they do need to be differentiated for hardware manufacturers and partners. However, for consumers, it is just Windows 10. Nothing has changed, there is nothing to see.
Source: Channel 9
Windows Central Newsletter
Get the best of Windows Central in your inbox, every day!
I won't run andriod app. It's a rom that contains the windows phone OS that can run on phones shipped with andriod. Once the rom is installed, its as though the hardware shipped as a windows phone. It will run windows phone apps, and only windows phone apps.

why was reply thread deleted ?

It's getting Windows 10 RT, not full. So doesn't it make sense it's left out of this document?

There isn't going to be a Windows 10 RT. Where did you hear there would be such a product? All that was said was the RT is going to get some of the features. This is probably a minor update, akin to WP7.8. Definitely not a long term continued development plan.

RT is an ARM processor ... so new win 10 wont work on RT tabs?

Probably, someday, no word on that yet. But the current OS running on Surface (Windows 8 RT) won't be updated. At least not now.
RIP Windows RT.

MS just fucked their loyal customers that bought an RT...I'm one of them. Way to go shitheads......

Agree. But MS can change RT to windows phone 10 version since both of surface and windows phones are using ARM CPU.

My fear of this is why I never bought into the RT world in the beginning. I find my Dell Venue 8 Pro running full Windows for less than most RT tablets was the right choice for me.

Agreed, this tablet cost me £600+ as a birthday present less than 2 1/2 years ago and now this happens, to say I am a little dissapoited is an understatement, this tablet has to last a long time, shame Ill be getting left behind :(

Phones are ARM, so it could be made an extension of the phone version.

That's what I'm hoping, I love my Surface RT (and the pro was waaay too expensive!) if Lumia 920 and 930 can upgrade (even my parents HTC 8S will!) then don't see why technically I couldn't I get that on my RT?

What the hell is Windows Mobile 10.

Windows 10 for small screens .. Surface to big.

All Windows devices under 8" phone or tablet

And did anyone(everyone) notice ? It's Windows Mobile 10 :D

Yes, unfortunately. It should be Windows 10 across the board that simply scales according to screen size and input devices available. Oh well...

This slide is for hardware partners, not consumers or commercial branding. Context is important.

Wishing for something doesn't make it so. While WP and Windows are converging they still ain't the same. WP 10 is what I will call it. "Windows 10 for phones" is moronic.

What about Windows 10 Mobile? I always thought that sounded pretty good.

Yep, totally fine with that. People need to be honest with themselves. You know for a fact that there HAS to be a way to tell Windows 10 apart from the phone version. That doesn't mean that they still aren't based on the same code, just means an easier way of talking about the one you actually mean. And as Daniel mentions below, it's an internal name, once again, to help them tell them apart, internally. So Windows 10 IS the consumer facing name.

@josonjoy1986 Let me be very clear about this: it is just Windows 10. Technically, there are different SKUs for Windows 10 for mobile, PC, etc. So on the backend, they are differentiated in name for pricing/distribution. For consumers, it is just Windows 10. Nothing, I repeat nothing has changed.

So can I upgrade my iPAQ to the new Windows Mobile 10?........SLAP!

They keep calling it something different in practically every official statement they make.

You do realize that this is conference is for hardware partners, right? If they are making a phone and they need to order 10,000 copies of Windows 10 for phone, how do you think they request that? "Just give us Windows 10!". Probably not ;) There are different SKUs for ordering/licensing. That is all this is. For consumers, it is sold just as Windows 10. No real mystery.

<observation mode on> I've noticed that molehills quickly become mountains here. <observation mode off>

This describes Windows Central better than anything that I've ever read. Bravo Sir.

That explains everything.

It makes sense that hardware partners need a way to differentiate, but the same is true of anyone when talking about windows 10. If we don't differentiate then consumers will be confused. Guaranteed.

Thank you! This is what I mean, and hence me being concerned about the confusing branding.

Yeah, there's really no need for it now. The only real advantage was it being lightweight enough such that we could get over 8hr battery life. New gen atom processors give us that without the crippled OS.

It's only crippled if you didn't know what you were buying. I love my Surface 2 with or without Windows 10. Long live RT lol.

No. Just no. And that's coming from a person with a 2520. Posted via the Windows Phone Central App for Android

Much love to my RT. Don't think its crippled. An OS completely locked up, virus proof, lightweight. Only wished the whole Universal App concept was ready back then.

Same here. I love my Surface RT and my Lumia 2520. I prefer them over my Surface Pro 3 except when it comes to Visual Studio.

This is what they have been saying all along, its not getting full windows 10. They did say it will get many features in an update. The real question is what does that update include? As long as it will continue to be supported for security patches and it will still run apps from the store, its not "dead".

Yeah its alive like WP7. Not dead at all. WP7 is flooding with new apps in store and daily app updates.

No, its very different from WP7. The app platform changed and new apps would not run on WP7. Unless I've missed something, that is not happening with RT.

Isn't universal app platform different than RT app platform? In order to enjoy universal apps you MUST have W10 OS. So RT isn't getting any new universal stuff.

I imagined that the ability to run universal apps would be the most important feature that is included in the limited Windows RT update.

If it's not getting Windows 10 I'd almost go as far to say they shouldn't waste time retrofitting features into RT 8.1 The device is still as useful as it always was, and even after Windows 10 is out it will still get any new apps that target Windows 8.1 (As long as ARM is submitted by the developer) It's no more dead really than Android phones or tablets that don't get upgraded to the latest version

Exactly. There are some things like losing charms and such that I would rather not see on my Surface2 anyway.

' it will still get any new apps that target Windows 8.1 ' Heh. Well, yeah, that's kind of the problem. The Windows (RT/Modern) store is a ghost town.

Even better, this means that they can't take away our multitasking gesture, even if they decide to go through with that atrocity in Windows 10.

Sure. Most likely Windows RT will be retro-fitted to take advantage of the universal apps. So long as it can use the new apps of Windows 10, Microsoft wouldn't need to "upgrade" anything else, necessarily.

MSFT please release the preview for more phones

My L635 says "Windows 10 TP for phones"

Saw that too - pretty funny

"Windows Mobile 10" makes me smile. Where's my Touch Pro 2?

There has no been real explanation for leaving RT users apart from the small user base.

You've kind of answered yourself there!
A small user base = a failed project. Why support something that is dead anyway?

Says the guy on a Windows Phone website. Blind fanboys.

RT was a different failure, because it was an unneeded branch of the os the only confused the typical consumer. With cheap atom processors, and a wp os, we don't need a separate arm os. There was no demand, and the app store for rt is still barren. RT would have been great if it had been built from the start to natively run wp apps, and perhaps had been given some sort of legacy emulation. Instead, it nearly killed the entire Surface line.

Lol different failure... Posted via the Windows Phone Central App for Android

There are many many many more Windows Phone users than RT users.

Can you say Windowsphone 7?

Completely different. Windows Phone 7 - WP8 was a complete architechture change. New apps written for WP8 didnt run on 7.

Then why was Windows mobile 6. Deleted from existence.

Yes windows mobile 10. Is that the official name

It is internally reffered to as WM10. For consumers they don't need to know.

No, not the official name. Just Windows 10.

Can't they just call it Windows 10 all across the board and then just specify - for phone/onphone/whatever. PLEASE PLEASE MS don't put Windows 10 for phone in your marketing. Just call it Windows 10. Skype for Business already sounds cumbersome. Windows Mobile 10 would be just as bad imo.

I have Lenovo miix 2 10 ....win 10 compatible?

Use the chart...work out the answer doe yourself ;)

What a way to repay early supporters! WP7.8 ALL OVER AGAIN.

You bought something that was DOA. It was never going to succeed.
Time to brush yourself down and move on.

Did your device stop working all of a sudden? Does it not function as advertised at the time of purchase?

It will soon stop functioning. I was promised "70,000 apps and growing everyday" - now that won't happen. No universal apps for Win RT. Only those that have upgraded to W10. That means no apps updates, forget about even new ones. As it is even WP8.1 gets updates on apps almost annually. You think RT will get any updates, ever?

It's the risk all early adopters take. If you are an early adopter you should know and except that. I do.

Surface 2 buyers were not early adopters.

Should've spent a few extra bucks on pro... just sayin'

WTH is happening here, Is this WC guys, From yesterday many no of article`s. Keep it up guys!

I guess ARM is no longer hot stuff.

Last time I checked, every WP is on ARM currently.

And every other phone out there.

Dats sum bullshiiiiiittttt!!

My suspicion is that they'll release Windows 9 for RT. The rumor that they didn't call Windows 10 Windows 9 was because programs for 98/95 might think they were on 98/95 by just seeing the first number. Might work to put "Windows 9" on RT, so they can say works with 10 or 9 and 10, no need to say works with 10 RT. RT users are used to apps not working, so if they try a 98/95 app on 9 (which is RT), it wouldn't work anyways.

Lol.... Sarcasm at its best...... :D

What about Tech preview users

Free upgrade for Tech preview?

Users who are currectly on W10 TP, what about them?

Tech Preview users will have to pay $1,000,000 per license. We're covering the "free upgrades" for the others. Did you miss that post? /s

Windows RT was the dumbest idea in the history of tech. WTF was Microsoft thinking? SMH. Yeah come buy a platform which doesn't run Windows programs and doesn't have an app ecosystem LOL.

You are describing windows phone there :P

You also described the first year or so of the iPhone. Before it had the Appstore, it had a browser, video player, ipod software, and that was just about ALL it did. There was no way to install apps, there weren't any apps yet. If I recall correctly, Cydia jailbroken iphones had the Cydia store long before Apple put their own store in the phone...

What you are describing is a shift in mobile devices and marketing with the iPhone Gen1. RT came out in a world filled with apps. Not the same. Posted via the Windows Phone Central App for Android

Believe it or not, windows phone doesn't even compare. RT has such shitty app selections it's not even funny compared to windows phone. So yeah, they aren't the same :P

Not sure if you are aware but iPad doesn't run Mac software either. The difference is Apple did a better job at marketing. Some people, perhaps such as yourself, need to be spoon fed. RT was a failure in marketing, not technology.

The big problem was that they were both called Windows.

Exactly the same as iPad launch... except it could run almost all iPhone apps, without updating, just in a smaller box on screen. WP required updating all the apps in the store, and often re-buying them. Problem is everything is so slow with MS and ppl got tired of waiting. Apple have isheep to buy anything they sell by the millions, so their ecosystem thrived overnight.

Surface 2 LTE with free Office. Use anywhere, anytime and access the main apps you need. Great battery life, access any website etc. etc. Some people don't get Surface 2, shame.

Windows Mobile has returned !!!!!!!!!!

Windows Mobile 10?? Lol.
Well looks like my surface 2 orders being cancelled were a blessing in disguise lol. Cue the anguish from the Surface and Lumia 2520 owners!

Sucks to be anyone on an RT system.

Not really. My Surface 2 keeps on being what it is and it will continue to run new apps from the store.

Saying this is like saying sucks to be anyone with a Lumia 920, 925, 1020 or any Lumia from 2012-14 that cannot run Lumia Camera 5 and probably will not get full Windows 10 due to hardware requirements.

If a Lumia 635 with 512mb of RAM can get Windows 10 for phones, I'm thinking that the early Lumia range including the 920, 925, 820 and 1020, can handle W10. The only reason not to update them is a business one, to force any remaining users they have onto new devices.

Lumia 635 can run the very early preview of Windows 10, but MS did say back in January that older phones will not be able to run all features of Windows 10 due to hardware requirements so it remains to be seen if all these older phones will run Lumia Camera 5 on Windows 10. Anyway I'm ready for a Surface phone or Lumia flagship that runs everything.

They said that from the get go, they also mentioned will get some sort of an update (NOT 10) tough. Either way, I like R\T, I use my SRT everyday & I'll continue to do so with or without the update :)

It was a nice ride. My RT still does all I need.

Mine too and it was cheap! At least I get to keep the Charms bar which I love and some other stuff that's great about RT like security.

+ free Office and LTE as well as plays video's perfectly, full access to websites, SD card, USB, long life battery etc.

Old water must leave the room, to fill it with new

What is the difference between Windows and Windows RT?

Windows is for normal users, Windows RT is for dumb users who paid for a dumb device.

So you're saying that everyone who purchased a windows phone is also dumb.

What about us users that have two Windows computers, a Windows Phone, AND a Windows RT tablet, all useful for different things? Do we have to switch our normal hats with our dumb hats when we go from device to device?

4 devices, 1 of them with Windows RT = 25% dumb


So as I buy more Windows computers and devices in the future, my dumbness percentage should start dropping unless I get rid of old ones before I finally sell my 2520 (in which case I'll be 100% free from dumb!). Another option is that if MS or someone else opens the bootloader and allows me to hack on Linux or Cyanogenmod, I can also regain my 100% non-dumb status as long as I kill the recovery partition (which might only have a 1-2% dumbing factor).

Windows can tun both modern and Win32 apps while RT can only run modern apps. Whihc means that: RT cannot open VLC (through the website download), nor BitTorrent, I think but can open Bing News, Weather, etc, I think. Windows can open both VLC, the site downloaded one, and Bing Weather.
Quite frankly, it was foolish of MSFT to install RT on Surface 2.

Actually there is VLC for Modern! And TorrentzPro for Torrenting.

You did not read the thing in bracket, did you?

Windows RT was based on the ARM CPU. So it would ONLY run applcations from the store. It was designed for lower cost tablets. It made a cheap tablet that over all performed pretty well within it's limitations (some common apps and plugins woudl not work causing it to be very limited in this area) Windows is full blown windows like you have on your computer at home or work. It will allow all Windows based apllcations to run.

Microsoft should have allowed recompiled Win32 applications to run on RT without having to pseudo-jailbreak it.

Embrace yourselves. The sky is rising again after it fell. :D

This as opposed to when they've said a few times before that it wouldn't get the upgrade?

Well, I have a new digital picture frame.

It designates Windows 8.1 Update 1, released in spring 2014, as opposed to the RTM released in October 2013.

Well they did originally say that RT wouldn't get a full version of Windows 10. That's fine but at least make some kind of official MS announcement on what kind of future updates RT can expect. Give RT a lite version of 10 that can still run any Windows 10 universal app that comes out. Will these new universal apps also work on Windows 8, 8.1, RT 8.1, etc.? Or do they expect everyone, even desktop PC users currently on Windows 8 or 8.1 to upgrade to 10 before they could use a new univeral app?

As this was a hardware conference for their partners, there was no point in announcing an update for RT as Microsoft was really the only manufacturer. The information would not have been useful for partner businesses.

What I would like to know is the reasoning behind it. Since the Surface 2 is running an ARM processor why not just allow it to run the same variant for phones? If all of the ARM based phones can run it, it seems a little silly to leave out the tablet if users want to go down that path.

Exactly! At least give us the mobile version of Windows 10. I'd love to know the reason behind it. Hope it's explained later this summer.

I'd like to know that too. Why alienate users (small base - I know but still) when you don't have to? I would LOVE to have W10 for Phones on my Surface 2!

I'd be happy with 6tag, Spotify, new Windows 10 Office & Outlook apps, and Cortana on Surface 2. Just give us the mobile version of 10!

That's exactly what I was thinking! The Surface 2 could essentially be a giant phone without the cellular radios in it. I would totally be down with that! I love my Surface 2 and hope something decent comes down the pipe for it. Maybe someone will hack Windows 10 for phones to make it run on Surface 2, lol.

No surprise. Windows RT was born dead

I still think it is a great idea. Not for mass use, so I know it doesn't make business sense. But it is nice to know that my very computer illiterate father-in law has a pc that he cannot get viruses on. RT is perfect for people like him.

Right?! My younger sister has never had a computer survive more than a few months. Then I got her the rt and i am never even asked to do troubleshooting!

THIS!!! This is exactly why iPads are so popular. The average dumb user that used to have a PC and didn't know how to keep it clean or updated over time, and then complain that it's slow, freezes, crashes, IE sucks, viruses, etc. have all moved on to iPads where they just work and they don't have to deal with the maintenance and security risks of a full PC or OS. RT was perfect for that. It's the app situation that failed RT and will fail continue to fail Windows 10 unless something is done to change the average user's popular perception of the Windows name in general. People hate Windows and are sick of using it. Just read the comments anywhere online whenever there's an article about Windows or IE.

RT wan't perfect for anything, that's why is dead. Did you read the headline?

And did you not read our responses? We each had a use case that it was perfect for. I understand it is dead and did not have mass market apeal. But there are situations where it is a great OS.

Can't say I'm surprised. Why buy a Surface RT when you can get an Atom powered tablet for half the price? As much as I love my Surface RT, it's getting on a bit now and I'm going to replace it with a Surface Pro 3 (I hope!). Windows RT 8.1 runs just fine anyway.

Honestly, because a lot of users out there should not have the ability to install X86. For a lot of users it just isn't needed and creates a lot more headaches than what it is worth. Think of all the botnets running on comprimised hardware.

How is it possible to upgrade my 920 to w10 but not a surface rt???

Windows RT is Windows 8 compiled for ARM (allowing windows to be installed on iPad like hardware) with a restriction on installing non verified files (meaning store apps only). Besides those two differences, there is not much else changed. Windows phone, despite what MS may tell you, is not just Windows. There's a lot of other changes that gives WP a phone interface. For instance, having different edge gestures, keyboards, start screen, top display bar, lack of a lot of USB features, etc. So, updating from WP8 to 10 is a different project than windows 8/RT to 10.

That's fine. All I care is that it can run Windows 10 Modern apps. It's fine if it can't run programs.

Is Windows 8.1 with Bing just classed as Windows 8.1?

I think Windows 8.1 is pretty much Windows 8.1 Standard with bing set as the default search engine.

Oh well, least I can use my Surface 2 as an upmarket photo frame haha

So how long until the x86 phone that can dock/project and have full desktop... Where is it... That is the thing that will finally create momentum in Windows phones. Even the roll-up screen is not here yet, surely it must be coming...

That is still likely many years away. The bottleneck is still hardware; Microsoft is getting closer on the software side. Power efficient Intel processors, that can run x86 Windows apps on phones, still aren't 'a thing' in mobile.

I am very surprised by this. We know that ARM devices are still a large part of 10. It really doesn't make any sense.

On the bright side, your Surface RT device can also make for a great serving tray.

Lol, some people do have a valid point, just give RT the mobile variant so it can continue running the latest apps.

Hey John or Daniel, I notice that there is no differentiation between the normal and Pro versions of Windows? Will Win10 be 'Pro Only'? Or at least collapse things down to a single desktop sku capable of normal home use and domained use?

What I am hoping is that when I update from Windows 7, I will be upgraded to Windows 10 media center pack because Windows 7 has DVD playback and Windows Media Center

Bye bye Windows RT, never saw a need for it in the first place besides CHEAP tablets... RIP to the current owners of them.

I am resting but not peacefully when trying to use RT.

Basically WRT was supposed to be a dumb tablet experience like an iPad. It turned out to be a bad move so move on.... Windows user really don't want a dumb tablet. And what I mean by dumb is an app driven environment only. Understanding of course is that the Phone is basically RT in its essence.

I don't see it that way. It was a PC that was not prone to attacks due to its inability to install x86 software. In all reality, more peole should have been running RT. Would save a lot of heartache for a lot of people. EDIT: Also, I dont think it is fair to compare to an iPad. While that was the target to go after, RT provided Mouse and File Explorer Support.It is much more than an iPad. (minus the apps of course)

I will agree with you. It is a PC minus the x86 support. But isn't my Nokia 1520 also a PC minus x86 support? I personally think they marketed wrong in typical MS fashion. Also it didn't help that sales people don't really k ow jack about what they are selling.

Very much agreed it was marketed very poorly. It could have easily taken a large share of the OS market if it had been rolled out correctly. Should have never had the Surface Branding and it should have been called something other than Windows RT - Windows Something sure, not RT, that means nothing to most people.

Notice the column in the chart says "Initial OS". Does that mean devices such as the Lumia ICON which shipped with Windows Phone 8 and upgrade to 8.1 will not get Windows 10? A device like the Lumia 830 which shipped with Windows Phone 8.1 will upgrade to Windows 10. It's all in the language.........

I could assume maybe if someone got a hold of a wp10 rom and somehow flashed a lumia 2520 it may work

That is my hope right there!

I think you'd need one of those "omnidriver" packs like people use for Android, but I doubt you could find one.

The Surface RT has been the most frustrating device. Maybe I bought a lemon but that thing is SLOW out of the box and after ISO refreshes. Constant screen freezing, random opening of the desktop. Partly my problem for not returning it. Using it is stressful and I'm surprised it's still intact; it's the only device I've wanted to smash but held back on many occasions. Thankfully the SP2 and WP8, 8.1 have been a joy.

You know if it's in warranty Microsoft will pay for overnight shipping both ways to get it fixed

They should bring a Lumia 2530 with Intel i5 processor. I really like the design of Lumia 2520, it gives a feel of a Lumia phone and a laptop

my surface RT runs on ARM processor and Win10 supports ARM. will I not be able to install on RT tab?

Can MS please unlock the boot loader for RT devices then?

Could anybody explain what is Windows 8.1 <S14>, please?

Hopefully there will be a new non-Pro Surface with Windows 10. Use the same design as the Surface 2 and put an Intel M processor inside. It still won't require a fan, but you will be able to install desktop apps on it and not just app store apps. I'd sell my Surface 2 for that.

Shame, but totally expected. Nobody wants ET it has limited use and a very small user base (including me), but this definitely the right step. W10 can do a whole lot more with the newer chipsets coming out. Can't wait for W10 to come to my Lumia 930.

Anyone want to buy my Surfact RT and/or Surface 2? I am loving the Windows 10 news but this is disappointing since they are not old devices. Guess I need to upgrade soon.

I have aj surface 2 and use it everyday. Sucks to buy any product and find out its END OF LIFE within a matter of months. I hope MS doES give RT a forked verison of W10 but at the minimin allow it to run all future Windows Store (Metro) apps. But when I think of WP7, MS and Office apps on other platforms first and now Windows RT ... I can't help to realize that all loyal MS users were really beta testers.

Haha. Your comment reminded me of when I purchased the Samsung Instinct on Sprint. The day I got it, I got home and was playing with it to setup etc... They announced the Instinct 2 that evening. So p***$ed at that. I would've waited the 30 days to get it.

I would get another tablet and get rid of my Surface 2 but there is nothing that is as good for the same price.

Toshiba Encore 2 Write - it's been a great tablet so far and I don't even consider using my Surface 2 anymore.

Glad I just got a SP3 then. Gave the wife my RT. It should last her several more years for just email and web surfing.

What's Windows 8.1 S14? I mean the S14?

Happy I just sold my last RT device!

Do we know what is happening to people running the insider editions?

They will be shot at dawn.

Maybe Surface 2 (RT) can be flashed using that W10 ROM for andriod phones?! Feeling a bit sorry that I have to get stuff that MS does for android and try to install it on a device made by MS. Why not just make it simple MS? Allow people that have RT to upgrade to the Phone variant! That would make everyone happy!

"However, for consumers, it is just Windows 10. Nothing has changed, there is nothing to see." Yes, Heaven forbid that Microsoft would actually call things that are in fact different by different names so that people know what they are talking about. I was tripped up by this on the Xiaomi announcement of Windows 10 running on one of their mobile devices. I'm thinking, "What, they've got full Windows 10 on a phone?" No, it's just Microsoft and their absolute, pathological inability to clearly name consumer products.

Yet again they find a way to piss off their loyal customers. The same people who bought overpriced tablets.

That's crazy. Should be Windows Phone 10

No it shouldn't. They are trying to pull everything under one roof, they need to use the same name.

so glad i didn't get one.

On the bright side, us RT users won't ever have to worry about Facebook's idiot decision to split Chat off from the main service. Unified FB on RT forever!

So does this mean my surface rt hardware won't get any type of update to any lite version of win 10? I was really hopeing to one day be able to use the spartan browser on my first gen surface.

Wtf MS, this is the last time that I purchase a product from you. What is the problem with Windows rt devices? My L 2520 is like a enormous Lumia 1520 (internal specs are the same) i do not understand why we can not update our rt devices to Windows (mobile) 10. Almost in android ecosystem we have cyanogen mod to update all the devices forgotten by the manufacturers, but in this stupid "ecosystem" what can we do??

Update: Many people are gawking at the 'Windows Mobile 10' mention. This is not a name change. There are different SKUs for Windows 10 so at some place in the backend they do need to be differentiated for hardware manufacturers and partners. However, for consumers, it is just Windows 10. Nothing has changed, there is nothing to see.

So what are the options for those of us with a Surface/Surface 2? I hope there's either some new features sent out, or a budget Surface 3... I hate feeling cut off by these companies. Things shouldn't be effectively obsolete after 18mo!

I'm good with that. I thought Windows RT was a waste in the first place. By the time the Surface 2 was out, Intel's Atom stuff did almost everything as well as the ARM chips inside RT devices, but the Intel stuff came with a deeper software library. RT really only served those who wanted part of a Windows experience, but were too prone to getting viruses to survive on a full set of Windows, and that's just not a good enoguh reason to develop an entire OS and hardware platform. The Surface Pro 4 is allegedly coming with 12- and 14-inch display options. Maybe the Surface Mini will be in 8- and 10-inch display flavors, and will carry Cherry Trail, making it somewhat close to an original Surface Pro experience.

As an early adopter a day one owner of surface rt ... I am dissatisfied!!!

Me too. My family has six of them. We supported their Surface efforts from the get-go and now they're cutting us out of the loop. I understand that RT devices didn't sell like hotcakes, but I can't imagine that it would cost them that much more to make Windows 10 (even if it's just the phone variant) to run on Windows RT talbets than it will cost them in good will from their most loyal customers who bought them.

They can provide w10 via ROM for android but cant even get their own surface line to w10. WTF. MS how about supporting your fans the same way you support those non users.

So rt users are stuck with what they have?

Does Windows 8.1 S14 refer to the Windows 8.1 Update released last year?

I'm running 10 on one of our laptops. In truth, I haven't seen much that I need or want on my Surface 2.

Still maintaining that WinRT will be magically updated with the phone version, bringing it more inline with the iPhone/iPad dynamic.

I don't think it will be an issue that windows 10 wont be coming to surface rt because all the apps are in the store anyway. The sore apps will always be able run on arm.

RT was a failed product and now that Intel has caught up in mobile chip market there is no need for RT

They should give RT users Windows Mobile 10.

Pretty gutted about this, I bought RT as soon as it came out for $1000 :(

This means my HTC8X will get W10 - I'm never changing this phone.

I sure hope Cortana still comes to RT devices. I'll be pissed if she doesn't (and then ends up on IOS and Android). They should enable the full desktop version of Skype via an OS update for RT as well (like they do with Office) since it's a solid Microsoft product (and the store app is not great). It shouldn't be that difficult to make it compatible with ARM chips.

Zune HD = fool me once, shame on you. HTC HD2 =Fool me twice, shame on me. Nokia lumia 900 = gullable fanboy. Surface rt and surface rt 2 = dumb chump. the zune hd was heart breaking but they were getting rid of the whole division. the htc hd2 with an all new windows mobile that won't be upgradable to the new windows phone platform. i understodd that because of the hardware restricions. lumia 900, that was a kernel change, thats flashing the phone and frankly getting an update past the carriers is hard enough. surface rt! microsofts own hardware. with no carriers to get in the way. the operating system microsoft said proves the versatility of windows because its the same kernel that runs on x86/x64 chips is also running on arm. Thats the straw that broke the camels back for me. Microsoft without proving a VERY good reason for this is leaving me to believieve this is a cold, business decision. purely about marketshare. i'm the WORST person microsoft can screw over because i'm an early adopter. i got my surface rt on day 1 of its availability. i over looked its short comings (APP GAP) because i believed it would get better of time. Now that its dead in the water, i've learned my lesson. And i've learned that lesson in the year microsoft announces the hololens. I WILL NOT BUY THE HOLOLENS UNTIL I SEE THEY'RE CAPABLE OF SUPPORTING THEIR OWN STUFF.

Update IE to spartan and i will be satisfied for a long time. Will happily switch from my 2520 when there is a tablet of any OS that comes even close to the 676cd/m2 in brightness for outdoor use.

The least they could do is offer some kind of trade in program where we can give in our RT and cover and receive a fair discout off of a new budget, x86 tablet. And by discout I don't mean $25 off.

I feel somehow backstabbed. I like my Surface RT. Yes it does not allow x86 programs. But it is Ok for me and apparently for a whole lot of people who buy Android and IOs... Just give us Windows 10 phone/mobile. Even if it is not a Qualcomm SoC it should be possible to do...

Is there any reason why a Surface RT or Surface 2 RT or similar device could not run Windows 10 (the mobile version)? This would bring ARM tablets an upgrade and maintain them as cheap tablets. The Surface RT has about the same number of pixels as the Lumia 830, roughly same e speed processor, and 2GB of RAM. Seems like a workable match to me.

So, if I have pirated version of Windows I will be allowed to upgrade to Window's 10. If I spent $600 to buy a RT tablet more than two years ago, I can go fuck myself.

All I want is the windows 10 app store

well then all we have now is the surface 3 which is the result of a high precision truckload of money injection into a new problem, or... crappy imitations that fail at both being a laptop & being a tablet, great strategy, ms...

MS can update the RT to have functionality to adapt to universal app store apps and also provide some more improveents in the form of better storage sense capabilities with app install on sd cards, swype inputs etc... its the best that can be had and would be loved too.

They have to give them an option to get Windows 10 for Phones