Microsoft's new Your Groove and Explore are live to all Groove users on Windows 10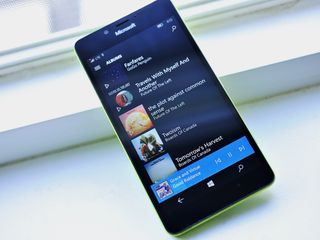 For those who do not like to risk the Release Preview, Slow, or Fast Rings Microsoft has good news for you tonight. The new Your Groove curated playlist feature, and Explore is now live on your PC and Windows 10 Mobile phone.
Version 3.6.2304 of the Groove music app is now live in the Store. This is the same version available to the Insider Rings, who won't see an update tonight as all builds are now equal for Groove.
With the tonight's update for non-Insiders there are numerous new features, including:
With this update, Groove introduces major new personalization and discovery features – new ways to find and enjoy music you love
Get personalized playlists based on your music! They'll appear automatically in Your Groove when you add music using Groove Music Pass or OneDrive
Music Pass subscribers: Explorer is now loaded with playlists from expert music editors crafted for every mood and activity
Based on your OS settings, Groove will keep downloading music over cellular when you're not longer on Wi-Fi
Besides Your Groove, Microsoft's Ellen Kilbourne took to the community forums (opens in new tab) to give more detail on Explore, excerpted below:
Many Insiders, including ourselves, have been enjoying Your Groove and Explore, so it's very exciting to see it hit all devices tonight. Head to the Store and get the latest update.
Need more? Read our new guide "What's New in Groove: How to use Explore and Your Groove in the Windows 10 Anniversary Update" to learn more!
Download Groove Music from the Windows Store (opens in new tab)
Windows Central Newsletter
Get the best of Windows Central in in your inbox, every day!
Daniel Rubino is the Editor-in-chief of Windows Central, head reviewer, podcast co-host, and analyst. He has been covering Microsoft since 2007 when this site was called WMExperts (and later Windows Phone Central). His interests include Windows, laptops, next-gen computing, and for some reason, watches. Before all this tech stuff, he worked on a Ph.D. in linguistics, watched people sleep (for medical purposes!), and ran the projectors at movie theaters because it was fun.
Other than that personalization feature,how fast,stable is it compared to WMP. Can groove sync my music to windows phone, portable hard drives?

1.It's pretty fast and definitely stable.
2. No it can't sync music to any device You can create playlist in the app will sync to Groove on your phone via the cloud.... But it doesn't work well. Groove will force you to stream music that you have on your playlist even though you have the files stored locally. I gave up using the app on desktop a while ago, I went back to using Zune + Widows Phone app for desktop to sync and manage my music library.

Mine doesn't do this. If it's on my device it plays the local copy. Thus is on my XPS 13 and Lumia Icon. I've made it a point to download entire playlists because of this. My I've complaint of Groove is that it always seems to open with Now Playing minimized on mobile. If there is an option not to I haven't found it.

I agree. I hate that Now Playing is always minimized. Also hate that if I want to back out to the Artist, Album or whatever I was listening to I ahve to go all the back back to the jumplist to get there.

Lucky you... My internet connection isn't that great, so downloading over 15Gb of music everytime I edit a playlist isn't an option for me. I'd rather use my good old usb cable which is faster + it charges my phone while syncing.

Zune was just about perfect, I still use it daily. Why MS took 10 steps backwards with Xbox Music and Groove is beyond me.

Ikr, I miss wireless sync. Zune is still better at managing my library even though it hasn't been updated in years. I just wish that MS would rebrand the Zune app as Groove for desktop or something and add MTP support to it.

Are they doing a family pass yet

Or student discount. I still use it, but a discount or combo with 365 university would be nice.

Of course not. That would make too much sense.

I see now why the curated playlists don't appear for me, my phone being set to Spain.

Ah, nice, just now the playlists appeared. Yay!

Your Groove seems pretty neat so far ... but I seriously need a way to exclude my christmas music from generated playlists.

Create a playlist called Xmas, add all of your Xmas music to it. Remove Xmas music from Your Collection. Play the playlist when Xmas time comes around and ignore it the rest of the year.

There's a mechanism to remove music from my collection that isn't deleting it?

You are deleting it from your collection, but you can still have it in a playlist even if it's not in your collection.

Oh my goodness, this! I've been begging for help on this forever it seems. I did the whole playlist thing and it didn't work. I also have all my xmas music in one folder, which I remove each year after Christmas season is done. In the old days (Zune), this was all I had to do to have the music available when I wanted it and not available when I was done. This same process does not work with Groove.

Does any know if Microsoft is going to improve Groove on iOS and Android because those version are a disaster. Posted via the Windows Central App for Android

LOL. :D
Meanwhile cherish the moment of having an MS app better on WP than on iOS and android. :p

We still have OneDrive. On iOS it's a goddamn disaster.

I never understand that why Groove never shows my OneDrive music. Groove doesn't support music pass in my country but why can't I have my OneDrive music?

You probably have your filter to not show it. I have 16GB on OneDrive and they're all there in Groove.

How to disable the filter? I really want to listen them.

It's in the settings on groove. You choose what folders you want to pull music from. Posted via the Windows Central App for Android

Groove shows music files from onedrive on my phone & laptop, no issues here is Bangladesh.

Loving it so far! I like the little glass look in your grove

Is your groove also available in India?

Ooh well , offline music is big here online is not that much used in india.

Groove will never be my music player as long as I can't close out the app completely. As much as I want it to be. Also, listing my ringtones as music is annoying.

If you are on PC, you can literally filter out your music by the folder they are in, in settings. If you are on phone, groove would only show songs in your music folder. Are you running an old version of the OS? Have you even updated groove in the store? Also, what do you mean by 'can't close app completely'?

sounds great. just waiting on this grove update to xbox and everything will be complete.

I would like to to be able to swap playlists with other users. And see a ranking of playlists by popularity, genre, etc..

Yes, this would be amazing! Did you send feedback about this type of thing yet? I did! Posted via the Windows Central App for Android

Im still note getting whats the function of your Groove. It only make gender list from you music. Still featured playlists are not for all??? Thats the most wanted feature.

It makes custom playlists based on your music. If you have the subscription, it mixes in songs from the catalog you don't own. It's pretty darn good at it to. I have not had a playlist I did not like.

I upgraded one of my computers to the Insider build (fast) the other day almost solely to check out the Groove music update. I am enjoying all the other new features as well, but it is great to see they pushed the update to everyone instead of making us wait until Aug. 2 for the official release

I would love to see a bundle option: Office 365+Groove and Office 365 University+Groove for students

I like Your Groove, though I wish I could get back to some previous playlists I liked. However, the list creation still needs some work. For example, it gave me a list of "Soft, romantic love songs" that contained three Linkin Park tracks, a couple Foo Fighters songs, and Living Dead Girl by Rob Zombie... Among other interesting choices. That gave me a good laugh at least.

Nice, but I just had it with play lists. I created playlists for n-time and every upgrade deletes them. And there is no easy way to save them, to know where you saved them, to retrieve them back, to define to backup them to onedrive etc... It's unbelievable.
Ok, that is with mobile version as MS says, that PC will sync to mobile... But I don't want to setup PC first... Why cant I use only mobile app alone?

Just use Zune to create the playlist on your desktop and use the Windows Phone app for desktop to sync it. That way, you will always have a copy of your playlists and as a bonus you won't have to deal with Groove's half baked "cloud sync"

Thank you. I'm not using groove on my PC only my phone. So when I go to songs, I see ringtones and notifications that I don't see with my current player (Perfect Music). Also, you can't stop a track, only pause it, so when I close out Groove, the track stays paused and shows in the phone volume controls. With Perfect Music, I can stop the track completely and exit.

Move your ringtones to the "Ringtone" folder on your device. Tracks found in ANY other folder will be automatically added to your library, you can't stop it.

Try to download windows 10 on my Lumia 730 .
5 times in last 2 hours but failed every time in 72% with error of temporary serve failure .. Pls solve my problem my Wi-Fi connection is very strong.

i would subscripe if they provide a worldwide support like how Apple does with apple music but its typical Microsoft only US and few EU countries and thats it !!

I don't have any use personally for this feature, so all it really does for me is make it harder to get to my recent plays. With all the space in the hamburger menu, why can't there be separate options for "Recent Plays" and "Your Groove"? Seems rather inconvenient with the way they went.

Terrible app. How the hell I can stop or remove music from "playing now". I'm closing the app, but music doesn't stop playing. When I press volume up/down I see the music that is playing now, and can't remove it from there, only pause, that is annoying. To remove it I have to restart my phone. Can someone help me please. :) There should be a button to remove songs from playing now list. I will never use this app, until they add such a button... Fail app

exit it out from taskbar.

I closed it from taskbar and songs are still playing in background. When I press volume up/down I see the song. I can pause it, but I also want to remove it from there. How?

Loco music player Is much better app than groove.

Go download an app called "stop music"

This is so funny. THe groove app looks like Zune app. I LOVE IT!!!!!

Fun fact, Microsoft still calls it Zune internally. Which is kind of an insult to Zune. You can see this in the uninstall command for PowerShell: Get-AppxPackage *zunemusic* | Remove-AppxPackage Yes, you can get rid of this thing, even though Microsoft claims otherwise. Do what you want with that info ☺

I'm quite happy to migrate from Spotify to Groove with Music Pass, also I've an additional 100 GB bonus on ondrive. The problem with Spotify was that it have and old App for Windows 10 mobile (no Uwp and no Connect feature) The major miss with Groove do not have any other connection other than bluetooth. Dlna is missing.

Love the new features. Btw TLOP has been updated with "Saint Pablo"

Does anyone know how to remove this app from my phone? MS is beginning to act more and more like the competing platforms, forcing us to keep apps on our phones I will never use. Groove being one of them. Suggestions anyone?

Uhhh... It's always been this way. Even on 8.1 you couldn't uninstall Xbox music.

Wish they could add more to the app. Like better lock screen features like album art and better scrubbing through music

Awesome update don't know who wouldn't like it it's nice that there ADDING features for a change ;) I wish they would also give suggestion on local music as well

Again, explore on mobile does NOT have the playlists.

"The feature will be rolling out first to everybody in the United States, United Kingdom, Canada, Germany, and France on Windows 10. Tell us you love this feature and we'll bring it to more devices later this year."

With this update, I no longer regret switching from Spotify :D

Editing metadata is what I need...

And still no last.fm integration.... C'mon Microsoft, do it!

Wooo, Chevelle! Love those guys, they rock. :) And nice to see Your Groove coming to everyone, looking forward to trying it out.

I had asked in another article but didn't get a response. Is it normal that the generated playlists only have 5-6 songs in them? I find this pretty short for a playlist. I hear the same songs on my 30 minute drive to work :)

Not to be too nit picky, but as I understand it "Your Groove" is not a "curated playlist," as it says in the article. Your Groove creates a bunch of playlists using an algorithm which considers music in your collection and your listening habits. The "curated playlists," which are under the "Explore" feature, are large collection of playlists created and updated by real live human beings. Is that right? Regardless, Groove has become a very good app, suitable to replace Spotify, especially with the ability to play your own private music from from OneDrive, and it's giant collection.

It's rolled out to The Netherlands as well. I got the update this morning...

Been using this for a few days now and I have to say that Im actually pleased with it.

Groove is really taking shape, although my experience of Your Groove has been pretty amusing so far. It struggles if you have music that's more obscure, for example it generated a playlist from some black metal bands I listen to (Alda, Altar of Plagues, Fen), called it Mainstream Metal and then included the likes of Def Leppard who bear no similarities whatsoever. We need the ability to edit metadata basically.

I have tried setting all my language settings to usa, but still I cannot see the curated playlists under explore.. It is driving me nuts..
Anybody else with that issue? And maybe even if I'm lucky a fix for it? :) can't really use your groove for anything, it is the curated playlists I'm after!

Yeah same here. I'm in Australia, but I set all my settings for USA, and still no curated playlists in Explore (PC and mobile). So I'm guessing that they are checking the locality of the account that you have signed up for music pass with? Yeah I'm tired of having to switch to spotify for curated playlists myself. One thing I don't understand is why MS thinks that the curated list feature must be demanded for with the "tell us you love it" BS. How the hell will I know if I love it or not, if I don't even get a chance to try it? *Sigh*

My guess as well.. *sigh* is the perfect expression! :)

Don't mean to be that guy... But I really wish they'd add these features to the Android app. I love the new "your Grove" stuff on my surface pro 4 and I use all Microsoft services on my Nexus 6p but the groove app is seriously lacking. Doesn't even have seek functionality. My work around is just finding good play lists on groove on my surface then just saving them to use on my nexus. Posted via the Windows Central App for Android

Will tagged music ever show up in the Music app?

Man, Your Groove is frightenly good.

Groove is great. The only thing that I really need is last fm compatibility. Not being able to scrobble is such a huge problem.

after adding songs to onedrive music, I cant see them in groove music.. can anybody help with this
Windows Central Newsletter
Thank you for signing up to Windows Central. You will receive a verification email shortly.
There was a problem. Please refresh the page and try again.