Microsoft's Your Groove goes wider to Insider Slow and Release Preview Rings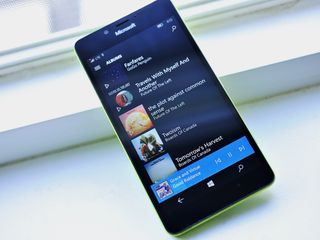 If you are on one of the lower rings of the Insider program, you should be in for a small treat tonight. Microsoft's Your Groove is now heading to Slow and Release Preview Rings for further testing and evaluation before its big Anniversary Update release.
Build 3.6.2303.0 of the Groove Music app should be live in the Store in the next few hours according to Microsoft's Ellen Kilbourne. With the update comes the new Your Groove playlist feature. Your Groove was announced three weeks ago in mid-June and has the following features:
Quickly get back to things you've played recently
Find recommendations for what to play next
Playlists for you are automatically generated playlists curated to your taste, based on a variety of factors such as your use of Groove (e.g. top plays, recent adds), musical metadata (e.g. mood, genre, era), information about the world of music around you (e.g. recent releases, who is on tour, critical reception), and common music-related activities (e.g. focusing at work, getting a party started)
Of course, it is that third option that has Groove users dancing as the curated playlists start to encroach on Spotify territory.
Up until now, only users in the Fast Ring were able to get the Groove Music app with Your Groove, but Microsoft is now letting all other testers in on the action. Once the company feels the service is up to snuff it will go out to all Windows 10 and Mobile users timed with the Anniversary update. Users will need their music stored on OneDrive for analysis or a Groove Music subscription to use the Your Groove feature.
Your Groove has already seen a recent update with improved UI and design changes, and there will likely be others in the future.
As of 9:15 PM ET the update is not yet live. However, it should be available soon. The current Fast Ring build of Groove Music is build 3.6.2301.0 so there is a good chance Fast Ring users will also see an update to match the newer 3.6.2303.0 build. The Groove Music update will apply to PC and Mobile users.
Download Groove Music from the Windows Store (opens in new tab)
Windows Central Newsletter
Get the best of Windows Central in your inbox, every day!
Daniel Rubino is the Editor-in-chief of Windows Central, head reviewer, podcast co-host, and analyst. He has been covering Microsoft since 2007 when this site was called WMExperts (and later Windows Phone Central). His interests include Windows, laptops, next-gen computing, and for some reason, watches. Before all this tech stuff, he worked on a Ph.D. in linguistics, watched people sleep (for medical purposes!), and ran the projectors at movie theaters because it was fun.
Since being on the fast ring, I have been using this build for little while, and it is pretty decent. The My Groove feature is a welcomed addition. Because of it, I find myself listening to Spotify less.

Your Groove has been great, even without a Music Pass. The playlists are usually spot on as advertised, only a few minor hiccups playing music from wrong decades but same genre. I'm new to Spotify Premium and find it doesn't take my likes and dislikes into consideration like MixRadio used to and also repeats the same songs way too often, many times a few tracks after skipping to next. A MusicPass with Groove will be taking over next. All that's left is trying Deezer again after that. Too bad Groove can't play Spotify offline music :(

So it actually has a free music service again now?

No, not in US anyway. I have a music collection on OneDrive and sync 10 GB on the phone for offline use. The Your Groove function creates curated playlists based on what's stored in OneDrive and maybe even what's synced offline; music I already own.

How long have you been using Spotify Premium?
And did you use the free tier before using Premium?

Its great. I like making playlists but it's a chore. The one thing I miss is the great playlists Zune made from songs not in my library which upped the discoverability of new to me music.

If they'd just add the ability to search all users' public playlists (a Spotify feature), I'd switch in a minute.

Auto playlists made me love my zune and find tons of music

Support to more countries would be nice

Betul2....maybe in 2030??

Off topic but I badly need assistance.
I can't seem to download anything properly from the internet on my windows 10 computer. All exe files download with a corrupt or invalid signature (that's how Edge puts it) I've tried other browsers and Download managers and I still get the same error. It even affects Chrome installation
Media files (audio and video) download but are intermittently distorted when played.
It's also preventing me from downloading windows updates and updating Windows defender.
I didn't have this problem when I initially upgraded from Windows 7 but then it started suddenly.
I did a clean install because of this but the problem persists.
Please help.

OsayiSN, do other devices using the same router have any issues? WiFi or wired? Do you have another network card to try? The clean install you did, did you restore anything from a backup? Any device errors in device manager? Have you tried without using any antivirus or malware programs? Is the correct date/year set on your PC; OS and BIOS?

It's peculiar to just this device. Yes I've tried other network cards, same thing. I restored nothing during the installation.
I ran a troubleshoot on device manager and fixed every problem. Only windows defender is installed.
Yes my date/year is properly set everywhere.

Should move this thread to the help forums. A quick search shows a lot of others having the same issue. Try also posting on Microsoft Answers. I check that site frequently to assist.

How can we select release preview ring in phone??? O.o i dont have the option... Sorry if uts a stupid qn.

Insider app than you can pick fast slow release

Depends if you are already on another ring. I believe if you are on slow or fast rings, you can change to the release ring in the settings. If you are not on an insider ring, you have to download the insider app from the store.

I am on redstone and was wondering how i will change to the release preview for redstone when that comes out as that option is nowhere to be found.

Oh. If you want to roll back to the build that came with the phone so that you recieve the update like normal, you will have to use the Windows phone recovery tool. I actually went and checked my setting and I can't roll back to the release build as well, but I can jump forward to the fast. Probably has to do with having to uninstall files to have to revert back or something.

Still not able to download it or is it still exclusive to the 14xxx branch?

If they are saying it is also for release preview ring, then it should also be available on the 10586.456

That bulid is still like others with draining battery problems? I have a l830 and l640 and my l830 it s so bad when it comes to battery..but I m in 420

That bulid is still like others with draining battery problems? I have a l830 and l640 and my l830 it s so bad when it comes to battery..but I m in 420

Mmm soon never sound so good

Groove has moved up very well. With Your Groove, they surpassed Spotify, in my opinion. With the ability to play my huge private collection from OneDrive, Groove is now the best. I'm surprised to say this, but it is.

Not available in india. I just updated the app but dint got your groove in the app

Yep bro, i updated too but got nothing new in the update.

Groove has gone through so many face lifts. I don't feel it has its own identity anymore. Navigating sucks

I am absolutely loving the new "your groove" feature. Most are very relevant to my music taste, and they have helped me rediscover old songs I had nearly forgotten, as well as new songs that i have really liked. Job well done

The auto playlist feature is nice and all, I just wish that it could also create some playlists with new music that I dont already have on my playlists.. Usually it creates good playlists but only with 2-3 new songs on each playlists. Not really a good way to discover new music..
I would love for them to make a discover playlist like Spotify, but genre based. So you could listen to new music based on genres each week. The discover weekly on Spotify is not very good, but the thought is excellent! With I decent algorythm and a wider feature (genre based) this would keep me off Spotify..

your groove design still looks unfinished it remind me of one of linux media players where design is not important to them " if it works then how it looks is not important"

This wont magically give your cables USB throughput, will it?

Well this is great and all but my OneDrive doesn't have sufficient storage for most of my music so...

Its not available in India I guess as the features cant be seen after the update

Anyone ever thought that your groove won't work if sharing the account? Groove needs a family plan bad. Especially now that your groove exists.

And still no possibility to search for a song without changing the playlist.... This is why i'm forced to use Loco music player.

Where can we see the app version in the store?