Minecraft: Java Edition includes new generation tweaks in 1.18 Experimental Snapshot 4
More generation tweaks to warm the heart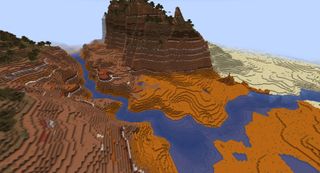 (Image credit: Mojang Studios | Twitter)
What you need to know
Minecraft: Java Edition tests future changes and updates through snapshots, or slices of early releases.
To test major changes coming with 1.18 'Caves and Cliffs Update' Part Two, Mojang Studios has been testing Experimental Snapshots.
Today, Minecraft: Java Edition is releasing 1.18 Experimental Snapshot to testers with a new batch of tweaks.
The tweaks continue to focus on the updated world generation coming in Part Two of the 'Caves and Cliffs Update.'
Part Two of the Caves and Cliffs Update for Minecraft will include a huge number of new features and changes for players to try out, and all of these features need extensive testing. To test the waters with the major world generation changes coming in 1.18 Caves and Cliffs Update Part Two, Mojang Studios has been releasing new Experimental Snapshots to committed players who don't mind dipping their toes into extremely early game builds.
Following 1.18 Experimental Snapshot 3 from last week, Mojang Studios is now releasing 1.18 Experimental Snapshot 4, which continues to focus almost entirely on world generation changes. This time around, there doesn't appear to be any obvious known issues, so this snapshot may be more stable than its predecessor.
Minecraft is one of the greatest games ever made, and the Java Edition certainly earns its place on our list of best PC games. If you're a fan of Minecraft, be sure to check out some of the best Minecraft toys and gifts, which includes something for everyone.
The full changelog for Minecraft: Java Edition 1.18 Experimental Snapshot 4 includes:
Changes
Temple tweaks: Desert temples tend to be partially buried, and Jungle temples and Desert temples no longer generate on water
Badlands and deserts are larger and less likely to show up as ugly microbiome splotches. Terracotta bands go higher. Wooded badlands grass and trees start higher
Made biome placement a bit smoother and less noisy (again). This should result in fewer microbiomes (again). Tweaked biome placement in general to reduce the risk of harsh collisions
Removed surface freezing for hot biomes, and raised the altitude at which snow layers are placed. This should result in fewer weird things like jungle trees with snow on top
Made snowy slopes less dirty. Again. For real this time
Made extreme hills terrain less unextreme. And fiddled with the placement of shattered terrain and extreme hills in general, to make it fit in with the terrain better
Reduced the likelihood of rivers being cut off and turning into steep dry river gorges in mountainous terrain. Instead rivers will tend to either carve a fjord through the mountain range, or raise the terrain to form a saddle valley between the peaks. This should make the terrain friendlier for both walking and boating. I think it also makes rivers a bit wider in general
Reduced the number of diorite / andesite / granite blobs on the surface. This should reduce the spray-paint look of stone shores and such
Stone shores sometimes generate layers (strips) of gravel, diorite, andesite, or granite. Stony peaks sometimes generate layers of gravel, calcite, andesite, or granite. No more need to destroy geodes to get calcite
More iron! You'll still mostly have to go caving or mountain climbing to find it. But you'll find more iron when you do!
Swampier swamps. Tweaked swamp placement a bit, just to keep them happy. They are less likely to extend far out from the coastline now, and rivers in swamps tend to be shallower
Bigger copper blobs in dripstone caves. Go to that biome if you want more copper! Either that or find a large copper vein
Installation
Download this zip file
Unpack the folder into your "versions" folder of your local Minecraft application data folder

Windows: Press Win + R and type %appdata%\.minecraft and press Ok
Mac OS X: In Finder, in the Go menu, select "Go to Folder" and enter ~/Library/Application Support/minecraft
Linux: ~/.minecraft or /home/<your username>/.minecraft/

Create a new launch configuration in the launcher and select the pending 1.18_experimental-snapshot-4.zip version
Start the game and the remaining files will be downloaded
Play in a new world! This version is not compatible with other snapshots!
Submit feedback on this site
Changes from 1.17
New world height and depth
New mountain biomes (lofty peaks, snowcapped peaks, grove, meadow, and snowy slopes)
New cave generation (cheese, spaghetti, and noodle caves)
Local water levels and lava levels in the underground
New cave biomes generate naturally underground and inside mountains (lush caves, dripstone caves)
Natural variation in terrain shape and elevation, independently from biomes. For example, forests and deserts could form up on a hill without needing a special biome just for that
New ore distribution
Large ore veins
Integrated mountains, caves, and cave entrances
Monsters will only spawn in complete darkness
Zachary Boddy (They / Them) is a Staff Writer primarily focused on covering the latest news, the best Xbox and PC games, and the most interesting hardware. They have been gaming and writing for most of their life, and have been with Windows Central and its sister sites since 2019. While originally brought on to write about all things Minecraft, Zachary has since expanded to write about practically everything that Windows Central covers. You can find Zachary on Twitter @BoddyZachary.
It's looking good. I can't wait into Snapshots. 🙂
The rivers not drying up is wonderful! It's been such annoyance for me.
Windows Central Newsletter
Thank you for signing up to Windows Central. You will receive a verification email shortly.
There was a problem. Please refresh the page and try again.