Minecraft Marketplace is your new store for community-created skins, texture packs, and more
Minecraft Marketplace is coming soon, and it will be the leading destination for the game's curated third-party content.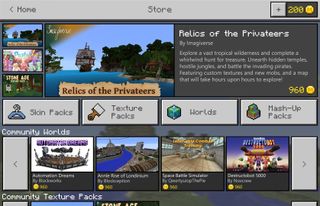 Microsoft announced a new storefront for Minecraft content creators, allowing select businesses to sell their creations via in-app purchases. Known as the "Minecraft Marketplace," this curated market will be a streamlined location for skins, texture packs and maps. Here's what you need to know about Minecraft Marketplace before its launch this spring.
What is the Minecraft Marketplace?
The Minecraft Marketplace is an upcoming store for Minecraft, offering a curated in-game portal for third-party content created entirely by community creators. Designed as an easy and safe route for distributing expansions across a variety of devices, the store serves as a cross-platform solution to benefit both players and creators.
Where can I access the Minecraft Marketplace?
The Minecraft Marketplace will be available across all versions of Minecraft: Pocket Edition and Minecraft: Windows 10 Edition, accessible via a separate section of the application. The original Java-based PC version and console versions won't see the storefront anytime soon, and there are no plans to bring the feature to either platform at this point in time. This restriction is mostly due to a shared "Bedrock Engine" used by all other versions of Minecraft, which differs from the core framework used by console and PC.
Due to the similarities between each of the platforms, all content available on the Minecraft Marketplace will be available across all Minecraft Marketplace-enabled versions of the game. When purchasing via the store an Xbox Live account is required, which will tie all your purchases to a single location. By logging into the account across other devices, your Minecraft Marketplace purchases will automatically transfer between platforms.
What content will be available on the Minecraft Marketplace?
Once the Minecraft Marketplace rolls out, the storefront will serve as a one-stop shop for all Minecraft content. While community-created content will be placed at the forefront of the store, Microsoft's own in-house content will also be available for purchase. In-progress mockups we've seen place Microsoft's own content at the bottom of the Minecraft Marketplace homepage.
The Minecraft Marketplace will provide access to skins, texture packs and world mashup packs, all designed by community creators. All content released on the store will be verified and tested with the help of Microsoft, to retain a consistent level of quality and curation within the virtual market.
The first batch of Minecraft Marketplace content is expected to roll out alongside the store this spring. Featuring content created by nine hand-picked partners, the store will launch with a range of add-on content which looks to appeal to numerous subsets of the game's community. Here's a breakdown of the content set to be offered by creators at launch.
Adventure maps
Adventure maps are carefully constructed levels designed to offer tailored experiences built from the ground up by their creators. Taking advantage of Minecraft's "Adventure Mode," this restricts the more creative aspects of the game to create exploration-driven experiences. At launch, the Minecraft Marketplace will offer adventure maps from Blockception, Blockworks, Imagiverse, QwertyuiopThePie and Noxcrew.
Skin packs
Skin packs redesign characters in the Minecraft world, allowing players to express themselves through new character designs. Although official skin packs have been offered by Microsoft for some time, additional skins will also be thrown into the mix via new content creators. At launch, skin packs will be offered by Eneija Silverleaf and Razzleberry Fox.
Texture packs
Third-party texture packs are also making their way to the Minecraft Marketplace, allowing players to redesign the styling of the Minecraft world. At launch, texture packs will be available from both Polymaps and Sphax.
How is content purchased from the Minecraft Marketplace?
All content offered via the Minecraft Marketplace can be purchased via "Minecraft Coins," a new digital tender obtainable through an in-app purchase with real world currency. Existing in-house content from Microsoft will be converted over to this new tender, making this a definitive currency used within Minecraft.
Minecraft Coins will be available for purchase in three pack tiers, via an in-app purchase across all platforms. Packs of 320, 840 and 1,720 coins will be available at launch, priced at $1.99, $4.99 and $9.99 respectively. To put this into perspective, Microsoft is looking to charge 960 coins for adventure maps, 480 coins for texture packs and 320 coins for skin packs.
Where can I use content purchased in the Minecraft Marketplace?
Like other content obtained via in-app purchases in Minecraft, all skins, texture packs and maps can be used in both the single player mode and multiplayer Realms.
Content licenses can also be shared via a Realm, which means only a single map purchase is required to apply this to a multiplayer session. This allows all players to experience paid Minecraft Marketplace content without a barrier between players based on the content they own.
When will the Minecraft Marketplace be available?
While an exact date for its rollout is yet to be decided, the store is currently scheduled to release something in the coming months. This is expected to go live alongside the 1.1 Discovery Update, which introduces a range of new features across both mobile and Windows 10 versions of the game.
How can I sell content in the Minecraft Marketplace?
For now, Microsoft is targeting the Minecraft Marketplace at a small community of Minecraft creators via a new initiative known as the "Minecraft Partner Program." This program is designed to allow registered businesses to publish their creations on the store while working closely with Microsoft on every release.
For now, hobbyists won't be eligible, in what appears to be an attempt to maintain professionalism in the program. With most revenue being passed on to the creators themselves, it's clear Microsoft wants professional creators to find an accessible and viable option for content creation as a business.
For those interested in applying, Microsoft is opening up applications to the Minecraft Creator's Program via Windows Dev Center. For now, the company plans to keep to a small pool of creators, while slowly allowing new businesses to join over time.
Get the Windows Central Newsletter
All the latest news, reviews, and guides for Windows and Xbox diehards.
Matt Brown was formerly a Windows Central's Senior Editor, Xbox & PC, at Future. Following over seven years of professional consumer technology and gaming coverage, he's focused on the world of Microsoft's gaming efforts. You can follow him on Twitter @mattjbrown.