Minecraft movie will be directed by It's Always Sunny In Philadelphia's Rob McElhenney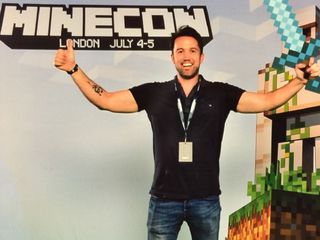 The hit sanbox game Minecraft, now owned by Microsoft, is going to be adapted into a feature film. Minecraft's main studio Mojang just announced that the director of the movie will be Rob McElhenney, the co-creator and co-star of the hit FX sitcom It's Always Sunny In Philadelphia.
The announcement was accompanied by a picture of McElhenney taken at the recent Minecon convention in London, which he quietly attended. McElhenney himself posted a message addressing the announcement on his Twitter account, saying, "Hey @Mojang let's do something strange and wonderful."
The Minecraft movie itself has been in the works for some time at Warner Bros. At one point, it had selected Night At The Museum director Shawn Levy to direct the film but he later bowed out. There's no word yet on when production will begin on the movie with McElhenney directing, nor is there a release date.
Source: Mojang
??? WHY..... does this need to be a movie??

My guess: to make lots of money.

Why not ? It's gonna be like the Lego, which wasn't bad

Maybe they will make a game to go with the film!

That's like what Pokémon Yellow was, a game based off of an anime based off of a game.

... What? The film is based off the game XD

I hated the ending of the Lego Movie. It was so jarring. Don't put us in a world for 90 minutes and then tear apart the entire thing at the end. I hope the Minecraft movie is much better. I'm a little worried that Roy Lee is producing it, but I feel a lot better now that Rob McElhenney is directing it. It's Always Sunny in Philadelphia is pretty great. Also, for those who care, the article states that director Shawn Levy "bowed out", but that isn't really the case: he essentially got fired because Mojang rejected his vision of the movie (which he wanted to be like Goonies). It's odd that they rejected that, since that is kind of what Telltale games is doing with Minecraft: Story Mode. But, it'll be interesting to see the direction that McElhenney takes it instead. I'd love for a more serious, Castaway-esque movie, but my guess is that it'll be more geared towards kids.

Who needs a Minecraft movie? They already make Lego movies and Pixel is coming out. Between the 2 of them, they have it covered. Unless ita a documentary about the making of Minecraft. Either way, I'll skip both.

Great, thanks for stopping by. Minecraft has nothing to do with Lego or Pixel. Many people would love to see a Minecraft movie.

You realize that just because you don't want it, doesn't mean the rest of the world shares your opinion. Also, I don't know if your aware, you don't have to watch it. Thank you.

Do you live under a rock?

Really a Minecraft movie....WTF make a damn Halo movie!!!!!!!

There's, I watched it 5 years ago

Why the fuck are they making a movie?

Because every kid will go to watch it, which means every kid's parent will also watch it, which means they'll make a ton of money. And grandparents will buy the video for Christmas gifts. And they'll introduce some new characters, which means lots of new merchandising. And kids will be talking about it for months, further cementing Minecraft into their culture. Only a complete fool would pass on making a movie of this. Of course, given that Microsoft is involved there's always the possibility that it will be so terrible it has the opposite effect, but hopefully they have the good sense to mostly stay out of the creative process.

yaay, win 10 mobile will fit in the movie nicely! with all the tiles! :D

I love Sunny and Mac. Looking forward to this :)

Mac: I could perfectly cut all trees in the entire Minecraft map with just a few slashes of my sword, let me show you SWOOSH SWOSH SWOOSH... well, ok maybe not ALL of the trees? but I can definitely slash a bunch of 'em

I like Mac and I also enjoyed Sunny. I just hope this is something I can take the kids to see and not have "strange and wonderful" mean constant Sunny like references to sex, drugs or Charlie.

Not sure how I feel about a Minecraft movie, but I love It's Always Sunny so I'll see anything done by Rob McElhenney.

I wont see this movie unless someone is hanging dong. (Sunny reference)

I hope they give out free tickets to anyone with a certificate where this said person is being exnorerated from being donkey-brained :D

I'm happy for Rob! Hopefully the movie does well.

Brandon, Freddiew's former YouTube partner won't like this. He was in talks of making this independently

Would've loved to see a robotchicken inspired mineshaft movie

This will be interesting. I guess I would rather play the game than watching a movie off the game. But there is so many dumb/boring 3d movies in these 20 years, at least I know this can't be worse. as long as it is not live action movie, everything is ok. although a minecraft live action movie doesn't sound too bad either. ;) I don't even play much Minecraft but I admit it has nice stuff, you can even 3d print stuff you do with it. that's the nice thing about it, it's everywhere and let's you do alot of things. not just play survival mode alone in your room.

i really hope its lethal weapon 6.

Seriously??? Isn't the story mode bad enough??? Now movie?? So what's the movie gonna be? 120 minutes long of a survival gameplay??
Windows Central Newsletter
Get the best of Windows Central in in your inbox, every day!
Thank you for signing up to Windows Central. You will receive a verification email shortly.
There was a problem. Please refresh the page and try again.