Minecraft Pocket Edition for Windows Phone already in early stages of development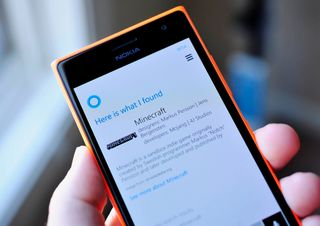 A few weeks ago, Microsoft acquired Minecraft makers Mojang for a rather large sum of money. The next obvious question is when can we see Minecraft Pocket Edition for Windows Phone? After all, even BlackBerry 10 has it at this point. Microsoft's Phil Spencer did claim it would happen, even for Windows 8.1.
As it turns out, Mojang had begun development of a Minecraft port to Windows Phone before the acquisition. So says Tommaso Checchi in a series of recent tweets. Checchi is a developer on the Mojang team and even tweeted a photo of the game, seen below, listed in the app menu of the dual-SIM Lumia 635, which seemingly confirms it runs on 512 MB phones too.
Checchi was surprisingly forthcoming about the game, noting:
Certainly, this is good news for those yearning for Minecraft on their phones even if older folks like myself still do not understand the game (get off my digital lawn!). Although there is no timeframe for release, it appears that the game development is well under way and likely accelerating with Microsoft's purchase of the company. Here is hoping to a year-end release.
Source: Tommaso Checchi (Twitter); Thanks, unnatixlr8, for the tip!
Windows Central Newsletter
Get the best of Windows Central in your inbox, every day!
Daniel Rubino is the Editor-in-chief of Windows Central, head reviewer, podcast co-host, and analyst. He has been covering Microsoft since 2007 when this site was called WMExperts (and later Windows Phone Central). His interests include Windows, laptops, next-gen computing, and for some reason, watches. Before all this tech stuff, he worked on a Ph.D. in linguistics, watched people sleep (for medical purposes!), and ran the projectors at movie theaters because it was fun.
It's not free on iOS, so that's very unlikely.

Expect the same price range as iOS

We are using Microsoft's windows phone so maybe it will be free

I don't think it'll be free. If that was the case Halo would also have been free.

It was, for Lumia 1520, hopefully at least for a limited time or for a new flagship phone

Sorry, that logic doesn't work. As Halo is a Microsoft exclusive.

Why not expect higher price, as always?

Why free?? If it's a good game (and MineCraft IS a good game), I would glad for paying for! Was your car free? Was your TV free? Is your food free??

Yep. My slaves grow it, prepare it, and feed me as well.

Yes, heard your wife is free too.

Lol.... She is a free "version"

You cannot marry a slave, as stated bye the honorable laws of the Roman Rights, anyone in the condition of slave isn't capable of marrying anyone and children are slaves too if born from parents within such condition.
What you're doing is illegal and punishable.

Yea, I hope it's free, as I have already paid to have a PC, Xbox 360 and Xbox one version....and I dont really play it that much any more...

Why do you need it on so many devices

Yeah, marrying your slave, shame on you!

ArdaCraft, coming soon, For $0,00. (Premium sold For extra price)

Lets hope its free and can run at 512mb ram phones too

This joke is old now. Not funny anymore.

dear mojang / msft. it would be awesome, to get the pocked edition free if you already purchased the desktop one. sincerely: an alpha user from 2010.

I second this, I've purchased the desktop version, the Xbox 360 version, the Xbox One upgrade and even the Android version.
But... *sigh* ill be glad to pay another $7 to have it on my gorgeous 6" 1520 :)

Two words *universal Apps*

I have it on PC, Xbox, and soon PE

Agreed, also alpha user/early purchaser of said software, which promised full access to future releases as a early buy in incentive...

Survivalcraft is better than Minecraft PE Imo.

No, no it's not. Minecraft ripoffs are not better than Minecraft.

PE of Minecraft is awful. You can reach the boundaries easily of the world. I've never found a boundary in Survivalcraft. It's also got better controls as it was designed for touchscreen devices. And that's just scratching the surface. And on top of that, it's is only one person working on it. Minecraft PE has a team and still sucks.

You must've played a much earlier version of it because those limits aren't there anymore. Regardless, I'd never praise any game which is such a blatant ripoff of another IP.

Again not a ripoff. I advise you to play the game before saying such thing. In fact SC originated on the Windows Phone Store years ago before PE ever came on iOS or Android and WP Store. SC originated on the WP App Store not on android or iOS Posted via the Windows Phone Central App for Android

I've played it. It's unabashedly a Minecraft ripoff. Just because you put sprinkles on a stolen cake doesn't make it less stolen.

You say you've played but still say it's a ripoff. I dare say you haven't played at all to say such accusations. It is far drastically different and superior than PE Posted via the Windows Phone Central App for Android

Unless you are the developer's little brother, your Stockholm Syndrome-esque denial of reality is quite bizarre. Poll 100 dentists and 99 will conclude it is a Minecraft ripoff.

Really :o dear mine. Lol tell me how it is a clone, don't just bash a game that you've never played just because they look so similiar to another game and I highly doubt your statistics even makes sense. Tell me how it's such a clone. Ears are all open. Apart from being in the same genre of sandbox games, what else is so clony about it Posted via the Windows Phone Central App for Android

You are probably the only person in the world trying to argue that Survivalcraft isn't a Minecraft clone. But, fine, I'll bite. Here goes. Let's get the obvious out of the way right now, from the ridiculous name Survivalcraft being nothing more than an amalgamation of Minecraft and Minecraft's main mode, Survival mode. Then, of course there are the blocky, pixelated graphics that are a Minecraft trademark. All that aside, the entire game is unabashedly a direct Minecraft clone. Just read these excerpts from the official Survivalcraft wiki:
"survive for as long as you can, which means trying to take advantage of your permanent stay on the never ending island. Discover rare animals, gather resources, hunt for food, fight off the carnivores that come after you at night and more!" That is, almost verbatim, a description of Minecraft, as is the official advice on "How to Survive the First Night" (a concept that is, itself, a Minecraft trademark): "The first thing you want to gather is wood, because it is cheap and can be crafted into alot of planks. After you've gathered a few stacks, craft a crafting table and use it to craft a wooden pickaxe." This is, again, almost verbatim, exactly what the Minecraft tutorial tells you to do to "survive the first night". Then there is the core gameplay itself: placeable in-world blocks (most of which are filched directly from Minecraft), the concept of circuitry, the existence and reliance on crafting tables and furnaces, the existence of seed generators, and the role that farming, husbandry, trapping, and mining play in the game. How can you seriously argue that none of that, let alone all of it, was not filched from Minecraft?

You shouldn't scratch a suface. But id be fine if you scratched an ipad(in front of an apple store)

I'm afraid that Survivalcraft is not a measly Minecraft clone. If you only played the game, you'll see how it is not, in fact the only thing in common is that both are sandbox games and the use of blocks. It's like saying Battlefield is a clone of Call of Duty. Misinformed Posted via the Windows Phone Central App for Android

off: btw i get a 930 today, (i still have the 630) and this is the best electronic device i ever used, amazing.

I bought the game on PC pretty early in its development stages as well (early betas, IIRC) - I too would love it if it's be free for me as well (or at least with a discount).

What's with everyone wanting this to be free? That makes no financial sense from Microsoft's perspective, unless of course you're okay with being bombarded by ads and a shitload of micro transactions. If you can't afford a $7 game that's your problem, Microsoft doesn't owe you anything.

Although potentially sounding entitled, its not unreasonable to have that as an incentive and bonus to WP users, you know, it makes more sense that way.

Exactly especially if they go through the trouble of an universal app model it wouldn't be so bad to ask for $10(typical cost a xbla title of this caliber would cost)

"Microsoft doesn't owe you anything"
microsoft owes us everything, we are their precious beta / alpha tester, and also we recommend our friends and family members to buy WP so that market share grows even a tiny percent. ;) as for the reward they should make it free for their beta/ alpha testers :)

As is often pointed out on here, it's not always people being cheapskates, not everyone has a method that they can use to pay. I struggled for ages with my N8, because my credit card wasn't registered in the same country as my carrier, so Nokia wouldn't accept it.

That's some twisted logic right there, you are a beta tester because you want to be one. Microsoft doesn't put a gun to your head.

Calm down, that was a joke :P

What happened i only commented on an article and got these replies ! Hahah

Free on windows app store only ftw that would be good for windows user over android and iPhones free office free Minecraft etc and just leave it paid for Xbox and PC desktop for other platforms like IOS and android or mac Linux etc that would be epic though if they later made it free for Xbox and PC (windows only)

Make it like universal apps. Purchased on Xbox One = download on phone, tablet and desktop :D

I totally agree with Prestonmcole! Come on Microsoft show us this Universal stuff you keep talking about and make it free if it has already been bought on another Microsoft platform.

I really don't know what this obsession is, with this freeloaders. Buy once, play on multiple devices is a nice enough move I think.

Mhm, Yep, I'm going to switch to windows phone just because a 5 dollar app is free. Lol! Posted via the Windows Phone Central App for Android

You won't believe some nerds.

Free or not free, it's available for 512MB devices! We can celebrate and when it comes out, were can create anything that comes to our heads!

Aka not before Q4 2016...

That will please my son. Now I'll have to play in his damn worlds...!

You both need to use fitness app

You as well, look at yourself!

I wonder if they'll offer Xbox Live sync, so you could play your console games on your tablet then move to your phone and back....

Not possible because the phone version is pocket, hence doesn't have all the features of the console one.

I was actually hoping the WP version wouldn't be the "Pocket Edition". I was hoping MIcrosoft would find a way to make it compatible with the Xbox One, Xbox 360, Windows 8.1 and Windows Phone versions for cloud sync. That would've been epic.

I already bought the iOS version back in the day so I'd better be free

No it won't you'll have to pay again because you bought it on ios and not windows

Muppet, why would you expect it to be free? It costs money to develop these ports, theyre not going to give it away just because you bought it on a competing platform. You muppet.

Muppet and Numpty two of my fav words lol. And so rarely get to use them in the same sentence.

Since when does universal shop model include Windows Phone and iOS? They would be generous enough, if they offer a universal app for Windows and Windows Phone.

Free seems like a stretch. How much is it on ios, 5.99? I'll be happy if it's around that price.

It's not free obviously but developer should make "try" option available for the app

Agreed all devs should do this

Please, let there be Xbox integration!

Tweet the developer to let him know we want Xbox Live integration: the screenshot posted on Twitter by one of the developers, the game icon doesn't show an Xbox banner atop it. Please tweet to the developer, @_tomcc, telling him we want it to be Xbox enabled. Or, better yet, retweet my tweet to him saying just that. #SaveXboxWP, baby!

Give it achievements and I'll be happy.

Why everyone love achievements ? What do we take?

This thread explains why people love Xbox achievements.

Woohoo I'll pay a bit of money for this. Should be great on my Lumia 1520.

Sorry, but games like these are idiotic on touch screen only devices. Release it for my Vita already

The irony of someone who spent money on a PS Vita lecturing others on idiocy. I kid, I kid! (kind of)

Actually it was a great investment. A ton of awesome games for it, despite the popular belief that there aren't. Also, I just discovered that Minecraft will be available for it in four days :)

I was just jesting, of course. But, yes, I'm glad they're bringing Minecraft to it. In addition to Vita, Windows Phone, and Windows 8/RT, I hope they bring Minecraft to 3DS, Wii U, and Oculus Rift too. I want it to become the best-selling game of all time. It's on it's way.

I wonder about all these people that shout 'I want it free please!'. Do they go to the corner grocer and say "Milk, bacon and 6 eggs... And I want them free!' Or to a car show room... 'I like the look of the new Mazda MX5... But I want it free!' WTF?

Most people, like me could afford apps, but don't have a credit cards. If there was a way I could use my prepaid sim account to buy apps. I sure as sh*t would.. It's easier.. And people would be more comfortable using a prepaid sim account than using credit card online... At least my dad would... As for your point.. Assume if people even once in a while were to give away cars or food for free... In a totally legit way without compromising quality.. .. Would you still want to pay for it? ofc people would hope that the next car would be free just as the last one was.. I know it makes no sense to give away cars for free.. But the point is if people can get something for free, they'd sure as shit would want it for free..

Hmmm...I have a feeling one day Life is gonna bite you good ;-)

Carrier billing or Microsoft Store cards from WalMart/BestBuy.

Not in India.. There is absolutely no other way to buy apps.. Only credit cards for me.. If you know any thing that would work for me in India. That'd be really helpful..

Making it free on Windows Phone would make Microsoft and Window Phone look really good, and since they now own Mojang they should make it free

Yeah, but they bought to make a profit.. So giving it away for free doesn't seem like a good idea

Come on damn it. Be different, spell it out. We wont tell.

Mercedes owns smart car so I should get one free for my wife because I got a C63. Is this how you see life?

A big ass comparing Mercedees and App... Let them put ad in games, and make it paid for an ad-free version.. So, they get profit (more than the paid version), we get great games... atlast everyone is happy :P

No this is being a big ass. That's not how you spell Mercedes ;)
Its the same concept.

Not really, it's not like free for Windows Phone would do anything in the long run. You really think someone will switch platforms because an app is usually $7 is free on WP?

Yeah, they should make it free! Free man! But I want it for free! I don't have a credit card - I *do* have a $200 phone (and probably an iPad and a PC Tablet, my own TV and a bunch of material stuff) but still I want it for free ... and it *should* be free, right? 'Cos then it would look really good! And did I mention if it was free it would be so cewl. I never buy apps - I only get them for free. Downloading all tha' time, ya' know what I'm sayin'?. Why should I pay? I mean the guys that work at Mojang, oh and those Microsoft developers and what-not, they don't need to be paid - they prob'ly work for free. Dude. Sweet. Free!

Please make it for windows tablet! I want to play in my dell venue 11 pro. Now get this and candy crush Microsoft! Posted via Windows Phone Central App

Yes we need the following developers on Windowsphone app store : KING, and SUPERCELL and others will follow them soon after.

king yucks. u haven't tried the very alternatives of candy crush.

Some people don't like alternatives or third party apps. They go for what they already know and people know KING

I actually stopped playing it. It drains my battery way too much on my oneplus one. I guess they only optimize there apps for popular smart phones..... Posted via Windows Phone Central App

How. The hell did you know its a dual SIM? :p

I have a 630 and its Single SIM

I have a 630 and its Dual SIM

I didn't know that there was a single SIM version Posted via Windows Phone Central App

I know its 630 and I know there is two version one with dual SIM and one with single SIM , how did he know its a dual SIM there no sign that its dual SIM,in this pic

I don't care if its free, I just hope it has Xbox Live.

Then help me tell the developer that we want Xbox Live integration: please retweet this.

I brought the good news :p
*feeling good*

I dont understand MC either, but my son will be VERY happy about this. We also will proabably never see him again.

I watch my nephew every afternoon and he has an absolute meltdown if he can't get his hour on the Xbox when he gets home from school to play Minecraft. It's really sad.

Maybe he likes building and creating.

Yuss!! :D my Lumia is waiting

I think making out free would have so many people dump there iPhones and android phones and come over to windows

Can't tell if you're joking... Why would one $7 app get someone to buy a new phone and switch to a new platform? It would be really cool if they made it a universal app though.

The one way I can see Microsoft poaching customers from iPhone and android at least the hardcore Minecraft fans is to make Minecraft better on windows phone make it get all the extra downloadable content exclusively.and never update the Minecraft apps on IOS and android MS keeps there promise to keep Minecraft on competing platforms but makes it so for the best Minecraft experience you need to switch to windows phone and then only the hardcore of Minecraft fans will switch.

I doubt that will ever happen. Microsoft and Mojang would lose tons of profits from the iOS and Android variants where PE will have a majority of its revenue when it comes to the Windows Phone App Store Posted via the Windows Phone Central App for Android

Yep, Will bring a lot of attention if a holiday release.

I still don't get the big craze around this game. I'd rather play my old Nintendo than this game.

Sounds like you're dismissing it without ever playing it.

I am.. It's looks like playing a game from the 80's but in 3d. I think the most sales for these games are by parents who buy for their kids.

Yup me too, I hate this game

I only play for circuitry.

I hope its 4.99 a small discount but same price as you would to port from last Gen to next Gen.

Probably in time for windows phone 10 preview

Why not WP9? There is no reason to call it WP10, right?

Oh my good god! I want it!

Maybe a 1 day free promotion for windows phone?

This is great. Except for the fact that controlling it with virtual joysticks sounds awful when compared to a mouse and keyboard. But I will probably get it anyway :P

Mouse and keyboard sounds awful to me. Controllers for the win. WASD + double clicking = yuck

I find that I play a lot faster with a mouse versus a controller. It just feels more precise and snappy. And if you want you can just plug your Xbox controller into a PC and your set.

Minecraft was made for PCs from th start, and even though I have both versions, the pc version is more superior because of more features and quicker version updates and easier to access material than with a controller.

Lets hope this doesn't turn out to be SLIDERCraft.

"Soon" made me laugh in the middle of the lecture. Soon has different meaning when its comes to windows phone platform. So true

Probably won't have it for a long while yet then

Whta this app really needs is better cros platform compatibility. Seriously, why can't I start building something on PC or Xbox One and simply continue on Windows Phone? I also wan't mods and server support... 90% of minecraft fun on PC is logging into different servers and playing on line... Cops and robbers, hunger games... you name it... It really is TONS OF FUN. But why o why are we limited by PC verson to have fun? Why not XBOX One or even Windows Phone? XBOX One version is seriously limited in this regards. I mean only 4 people multiplayer? Come on... let people host their "worlds" on line in XBOX universe so everyone can join in for tons of fun...

Xbox one only allows 4 players? I thought it doubled from the 360 version. And it would be kinda hard to do that "start building on PC or Xbox thing and simply continue on Windows phone" thing. The map sizes are extremely different. PC being virtually infinite, Xbox one is like 500 or 1000 chunks, and the phone version is way less. Even now in order to play a map from PC to Xbox you need third party programs. And for the mods. I actually wouldn't want the Xbox version to have mods. I feel like it would ruin the experience. Sure it makes it better on PC but, for Xbox?

Developers work hard on games and ports of games. Therefore let me say I would not mind paying for it. I have never played Minecraft and would not mind. So when it releases on WP I will purchase it. I do not mind paying for apps.

So I guess the only person to not want to bring it to windows phone was Notch. At least that's what I'm guessing if the mojang team started before the acquisition.

Behind BB10? Why? Was that version just a 100% direct android port? C'mon WP!

Free?? Never happen. It never ceases to amaze me that people pay hundreds of dollars for a device and then complain about a game because it costs a few bucks. SMH Dev's invest their talent, time, and money to develop apps and should be compensated for their work. I myself see nothing wrong with that, be it free ad sponsored or payment. Those who complain should ask themselves these questions . Do you get paid at your job? Would you work for free? If you answer yes to the first question and no to the second then why do you expect a developer not to be paid for their work? Posted via the Windows Phone Central App for Android

Thank god Notch left, worthless scum.

Why Mojang is a lot cheaper than Whatsapp?

End of year? How many billions was spent? Maybe MS can a hire a dev or two to help out? Just saying.

I hope the price is half of other store.. With exclusive contents just for windowsphone.. That is great deal..

Sweet. Really looking forward to something so fun I'll kill even my 1520's battery from playing so much, ha ha

Let the developer of Minecraft: Pocket Edition (WP) know that we want Xbox integration. Retweet https://twitter.com/opticon9/status/520724905764343808

they got my money as soon as it releases.

Nice! I can finally convert my nephew and nieces to Lumiaism.

It would take me about 10 minutes to generate an app called that with an icon and stick it in my app list!

And so it supports 512gigs of ram. Installed on Lumia630/635

No Xbox live support ? #SaveXboxWP Now that MS owns MineCraft, I would love to see them pull it from iOS and Android and make it a Windows Phone exclusive but, MS would never do that..

Is there going to be a release date soon for Minecraft pocket edition?