Minecraft: Story Mode comes to Netflix as a choose-your-own-adventure series
An interactive story that's somewhere between a show and a game.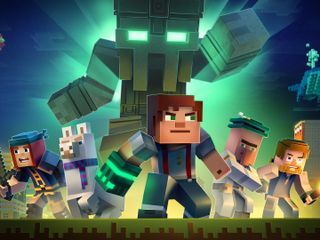 After a number of delays and the closure of developer Telltale Games, the episodic title Minecraft: Story Mode has finally arrived on Netflix as an interactive choose-your-own-adventure series.
Calling Netflix's version of Story Mode a "game" is a bit of a misnomer. Unlike the console version, you don't actually interact with the world around you or even control where Jesse, the lead character, moves around; instead, it plays out more like a movie that gives you the occasional list of options to guide the story along. You get to decide where to go when Reuben runs off, or what to craft with Petra, but aside from that, it's a mostly passive experience.
There are currently three episodes available, along with a short introductory episode with Petra guiding you through the mechanics of the story, but Minecraft: Story Mode is slated for five episodes on Netflix in total, with no word yet on whether we'll see a second season like on the console counterparts.
For the time being, Minecraft: Story Mode is playable on Netflix using iOS devices, smart TVs, computers, and game consoles — though notably missing from that compatibility list is Android. You can still watch the story unfold on your Android device, but the show will start with a warning stating that "unfortunately, the interactive features of this show can't be displayed on this device." Luckily, Android users can still enjoy the game through its dedicated app (opens in new tab).
I think I'd rather watch it without interactive features. I mean, if I watched it at all.
Windows Central Newsletter
Thank you for signing up to Windows Central. You will receive a verification email shortly.
There was a problem. Please refresh the page and try again.