Minecraft's official website gets a long-awaited makeover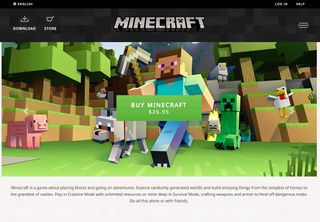 The Microsoft-owned developer Mojang has relaunched the official website for its popular sandbox game Minecraft. The new look includes faster ways to find and download every version of the game along with other features.
The new Mincraft.net is a welcome change from the old version which has changed very little from the design that was put in place when the game was first released in 2010. Mojang's blog stated:
Mojang is already working on yet another major update to the Minecraft site, which will add more community features and offer more information on the game's developers and its future plans.
Windows Central Newsletter
Get the best of Windows Central in in your inbox, every day!
"The new site has all the features you might be used to" Not true. They removed the best feature: the real-time sales counter.

"neon-lit-ugly-rigs and their monster monitors"
Okay Mojang. Windows Central for Windows 10-Microsoft Lumia 640

Sadly AWS... http://builtwith.com/minecraft.net

As a current customer i own the game. so i wont need to visit the website all that often.

www.mojang.com does not render fully on my Windows phone.

www.minecraft.net does. Which is what this article is about.

Ok. Link in the article is for mojang.com.

Two highlighted links attached to the words 'Minecraft' in this article and neither points to the site the article is about. EDIT: Looks like the second one is supposed to, but the author messed up the link ( new Mincraft.net ) - should link to www.minecraft.net

Writing at WC has got really sloppy recently..

Lol safari/chrome 1st ie/edge last

Having just woke up, I misread Minecraft as Microsoft and got excited, lol.

still waiting for the moment the site stop asking from my security question every time i login
Windows Central Newsletter
Thank you for signing up to Windows Central. You will receive a verification email shortly.
There was a problem. Please refresh the page and try again.