Minimalist calendar app Cal makes its debut on the Windows Phone 8 Store
Version 1.0 of the striking and orderly calendar app is now available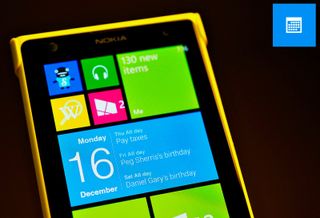 Back in late November, I gave you a sneak peek at a new calendar app headed to Windows Phone 8 dubbed Cal by developer Philippe Maes. The clean, minimalist app garnered a lot of attention and inquiries from you folks, with many frequently asking when it will arrive.
That day is finally here. After some added features, bugs squashed and a slight delay in publishing, Cal is now available! Read on for all of the details.
Since I last showed you the app, it has had numerous new functions added and improved upon, including:
Google Calendar sync
Manual sync
Calendar search
Hide Location info for appointment option
Change of font to roboto
Support for 720 and 1080P displays (removal of black bars)
Bold time and date on Live Tile for easier reading
That's on top of the already existing features in Cal, including:
Outlook/Live/Hotmail calendar support
Facebook birthdays and events support
Customizable livetile (chose color or image for background)
Month/week view
Appointment detail in Cal
Within the app, if you are in Week view you can swipe left or right to change between days. Swiping down will bring up the whole month. If in Month view (toggle in the upper hand corner) while swiping up or down will change the month. Tapping the month will bring up the ability to choose the date and double tapping on any calendar day will create a new appointment.
This calendar app is in my view, one of the more elegant ones on the Store now, topping our list along with Simple Calendar. Cal allows you to add/edit/delete appointments directly, without having to use the native app, it's simple to use and it looks great on Windows Phone.
Weekview (beta) coming to Cal in a future update
The Cal private beta is also still ongoing with a new Weekview (seen above) being rolled out. That forthcoming feature switches to landscape and gives a full, detailed look at the week. No surprise, it looks simply gorgeous. That means Cal 1.0 users can expect new features and refinements in the coming weeks, partially based on user feedback and the developer's own roadmap.
While enterprise and business fans may prefer the new Calendar Calleague, Chronos or True Calendar 8, casual and everyday people looking for an elegant, provoking calendar app will be best served with Cal.
Cal is now available on the Store with a free trial and it will cost $1.99 to keep. In other words, there's no reason to not give it a chance to see if it fits your style.
Pick up Cal here in the Store or scan the QR code below and let us know what you think in comments!
Windows Central Newsletter
Get the best of Windows Central in your inbox, every day!
Daniel Rubino is the Editor-in-chief of Windows Central, head reviewer, podcast co-host, and analyst. He has been covering Microsoft since 2007 when this site was called WMExperts (and later Windows Phone Central). His interests include Windows, laptops, next-gen computing, and for some reason, watches. Before all this tech stuff, he worked on a Ph.D. in linguistics, watched people sleep (for medical purposes!), and ran the projectors at movie theaters because it was fun.
Good looking app, but the live tile is a little plain.
Edit: After playing around with it I actually like all the options for the live tile. I wish you could add/edit appointments within the app though. Edit 2: Ok, turns out you can edit appointments by linking your MS account, rather than using the built-in calendar. All my complaints are invalid. This is my new favorite calendar app.

Change it up and add a photo as the background! Plain, in my opinion, is good as its less cluttered and easy to glance.

I dunno why we can't delete events !

I added my Microsoft account and I cannot edit or delete events either. @Daniel How did you get that to work for you? Edit: Ok, I got it working. I had my MS account connected, but when you have "Use built in calendar" still checked, you cannot edit or delete appts. Swiping is backwards in the week view. If I swipe to the right, it moves to the left. Nice looking app, though.

Leave the clutter and complication to Android and iOS.

So Cal and Any.Do are ripped off and regurgitated for windows phone? /sigh

All I see is a calendar app that looks great on my phone. Don't really care about the rest.

Well, Instagram was ripped off and regurgitated (to use your own words) for Windows Phone before the official client was launched, in the form of Instance, 6Tag and Instagraph. Did you complain then?...

Ok two things; the app itself is very nice and I should have vented my disdain for the Any.do and Cal devs on the other platforms for ignoring us properly. But, calling this Cal gives me the impression that we have either the actual Cal app or an API to the original. I find it a bit frustrating. Secondly, I have no reason to complain about Instance or any other Instagram client because those clients are not named the app they are attempting to surrogate. That said, the app is nice and I am purchasing it to continue supporting the developers of Windows Phone 8. Moving on.

We do. I believe its called Tinydo

Didn't find it. Tried tiny do tiny.do, any do any.do, todo, to do couldn't find one like it.

TinyDO...one word, or search for Vivmotion who make it. It really is excellent.

Awesome app! Loving every bit off it!

It's great to see developers craft apps that really show the strong points of Modern UI, and show how awesome it can look when used effectively, but I hope Microsoft is, or already has taken note of apps like this, and we see a possible refresh of core OS apps with the release of Windows Phone 8.1, just like we saw with the release of it's desktop/tablet OS counterpart.

For as many calendar apps I have bought/tried, I think this might be "the one." Why Microsoft hasn't provided us with a better stock app is beyond me but others like this one have filled in the gaps. Love it.

I would be happy if the app simply had an adjustable sized font. the stock app font is so small it's unreadable. can't believe this hasn't been fixed.

Breath of fresh air scooting about inside this app.
But the tile text looks like it got the wrong resolution. Its also a bit blurry.
Still some of the basics in what people ask for in all these calendar app is missing here also.

guys, i'm a strong lover of the metro design language, but I think that this app looks just horrible: - it's not using the convential OS UI paradigms (wrong font, custom nav, weird controls, etc.)
- the contrast is wrong (can you really read the blue text on the pictures ?)
- text flow is all over the place (look at the map title)
- spacing is bad (that calendar with background pics looks cheap)
- text alignments/margins/paddings are inconsistent
- colors look totally random also i hope the author checked the font licenses because it seems to me there could be a copyright issue (yeah fonts are not free!).

Looks like someone had a bad day at the office. I have tried many calendar apps and I must say this is my favourite by far and it's still early days. I hope in a future release we get the chance to add several accounts and not just one.

I think we have a winner...finally!

Is this available on Android, it iOS❔

Curious as to why you keep asking this question? the answer is who effin cares! Why does it matter? Take the app for what it is and enjoy.

It's for my own personal information.. Anyone who knows might answer it for me, and sometimes this information is provided in the article.. When its not I ask.. If you don't like it then whatever.. If you still can't just ignore my simple question then maybe you should write your mom for assistance.. Lol❕❕❕❕

Yes bro, CAL is basically an iOS app later came for Android for FREE. But I don't know why this app in WP is not free.

Thanks.. They must need money for resources. Plus, they might see WP as a huge risk..

Not the same app or developer. And fuck off with your free app comment, do you work for free?

Bro, Ididn't know that this is from different developer, but you can say that politally, without cursing me. I have this app installed in my Android Phone and also want the same for my Lumia. Please, use polite words to confront your comments. I am not hear to fight. I am hear to make friends. And for your information the Official CAL app from Any.Do is free of cost and doesn't have ads or in app purchases.

BTW.. That's a bad ass username.. "chillywilly_69"... Lol❕.... Cool.

Just Bought it :D Thanks Dan !!!

Holy Toledo I like this app.

Everytime i attempt to sync facebook it crashes. Thought it was a trial issue so bought it but it still continued. Uninstalled it and redownloaded but now says I have to rebuy...still crashes on FB sync attempt.

are you getting a white screen after logging in?? Thats what happened to me, I just hit the back button and it worked fine and it was synced.

Yep hangs at the white screen however when I go back and it attempts to sync, the app closes itself and on reopening the events and birthdays under FB aren't shown. Every resync attempt results in the app closing itself

Happening to me too. Unfortunately.

Fix is coming, I'm sorry for the bug.

Happens to me too! White screen when adding facebook, crashes the app and it removes my google calendar as well. Will wait for the bug fix to buy, other than that love it!

Combination of Helvetica and Segoe... Sorry, that's not a style!

I tried it. I'm sticking with Super Calendar. ;)

Love the app but I hope it gains support for Exchange so I can manage my work in the same app

I'm a huge fan of Chronos Calendar but gave the Cal trial a once-over. What are the restrictions of the trial? What does buying the app get me? So far I love the design and functionality!

So minimalist, they even shortened Calendar to Cal

I LOVE the tile in Cal. The Google integration is excellent too!

Interesting that is has the same tile icon as the default calendar app. Looks like a nice app and I'll give it a try

Did the trial but had a small concern... When I added my MS account it asked if I wanted to give access to orbhub.com it also called the app Calendar8... As far as the app goes... I like the app, its nice, flows rather nice. Its really well designed. Wish the tile flipped to show the month at least though. Still, I might go ahead and buy it even though I own most of the calendar apps for WP. Always looking for the best... jejeje

Man! This would be perfect with a Live Tile that flipped to show all day appointments and tasks.

This is the first calendar app that I like enough to replace the stock calendar.

Until microsoft is kind enough to allow me to use my SBI visa card or Debit card, no purchasing as I cannot,... sad very sad... Maybe we are too small to bother who have such problems

What do you mean? I've used a debit card for app and music purchases for years.

HDFC & ICICI Visa Debit cards work in the store .. I have been using it for almost 2 years now

Seems like my Google calendar doesn't sync even though it shows the account logged in. Anyone else have the problem? Also, it would be nice to have the month view on all the time instead of swiping down. Other than that, a nice looking app.

I'm working on a fix for the Google sync problem.
Check settings if you want the month view on all the time ;)

Thanks! Great app by the way!

Hi Philippe, really like the app. I was wondering how you were getting on with the Google sync? I'm thinking I may have to merge my google with outlook if it is going to be a long time. best Humphrey

Why are they using Android's Roboto font?

If you're developing a Windows Phone app Segoe comes with the SDK anyway.

Why CAL is paid for WP when it is free for iOS & Android.

Not the same app or developer. But go ahead and get the ios version if you want.

Perfect, i am going to trade This for True Calendar 8. Indeed simple but i Love It.

Live tile should allow more than 3 events.

Awesome application. I just wish I could add more than one Microsoft account or if I had the ability to distinguish my different accounts by color

What's the difference between the trial and full version?

Trail is free for 5 days!

NO, i am back to True Calendar 8. Don't want Android font on my Phone, default background color must be black to Be able to read the Live Tile and I use White.
So, not for me (yet). No diffenet colors for different calendars, no more than 3 events. The only thing i like is swipe to weekview.

I'm in love with this application, but my heart is broken at the same time. I absolutely love the design of the application itself and how simple it is, but there is no agenda view and that is an absolute killer for me. I love the live tile showing multiple upcoming events (instead of just a single event), but the fact that I can't open the app and view all my upcoming days in a list kills it. Hopefully an update around the corner will bring agenda support. If they deliver- I would gladly pay more than the advertised price for this awesome looking software.

Agreed!
Im now using Appointile to get lock screen support.
Super calendar to get 5 appointments in the wide tile.
The integrated calendar for agenda view (as a small tile just above the wide one, for easy access)
Nice design in this one, but sadly it lacks all of the above....

Does anyone else have the issue of making an event an all day event, then it gets tossed back to the day before? For example, if i make an event for all day Sunday, when i go back to the calendar, it shows my event on Saturday. Quite annoying.

if this issue is on your google calendar it is a known bug when syncing with google has probably nothing to do with the app

Do they have a month view that shows appointments directly on the calendar (so you don't have to click each day to see what's going on)?

Like the live tile but HATE the black background in the program, give us options for light background

This app seems very rushed/buggy. In the month view, I've had the appointments not register clicks until I restart the app multiple times, and the live tile keeps switching between no appointments and three. Also, I can't get the lock screen to work. I'll keep an eye on it, but for now it's not ready for prime time. (I also agree with some other comments, it really looks like a new iOS app)

Very good app. Could do with a white background and coloured text.

I like it. The background color should be a little darker...like three shades. And also have the option of a light or white theme. Pure agenda view should also be standard.

I'm having all sorts of issues with this clipping event names off on the medium size tile, and it chopping off the first few letters of a location on the wide tile.

Still sticking to Week View 8.

I love the app. So clean and yet elegant to look at. I unpinned WP's built-in calendar and had this instead.

Anyone not having upcoming events showing? I only see past events (from yesterday backwards)...

Love the app! Google sync is buggy though. Not all events where shown at first. And now every google event is gone.
Fix that please and I'll buy the app.

Same here as well. Please fix.

I'm working hard on fixing this issue!

Events also show upp one hour wrong when I edit them. Don't know if this has something todo with daylight savings time or timezone. Sometimes the time is right in the app and live tile, sometimes it changes to one hour early. I'm having Swedish timezone. (UTC 01:00) Other than that, great work!

Is it fixed ? I have this issue and I don't know if the app is buggy or if there's something wrong with my phone. Just bought, would be a real pain if it didn't synch with google

Very good calendar!
1-Hope it will be translated to italian!
2-To me live tile is not rotating when I have more appointment on the back Keep it up!

Am I the only one who uses the built-in calendar app, lol? It serves me very well!

I use it as well. I understand its limitations, but I am not sophisticated enough for them to bother me. WPCentral really does love their calendar apps though! :P

And weather and photo apps, lol! They LOVE them too! Tbh, I wouldn't own half as many apps without WPCentral...scratch that, I wouldn't own a quarter of them, lmao!

+928 I think half of my app list is photo taking and photo editing apps :P Another is the letter "Nokia" :D

I like the built in but the live tile is useless.

I agree. I feel the same way. I just want a live tile that displays more than one appointment and shows all day events. Even if the live tile would just flip over to show the all-day appointments I would be happy. The calendar app itself is just fine for me.

Why we don't have calendar app which sync up with MS outlook client??
This was very good feature with nokia pc suite.

Like the look and feel, but having real issues with the Google a/c sync. I can add new appts & edit appointments I have added (and this sync's ok up to Google), but cannot see/edit existing ones (they display if I show built in calendar which I have ActiveSync'd).

Have had a look, but still prefer Chronos Calendar and the developer for that is very quick to sort any concerns.

This calendar is beautiful, fast and useful. First one on WP to be all three. Sold.

I love the look and simplicity of this app, especially the month view. Shame that the wide tile doesn't flip and show more information on the back. Since I bought chronos calendar I won't be buying another calendar anytime soon but I've downloaded it for a "test drive" and I would definitely recommend it.

No feedback email provided in app. Never like it when you can't get support or send ideas for an app. Either consolidate the design around Roboto and get the design and spacings right without guidelines, or change to Segoe Light. (Segoe is free for app use Dan, did you really think every hello world developer paid for a license to use it?)

Brilliant App, just wish dev adds an option to show next appointment in the smallest live tile similar to simple calendar and im golden. Anyway bought it as i will use this app for my work calendar and simple calendar for my personal calendar -). keep up the great work phillipe!

Is there anyway to get it show events that are happening later in the week? I like how I always get a reminder that I have something coming up without having to open the app.

Why should I spend 2 bucks to buy an app that replaces a function already built into WP8. Is the stock calendar really that bad? What does Cal do that the wp calendar doesn't?

Nice start. Needs event reminders and an Agenda view. Won't replace Chromos without those. But I may check back at some time.

Any Week View 8 lovers in here? Or am I the only 1.

Nice start, but needs support for multiple Outlook/Exchange accounts for me to purchase it.

Yeah,
I am using both personal and work email as Google accounts and I need to have both connected to one app. Until there is no way to connect two Google/MS accounts I found no use in this app. It's a pitty because I like it's design, though!

I found a workaround, although it may not work for you. If you set up all the accounts in Windows Phone Calendar EXCEPT the main calendar you use to make appointments, you can then enter your main calendar login info in Cal and turn on "Use Built in Calendar", which will allow you to see multiple calendars and edit your preferred one. It works in my case because I only enter info in my own calendar, but I want to also see my family's calendars so I don't miss an important event. In any case, I bought the app because of the eye candy, in addition to being useful...

Thanks for this info, tonymus! But still, I'd like to have this freedom, to edit all my appointments, both from work and home google accounts. Will wait for it and when available, I'll buy the application for sure!

Is anyone else having issues with it not syncing google calendar correctly? It only seems to sync when I do it manually but when I exit, it disappears and does not update the livetile.

I have the same problem. When I add my Google account in the app is syncs all of my calendars (personal and shared/subscribed), but when I close the app they disappear at some point and I have to re-add my account to get them back. I'm on the trial version, but I would buy it if this was fixed.

Oh ok, I bought it thinking it was some sort of limitation on the trial version, hopefully it gets fixed soon.

Well, I don't know if it is a trial version limitation or if it just isn't working correctly. Either way, I hope it gets resolveded as I like the app, but I need it to sync all my calendars if I'm going to use it.

Not again. Ok, I bought it last night. Looks good. This morning, I check the live tile for my calender events and its showing me MONDAY! This is the very last time I buy anything without a trial or buying when there IS a trial.

Do you use an image as the tile background? If so, the livetile does not update indeed. I'm working very hard for a fix, don't give up on it yet ;)

Good news then. Yes, I did use an image. Awesome.

Good news. the live tile did update properly minus the image. I can't wait to see how this app develops

Great idea but seems a little rough for a public release. Any other apps that allow logging into google calendar? I share a calendar and need this function.

Call me crazy but what this calendar can do is a huge reaon for leaving iOS. Kudos!

Just downloaded it. So far, so good. One of my big complaints with the Chronos app is the inability to add or edit appointments. This app seems to do that well. It would be nice if the native app would just provide better functionality, but since that isn't happening, I guess we have to rely on third parties to pick up the slack. I am hopeful that the live tile updates regularly and properly. That is also a compaint about Chronos. It does not sync unless you open the app, so you are looking at yesterday's appointments all the time unless you want to tap to open the app, which pretty much renders the idea of a live tile useless.

This is really BEAUTIFUL! At last a very decent calendar app that don't hurt our eyes!

I like it a lot but I need to have Task; I will keep checking it though.

Check out the app Tasks by APPA Mundi Ltd. Syncs with outlook.com to pull tasks, and adds a category function.

Loving this calendar app. I do wish it used the WP font, or gave the option for it (would love that), but certainly not a deal breaker. I think a lot of the margins and padding could be cleaned up, but that is minor and I am sure will be improved. Great work, and thanks for the great app.

It's really good, but i'll stick to Appointile for now, mainly because it shows the days ahead with how many days are left until that appointment, which i find really handy. This has a lot of promise though, a bit more polish and features would probably see me purchasing it.

I don't have a problem with the WP stock calendar app, but I do not like the tile. Does anyone know if there is an app that just replaces the start screen tile with one that has a larger date and shows several upcoming appointments as well as any all-day appointments? I really don't need a full calendar app replacement.

I have an issue where Outlook.com appointments halfway through February 2014 do not show up in the app. Anyone else having this issue? Facebook calendar shows up fine past this date.

Whats the develop contact? Email?

Anyone know anything about the site to which I'm supposed to give authorization to access my MSFT account? I'm a touch hesitant since I can't find out anything about it.

Its a fake website. MSFT forces me to give one. Don't worry, nobody's got your login details. I just get an access code unique to your account.

As long as the app will stick with Helvetica, I won't use it

I feel as the app is crushing my battery. I downloaded the app yesterday and I went to bed with 61% battery and it died. I went to work today on full battery after I charged it and now my battery is at 54% and I barely have used it. I am a teacher and can not use the phone for most of the day. Anybody else have the same issue?

bro, why after syncing with microsoft acc, events on cal appears until feb only? fyi=trial ver.

I love this app and how it looks. However, when syncing my Google calendars, some of the appointments show up and some of them don't. Even appointments on the same calendar (i.e. Kids) will sometimes show up and sometimes not. I tried changing the appointments to "public" because I thought the "private" thing was an issue with syncing Google appointments, but that did not help. Any assistance would be much appreciated.

I can't get it to work. It seems to pick up some of the events from my Google Calendar, but not all. Others are duplicates.