Mirror's Edge escapes from exclusivity, now available to all Windows Phone users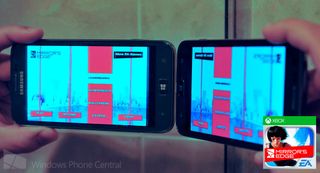 It's long been rumored that Nokia exclusive games and apps are just timed exclusives and will eventually become available to all Windows Phone users. We've been working behind the scenes to get the exact details behind the exclusivity window, but today a happy occurrence has answered one question for us. Former Nokia-exclusive Xbox game Mirror's Edge is now available to all Windows Phone 7 and 8 users, just over six months after its original release!
Dysfunction is a function
Mirror's Edge takes place in a futuristic dystopian setting. An unnamed metropolis' steps towards preventing crime have also turned it into a place where there is no freedom of information and citizens are monitored at all times. Sort of like working at Microsoft! Anyway, a group of parkour-practicing couriers called the Runners evolved to help spread information without interference from the government. Now the powers that be want to stamp out those Runners…
Some kind of genius
Players control Faith Connors, a lithesome Runner as she struggles to complete missions and evade capture. Unlike the 1st-person console versions, the smartphone game takes place from a 2D perspective (with 3D graphics). The visuals look fairly sharp even on Windows Phone 8 devices, and the music (surely borrowed from the big screen version) is unparalleled on our platform.
Mirror's Edge is essentially a fast-moving platformer, but it controls unlike any other mobile title I've played. All of Faith's actions are controlled with a single finger. Swipe left or right to run, down to slide, and up to jump or climb. It's a very intuitive system that hardcore and casual gamers alike should appreciate.
The game boasts 14 levels of free-running and lots of collectibles to find along the way. Challenging Speed Runs extend the replay value while also offering the requisite Achievements. Speaking of which, the full 200 GamerScore can be earned in a fairly short while if you're good enough. Check out Arsenic17's Achievement Guide for tips.
Mirror's Edge costs $2.99 and there is a free trial. Get it here at the Windows Phone Store, everybody.
HTC and Samsung owners breathe a sigh of relief
It's important to understand that most or all of the exclusives from Electronic Arts and Chillingo would never have made it to Windows Phone without Nokia's financing. In the first two years of Windows Phone's existence, those two publishers created 9 Xbox games for all to play. That's 4 or 5 games per year.
Since the exclusivity deal kicked in, we now have 10 exclusive games from them in less than a year (11 before Mirror's Edge switched over). As we've said on multiple occasions, the Windows Phone market is too small for major publishers to fully support of their own accord. It's the funding from Nokia that made those games possible and will continue to produce quality exclusives.
Now that we know these games really are timed exclusives, that puts Nokia Collection games in a new light. Windows Phone users who want the greatest number of games to play (and as quickly as possible) are still best advised to buy a Lumia phone. But the general Windows Phone ecosystem will still benefit from Nokia's partnership with EA and Chillingo as well. Non-Lumia owners just have to wait a little longer… Much better than never getting these games at all!
Windows Central Newsletter
Get the best of Windows Central in in your inbox, every day!
Paul Acevedo is the Games Editor at Windows Central. A lifelong gamer, he has written about videogames for over 15 years and reviewed over 350 games for our site. Follow him on Twitter @PaulRAcevedo. Don't hate. Appreciate!
I started to download the second I saw the notification. I have been waiting for this!!

It is a no go on the Verizon 8x. It says it isn't available on my device.

Try just buying it from the web. Your phone's store probably hasn't updated yet.

Love my job, since I've been bringing in $5600… I sit at home, music playing while I work in front of my new iMac that I got now that I'm making it online(Click on menu Home) https://goo.gl/hZTNz

I can't install it from my phone (AT&T 8X) or the web. I get some error when trying via the web. Hopefully this will be fixed shortly.

Also there is an apostrophe in mirrors which prevented it from appearing under normal search conditions.
Take note Microsoft, improve search of store please :)

Having the same issue, any word on it?

A very good game, got it on my 920 the instant I saw it. :D

There's a MIRROR in the image, touching the EDGE of the Samsung Focus! I totally get it.

It is a good game. Glad everyone can play it.

That still leaves a few games for the Nokia haters to moan about. Let me go ahead and insert the obligatory "Nokia exclusives are killing WP" whinge here!

That's being real mature there. Its a valid complaint. Not that its killing the platform, just that it's not good, if its permanent. You're taking it way further than some said.

Some people really did say that. You find a lot of hyperbolic responses on the internet.

Hence why I said some. Since we were debating it today on another article. I assumed he was bringing it into here. However if I'm wrong and it was not in direct response to the debate we had in other article. I apologize for my assumption, and reaction.

lol! Now I look silly *egg on face* Edit: Thanks Nokia!

I tried this on Steam and hated the controls on a keyboard. I can't imagine it's even playable on a touch screen.

Swiping in the four cardinal directions isn't hard at all. As for the Steam version, it probably supports controllers too.

It actully controls really well. Everything is done with swipes. It is a great game.

I bought the original game on xbox and it works great with a controler once you get the hang of it.

Two different games. PC/Console version is a first person game, mobile version is a 2.5D platformer. Swipe controls on the mobile version work really well.

FYI: bought it on the Nokia Collection a few months ago --> didn't have to pay again on my 8X. ;-)

So...since I bought it free when Nokia had it free I can put it on my LG quantum for free?...hmm..need to test that...

Even though Mirror's Edge is an EA game, I noticed the publisher is listed as Nokia. Interesting.

EA made the game, Nokia published it to the marketplace.

It's listed as Electronic Arts, on my device. Maybe it's because you have a Nokia device it's listed like that?

Well now users will finally see, Nokia is keeping their part of the deal. If we could get HTC & Samsung to do the same, the platform would eventually have all of the must have apps. And no I wouldn't have a problem with waiting a few months of exclusivity, cause eventually it will be for the same platform for everyone. Hey Sammy how about you release at least one of your exclusive apps for the platform? HTC, can we get the Beats software/app for the entire platform?

Uh let me try to explain this so you can understand it. Nokia can have all their apps they develop. Same for HTC and Samsung. The problem a lot of W8 users have is with 3rd party apps that are exclusive to Nokia. Yes Nokia does bribe them with cash but Microsoft gave Nokia about a billion dollars. If HTC landed a 6 month exclusive with instagram all the Nokia fanboys would crap their pants. They'd demand Microsoft do something.

There's no point in complaining like Nokia shouldn't do that. Samsung and HTC choose not to spend money on bringing apps to Windows Phone, whereas Nokia actually puts forth effort and money to entice users to their phones. And now that we know those apps and games will eventually come to all Windows Phones, it's to everyone's benefit.

I disagree. Nokia uses money that Microsoft gave them to pay for 3rd party exclusives. Other OEM's didn't get cash from Microsoft. Nokia doesn't have flagship devices on all carriers. So this obviously hurts the OS as a whole.

Nokia has a long history with companies like EA on mobile, they (EA) still supplies free games for the Asha series for example. There's nothing to suggest that HTC or Samsung would be able or even want to bring these apps over to the platform.
I don't like third-party app exclusivity either, but I still think its the best possible scenario we have right now, given that it is a timed window for all these apps. And I don't see this kind of stuff to end any time soon, hell Microsoft even seems to encourage it, as seen with the Viber HD debacle (MS pushed them into Lumia exclusivity).

I thought Nokia is getting 1/4 billion a year because Microsoft is using Nokia mapping or keeping Nokia away from Android.

Nokia was a sinking ship with Symbian. So Microsoft saved them and they jumped on windows os. With these exclusives they have contributed to windows phone low market share.

Enjoy guys.. This game has been really fun..

Wish I was able to get it for free back in December but since I hadn't upgraded to WP 8 didn't have a Nokia before I couldn't.

I'm getting an 8000ffff error when I try to download it, but glad that I finaly can almost play it.

Glad I got it when Nokia had it free... I do have to say it is a FUN game and the only game I have completed 100% from the beginning because it is so addictive... jejeje

My HTC Titan says this app is not available for my device.. Is this 7.8+ only, or something?
EDIT: Works now, had to wait a few hours.

Awesome news. Haha nice little jab at Microsoft too.

Calm down everyone. The update is always slow to update, especially from person to person. Give it some hours and I am sure you will be able to purchase this game.

The touch controls work great, from what I can remember. Didnt have any issues at all. Some achievements are glitchy, and the speed run times to beat are tough, but overall a very fun game.

Is a review in order for this game now Paul??

Yep, we'll definitely have one soon. Conflicted between whether Mirror's Edge or Skulls of the Shogun should come first though.

i'd say mirrors edge first, the issues with teh multiplatform thing would prevent a true review of all elements of skulls, though i suppose the WP game works fine (not that i've tested it, not my type of game)

What's with the Pitchshifter reference ?

Nice catch. I'm a big fan of the Mortal Kombat Annihilation soundtrack.

pitchshifter - genius, man it's been a while since i heard them.....in fact, it may have been when i saw them @ big day out nearly 15 years ago....that was a bad day...some good music, but i saw marilyn manson wearing far too little and literally cooked my face in the sun

Bought it on the web, but not install to my phone yet. Tried to go to the link on my phone to get to marketplace, still says it isn't for my HTC 8x. Hopefully, some switch will flip and my purchase will show up.

I live in the US and have a 920, this was never available for me to download for free. Almost every app that's mentioned here that's supposed to be in the Nokia Collection as an exclusive isn't listed in the store. I am forced to use the QR code if I want to get it. MS, your Store app is a piece of crap and the search is useless!

Yeah getting the 8000ffff error as well. On HTC 8x via VZW. So close to playing it! Love the Xbox version!

edit: Sending it from the website might have done the trick. It's actually downloading (slow though)...

it says cannot install because it is ex exclusive !! :(

For everyone whose interested: its a great game, very enjoyable (try the demo first though, might not be your cup of tea), and runs smoothly. I'm quite glad it was a time-limited exclusive as opposed to being a total exclusive! In regards to games, I'd argue that Nokia has done more with their resources than Microsoft! Here's hoping 2013 is when Microsoft gets more aggressive with gaming, now that WP8 uses such nice hardware and the same kernal as Windows.

Downloaded the trial and loved it.

However it does leave me thinking I should have got a Nokia WP8 handset instead of the HTC 8X, dont get me wrong the HTC is a wonderful phone, but I feel I am missing out with all the extras Nokia users receive.

Come on HTC pull your fingers out.....

Don't fault HTC. Microsoft gave Nokia a pile of cash to buy exclusives from 3rd parties. I wish Nokia felt confident to go toe to toe on hardware alone. I guess not.

Yeah I can't get this to download even from the website, it better work soon, i paid for it! >:(

Very fun!

Did you make sure you deleted the game file then do the install from the website?

I don't have a game file. It simply says "This app is not available for your device", and when I try it from the website it says success but still doesn't work. I check my download queue in the marketplace and nothing happens.

Hmmm, says I can't download for my phone. Guess it takes a while to propagate through the store servers?

This is a no go. I bought the game through the web, sent it to my phone to install, but my phone continues to say it is an exclusive for some other phone.
Did I just get punk'd out of $3?

Same thing happened to me, I'm hoping it switches to available for me soon. :(

Ok I got it to download, for me at least it goes off and on for it saying "This app is not available for your device" and letting me buy it. So pretty much you have to get lucky and when you see it buy it.

Still says unavailable for me both on the phone and the website. I did get the 'buy/try' option to show on the web by refreshing, but it never installed on the phone. Now when I go to my purchase history it shows up but there is no reinstall option. Just keep getting "app not available on the web, try downloading on your phone". frustrating...

Same here on Verizon HTC 8x...i call shenanigans...or an issue in the way it was rolled out...

I was getting the 8000fff error when I tried to download. I tried someones suggestion to log in the online store: http://www.windowsphone.com/en-us/store. Log in should be located on the right under Explore My Phone. One of my old phone was still there, so I removed it. Turned wifi on and off on my phone, and now it's downloading.
Windows Central Newsletter
Thank you for signing up to Windows Central. You will receive a verification email shortly.
There was a problem. Please refresh the page and try again.