MixCast turns novice VR streamers into pros
The next step towards professional-grade streaming is here.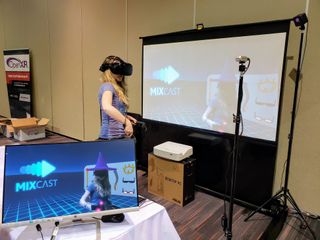 Streaming VR games is a little disappointing for most people today. We've all seen the big impressive game trailers with mixed reality capture (no not that Mixed Reality, the other kind) but it rarely makes its way to game streamers. The biggest reasons for this are resource-based. Put simply, it works best with an actual person behind the camera and a large green screen space. The software is also fairly complicated to set up, and every time you move anything in your room it needs to be re-calibrated. For most people, that's just plain not worth the work for the video you get.
There are several companies working to fix this, but the folks at MixCast are by far the closest to creating a dead simple solution that everyone can use. Even better, it's the kind of thing you can set up yourself and have a nearly professional-grade video as a result.
What MixCast is all about
MixCast is a mixed reality capture software designed to either integrate into existing capture systems on Steam VR and Oculus Home, or work with developers for a native capture system built into a game or app. This means a whole lot of games are supported in a bunch of different ways, making it so you can create videos where it looks like you are standing in the VR game or app you are playing. MixCast isn't picky about hardware either, and Windows Mixed Reality headsets are supported alongside the HTC Vive and Oculus Rift. It all works really well as long as you are playing a supported game.
The demo shown in the photo above is the most impressive part of this experience, though you may not know it to look at it. Instead of painting a whole room green or buying greenscreen stands for a portable experience, MixCast supports Intel's $180 RealSense depth cameras to remove the background. This means you can set up basically anywhere and not have to worry about a complicated setup. If you'd prefer a green screen, or if you're knowledgeable enough to set up a professional capture rig, MixCast supports those options as well. But to be able to get a professional-looking VR stream with your PC and a single depth camera is an order of magnitude less work than what is typically required.
You can try an early version of MixCast now, but the MixCast 2.0 update coming in April is what brings these new features together and really makes the streaming experience easy. The update will support native recording, as well as streaming to Facebook, YouTube Gaming, and Twitch out of the box, with support for Mixer planned for the future.
If you're excited about VR streaming, check out the list of supported games to see what your first project will be.
Get the Windows Central Newsletter
All the latest news, reviews, and guides for Windows and Xbox diehards.
Russell is a tech nerd who chases the best of everything, from phones to game consoles to laptops and everything glowing or beeping. He's the Managing Editor of gaming content for Mobile Nations and can be found contributing to all of the Mobile Nations sites. Reach out on Twitter!