MixRadio takes music personalization to a whole new level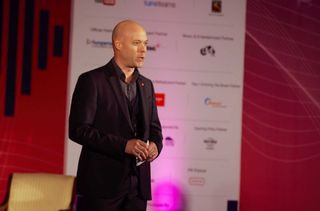 MixRadio has launched a new natively built recommendation engine, developed specifically to deliver its one touch 'Play Me' personalized radio experience for a global audience.
MixRadio, formerly Nokia MixRadio and now a Microsoft Mobile service, is a mobile-first music streaming service that delivers consumers their own personal music channel: unique mixes of streamed music, tailored to their musical taste. A signature experience on Lumia devices, MixRadio is completely free to use with no advertisements, requiring no sign up or subscription and gives users the option to download mixes to enjoy offline.
In his keynote session at the MixRadio Music Connects 2014, the Indian music ecosystem's annual get together, Jyrki Rosenberg shared that the new engine curates a greater breadth of music in a more highly personalized way than ever before. Terming it as 'continuous and long term', Jyrki reiterated commitment to the Indian market.
"The challenge our development team have faced is curating overwhelming large catalogue of music, 34 million tracks, for a single listener in a way which is completely relevant and personal. Our promise to listeners is to provide their own personal radio station at the touch of a single button, and the new engine lets us truly deliver on that promise".
Jyrki Rosenberg, Head of MixRadio
The company claims that the service uses billions of data points from millions of consumers around the world, and uses them to deliver a completely relevant and unique listening experience. Listeners will be served tracks from the catalogues of the artists they love along with a healthy mix of new artists, facilitating rediscovery of forgotten favorites alongside discovery of new artists. The new engine evolves the 'Play Me' feature of MixRadio, making it a more personal and effortless experience.
While the new engine has been in development and evolution since 2010, MixRadio has been moving listeners to the new recommendation engine over the past months, completing the shift today.
Windows Central Newsletter
Get the best of Windows Central in in your inbox, every day!
Great free service on Windows Phone, not a free service in Windows.

It free on my Nokia 2520, but not on my HP. Anyone know if it is free on the surface line of tablets?

It's not. Trust me, I have Surface 2.

Not free on my Surface 2 (limited to 30 seconds)

Completely free with no advertisements? How does the service make any money?

Subscription with bonus features

Ahh ok. The article didn't make any mention of any bonus features you could get with a subscription, so I thought you get everything it has to offer for free.

I think you only get to skip 6 songs per hour in te free version.

Users can subscribe to Mixradio+ in US. In countries like India, users can purchase vouchers which allows them to download millions of songs and keep them forever.

Now unfortunately vouchers are not available in India since from five months

Exactly. I haven't been able to renew my subscription! I wonder why that hasn't been fixed yet.

I called up the Nokia Care regarding the issue. What they told me is that MixRadio is being made unlimited (free subscription for life) for Lumia phones, but they didn't specify the time frame as to when it will be available.

Will be available in December this year. That's what a Nokia care official told me

Already are too Focused in India and the united states when we will get that service in Chile,, don't know how want surpass to Google if services like this only exist in USA and are focusing too much in India because the CEO IS from India

India is an emerging market and is one of the biggest market for Nokia hence they have to concentrate on India and not because the CEO is from India.

Xbox music or Nokia MixRadio? Now that's a question, isn't it?

Mix radio, available in Saudi Arabia

Yeah since Xbox music is ridiculously expensive and not available everywhere

MixRadio isn't available every where either. I cant get it here in Denmark. Sadly :/

Yeah I can't get it in Angola either. Funny thing is it used to be available

Ridiculously expensive? No. XBox Music Pass is a good value actually.

Xbox music pass - $9.99/month
MixRadio - ₹281 ($4) for 3 months

We pay $5,90 for Xbox Music Pass in BR or $59 year

Mixradio for me, no Xbox music in Malaysia.

Considering they are ending the free streaming for Xbox Music next month I don't think there's even any competition. Surprised to be honest MS aren't pushing MixRadio more, but maybe that will come once they remove the radio/streaming for Xbox.

Also part of the problem is they have 2 competing services.... why not just fold this into xbox music and have an single app/store that works for everything.

Maybe the idea is to integrate the MixRadio service in to XBox Music, so the free XBox music service becomes redundant. That's the way I'm looking at this.

There's plenty of places where MS have overlapping services from where they took over Nokia and it obviously takes time to merge them all. Even more so when it's something like this that runs on Nokia's cloud (AWS) and not on Microsoft's (Azure). I don't see MixRadio ever being integrated into Xbox Music actually, and I think that's a good thing. No matter how well it's done people would complain about something being missing, so with this overlap people can pick and choose the service that suits them. Otherwise if there was just a "best" for everything there would be no app store (as Apple envisioned the first iPhone and even they realised that was the wrong solution). Merging aside, I think it's actually better having a separate app for MixRadio, it is a quick loading "my radio" service. It doesn't need to be integrated into the main music app. Keeping it separate keeps it clean and quick.

It's never "quick loading".. takes huge time to load

I guess the way I'm thinking about it, if people are going to be or already mad that Microsoft took away the free streaming from XBox Music, now they have to say "well, here's our other service for that". If they just integrated into the main music app they bring that functionality back and don't have to worry about promoting something else.

Totally agree. They've gotten a little bad press for taking it away - makes sense to say instead "we're upgrading our Xbox Music streaming service to Mix Radio". Plus with the rumours of "music locker" there's obviously more going on here and this just seems like another unnecessary PR mess from MS. They are doing good things, improving services yet somehow they manage to be seen as taking things away for people.

MixRadio, have the paid version in UK and great, don't have time to put music together and find duplicates therefore for offline use is perfect. However wouldn't have mind having access to songs direct also, is just nice sometimes to be able to play exactly what you want.

It's not even a question for me. I could access Xbox Music but not MixRadio. So Xbox Music is my only option.

When is the subscription renewal available? oxicash is still down..

Yeah it's been down for months because of which I had to turn to soundcloud

But cant reactivate the subscription (India)....no vouchers, no online payment... :(...

Their twitter account said we would soon have vouchers available. Let's hope

we need a date or a week in which they will announce. Dying for mix radio bcoz that's my most favourite app. i listen to music a lot. on my phone then other things.

Microsoft removed higher bit rate audio quality option nokia had free.

Subscription ended and there are no music vouchers to renew.

There is still no way to buy subscription online in India( six months and counting). It's pathetic how Microsoft abandoned MixRadio, like an unwanted stepchild.

Purchase it from Nokia care centres near your location.

The people at the care centre near me say they can't sell vouchers because oxicash is down -_-

Yeah somebody give us an answer on this...i sent a tip about this issue months ago to windows central...twice actually...wonder why it isn't being written about...?

I know, it's like windows central blocks my tips no matter how good they are

If your tips are always ignored, maybe they aren't good enough! ;) I think I remember your tips being used and credited. On this issue, check my response to another comment on this thread.

Ok, I never saw my name in any news post, but maybe I missed it. I'll try to send better tips :)

Tip about the issue? It's a known fact that the voucher/subscription renewal is not available. Since there's no news about it except 'we're working to fix this', it doesn't merit a post. At the Lumia 630 launch, I posted specifically about the MixRadio issue with comments from Nokia folks assuming it was an issue with 630, but the comments to the post clarified that the issue affected all Lumia devices.

They have problem with subscription and are working on it. They told that u'll get vouchers shortly.

They have a problem in providing a voucher online for over 6 months...?? What kinda service is that...?
This seems very much like a planned decision...happened jst a little after the acquisition..MS has put the development of the service in limbo anyway...didnt want to encourage anybody to take advantage of the affordable prices so probably broke the payment gate...
My conspiracy theory is making more and more sense day by day...! Unless hopefully Daniel and Co have something to say on this...?

Do we have vouchers / renew subscription with mixradio India if yes than its a GOOOOD

What about individual song downloads?? I hate this mix fix...i would rather love downloading n listening my fav from from my fav movies! JUST FKNG FIX N BRING BACK THE SUBSCRIPTION PAYMENT SERVICE!!

Xbox Music should steal MixRadio's Live Tile. It's awesome :)

it should be universal app u can enjoy mixradio from your pc,phone and even search for songs on Bing

You can use mixradio on PC but you have to pay the premium membership. I'm have the subscription since 2012 and I'm very happy.

Why can't Microsoft merge the capabilities of MixRadio and Xbox Music into a unified service with all the smarts and capabilities combined?

I'd prefer it be separate and exclusive

I love them separate coz they would make it expensive like XBM if they merge both.

It was called Zune... LOL

Love that this is Nokia exclusive :)

Yes.. Oxicash always down..no other way to buy subscription plan in India.. Its realy a good app.. But we do nothing just wait when microsoft wake and do something about to buy subscription of mix radio... In indai

Yes, you can by vouchers from Nokia care centres near your location. I guess its ₹250 for 3 months.

When was the last time you got voucher from Nokia care centre.. I checked recently and its not available

Thank You SO MUCH!!!!!! I love it!

Is the new engine already available? I didn't get that

One thing that I am very interested in is a MixRadio app for Xbox.

http://www.mixrad.io/ run that in ie

How to get Mixradio in Bahrain. Service is not available in Bahrain. Please help me.

still waiting for this and xbox music to be merged.. the cancellation of free music is a step in the direction to integrate them. the radio functionality on xbox music is a joke anyways. please get this done Microsoft!

Microsoft would do well to just roll MixRadio into Xbox Music, considering they've opted to dump free streaming on XBM (maybe becuase they WILL combine them?). Plus, MixRadio offers a unique, compelling setup, while Xbox Music seems like just a Spotify clone with little mass appeal. Let users have the free MixRadio playlists, then pay for their preferred songs.

Or if they roll them in together, you can use the Mix Radio feature to find new artists and then have a button to touch that will download a track through your Xbox music account if you find a song you like.

Still not available in Bangladesh

It's been free, which I mean you don't pay anything to avoid ads. There is a monthly service, MixRadio+, that you can pay for to get extra stuff.

Xbox Music, Xbox Videos, Xbox Games etc. For the love of god, they should integrate MixRadio into Xbox Music or rebrand it as Xbox MixRadio, a standalone app. FROM Xbox! Since they decided to offer their music service under the Xbox brand. Apple got Beats Music, Google got Songza, they are integrating them into their music apps. Considering the popularity of both, how the heck can Xbox Music hope to compete and catch up in terms of users number?? The rival companies have not only a substantially bigger number of users, but also more features and they keep adding (like the personalized playlists). What was in Microsoft's mind when they decided to spin off MixRadio, instead of finding a way to integrate it into Xbox Music, I'll never understand. They're not even trying! Such a shame :(

In India I cant log in to my nokia account and that's the big problem :(

How about making it available for non-Nokia Lumia devices?

I LOVE Mix Radio. I would gladly pay them double if they would let me play individual albums, And I would pay them quadruple if they designed a decent web app and streamed lossless.

Oh ya.. Music must be free

Mixradio once upon a time was available in Greece. When the rebranding started was not available and I keep wondering since what changed... I dont use it personally, I use Audiocloud (aka Soundcloud) but would be a nice alternative for my fellow countrymates,,,

What makes MixRadio better than Pandora? Is it possible to listen to it over the web, or only through apps? Will there be an Xbox One MixRadio app in the future?

Well, for me personally, Mix Radio is better because Pandora is not available in my country.

I would love to see a mixradio/xbox music combo. Both services have such great features. Better together?

Great to see that it lives on!

Yes it is free on Windows Phone, but purchasing a subscription (MixRadio+) will allow to you get:
1. higher quality streaming
2. unlimited offline mix downloads( as opposed to only 4)
3. a companion app for Windows 8 with the same features

Not completely free, only 3 months free when buying new phone after that u have to pay to download songs

The mixes are free forever, which is what I mention. The paid subscription is to download songs.

The subscription vouchers are no longer available. Any idea when they will be available again?

No, but I think u can purchase vouchers from Nokia priority centres

This is exactly what messed up my radio. Mixradio was awesome because it knew my artists I chose were from specific country and it mixed song from that country but now few days ago i started getting Michael jackson and jason mraz in my radio that only had 3 artists all from Slovakia. Totally ruined it for me. New algorithm might be good for general genres but totally ruined country specific music. That was the only thing that differentiated it from other online radios.

To a whole new level.... Which many of us will not be able to see.. Because.. Hey those Vouchers?

'Play Me' (the feature that uses the new recommendation engine) works without the subscription/vouchers, you know.

Used to love MixRadio for their offline mixes. But since the service is not available here in Nigeria, the app no longer interests me.

Please make drm free first. Ask my music stuck in mobile

Free streaming with no DRM? What?

Download song doesnt work. Thats the only issue with this app. Everything else seems fine.

My free voucher of MixRadio+ will end in next week, but I will continue my subscription. Because it is very good service and very good music.

I love mixradio. I hope the subscription service comes back to India. I want it so badly. I just heard a few oldies and I want to see if I can download it from mixradio

I wish it was available in Latin America, such a shame. Peru.

Wtf?!?! Just add a fucking log in/out option!!

Its already there in the settings, pipe down.

Not on the MixRadio app:/

Huhh... Downloading problem r not solved.

Not available in Greece. :/

Not available on Lithuania :(

Dear Abhishek Baxi sir, I didn't get it quiet right . Can you please clarify me , that , don't we have to pay or activate any vouchers for downloading songs , unlike what we had to do earlier.
Am I right ?

I love the idea, but as i have posted in the forums, the app doesnt work. It does a horrible, horrible job of varying the music that you hear. If I select 3 musical groups, whether they be super popular or little known, they always play the same songs in the same order. Sometimes the order changes a little bit, but the songs are always the same. If I hit play me, I hear differenet bands, but the same songs i have already heard. Now, I am not saying that they keep playing the top 5 songs from each band, which might make some sense. Many of the songs they do play a little known and have received little radio play. That I am happy with. But the songs dont change. I dont think that was always the case, but since i got my 920 a few months ago, it has been a broken service.

Will mixradio in India still continue to cost after being free for few months per user??? Currently even recharges for mixradio aren't available here it seems....

I tired it again today, for a very long time and it sucked. Didnt suit my music taste. Normally it does

So why doesn't Microsoft roll MixRadio into the Xbox Music service?

How does the service compare to Pandora, in terms of mix algorithms that is?


Loving MixRadio ever since I bought my phone. Offline mixes are just awesome for travel/commute! AND, there seems to be loads of Indian music as well!! Me happy :D

Interested to see if the "computer scan" is fixed. As it was, it would give me an error when trying to scan a large folder full of songs (several hundred). So... I made a new folder just for this and put only about 30 songs in it from my favorite artists, and the scanner scanned it fine. I'll check to see if this is working this evening.

Yeah I own Lumia 1020...And my mix radio subscription. Just expired. And I was sad I can't download songs...then I called Nokia care and I was shocked to hear it has been discontinued ...i hope we can renew soon....i love nokia mix radio....i offend showed off to my friends how I get latest songs regal and fast...

one of the best app available in windows phone store

There are so many streaming radio stations already available. I'm just waiting for someone to make a basic music player for the phone so I can listen to my own music again. I saved my MP3s to OneDrive, as most Lumias lack a MicroSD Card slot and I cannot afford to use up space locally to store them. I used to be able to play them through Xbox Music, but now there is almost nothing left to play media with unless you want to only hear a single song. All I've found is "MusicConnect," and it is so slow that sometimes songs won't play at all--and if you don't turn on W-Fi only, it will use up all your data plan in a few hours doing absolutely nothing (ask me how I know).

Just saw, all my Xbox music playlist are present in my mix radio app. There must be some integration of both services already. They r going to make it one service finally. For takers I like mix radio format.
Windows Central Newsletter
Thank you for signing up to Windows Central. You will receive a verification email shortly.
There was a problem. Please refresh the page and try again.