The MOBA-like Gigantic has quietly launched into Open Beta on the Windows 10 Store
Motiga's Gigantic has been in development for quite some time, following a successful run on Kickstarter.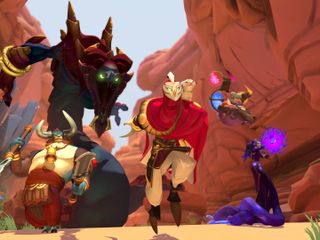 The game picked up some partnership funds from Microsoft in exchange for development on the Universal Windows Platform. Xbox showcased Gigantic at a couple of their events, but unfortunately, Motiga suffered on-going financial issues, leading to layoffs and delays.
Eventually, Perfect World Entertainment picked up the publishing rights to the game, and Gigantic is now fully back on track. The game has launched into the Windows 10 Store for free to PC owners everywhere.
The minimum specs on PC are fairly modest, meaning that the game should run competently even on lower-end machines.
Minimum specs: - Memory: 6 GB - Processor: 2.6Ghz Processor - Graphics: GeForce GTX 580, DirectX 11.1-compatible video card (Nvidia or AMD only)
Gigantic has MOBA-like elements, with two teams made up of a colorful cast of heroes battling for map control. Battles culminate with a clash between two "gigantic" beasts, with one designated to each team. The first teamto defeat the enemy monster wins.
Gigantic is a free-to-play game with third-person action RPG combat. There are different class roles, similar to games like Overwatch, and the ability to spawn tower-like support mobs helps you to keep the map under your team's control.
Like many other MOBAs, Gigantic allows you to permanently purchase heroes and cosmetic skins to help fund further development. New heroes and maps will be made available for free on rotation, similar to Killer Instinct.
Gigantic is still in beta testing on Xbox One and Win32 PC, but if you're a Windows 10 Store PC gamer, you can pick it up for free using the link below. Let us know what you think!
Download Gigantic from the Windows Store (opens in new tab)
Jez Corden is the Managing Editor for Windows Central, focusing primarily on all things Xbox and gaming. Jez is known for breaking exclusive news and analysis as relates to the Microsoft ecosystem while being powered by caffeine. Follow on Twitter @JezCorden and listen to his Xbox Two podcast, all about, you guessed it, Xbox!
I just downloaded it, thinking I was just late to the party.

I have an Intel Core I7 + 16GB RAM + Intel Iris Pro GPU. I'm just curious to see if I would be able to run it?
.
In the past, most of the higher-end games like Forza on the Windows Store said it requires NVIDIA or ATI graphics card, and then when I installed it anyways, the game wouldn't run - hence the question.

They wouldn't run because of the game detecting it's not one of those GPUs? Maybe there's a workaround for that.

yeah I would hope so because it would suck if Microsoft's own Surface devices cannot run these games.

This isn't a Microsoft game. Intel graphics still aren't that powerful.

Looks really exciting, I especially like the third-person action approach which happens to be my favorite style of action adventure or rpgs, looking forward to playing this! Hope it comes to the Xbox one soon :-)

Anyone test it on a Surface Pro 4 i7/8GB? It's weird that it apparently launched at least three days ago and doesn't show up in any of the featured games sections of the store, such as "Xbox Live" games. That has been an issue before, such as #IDARB and Stealth Inc. 2, both of which have Xbox integration and neither of which show up in the "Xbox Live" games filter, along with Gigantic now. I'd be quite annoyed if I were a developer for one of those games. Although, it seems Achievements aren't live yet.

Yeah. The store really needs some help. It blows my mind how hard it is to find Microsoft's own AAA games sometimes.

Been wondering this too Coip...it seems the store isn't organized well.

Also 2020 my country is Xbox live enabled

Yes, it is, but at least it shows up in the "Xbox Live" games section of the Store, unlike IDARB, Stealth Inc. 2, etc. Although, it doesn't have the Xbox Live banner, which, apparently is no longer a thing as most of the new Xbox games in the Store don't have it. I think that's a poor decision. It was nice being able to easily distinguish the Xbox games from the non-Xbox games, especially since even the "Xbox Live" filter doesn't.

I doubt the Windows store will even let you download it on a SP4. Minimum specs in the article says Nvidia and AMD only.

It is possible to install it from the Windows Store but it crashes on the startscreen

Weird. I downloaded it and am playing it on my SP4 - m3!

Glad to hear. I'll give it a try later on.

FINALLY! This game has had more betas than Windows 10 Mobile!

Anyone know if this game is any good?

it's pretty good so far...

Can't wait to get my hands on this!

Free to play model. You can buy skins etc.

Ah okay, that makes sense then. Thanks!

Similar to League of Legend. The game is free. But the free tier comes with rotation of free-to-play characters. If you finally figures which character match your play style, then you could buy that character so you can use it anytime, anywhere. Plus there are skins to those characters you can buy.

Is it an online-only game?

do you even know what MOBA means

That's not very helpful is it? Why don't you explain what MOBA means.

The only reason the game almost died was because of the limitations imposed by microsoft. Microsoft wanted the game to be win10 exclusive which ultimately killed testing and support since almost no one had win10 back then and the game would run like **** on the os. It also was a real hassle to install the game because you had to go through xbox, make profile, add key, then go through the store..
Luckily perfect world entertainment picked up the game so production can go for win 7 and 8 too.

Are you saying MS did not want this on Xbox as well? And how did exclusivity to Win10 affect a game that was not even launched?? Or did the developers have no access to Win10 machines???

Minimum specs exclude anyone on 32-Bit Windows versions :( 6GB

it's almost 2017, if you're a PC gamer, you should really have a 64 bit OS

I'm not a hardcore gamer, but enjoyed playing the recent Tomb Raider games without issue on 32-Bit Windows recently, is this game demanding more of the system than those?

Tomb raider required 1-2GB RAM, this requires 6gb. So yes, it is more demanding.

The strange thing is that Microsoft should have ended support for 32-bit Windows back in 2012 when they released Windows 8. It just causes so many issues going forward when people have a version of Windows and certain programs and hardware won't work on it.
.
Btw, the first version to ship with 64-bit was Windows XP Tablet Edition (2005) and Windows Vista (2007).

Does this support the Xbox controller?

It's an open beta, the game isn't out yet.

I guess this game will remain in beta for the next 5 years.

"The first time to defeat the enemy monster wins"? You meant Team. The game looks nice, I didn't remember it was free to play. I'll look at it.

The game fails to connect to the servers. A pity, I wanted to play it.

Runs wells on my dell laptop core i7 7thgen without dedicated graphics card.

is it the Intel HD graphics or the Intel Iris Pro graphics?

I waited more than 10 mins in match queue still did not find the game

Some games have that problem... It happens even in CSGO which has millions of players. If you don't get a match within a minute, just leave the queue and try again. It usually makes matchmaking kick in immediately. :)

dose it have normal mission or only multi player?

MOBA = Multiplayer Online Battle Arena

Does anyone know if this game will be Cross-Play compatible?

Doubtfully. The difference in precission between controller and mouse users is too big to allow that.
Windows Central Newsletter
Thank you for signing up to Windows Central. You will receive a verification email shortly.
There was a problem. Please refresh the page and try again.