Even monkeys in Finland enjoy using Windows Phones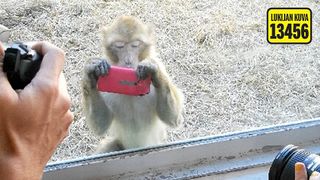 Who said it were only humans who could work a smartphone? Pictured above is a cheeky little chap who's currently wielding a Lumia Windows Phone. Visitors were not only able to take shots of the monkey enjoying some tunes through Xbox Music, but they probably found themselves being filmed for the others in the pack to have a gander at later on in the evening. So how does a primate come to own a Lumia smartphone?
A visiting tourist managed to drop the device into the enclosure, which was taken up by one of the primates who refused to allow zookeepers to retrieve the handset. While no one has reported a missing phone, it's stated the monkey would actually be smart enough to work out how to the use it. That's a bonus for Microsoft making the UI such a breeze to use. Windows Phone for props in the next Planet Of The Apes movie?
Remember, folks: be careful when using your Windows Phones as a camera.
Source: Ilta-Sanomat; thanks, Mikko, for the tip!
Windows Central Newsletter
Get the best of Windows Central in in your inbox, every day!
Rich Edmonds was formerly a Senior Editor of PC hardware at Windows Central, covering everything related to PC components and NAS. He's been involved in technology for more than a decade and knows a thing or two about the magic inside a PC chassis. You can follow him on Twitter at @RichEdmonds.
So easy even a caveman can do it

Sorry for being the naysayer here, but this kind of things just bring memories of the Zune guy. It was so uncool, nobody wanted to have one, except people like him
In this case, the MS haters would just say "only monkeys want to use it"

I don't see what's so special about this.. Android smartphones are used by millions of monkeys everyday...

Even they got the damn GDR2 update. What up AT&T??

LOL❕... Maybe that monkey is CEO at att.. Ha❕

The phone is actually a Lumia 800.

I wonder what apps that monkey prefers...

I'm thinking Fruit Ninja..

Here's another one
http://pbs.twimg.com/media/BSnGb-cCIAAM8ST.jpg

Wow. The monkey actually can use it?
Why is it in the zoo then?..

The corner looks like its pretty chewed up!

My fist thought, too.
Don't get me wrong - I love my Lumia, but I am afraid that this little monkey might swallow parts of the phone and suffer injuries :O... And it will be hard, taking it away from him, since they can be pretty agressive and are quite strong. Poor zookeepers will be worried.
And then, pink is not really the best color for him ;-)

There's no way a monkey could figure out how to use a WP, since it doesn't have a notification centre or an Instagram app. This monkey must be a paid shill from Nokia. And somehow this is Belfiore's fault, too. And Ballmer's. Random shot at RT.

I'm not quite sure this is good publicity for Windows Phone users..

LOL!! :D He must be playing Angry Birds :P

Probably Tiki Towers. :-P

May be Monkey Jump !! :D :D

No he is taking a photo of his meal to share on Instagram (hope via Instagraph ;)

well at least the monkey know how to hold the camera when taking the picture not sure about the idiot on the other side.

I was actually at the Helsinki zoo last week, and I have a red Lumia 920 -- fortunately, that's not my phone the monkey is holding! Those monkeys were a lot of fun to watch. If you're ever in Helsinki the zoo is worth the visit...

He does look extremely interested.

"While no one has reported a missing phone..."

If you give a monkey a Lumia, sooner or later he might win an Academy Award for documentary.

I think the monkeys (also) are preferring Nokia Music +.

Good.Now the monkey can use the offline Nokia Here Maps to find a way to get out of there and to his freedom !! Yay to offline maps.

This is OMNOMNOMNOM!!!!! Hey!!! A female monkey inside that pink box!!!

Damn! That must be my last week stolen red Lumia 920!

Maybe its playing that fruit game where you chop things with your fingers
Windows Central Newsletter
Thank you for signing up to Windows Central. You will receive a verification email shortly.
There was a problem. Please refresh the page and try again.