Monster Island no longer listed in the Marketplace, possibly due to Xbox Live Achievement issue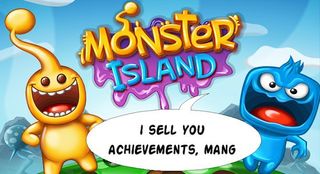 Monster Island's Xbox Live launch on Wednesday was odd for a couple of reasons. First, only people located in the US could buy it, even though past Miniclip games launched worldwide. Second, one of Monster Island's Achievements, 'Big Spender,' is tied directly to purchasing $3 worth of PDLC. That raised my eyebrows pretty much off my head, and I know I'm not alone.
Only a couple of days after its US-only release, Monster Island no longer shows up while browsing or searching the Marketplace. For all intents and purposes it has been pulled, though you can still grab it from the link in our previous article. Why was it pulled? No official word on that yet, but we do know that Microsoft is actively investigating the Achievement issue, thanks in part to yours truly. The Big Spender Achievement breaking well-known Xbox Live rules and the seemingly erroneous US-only launch are the most likely reasons for the game's removal.
How did Monster Island end up with an Achievement tied solely to purchasing in-game content? In all likelihood, no one noticed the problem during the certification process. Big Spender's description, 'Buy 3 coin packs' could sound like a normal in-game action to someone who hasn't played the game or studied it very closely. Of course, part of the certification process should involve testers actually unlocking the Achievements to make sure that they work, at which point the problem would have been spotted. Still, sometimes things slip through, such as Broken Achievements or other bugs.
The important thing here is that Microsoft seemingly realized something was wrong this week and acted quickly to keep it in check by pulling Monster Island. If the practice of literally paying for Achievements was allowed to continue, then Achievements would lose their emotional value. After all, many gamers like me prefer to play Xbox Live games so that we can earn Achievements and share our accomplishments with others. Doubling the cost of a game for 10 GamerScore is not an Achievement.
We're still waiting on official word about Monster Island's Big Spender Achievement and the game's subsequent disappearance from the Marketplace. If Microsoft releases an official statement, WPCentral readers will be the first to know.
Windows Central Newsletter
Get the best of Windows Central in in your inbox, every day!
Paul Acevedo is the Games Editor at Windows Central. A lifelong gamer, he has written about videogames for over 15 years and reviewed over 350 games for our site. Follow him on Twitter @PaulRAcevedo. Don't hate. Appreciate!
Good! I love my achievements(it's why I got my first Surround), but literally paying to unlock them is a TERRIBLE idea. If it were allowed to continue, the system almost seems like it would feel tainted.

That's excellent news to know MS is serious with its ecosystem rules.

Hopefully MS removes Bug Village next. Its not about having to pay either,its about achievements being made unachievable due to glitches in game. The review section on marketplace goes back for over two months of complaints and GLU still won't address issues.

I got the full 200 no problem and never paid a cent.

That's cool,glad some people did. If it was just me id be quiet,unfortunately their are more than 50 reviews probably closer to 100 that cannot get certain achievements because stink bugs and ladybugs quit appearing. I've moved hives,huts and decorations and still nothing.black screen as well. I'm level 25 with 500k acorns haven't checked in 2 weeks hope they all died at this point.

Just get scrap achievements altogether. They're silly on the 360 and silly here.

What is XBox Live on the phone without achievements?

Why I said do away with them on the 360 and WP. You can have an online community without achievements

Just because you don't like it, doesn't mean others don't..

Where in my post did I suggest others dont or shouldn't like them? I expressed my opinion that I feel the whole achievement thing is silly and I wouldn't lose any sleep if MS did away with them (same for PSN and trophies)

Well, the two major Achievement sites are extremely popular, and Achievements aren't going anywhere. Complaining about them in general won't do any good.

You would probaly be one of the few people that would!

Why get rid of it? Its given me the oppertunity to play games that i never thought I would like.

Agreed, they're pretty pointless and only jack up the price of games on the marketplace. I don't know why there's an Xbox service on my *windows* phone.

Sean, if you would like to start some kind of ani-Xbox Live discussion, please do so in the forums and not here. We like for article comments to relate to the subject of the article, not push semi-off-topic agendas.

Ok mate. I don't want to come off as a troll so I won't say much more until I get around to making a forum post. But I'll quickly say this: If the prices on the XBL titles were on par with the other platforms, I'd have zero genuine complaints.

The prices of games on Windows Phone aren't more expensive compared to other platforms because they include achievements. They are priced higher so that developers can make enough profit from the smaller user base to cover development costs.

you sir, are in t he minority here...

Windows Central Newsletter
Thank you for signing up to Windows Central. You will receive a verification email shortly.
There was a problem. Please refresh the page and try again.