More details revealed about Windows 10 for phones preview of Project Spartan browser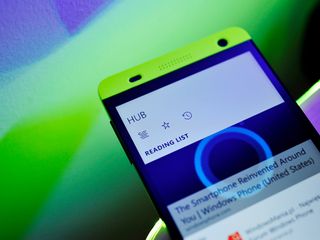 The new Windows 10 for phones 10051 preview build includes the first version of Microsoft's "Project Spartan" web browser for smartphones. The company has offered more details on this early public version, including word that they are still taking feedback for possible changes down the road.
The phone version of Project Spartan uses the same new rendering engine that is being used for the PC version of the browser. While this Windows 10 for phone preview still has the older Internet Explorer 11 browser installed as the default, future versions will have Project Spartan as the only web browser for smartphones.
This build also has early versions of the mobile reading view and reading list features that will be included in Project Spartan. Microsoft added:
So for those of you who like having the address bar on the bottom of the browser, as IE11 has for Windows Phone 8.1, it sounds like Microsoft could also change the bar's position for Project Spartan if they get enough feedback to support that feature.
Source: IEblog
Still no luck in getting the build...server error :(

Gabe tweeted, They're working on it! :)

Update: The provisioning data is still being updated. This should be a 2 minute process and it has been going for 40mins. Debugging....

Already upgraded on windows 10.......but when I check for new updates it shows ur phone is up to date .....how can I download new updates...

Give a soft reset to ur phone, hope it will help u

u have to use the insider app, not the update part of settings

For phones on Win 10 9941 already, just go to Settings > Update and you can DL now....

Are you in Fast or Slow ring? Today's release is Fast only.

Wow ..... Is it available for Lumia 520

Is anyone else having trouble checking for updates or using the Windows Insider app? I can't get the update on my 635 or 1520.

I have the same problem.. Many people out there have the same problem lol.!

https://twitter.com/GabeAul

For new phones, they are still working to fix the server right now. Follow Gabe Aul in twitter

Everyone is having problem. Server down? Lol

Give it some time. Stop trying to search for updates for a while. Fix is on the way :)

Well Spartan looks very clean and streamlined by the look of that image kinda like it. Cant wait to download wp10 :)

Yeah, and I actually think the address bar is fine on top. As long as all the buttons are on the bottom, that's fine.

Good to know that I'm not the only one who prefers the address bar up top. It is especially nice on phones with software keys as I sometimes find myself hitting them instead of little icons at the bottom.

Waiting for Morning I will download at Morning with Clear Server

Checking for update.. Its been a while now:$

You're on the fast track circle right!? Apparently it's only available for them

Jst can't wait to install W10 in my phone

Hey how is it available for phones other than Lumia?? I thought its exclusively available for Lumias

Lucky you! I am keeping on getting the server error lol

Wow they are actually listening! Love this Insider program

Sure, they are hearing you loud and clear. You can tell because they just said go ahead and try it out just as is by encouraging you to try it out. In other words, they have no interest in moving the address bar to the bottom. No matter how much you think they might, it's all lip service. If the address bar ends up at the bottom I'll be shocked!

Is letting the user choose the top or bottom not an option. Seems like it could be a settings thing. If they already have it on top and could make it across the bottom, why not give the option?

people downloading everywhere

Is preview 10051 available to download

Too many bugs and features removed not downloading this one. Office removed, cannot disable data connection, 512 Mb phones will have crashing apps. Gonna wait for next time.

Exactly! Dont have spares lying around and need a functional phone. So better wait :)

I am trying to download and it gives me connection error

Damn it I just want my Denim update! LOL

I'll see this browser open minded this time, but first, I have to stop getting the ''Server error'' message :P

JFYI No office or OneNote in this build

No Office documents and No Flight mode in this build. Courtesy: Tom Warren.

It is true.....this is indeed bot for ones who got just one phone...
Wish they release it fast ... say in quick rings....

You can't even turn off data connection

That's weird,I have working airplane mode in action center

wish microsoft ditches hamburger menu

Reading List & Reading View in Spartan are getting promoted heavily, but these things already exist in both Windows 8.1 & Windows Phone 8.1. They aren't really anything new.

This reading list works offline and is synchronized across your OneDrive....so you can access it from wherever you like....

Existing list isn't offline but it does sync across devices. The new list is also part of Spartan rather than an app, so I'm not saying it doesn't offer anything new but it feels like both features are being promoted as brand new things when really they already exist.

It's crazy that after all of the opinions an backlash over the address bar at the top, that MS didn't take the time to make sure it was either at the bottom or that an option existed to move it to the bottom. I appreciate that they'll listen to our feedback, but preference has already been very much expressed about the address bar position. This "we'll wait and see" approach is a little defiant on their part.

I think MS's position is fair enough. This is the first time people will be using Spartan on a mobile device, all previous feedback was based on speculation about how it would work. I think MS is saying, ok well actually try it out now and if you still don't like it then let us know. I think that's cool for a tech preview, there's probably a lot of work to go into moving the bar to the bottom that would have held up the release.

I hope they listen to feedback, but it's not like we've never used a browser with the address bar at the top before, so we all know how it works already. Windows Phone 7 had a top address bar and every other mobile browser does as well. It's not good on any browser I've used. If it's not broken then don't "fix" it, that's all.

Connection error check date/time and try again later
Still will wait until morning and then download

Does anyone know when server error will be resolved

Server is not yet ready....

see - https://twitter.com/GabeAul

Data connections cannot be disabled as per wmpoweruser list of known issue.

How did you manage to install it on a BLU HD? It was not listed among lumias to get the update.

40 minutes.Debugging Gabriel Aul says.

Is it available in Canada yet, MST?

i love their response on the address bar. Obviously, they see some advantages on placing it on top. They want us to play with it, and if we don't like it, they're going to switch it. That's how I read this at least. Great work MS

Wish they will have options for top or bottom.....

Why is the Blu phone in the picture when it isn't supported?

They are promoting it I think

These minutes are like ages :x

Yea server error :(
can't download.

Give the option for both top and bottom problem solved.

Is Technical preview available for 535

There should be an option for the address bar position

I wonder where they got feedback about switching the bar to the top. Unless they've received tons of complaints about the posititon of the bar, I don't see why move it to the top. They had the posiition right all these years, not sure what was the thinking.

Well, MS is well known for taking bad decisions ;) and I'm pretty sure they are not gonna change, they have enough feedback and evidence that 8.1 works great for touch and what have they done? Change everything that works great and start from scratch. I'm convinced that they will go against of people like and will do what they think that will work, I'm going to stick with 8.1 on my tablets and my L1520, like those guys who still use XP

Name the new browser as EDGE is better than the name Spartan

A good suggestion would be to add an option whereby a user wants the address bar on top or bottom. If that is possible.

Or a full screen mode if it isn't. I wouldn't want bars on top and bottom the entire time.

Actually that's a good suggestion too.
Some apps have this feature that their menu bars hide automatically if you scroll downward, e.g. 6tag, Facebook.
They could do something like that.

Address bar on top and action bar on bottom sounds great! Hope there's a full screen mode.

How did you guys get windows 10 preview on the BLU HD??

Please put the address bar on the bottom!

You would think that if they were looking closely at the design they would've never even thought about putting the address up top in the first place.

Has anyone tried to log into Bank of America's mobile Web site yet?

So been as I only have a 930 nowadays I'm sadly missing out. For those who have this now, did I read somewhere that Spartan (At least on the desktop) had native flash support. Does Flash work in Spartan for you?

Does anyone know how Project Spartan performs? mainly does it have a download list when downloading stuff as well as opening new tabs? does it have a open link in new tab option?

Quick! Spam them with requests to move the address bar to the bottom!

I think it must be the option to put the bar on top or bottom as u like.

Anybody else lose the ability to pin project spartan to the start screen. I accidently dropped it on another icon which tried to create a folder and can no longer pin in :(
Windows Central Newsletter
Thank you for signing up to Windows Central. You will receive a verification email shortly.
There was a problem. Please refresh the page and try again.