More HTC Leaks: Device Specs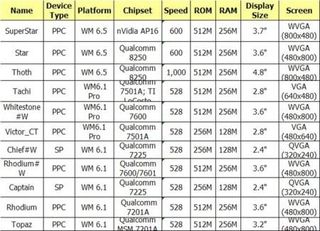 Here's some Friday fun for you: Tilt Mobility says the have some internal docs from AT&T showing the specs on many of the upcoming HTC Smartphones in 2009. We recognize more than a few of these from the massive HTC leak and adding to its credibility is that these specs seem to line up pretty well with the previously leaked details on said HTC devices.
The "SuperStar" running an nVidia AP16 with an monster 3.7" screen sounds pretty tasty to us. We are a little surprised to see "Captain" and "Chief#W" here, could one of them just be another word for "Maple?" Anybody seeing anything else in this list that gets you pumped?
Update: Er, the Tilt Mobility story no longer says that all these phones are slated for AT&T, which makes more sense.
Windows Central Newsletter
Get the best of Windows Central in in your inbox, every day!
So could the SuperStar be the Touch HD or the Diamond 2?

I've VERY happy to see Thoth on this list. That's the Advantage X7510 replacement. I love that device and I'm glad to see AT&T is going to potentially pick it up.

if you look at www.fuzemobility.com - this sheet is all htc products. not just at&t. the title has a typo in it.

Sho' nuff. Tilt Mobility apparently pulled the AT&T parts but didn't note it. We've updated our post.

qualcomm 7600 is a cdma device and not gsm. at&t is gsm only. title is a type error

ClintinFitch.com is right... I posted it wrong at first... misred my insider info :( BUT i am still interested in the SuperStar phone... -SCDavis

Qualcomm's msm75xx and msm76xx are both CDMA chipsets. The msm72xx chipsets are GSM. This looks like a general leak.

Interesting on the Rhodiums - previous Sprint "leaks" had the display size at 3.4".

I would be way more ecstatic if we at least had carriers identified. Tentative roadmaps would make me absolutely giddy.

Crazy theory:
Perhaps Windows Mobile is considering dumping standard?
Take a look above:
Windows Mobile 6.1 PRO vs. Windows Mobile 6.5.
Does this mean touchscreen-only on future WM6.5 devices? Are they just dropping their crazy naming stuff? Time will tell...

And yes, I see the plain 6.1 devices out there, but why is there no "Pro" 6.5?

ARRGH why are they going with smaller screens?!?!?! I want the Touch HD (and its beautiful 3.8" screen) upgraded with the Qualcomm 8250 and a larger battery.

So is the nVidia AP16 the nVidia Tegra?

Tachi=Twin
Captain=Maple
Thoth is Touch HD replacment

Nice devices but as usual T-Mo USA wont get any. Unfortunately the death star network is not an option for me so I guess the waiting continues. But I have to say T-Mo US is looking less and less attractive everyday.

Tachi: Qualcomm 7501 + TI Locosto?
A combo for world phone? Why not just 7601?
Or a dual SIM phone for China?

TI Locosto? What is that? Gringo-speak, for "cheap processor??" Seriously tho, I know these aren't all ATT, but do we even know if they're all headed to the States? I would luvz me summa dat SuperStar, but not gonna get my hopes up... XD

very good data collection.... Good work. thanks

great collection...appreciate it
big tits

great collection...appreciate it
big tits
Windows Central Newsletter
Thank you for signing up to Windows Central. You will receive a verification email shortly.
There was a problem. Please refresh the page and try again.