More Lumia 650 phones are getting the 'Double Tap to Wake' firmware update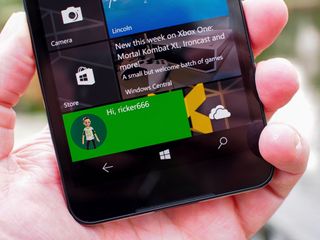 Reports are coming in that more Lumia 650 smartphone owners are seeing that the "Double Tap to Wake" firmware update is now available to download. Microsoft started rolling out that update to some units of the Windows 10 Mobile phone last week.
It appears that a second round of firmware updates is rolling out, based on posts from readers on the Windows Central forums who stated they are downloading the software from the U.S., India and other locations. This week, Microsoft updated its Lumia firmware history page (opens in new tab) with the change log for the firmware update for both the Lumia 650 and 550 phones with the version number 01078.00042.16352.50xxx.
Support for double tap to wake enabled for Lumia 650.
Wi-Fi connectivity improvements, including fixes for Wi-Fi connection dropping randomly and Wi-Fi scan occasionally not returning any results.
Bluetooth connectivity improvements.
Stability and reliability improvements.
Camera improvements, including improved image and video quality, improved Auto-focus and fix for a problem that was causing slow motion capture to skip frames for some users.
Cellular connectivity improvements, including fix for a problem that caused occasional network loss for some users.
Audio quality improvements, including fix for a problem that caused voice call audio to get scrambled for some users.
To see if your unlocked Lumia 650 is getting this update, go to Settings > Update & security > Phone update > Check for updates. If eligible you will see MICROSOFTMDG update.
Thanks again to our Windows Central forum members for the tips!
Windows Central Newsletter
Get the best of Windows Central in your inbox, every day!
3 people will be very excited...

Keep going until it turns into upvotes.

Found double tap and works perfect!

When microsoft will fix the buggy/slow windows 10 mobile experience on my 930?

The double tap to weak, maps, wifi connection dont work steadily on my Lumia 930.

From India.. Installed updates...Double tap to wake works fantastic....Thanks MS...Really proud of my L650..

And how about Double tap to sleep? I use it more often on my 950 now its available. (tap on navigation bar)

double tap to sleep is already available on the 650

Wasn't the double tap to sleep already on the 950/XL ? My 650 had it when I purchased it .

I believe double tap to sleep is an OS feature, not a firmware feature. I imagine all W10M phones have it.

Really? I did not know that. But okay .... nice to know.

Not all phones have it. Only those with on screen buttons.

Yeah, that makes sense. I stand corrected.

Thanks for the heads-up Gerard. I didn't know about the double tap to sleep. Very useful ☺

Double tap to lock has been here since WP8.1.2

Double tap works, but Hello is not available for my unlocked Lumia 650 NL! Maybe in time!

How would the Lumia 650 accomplish Windows Hello without possessing any biometric authentication hardware?

No it won't come. L650 hardware don't support Hello.

just open the Spotify or Groove app and search for the song "Hello"

Double tap works great. Good job MS !

Cricket Lumia 650 here, no update yet. Does this need to go through carrier testing for carrier-locked devices?

Yeah I was just about to comment that mine and my lady's Cricket Lumia 650s still do not have access to the firmware.

It usually takes 2-3 weeks between unlocked devices and carrier-locked devices to receive updates.

Works a treat and WiFi seems a hell of a lot better. It feels much faster too :)

Got the update this evening on my unlocked 650, but double tap does not work.

Try enabling in in settings -extras

Actually, the option is in Settings>Personalisation>Lock Screen It's not in Settings>Extras like it is on phones that shipped with WP8.

Actually, it's in both places.

Dah...so simple and feel pretty stupid. Thanks! It does work.

Double tap to wake up It's great. I had earphone problems where whenever I connected my earphone the volume used to go to zero. That to has been fixed.

Mine has some wierd issue where there will be no volume even if the phone has detected that earphones are plugged. Only a restart helps:\ hope this problem gets solved too

I think I had a similar one. But restart didn't help. Did you install the firmware update

Yes, it is on the latest firmware (non insider) i showed it at the service centre that a restart makes it all normal but they don't seem to agree, they said its a motherboard fault, not even the jack

I wonder if Microsoft will ever update the 650 to support 1080p video recording? I upgraded my father's Lumia 640 to a 650 on Cricket and it's a nice phone, but the camera is a downgrade from the 640 since it can't record 1080p videos anymore. I remember when the Lumia Icon was updated to support 4K video recording, so why can't the Lumia 650 support 1080p video recording?

Just got it! Installing it now. Double tap to wake, here I come!

Installed tonight. Still experiencing wifi disconnecting and then not reconnecting until I reboot.

Delete the WiFi networks, then re-connect. If you are still having issues, gk to Mobile & SIM settings and switch WiFi Calling to 'Off' instead of 'WiFi Preferred'. It was that setting which caused the issue on my 650.

Thanks, I'll give that a try.

My 950 doesn't have double tap to wake. How to enable it?

Settings - extras - touch

No. It's in Settings - Personalization - Lock screen.

The reason I bought a 650 after my 640 instead of 640XL was that I thought MS would support its newer phone better compared to the old ones. These firmware updates confirm that my thinking was right and my decision was a good one.

I think pricing for the Lumia 650 is very high in India as compared to other countries.

Maybe a bit on the higher side. Got for 13670 on amazon.

precisely the *50 series are great, started bad with OS not being complete but it's quite great since AU

It was given low rating in Amazon only due to pricing. If MS reduces its price i think its sale will start picking up. In that segemne we have new entrantChinese brands. Some people look for better alternatives. L650 has lot of potential to be the one.

Yes hopefully. The phone looks amazing. I got many compliments for the looks.

My 640 runs fine (give and take). Why did you move to 650? Only for software support? 640 has everything the 650 has. Just wondering!

Yes. 640 is excellent. But my dad lost his 630. So I gave him my 640 and bought a 650 for me.

Screen is better, front facing camera is better, main camera is slightly better (better colour, processing and low light shots). The design is probably the biggest factor, its just so much better than the 640 design.

That design also greeds me upgrading my 640 with a 650 but that price is really awful.I Love every bit of my 640 except the front camera.

It's lighter and a much better screen. Amoled

Well, I much prefer the screen of the 640XL to the 950XL.

DTTW with W10M+AU is already available on the 640XL. I'm using it everyday. The system is super stable by the way.

Yes it is. I know. My friend has a 640xl. But the company would support 650 for a longer time than 640xl.

Got my L650 updated love the DTTW... Great feature.

DTTW was a welcome feature on my L650. It also seems that the mysterious sound volume fading/muting while using headphones is now gone. Good work MS :)

Doesanyone with Lumia 650 face this?
Step1. Keep thebrightness to auto adjust in display settings.
Step2: Come to start screen and from shortcut menu keep the brightness setting to DARKEST.
Step3: Wait for the screen to timeout. We can see the screen to get dim before it switchess off. When it dims off and before it switches off touch the screen. I expect the screen to regain the brightness. But it doesn't happen.
Step4: Go to display settings and drag the brightness to max. But nothinghappens . It's still very dark.
Step5: Switch off the screen amd wake it up. Now display is brightest. Is itnot a bug? Can anyone try this in ur L650s....

Yes. That does happen on my 650. Not fixed after firmware update. I have to lock the phone and unlock it again. Solution for it, kept the timeout 5mins. Didn't bother me that much now. Or keep it on suggested.

Yes there is indeed bug with brightness on my L650 too. Battery saver doesnt lower my brightness too. I posted in feedback hub but its ignored. I suggest you do the same

same happens with 550 too and idk why the proximity turns on when auto brightness is turned on..

My 650 did that after the au. It no longer does this after a subsequent update and a data reset. Not sure which it was that fixed it. Posted via the Windows Central App for Android

Thanks for the reply. Hope this issue isreported to MS. Yes i am keeping it in suggested only. Just tried out darkest to save my battery. Suddenly noticed this bug. Do you think MS know about this bug or someone reported it to MS?

I posted it in feedback app of my phone. Not sure how seriously our comments are taken into consideration

how about " hey cortana "
in lumia 650?

Enjoying my 650 and appreciate MS updates. Dropped verizon and went at&t. Dont see any difference in coverage. My wife went back to android a couple months ago (app availability) but now she told me she wants her Windows phone back! She says when surface phone releases she's getting one...i know I will...but first getting another 650...

How much is a Lumia 650 selling for these days?

My Lumia 650 has been failing to update the last 2 fast ring updates (14936) and this firmware update (MICROSOFTMDG) too. Error: 0x80188308... Please help!

I was having the same problem with the fast ring updates. I changed in my settings to the Preview versions and then after about a day I got the 221 update and then yesterday got the update getting the double tap.

It's OUT OF STOCK. Few that are available are selling at a very high prices.

Hey there, anyone experiencing NFC problems (Sorry, could not initialize NFC: Failed to initialize proximity sensor) with the new firmware. I'm on .50016 and since then the device/sensor does not work.

I'm still waiting for the update.

Finally ! I really liked it in Lumia 720.

I have a Lumia 650 that I bought beginning of November. Then it got an update, I read that DTTW was part of it...enabled it in settings and it worked great. Then a few weeks ago, I noticed it was gone. It's nowhere to be found and doesn't work at all. Anyone know what happened? I'm using Cricket Wireless in the U.S.