Lumia 650 reportedly gets 'Double Tap to Wake' firmware via over-the-air update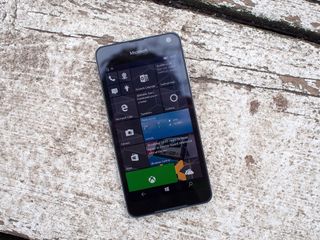 We have received reports that some Lumia 650 owners are now getting the "Double Tap to Wake" firmware update over the air, rather than using the Windows Device Recovery Tool, where the update became available earlier this month for the phone.
The tips have come via email from Windows Central readers along with posts in our forums. Keep in mind that the update may not be available for all Lumia 650 devices, and is likely dependent on your country's region code.
This update also comes with a fix for recurring Wi-Fi disconnections. among other fixes and improvements. Here is the full changelog posted by Microsoft (opens in new tab):
Wi-Fi connectivity improvements, including fixes for Wi-Fi connection dropping randomly and Wi-Fi scan occasionally not returning any results.
Support for double tap to wake enabled.
Bluetooth connectivity improvements.
Stability and reliability improvements.
Camera improvements, including improved image and video quality, improved Auto-focus and fix for a problem that was causing slow motion capture to skip frames for some users.
Cellular connectivity improvements, including fix for a problem that caused occasional network loss for some users.
Audio quality improvements, including fix for a problem that caused voice call audio to get scrambled for some users.
To see if your unlocked Lumia 650 is getting this update, go to Settings > Update & security > Phone update > Check for updates. If eligible you will see MICROSOFTMDG update.
Thanks to everyone for the tips!
Windows Central Newsletter
Get the best of Windows Central in your inbox, every day!
Double tap doesn't work on my Lumia 930 as it was while on 8.1. I can tap 30 times sometimes it won't turn on :D

DTTW works perfectly fine on my L820 on W10M RS1

Win 10 isn't very pleasant on 720 and 820. Double tab to wake is ok though, it always was

Works perfectly on my 950

Hmm could be your phone? Works flawless on my dads 930, and on my 950 and 640

Interesting to see that people from my country can download it and I cant.

Works on my 930 just fine. Maybe time for a hard reset

The Lumia 550 got the same firmware but no DTTW.

It's supposed to be in extras -touch

Not on phones that shipped with W10 (like the 650), on those the option is in the 'Lock Screen' settings.

Depends on which OS version you are running. If 1511 (aka November update) it's in Extras. If on Anniversary update, then it's in Lock Screen.

Perhaps because it was reported somewhere and they are relaying the details to us.

That's how most of the news works, its tipped(reported)
Reportedly, in general is used for content which is somewhat unsure kind of.. Hence the question :)

I still have it on my Cricket 640 after upgrading to 10. I also have it on my AT&T 950 now.

I can confirm, it is installing. My phone is branded by Meo from Portugal.
Thank you for the news!

Na Vodafone também está L650

Na. Vodafone. 650. Quite clear what the end result is.

"Also avaiable for the Lumia 650 in Vodafone Network"

Don't have it on my US unlocked dual sim 650 yet.

Ok, was just wondering....

Anyone got the update in India?

Now available via WDRT in India.

Update log mentions slow motion capture. I haven't noticed a slow motion capture option on my 650. Am I missing something?

Copy pasted the changelog from the 950s probably.

It's been copied from the 950/XL changelog

Just checked in my 650 in India ... No update available

No update in India, region set as US

Available via WDRT in India.

Yes. Via WDRT for everyone. But don't want to do that.

Installing update on fast ring Lumia 650 results in error 0x80188308.
The same error for update 10.0.14926.1000.
Stuck with 2 updates...

Is it available for the dual sim 650?

Just updated my Lumia 650 without any problems. Double Tap to Wake working great.

Will they push an update to enable VoLTE in India

Try posting it on official on w10 official twitter handle. I have done the same.

They really should focus on this update. I'm guessing it needs to be a firmware update.
Now that Reliance, Vodafone and Airtel are really PUSHING 4G !!!

Works perfect on lumia 650

Is there any update regarding 520 ... lol

520 ? Yes there is an update ! Those found using it in public will be hanged !

Installed on my 650, works fine. Love the dttw! Nonbranded from the Netherlands

Nothing yet.... US unlocked dual SIM.... Still waiting

Same. Canadian Dual SIM here

Indonesia, Lumia 650 Dual SIM HK edition, DTTW works fine.

Saya blm dapat nih gan... 000-08
Ud install blm...
Gmn caranya..

DTTW works flawlessly on my Lumia 650 dual sim. No issues so far.

It didt come with double tap to wake up? wiired that the 830 and 930 both had those features. Is windows 10 the backwards cousin of windows 8.1 or something. Hell im still waiting for gestures speakerphone option. I think this just highlights the issues with mobile 10, its ot the os its the missing features on newer phones older phones had. Not a good place for a software company to be in./ Plse tell me they included a camera in the 650.

No update yet. Unlocked 650 from Australia being used in Sri Lanka.