More Nokia Lumia 1020 images find the light of day, camera grip looks good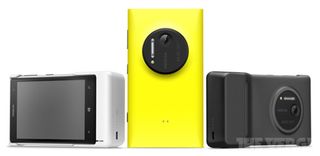 We have seen a vast assortment of leaked images of the Nokia Lumia 1020 over the past month or so. The latest crop confirms the design we've grown accustomed to but also shows the camera grip in action.
The camera grip will be fitted with a tripod mount, two-stage camera button and gives the back of the Lumia 1020 a definite "point and shoot" camera look.
As a photographer, I am eager to get my hands on the Lumia 1020 and it can't get here quick enough. The only question left to answer is which color do I get?
Oh, if you haven't heard we'll be at the Nokia Zoom Re-Invented live blogging all the details Nokia has to share on the Lumia 1020. The event is slated to start at 11am EST and you can catch our Live Blog here.
Source: The Verge (opens in new tab); Thanks, everyone, for the tip!
Windows Central Newsletter
Get the best of Windows Central in your inbox, every day!
George is the Reviews Editor at Windows Central, concentrating on Windows 10 PC and Mobile apps. He's been a supporter of the platform since the days of Windows CE and uses his current Windows 10 Mobile phone daily to keep up with life and enjoy a game during down time.
Black grip and yellow Phone (1st)

Pikachu colors huh. The yellow one is already in Pikachu colors.

HA! I was thinking the same thing LOL." pika pika "

Enough with all this, just release the damn thing already.

RAPID RELEASE THE KRAKEN!

it looks just like the samsung galaxy zoom... ugly. nl925 is amazing!

Agreed! But I want the 41 mp camera on the NL925.

Huh? 1020 is 1mm thinner than Lumia 920. That Galaxy thing is borderline phone.

Duh. :/ The Camera Grip is an accessory. Of course it looks like a Galaxy Zoom with the Camera Grip on but much better.

This grip is a bit too much.

Nah i think it's just right. If you own a DSLR, you'll appreciate the grip. Plus it houses the extra juice for the Lumia so you can use it for extended photography. Since it isn't impossible to create this shell, i am practically wishing the grip will become available for NL820 and NL720.

Fo sho. That thing is fugly as well.

Mannn. This Lumia has had more leaks than the iPhone 4s

iPhone??? What's an iPhone??

Hey, hey, hey, take it down a notch, we don't wanna hear the "i" word around these parts.

Wonder if the 920 fits in the camera grip

camera grip should come with extra battery ;)

ahhh, it comse with a battery! actually thats what it is.

It looks much better than the s4 ZOOM because it's grip is clean looking. Didn't know they would be coming in different colors... I changed my mind about the camera grip. With the Lumia 1020 it kills the s4 zoom. That 1020 looks thin and pretty good with that bump.

Love this phone! I'm gonna buy it in yellow !! Love u Nokia! Best regards!

I like how the lens reads "pureview Zeiss"

is this matte yellow?
i cannot tell from the pics.

According to verge, 1020 has 6x zoom!!

Yeah, 6x LOSSLESS zoom! :D

Yes, it has a 1020 mah battery

Hopefully, all the phone carriers will get the same phone this time. I have the 928 and it's a gorgeous phone with some really nice accoutrements. Honestly, can't see why people are still investing time and money into the iPhone.

I heard its only gonna be exclusive to at&t for 3 months

I'm just happy its only for 1 quarter. Last time it was a whole half year... -_-

Just beautiful!!! I'll have to stick with my L920, which I absolutely adore... But this phone looks just awesome. GET IT IN YELLOW!!!

im expecting nokia to break the exclusivity deal in att from the early video mistake

Haha that's a little naive... The leak was probably perpetrated by a dumb PR rep on accident. At worst he'd be fired. Exclusivity isn't ending any time soon, like it or not :P

Full specs sheet leaked! Official Image
http://wmpoweruser.com/full-specs-sheet-of-the-nokia-lumia-1020-leak-again/

WPCentral already posted about that...

But as a rumor... Now that is the official image plus their post didnt have information on what type of snapdragon was it. That image confirms is an S4.

Don't like the black camera hump on the coloured cases, look better colour coded

Looks pretty good with the camera grip but most likely it over $60.

Verizon will have its own variant in about a year...

I am afraid this will not support AWS :( I don't know if I should regret switching to Wind Mobile.

Hopefully Nokia keeps the same 1020 brand name across all carriers in the U.S. do not break it up into 1025 and 1028 like they have done with 920.

Seeing the render with the cam case attatched makes the whole deal seem more relevant imo, im surprised at how its changed my opinion on this. they've done a really nice job by the looks of it for a niche product. Looks impressive as a do -pretty-much-anything package.


I know I am beating a dead horse, but Facebook; Instagram and vine will be needed for this phone!!! Loving what I see and hear!

Phone looks much more like a larger 800 than a 920 which IMO is cool..


Thought this was suppose to be a XX mp for the mighty Gods of Thunder

I hope it'd be affordable enough after selling off my NL920. And this time Nokia, you better release that phone quicker in India.

My body is ready even if my wallet may not be. I'll be watching the livestream
When EOS says "i'm coming" is that what Balmer meant by "rapid release"?



They should've made it with optional lenses.

Which color???
YELLOW, of course
Beautiful twinkling YELLOW :) :P

Two holes on the top. One is definitly for the SIM card but what is the other hole for. could this be extended memory?


Edit : not sure probably second mic

As much as I want this phone I'm gonna step away from it like I did the 900 and wait for GDR3. My 920 is more than suffice right now. Buy who knows that may change.

Awesome combination. Great cam, great phone, great design & love the grip. The camera power consumption specs will be interesting to explore during the presser. Bring it I'm already in the queue.