More photos of the Nokia 800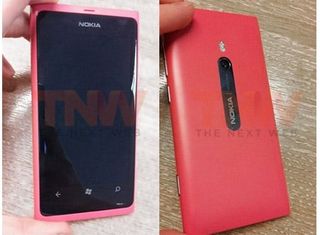 The Nokia 800 (codename SeaRay (opens in new tab)) has been in the news recently with press shots being released (opens in new tab), secret teaser advertising on TV (opens in new tab), and being listed elsewhere. We're expecting to see this handset be officially announced at Nokia World tomorrow, and we'll be at the forefront of the action so be sure to tune in to WPCentral for the latest gossip/news.
With the secret advertising witnessed on some channels, we can see that Nokia is going to have a field time promoting this phone with the £80 million they're set to spend in the UK alone. The N9 is a beautiful design so it's going to shine with Windows Phone installed.
Source: The Next Web (opens in new tab), via: LiveSide (opens in new tab)
Rich Edmonds is Senior Editor of PC hardware at Windows Central, covering everything related to PC components and NAS. He's been involved in technology for more than a decade and knows a thing or two about the magic inside a PC chassis. You can follow him over on Twitter at @RichEdmonds.
The back, windows, search buttons make this phone less **** than the N9, but it's still a looker.

should have had on screen buttons like the n9 woulda been an awesome idea to implement

No on screen buttons on the N9.

Thanks Nokia for reminding me that I do not like your phone designs.

You are one of the few... But hey for every Nokia windows phone theres a samsung and HTC one. Always plenty of options :P

engadget has a review on the Nokia N9 (same as SeaRay). Take a look at it in black and see if your opinion changes. I have to admit, the pink and blue are not my style but the black version of the phone just flows so much better. I will leave Sprint after 13 years for this phone to wherever it goes. I was thinking of the Samsung focus S but after seeing that review of what the phone looks like in black, I am sold.

Keep seeing all the "teaser" ads on TV, but i still dunno if i like this phone. It kinda looks to simple if you ask me. Not to mention missing a lot of the new Mango features!

Missing Mango features !? Why? and What?

This is the first I've heard of Nokia devices missing "Mango Features." Do you have an substantiation for this claim?

Its not missing any features lol. They will actually have additional features due to Nokia services integration ect.

Well, the N9 does have a front facing camera, something that mango does support (once there are apps) but as seen in that image the N800 has lost the front facing camera, to make room for the buttons. EDIT: Unless that is it in the top right, but the one I've seen on the bus didn't appear to have one, period. I guess we'll have to wait for specs from Nokia World to know for sure.

The phone looks promising. I wonder what the accessories will be like and how the phone feels overall. Docs and chargers are big part of the day-to-day experience.

Most likely no docks. Go watch some N9 reviews.

Is there a possibility that Nokia could sell the WP7 Unlocked, Or would they be carrier based only? Hopefully Nokia sells them for $400-500 bucks. Not like HTC/Samsung $700 phones.

I doubt it'll be between $400 - $500 bucks. $600 at least.

In US? Who knows...Outside US - definitely.

That would be nice for those who really want one, but I'm not sure they'd develop versions compatible with AT&T or whatever just yet. I could be wrong.

T-Mobile version is a lock.

Nokia has the pentaband antennas so it should be compatible with all US GSM carriers... If you can get it unlocked of course.

One .. no two for me as well please ;)

Excellent phone design. I actually kind of like the 3.7" screen. A shame we won't see it for a while.

Will be seeing it sooner then you think.

Hopefully. Until then I guess my Focus will have to tie me over... Not really a bad phone, but now that I've seen what's to come, I just can't wait.

Come on Nokia....Please have one LARGE SCREEN phone!

What's the chances is has CDMA support? Do I really have to wait until next years Tango/Apollo (LTE support) updates until we get some second gen. 7.5 CDMA devices on Verizon and Sprint?

No FFC, at least that I can see. Why take it out when it was in the N9?

There is a FFC. It's been moved to the top.

There's an FFC on the bottom of the N9? wtf

@JamesDax3...Where, at the the top? Within the proximity sensor (to the right of the Nokia branding), or in place of the light sensor (to the left of the Nokia branding)?

I have a question..that pink/red thing..is that just some type of case or skin, or is that part of the actual phone..because i think it makes the phone really ugly. I'm picturing it without that thing and it would look great.

It's part of the actual phone. Google 'Nokia N9' and you'll get a pretty good idea.I think it's gorgeous. Too many phones nowadays are a boring black/gray/silver plastic. I love my Focus, but the design won't win any awards.

Yeah it's pretty horrific. It looks much better in black. The red/pink bezel really brings down the beauty of this phone.

by the time Nokia releases a phone it'll be dated and old technology. Nokia is like RIM spend 6-8mons hyping a phone and when it comes out its dated. the Nokia N9 cool about 6mons ago but now its like whatever.

I'd rather have great, stable, dated tech than new, unstable, half-baked tech.

Do you have one? We're not in Europe, therefor we haven't had the device, so it's new to us. This design looks better that current US smartphone design.

Do you have one? We're not in Europe, therefor we haven't had the device, so it's new to us. This design looks better that current US smartphone design.

I like the design...I'm just hoping Nokia will bring accessories with the device; like their wireless bluetooth headsets and much more.

Does this have a front face camera???
Windows Central Newsletter
Thank you for signing up to Windows Central. You will receive a verification email shortly.
There was a problem. Please refresh the page and try again.