Mortal Kombat X for Xbox One goes up for digital pre-order
If you're chomping at the bit to get your hands on Mortal Kombat X, you can now digitally pre-order the game for your Xbox One a little under a month ahead of its April 14 launch date.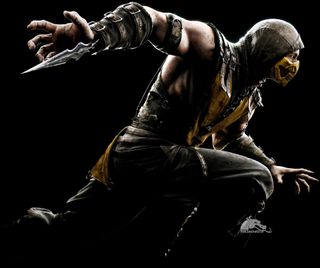 Mortal Kombat X brings the beloved fighting franchise to the Xbox One with what developer NetherRealm Studios is calling a "cinematic presentation." Players will be able to choose from several variations on classic characters for the first time, bringing new depth and strategy to the way each character is played. In addition, players that pre-order the game will score the four-armed behemoth Goro as a bonus playable fighter.
You can grab Mortal Kombat X from the link below to start pre-loading the game before its April 14 release. Which fighter are you guys most excited to try out on your Xbox One?
Pre-Order Mortal Kombat X for the Xbox One (digital) (opens in new tab)
Get the Windows Central Newsletter
All the latest news, reviews, and guides for Windows and Xbox diehards.
Dan Thorp-Lancaster is the former Editor-in-Chief of Windows Central. He began working with Windows Central, Android Central, and iMore as a news writer in 2014 and is obsessed with tech of all sorts. You can follow Dan on Twitter @DthorpL and Instagram @heyitsdtl.
Will pre-orders ever stop? There's no reason for them anymore period

Seriously, being that they always eventually give up the DLC to the rest of the world. & even then the DLC usually isn't even all that.

Honestly, do people in windows forums ever stop complaining about anything? Some people like to preorder so they don't forget the date the game launches or maybe they will have school or work and can pick their copy up at the s store without worrying that it might sell out. Some will digitally download it so they don't have to drive out to the store.

I pre-order my games for bonuses and sometimes exclusive bundles and editions

I mostly do statue editions first if available, cant wait to see how the one for Halo 5 looks like. Anyways, Preorders do come in handy, people should stop complaining.

Spot on.. In the last 6 months the comments and forums has been full of endless whining. Some people like bonuses for preorders. Some people like to have the game preloaded and ready to go as soon as it comes out.

It does get outta hand at times but that's partially what the comment section is for, and if you wanna disagree then look at the comment section on any other site.
But I'm sure it's not that hard to simply keep scrolling when you see someone complaining. (then again, maybe it is for you.) & When you see someone complaining and whining, then you choose to stop to complain and whine about them complaining and whining, you're really just as bad.

@BlackGold Aahh...I get it. So that must make you one of those extra-special complainer/whiners. You know, the kind that thrive on revisiting comment threads, leaving multiple comments (complaints) and engaging others (whining) with argumentative rhetoric. Wait, did I just give the definition of a troll?

I pre order digital so my son can play the game on his console as well. Buy once play on two console love digital

@c33non3 Exactly what i do. My son and I have been co-op-ing games like Destiny and Dying Light for awhile now. I can see us ripping each others guts out in this game as well. $60 for 2 copies, not a bad deal.

Same here I'm going to put a spanking on my son. Lol

Man, tell me about it!! This site used to be composed of a windows base enthusiast community and now, it feels like all that hover here are a bunch of jaded, whiny bitches!

You are pre-paying for a digital copy of a title that won't run out of stock before learning if the game is working as it should, or if it's any good. In the physical age, it made sense as stores could go out of stock, but today ?

This game deserves a pre-order. Going to do it ASAP. The Premium Edition.

But will Predator be a character in the game?

Yes I just saw that he actually is in!

Pre-order? This is digital I don't have to worry about it selling out digitally.

The idea is that when you preorder a digital game, that you can play a game right at midnight when it comes out as opposed to waiting for the entire thing to download or having to drive to a store and back.

The idea is that it pre-loads so you don't have to wait for it to download

All pre ordering does is gives the game developers your money before its even out. That's why they're releasing broken buggy games all the time since they already have your money they have no incentive to release a finished game

Couldn't be further from the truth.

Halo, Assasin's Creed, Battlefield, Need for Speed, Fifa, and so on and so forth and whatnot say hello.

Assassin's creed, Netherealm?

A digital preorder is for people who want it on their console so when it comes out it's there and they don't have to buy and install it then. DLC is not all digital preordering is about like it is in store. Don't gripe if you don't understand.

I hope Microsoft cuts a duel with Netherrealm Studio so we can have MKX on mobile. IOS and Android will have it or already have it.

Whatever...they are delaying the release of the 360/PS3 versions so I'm kinda pissy about that..

I believe that version is being done by another studio so that's why its delayed.

Hmm, 69 bucks in store or 99 bucks online. Gee I wonder which option I'm going to go for.

$59.99 on the Xbox store.

$99 for the deluxe edition with Season Pass.

I live in Australia, games are 100 bucks on our online store on release, they are supposed to be that much in store as well but a lot of places sell them cheaper.

MK x is going to Android too,
whereas Windows phone... Nothing

Scorpion and Sub zero a nice sibling rivalry