Mortal Kombat XL will bring it all together in one game on March 1 for Xbox One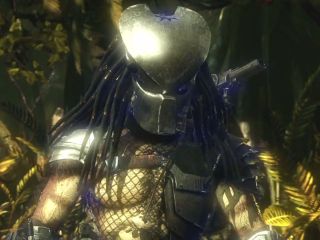 If you have been thinking about buying Mortal Kombat X, you might want to wait until March 1 to get your hands on the popular M-rated fighting game. That's when developer NetherRealm and publisher Warner Bros. Interactive will release Mortal Kombat XL for the Xbox One and PlayStation 4. It will include all of the content of Mortal Kombat X, plus all of its previously launched post-release DLC packs, and the upcoming Kombat Pack 2, which adds four new characters and more.
Here's a look at all of the extra content that will be included in Mortal Kombat XL, in addition to the main game:
Playable characters Predator, Jason Voorhees, Tremor and Tanya, with each accompanied by three themed skins (Kombat Pack 1)
Samurai Skin Pack (Kombat Pack 1)
Brand new playable characters the Xenomorph from Alien, Leatherface from The Texas Chainsaw Massacre horror film series, Triborg and Bo'Rai Cho (Kombat Pack 2)
Never released Apocalypse Skin Pack (Kombat Pack 2)
Previously released content including playable Goro, Brazil Skin Pack, Kold War Skin Pack and Kold War Scorpion Skin (Kombat Pack 2)
Which fighter in Mortal Kombat XL is your favorite? Let us know in the comments!
Source; VG247.com
I wonder what the price will be probably around 89$

Haha...that's what teases my appetite :)

So Mortal Kombat XL is a whole new sequel or just MKX with all the released DLCs?? I'm really interested in what happens next in the story..

Just the X base game with all released plus yet to release dlcs and 4 more characters.

Its just MK with all the dlc

Honestly, none of what comes with the XL version interests me. If it did, I'd have bought the DLCs. Call me when they put Shang Tsung back in the game as a playable character.

I feel it is a complete rip off... If they are releasing something based on the previous game then, they should add all the mortal kombat characters (including the very old ones)...

I agree Shang Tsung ,Baraka, NightWolf and Stryer

Gees, do people not read the articles

Spoiler alert: Baraka died in MKX.

Plz someone needs to stop this Dlc thing. It's too tortures then ISIS

Exactly my thoughts!! I'm not a fan of this dlc concept and introducing characters which are not even part of the story... Doesn't make any sense to me...

Fighting games are constantly being iterated/updated on, so you'll likely never see the practice go away. Along with balance changes comes new characters. Back in the day, this meant spending another $50-$60 on a new cartridge. Nowadays, you can just ignore the new characters if you don't want them.

So I just got the "premium" MKX a month ago when it was on sale. It seems like I have all this already. What's different with XL vs X premium?

Nothing! Just the same thing with dlc's on the disc I guess

Yes, anything to keep selling old content at a high price. The economics of gaming has just gotten too predictable and formulaic. Dying Light's the only one able to intrigue me with this, I suppose.

Just bought MKx today... Posted via the Windows Central App for Android
Windows Central Newsletter
Get the best of Windows Central in in your inbox, every day!
Thank you for signing up to Windows Central. You will receive a verification email shortly.
There was a problem. Please refresh the page and try again.