Most of Canada gets Lumia Cyan for Lumia 520 and 620 Windows Phones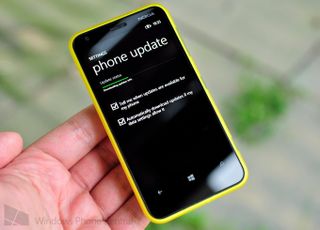 Good news, if you are in Canada, as today Microsoft and its carrier partners have set free the Lumia Cyan update for the Lumia 520 and Lumia 620 for almost all carriers up north. The entry and budget level devices in Canada have been lagging behind the global release, which saw its near completion last week.
Let us take a look at which carriers got the update for their Lumias!
Now getting Lumia Cyan
Lumia 520 – Chatr Wirless, Koodo, Rogers, Telus
Lumia 620 – Telus
The Lumia 625 received its update earlier in July on Telus and Rogers, so technically those are not new today.
There are two holdouts though that deserves a mention:
Lumia 520 – PC Mobile (under testing)
Lumia 620 – Koodo (under testing)
As you can see, those two phones are still inching closer to a release but are not quite there yet. We will, of course, keep an eye out for when they do go live.
Remember, if you are using Windows Phone 8.1 already through the Preview for Developers, even if your country is listed above, you still do not get Lumia Cyan just yet as Microsoft has a pause on the updates. Users are instructed to either wait until a fix comes out or use the Nokia Recovery Tool to downgrade the OS and then take the updates.
Further reading and How To guides
Lumia Cyan update tracker
Thanks, Peter R., and Robert B., for the tips!
Daniel Rubino is the Editor-in-chief of Windows Central, head reviewer, podcast co-host, and analyst. He has been here covering Microsoft since 2007 when this site was called WMExperts (and later Windows Phone Central). His interests include Windows, Microsoft Surface, laptops, next-gen computing, and for some reason, watches. Before all this tech stuff, he worked on a Ph.D. in linguistics and ran the projectors at movie theaters, which has done absolutely nothing for his career.
Why we are not getting brightness slider feature in cyan update? Anyone??

Just like other features e.g. Motion Data, some are limited by hardware. Only those devices with Snapdragon 200, 400 and 80x get Brightness Profile.

The USB setting are hidden. Just type "USB settings" in Cortana's search box and the settings should appear... Cheers

Thnks fr the update.. Too much disappntd with that...

I have Lumia 820 RM-824_nam_att_101 and mobile operator is ATT-US. can I get cyan in Ghana. What if I change my region to India.@Daniel Rubino

www.nokia.com/global/support/software-update/wp8-software-update/wp8-ava... According to the link, it's likely available for you already. Go to Settings>>phone update>>check for updates.
I suggest that you do not change your region. No need. I'm your brother from SA.

Thanks bro but still showing is up to date.

Not sure. I guess your service provider (carrier) has not yet cleared it for you.
I cross my fingers that the update will be available in a week or two.

what about the solution to preview mode ? Microsoft is silent

Its already solved. I think.

Only a select models are getting it, looks like another pilot.

Microsoft and carrier partners have expanded the fix for Cyan and PfD to these devices: Nokia Lumia 1020 - Branded on AT&T; Nokia Lumia 1520 - Branded on AT&T; Nokia Lumia 920 - Branded T-Mobile Germany; Nokia Lumia 1520 - Open Market Great Britain

Ah thanks Daniel! I was looking for a definitive list after hearing about it on windows weekly.

Shit verizon is very very slowly i cant wait more time to official Cyan on my lumia icon

Well you may as well hold out for debian red. Jk :P.

Thanks for the tip, Daniel. ;)

Been some time since the last cyan update mention on wpc. Hoping that at&t opens up the floodgates for cyan on the 920. I have two of them chomping at thier bits and bytes.

Daniel, I thought the Bitlocker issue was fixed. AT&T sent out 8.1/Cyan to a couple of their units with DP loaded, didn't they? I thought I saw that in an article last week.

It is only for AT&T at the moment, so not relevant for those in Canada.

What Lumia gyan OTA for India ? All Lumia devices got the update but 620 is not getting the update......

I think we will get this cyan update news until 2015 :/

The cyan firmware is overrated for older devices.

It's not. Firmware is essential to optimizing battery life. These days it's not only about adding handy features. Especially as for the Lumia 620, which comes with a comparatively small battery.

Pretty much, I expect this trend to continue in another 20 plus months but for lower end hardware. As the flagships of old are running the S4 chip which is Pluto in comparison to the 800 chip (which is Jupiter for the sake of this silly comparison lol).

I'd be glad to have it on my 925 if it fixes the IE refresh issue.

Agreed I dislike that IE Refresh issue

820 and 920 At&t never .....

I think the moment we stop caring, they'll release it.


I found the cyan update makes the experience on the 520 sub-par. It's laggier, and I keep having this bug where the web browser quits inexplicably. The resuming bug is out in full force, and the OS is slower as a whole. I'm using a country variant uk 520...

Have you tried a soft reset?

Yes, but I'm reluctant to do it again, I've got a load of apps and it's a pain

That's weird, my 520's performance has improved greatly with Cyan. It's almost as fast as it used to be with WP8.

Congrats guys...really...i mean it.

Why can't Microsoft get this done in the States? I'm tired of waiting for cyan to roll out on t-mobile for my 925. I need Bluetooth LE to be re enabled and I don't want to downgrade to 8.0 to use my accessories. I shouldn't have to choose. If Apple were to do this, there would be a riot. But the fact that Apple makes all of its updates available to everybody at once makes it a moot point. If Apple can do it, why can't Microsoft?

How many devices does Apple have to take care of opposed to Microsoft?

Only every generation of the iPhone still out there. Wouldn't it great to have standard hardware requirements for a platform to streamline the support process like Apple does? Oh wait, Microsoft also has that. Nevermind then, can't make excuses.

Microsoft has a *LOT* more hardware to test for than Apple does. It support multiple SOCs, multiple OEMs, multiple amounts of RAM, etc. And Apple is quick to orphan old hardware. OG iPhone lost support after iOS 3.x. iPhone 3G lost support after iOS 4.2.1. The iPhone 3GS lost support after iOS 6.1.6. Ditto for the iPod Touch, where the first-gen lost support after iOS 3, second-gen lost support after iOS 4, the third-gen is on iOS 5, fourth-gen is on iOS 6, and *only* the current-gen is on iOS 7 or eligible for the official iOS 8 preview. The only place they've done it right is the iPad, where even the iPad 2 is eligible for iOS 7 and iOS 8 preview.

I dont Said anything but att 920 very lame and slow we never getting cyan

For all of the US AT&T 920 user (and a good idea for those who still didn't get the update): http://forums.wpcentral.com/t/307232-920-owners-t-lets-go-public.html

Im confused. Doz 925 on TMO have Cyan yet? Do I have to downgrade to get it?

You can downgrade but its not out for you guys yet either. May get better battery though.

All these news sites like wpcentral should be giga-thankful to MS: what other crazy fking vendor on the planet had given these sites munition to post 100 news articles in 2,5 months about literally the same fking topic: the damn mobile phone OS gets a damn upgrade. I mean, really count how many 0-info meaningless articles posted just to fill the space on the frontpage, and generate traffic. Without this 8.1 upgrade and the pathetic C letter upgrade, this damn news site would have no articles posted in the last 2,5 months, and Mr Daniel and his crew would starve to death without adverts income.

Lumia 520 – PC Mobile (under testing) Lumia 620 – Koodo (under testing) They're probably not getting it. 620 on Koodo hasn't gotten Lumia Black and neither did 520 on PC Mobile.

It's available also in Belgium, but I am in dev preview

As a 920 owner, I don't even want to hear the term Cyan anymore.

There are more people bringing this up on twitter. For most, they're using #attdoesntcare. If you want answers, try that.

PFD drains battery like never before and Whatsapp kills my battery within seconds. Something must be done about whatsapp

My phone is yet to receive Lumia cyan update. Someone, told me its available India and I can get it by changing my region. What do he meant by "changing my region". Do I have to arrange an Indian Visa for that or what?

Go Canada!! Better than being with a US carrier this time around. The US carriers, as usual, are blowing chunks on pushing updates. (Unless you have certain phones on AT&T, which is worthless if they neglect their other phones)

AAAAaaaaand....still nothing from AT&T for the 920.

Its also available in Holland, Lumia 620. But the app told that 4 weeks ago too. :D lame.

Unfortunately the "country variant" also known as "UNLOCKED", is still reporting as in testing

Downloading now. There are a half dozen Rogers MVNOs that sell the Lumia 520 (Cityfone, Sears Connect, Primus, the credit card departments of two of the major banks, etc.). Hopefully they're getting the update. Really strange that Telus is getting it, but (their wholly-owned MVNO) Koodo is not for the Lumia 620.

What about the 620 update in India OTA? we are still not getting the update please fix the problem

And your hand have a wireless charging, u rock men, yeah!!

Did somebody change the headline? I could have sworn it said ATT US releases #Cyan for #Lumia 920's.

How long I have to wait for the cyan update for 620 in Thailand.MS has announced it was available more than 2 weeks ago but I can't find an update.
Windows Central Newsletter
Thank you for signing up to Windows Central. You will receive a verification email shortly.
There was a problem. Please refresh the page and try again.