Mouse Computer MADOSMA Q601 is a 6-inch Windows 10 Mobile phone coming to Japan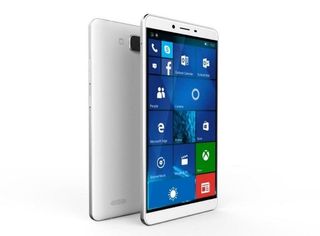 Several phone makers in Japan have already released Windows 10 Mobile smartphones. Now there's word that Japan's Mouse Computer will launch the MADOSMA Q601, a 6-inch Windows 10 Mobile phone, sometime later in 2016.
Mouse Computer have already released a Windows Phone 8.1 device, which was called simply MADOSMA. The upcoming MADOSMA Q601 with Windows 10 Mobile is in the mid-to-high range in terms of hardware. Inside the 6-inch 1920x1080 smartphone, there will be a Qualcomm Snapdragon 617 processor, 3GB of RAM and 32GB of storage. There will also be a 13MP rear camera, a 5MP front-facing camera and a 3900 mAh battery.
The phone is also supposed to support Windows 10 Mobile's Continuum feature, which will allow the phone to be used like a PC when connected to a mouse, keyboard and monitor. So far, there's no word if Mouse Computer will sell a dock for the MADOSMA Q601. The case for the phone will also have a rounded machined edge, and the casing itself will be pretty thin at 7.9mm. Pricing and a release date for the MADOSMA Q601 have yet to be revealed.
Source: Engadget Japan; Via: WSPowerUser
After seeing all these new windows phones,i feel like my lumia 730 is now a lower end phone

Well it's always been a low end phone actually, the 830 is the mid end phone and 930 the high end, that of course before 950/XL release and all this third parties too

Haha the 730 has the same processor and RAM as the 830, and I think the 730 has a better OLED screen

The Lumia 830 has a higher quality IPS LCD display. The Lumia 730, despite being more pixel dense (with a smaller screen) is actually fuzzier because of its sub-pixel array. Also, the Lumia 830 is more accurate, brighter, and has better viewing angles. Now if you like slightly oversaturated colors then that's just fine and the Lumia 730 is certainly oversaturated but the Lumia 830 does have a higher quality display (and a higher quality Glance Screen I believe) not to mention the far superior camera (not the front facing camera though), NFC, Qi wireless charging (AND PMA if on AT&T), physical camera shutter, and a few other little things. I'm not saying the Lumia 730 is a bad phone (it's great actually) or that the Lumia 830 deserves the price difference, but the Lumia 830 is the better phone in everything but one thing: The front facing camera. Well, besides all the subjective gunk like design and such.

I dunno. I have both the 735 and 830, and the 830 screen sucks. Viewing angles are crap, and colours shift like mad. Black levels are awful. otherwise, pretty phone. But the 830 and its metal frame make it a hundred times more fragile to breaks! Holy crap I cannot believe how easy it is to shatter the 830 screen. The 735 takes a crazy beating with no harm like you'd expect from the typical Nokia.

I disagree. The only issues I have with the Lumia 830 is its trouble with sunlight readability mode (it's way too extreme) and I have a few dead pixels in the bottom left corner that showed up for no reason.

730 v/s 830 .. 830 is slightly ahead ( not enough to justify the almost double price though) 735 v/s 830 .. 735 wins due to LTE Radio

Not to forget the 16gb in built memory. Except front camera, (which sucks extremely big time.) it's an amazing phone, with sexy design.
But again. The price difference was huge. Basically it cost double than 730. But I am happy with my phone. Though everything is old about it compared to these new phones, it's design and camera are still outstanding.

The 830 has a bigger screen and better back pure view camera

All of these phones need to be made available in the US, on every carrier.. Posted from Windows Central for Windows 10

no even 830 is a low end phone, MS just calls it mid-range. In terms of specs this phone is mid range, as is the Viao. 950, 950 XL are high end while Elite X3 would be highest end.

It was midrange at best at launch, so yeah, at this point it's pretty low range/entry level by 2016 standards.

Wow, aside of the weird name its really good looking ! Any chances getting that in EU?

Better looking than HP X3...

MADOSMA.
MADOS MA.
MAD OSMAN.
MAD OSAMA.
Hahahahahahaha!

now I will forget the name of this phone

Is it me or are more OEMs producing Windows phones?

Or a chinese ODM factory is better at designing them. I would guess most of these smaller companies give general specs, send a company logo, and the ODM spits out a phone so long as the funding clears.

Noticing this too.. Some really nice spec'd ones too. Posted from Windows Central for Windows 10

But very unknown ones...and many in Japan who has 0% market share.

They are. I can also see the Japs are falling in love with windows 10

Why all these OEMs only releasing in Japan ?

Japan like new crazy stuff. Most still use flip phones. But having it work like a pc could help adoption. They never took to smart phones like the rest of the world. Not sure if windows 10 in general has good adoption.

They love iPhone in Japan though. So it might be tough to beat, but we shall see :)

Seems like good days ahead for Windows mobile

This proves that Korea is the only country in East Asia to be left out with Windows 10 Mobile.

*cough* Samsung... *cough*

*cough* LG...also *cough *

Samsung territory bro. Posted via the Windows Central App for Android

Can more of these come to the US??

It's flooding windows 10 mobiles in Japan.... when in India??? :-(

It does look good. Posted via Samsung Galaxy S6 but still love for Windows.

This is another device supporting continuum on a SD617, When previously it's been stated 8*** series minimum.

Microsoft already said their goal was to being Continuum to lower class chips and phones.

I don't know who told you 8** seres minimum. That was patently false. MS Stated clearly from the start that it would require 6xx or 8xx series to be able to run it at a minimum, and that 4xx and 2xx would not be able to do so. I remember watching the presentation on that one. Would love to see a good 617 configuration like this for Continuum come to a mid-range in the US.

It was on here that it was stated, also stated by Richard Devine as he looks at the Vaio Phone Biz @ MWC, TAKE A READ

Pretty sure these 6xx series only do Continuum over WiFi though. At least that has been the case so far.

Sure, go ahead and bring nuance into this.

I hope it can pull more developers to build for windows mobile. Can't wait to have quality japanese games on my phone.

I see Japanese OEM's are really stepping up.

The mockup picture looks like a mix between a Galaxy Note 5 and a Xiaomi Mi Note. I'm actually kind of digging the design. Sleek and clean. Doesn't beat Nadir Aslam's concept version of the Surface Phone though...now THAT was awesome.

Do you have have a link to that?

Link to that would be good

Surface Phone - nadir aslam
http://nadiraslam.de/surface-phone-concept/

Ugh it has the same angles the 630 had never mind. Posted via the Windows Central App for Nexus 5x

Really? That thing is so thick you can use it as a hammer.

The perfect 2 in 1 device.

What the **** is going on.. Y are OEMs not making their devices available worldwide.. :/

Japan only makes for Japan. This is nothing new. Can't speak for the last one though. Honestly, I think they are rolling these out "regionally" at first to test the waters of Windows 10 Mobile to see how it will do before investing in a world-wide roll-out.

Is that why I ride a Kawasaki in the UK? Is that why my PS4 is sat next door to my Xbox one????/

He was referring to phones, not mototcycles or game systems.

The 2nd phone with 6xx snapdragon to support continuum

3rd i guess..1st nuans.. 2nd vaio phone biz

Is Japan actually that big a market for windows phone...?
If that's the case, how come we've never seen adduplex show statistics of that country yet...?

Its actually at 0% but it may grow with time

Ok ok.. i'm listening.. This right here is potentially the device I've been waiting on.. All I need is a $299 price point and I'm sold..

Don't forget the cost of a plane ticket to Japan.

Any flagship quality devices incoming, wasn't there rumors that top tier smartphone manufacturer will announce windows phone? Cancelled?

You've never heard of HP?

Top tier smartphone manufacturer. Consumer flagship, cameras and all. And to be released not after 6 month if ever. I don't think Hp fits the description.

HP is not a traditional top tier smartphone manufacturer. It's very much a niche, tiny business for them at the moment.

Well, since I'm a Windows Mobile fan and I live in Japan, I couldn't be happier; especially since all the Japanese carriers and phone makers dissed Windows Phone 8.1. I have the Madosma and it is an awesome phone. Since early January, Mouse offered the Windows 10 upgrade on their site for free, and for those not daring enough to try it, pay them 25 bucks and they would do the upgrade for you. I will see how good their new phone is and maybe sell my current one and get it!

Where are all the 'OS is dead brigade'? Looks as if things 'could' be on the up. How many OEM's is that now? Hopefully, MSFT will sit back from the device side and concentrate on the OS, just releasing one phone per segment!!

Nice to know more and more Windows phone

Why are the Japanese lucky?

Japan is getting much love from windows phone 10. It's a good one Posted from Windows Central for Windows 10

Its raining phones. Posted from Windows Central for Windows 10

Looks like MS stepping back and letting the OEMs do their thing could be good. It worked with the surface. The OEMs have really stepped up their game in the PC space. Hopefully their next real flagship will provide similar inspiration.

950XL nor 950 are not good models for OEM though, unlike Surface. Posted from Windows Central for Windows 10

I wonder if the devices like 1520,930,ativ se and HTC one m8 for windows support continuum through miracast ?

No. Posted from Bikini Bottom via my Shell XPS 13

If MS will settle with 550, 650, 950, 950XL only, I really do hope more OEMs step their game up. I still see no other consumer phone I consider buying aside from what MS offers (HP doesn't count here as it is much like an enterprise phone) Posted from Windows Central for Windows 10

Windows Phone is dead. Long live Windows 10 Mobile!

Yes hope this growth becomes steady as OEM support for Windows 10 for PC/tablets!

Sweetz Posted from Windows Central for Windows 10

Guys there is a reason for which there is a price difference between 730 and 830.... So no way comparing them..... 830 is surely a better Lumia compared to 730.... But ya 730 is better in few things.

Nice to see OEMs betting on continuum. Hope this takes windows on mobile up the ladder.

HP iPAQ Elite is what I want.

Or has Apple acquired the license on that name too? Won't be surprised if HP $old them the right to use the iPAQ name. Wish Compaq were still alive.

Pretty phone.
ALL the screen tiles should be clear and not gaudy colors now.
The clear tiles with a photo in the background is centuries ahead of the original metro design, looks so much sharper and professional and a great modern way to differentiate from apple and android.

Will it be able to run on T-Mobile?

I am really surprised (very pleasantly though) that so many japanese manfucturers are making Windows phones, when the market for windows phones is nearly negligible. I will try to put a reason, even if it is based purely on my imagination, here. I think Japanese love good technological innovations. They might realize the impact Continuum will make. Plus they dont have too much space. So if the OEMs can sell these phones are replacement for PC and tablets, there could be a good opportunity for selling windows phones. PCs still run windows so OS will not be that big a hinderance here. Just speculating here, but I hope this confidence of the OEMs helps revive the windows phone market. Now I wish to see some chinese OEMs coming to windows. That will be the toughest market to crack, but if it happens we might see a huge uptick in sales of windows phones.

Looks good...we need more oems to back windows mobile 10 Posted from Windows Central for Windows 10 mobile limited edition Lumia 950 red leather with gold rim

WHY THE **** DONT WE ( REST OF THE WORLD ) GET A GOD DAMN 6" WINDOWS PHONE ANYMORE ? That is just so ******* depressing and makes me angry Posted from Windows Central for Windows 10

Beautiful phone, but another unit that won't be released in the US. Satya need to fix this and make sure phones like this gets advertised in the US if they are released

Nice design. It's should be in 5" and 6" size options, I prefer 5" phones

Is it just me or is 'Mouse Computer' the best company name ever?
Windows Central Newsletter
Get the best of Windows Central in in your inbox, every day!
Thank you for signing up to Windows Central. You will receive a verification email shortly.
There was a problem. Please refresh the page and try again.