Mozo to release leather flip covers for the Lumia 950 and Lumia 950 XL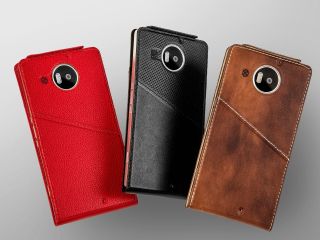 Mozo Accessories is already taking orders for its leather-based cases for the Lumia 950 and Lumia 950 XL. Now, the company has announced, and shown off, some leather flip covers for both phones that it will release in the near future.
The flip covers are designed to protect both the front and the back of Microsoft's upcoming Windows 10 Mobile devices. The cases will cost €59.90 ($65 USD) and they stated they "will be available for pre-order soon." What do you think of these flip covers for the Lumia 950 and 950 XL? Let us know in the comments!
Thanks to Yohance for the tip!
Source: Mozo (Facebook)
Windows Central Newsletter
Get the best of Windows Central in your inbox, every day!
LEATHER or not they are actually good is the question!

Hopefully good - with magnetic closing.

Might want to go HIDE after that poor pun before someone comes along and SKINS you alive.

They are supposed to be real not poly leather and should last longer like real leather

Does Mozo have a metallic back cover for Lumia 950 ? I hope they've...

Yeah, these covers look nice, but I hate leather, so they are useless to me. I want some metal or carbon fiber backplates from them!

F#%& ALL THESE LOOK AT ME CASES! THEY NEED TO START MAKING ONES FOR THOSE OF US THAT WORK FOR A LIVING! THAT WOULD GO THE BRAND ALOT.

I've ordered 3 of the replacement back covers :)

I KNOW YOU...YOU'RE THAT REALLY LOUD COMMENTER =p

Yeah hopefully otterbox or some company like them will makes 950 cases for the hard working people not sitting behind a desk.

I am offended by your comment. I sit behind a desk and work very hard. I've worked in construction and in kitchens before I became a software engineer, and I can tell you from experience, sitting behind a desk is much harder work. I could use a tough case too for those days when you just want to smash something and your phone is the only thing within reach.

Not my intention to offend you or anyone. Just saying some of us need and deserve more protection for our devices. I'm sure you work very hard behind the desk but you don't necessarily need an otterbox. I drive a truck and deliver heavy furniture. Next year I'm going for BLET (Basic Law Enforcement Training) to become a Cop and hopefully one day an FBI agent. I need a little bit better protection than the cases WC has been showcasing.

That's ok I forgive you, I'm not really that sensitive :)

Says the person with LOOK AT ME caps... Posted via the Windows Central App for Android

Carbon fiber would be nice! I'm excited for these.

As long as its real I would get that to match my new wallet

The stick-on stuff from the auto parts store won't do? Heh.

Do any of these cases open horizontally(like a book) or are they just vertical mechanism?

Yes, they have horizontal too. https://www.komplett.no/search?q=mozo%20950

Thanks for the link. I hope they aren't ridiculously priced. Also, was hoping for some form of case software support. Oh well, I'll just be happy with the dam phone ;O)

I find flip covers to be horrible but it's good to have an option.

Agree, I think they would be in the way half of the time. Colorful back cover from Mozo for 640/XL look pretty nice to me :)

Yeah I've never liked them either. Not keen on the leather either, just doesn't belong on a "PC in your pocket" give me some good old fashioned cheap plastic any day.

Yeah I agree I've always wanted a case on the back of my phone, but hate one that covers the front, for that I get a screen shield!!! I always use Invisible should but haven't seen one yet for 950/950XL, they had one for 1020, so hopefully they will carry on the tradition!!!! I'm liking the look of the light brown and gold trim, will probably buy that!!!! :p

I love and hate flip covers. Love them for the screen protection and actually not having to carry a wallet, just pop license and a couple cards in and go.... But to try and take a pick with can be a pain, without having a dedicated camera button and trying to take a pic with on screen is worthless.

I've preordered my back cover with a tentative ship date. Wish I could say the same for my 950XL.

Well, for me I don't like covers. Although they protect your phone, but they also hide the beautiful design of it.

There's nothing to be hidden. The back cover can be replaced. Mozo accessories for Lumia 950/950XL are not protective cases.

Very nice! I liked the leather look but I was holding out for a flip cover. Win-win for me. =D
Edit: So they might be a vertical flip? Don't like that...

They have horizontal flip as well.

Appreciate the work by Mozo to support the 950 but how about some non-leather options? Metal.. Maybe some of bright colors options?

They have many color options for other Lumias. So hopefully there will be other options later. There is a black one that look like it is not leather.

Someone -paging Surface team- needs to construct an indestructible phone that is sleekly designed, buying covers and screen protectors should not be normal after dropping $650...

Someone -paging all the butter fingers out there- should learn to take care of their phones! Just kidding, I agree I'd prefer a phone that doesn't need a case, for me I've never needed a case for any Lumia they are tough nuts to crack, literally. The only time I've used cases was for my Lumia 920 when I had a few different colour options with those silicon slip on cover things, but I only got those to not get bored of the black everyday.

Tell that to Apple/Samsung, spend a lot more with them and they are far from indestructible!!!! The phones I've had have been pretty good and durable, 1320, 925, 930, 808, 1020, actually my Dad did break his 930 screen, but he dropped it from a high distance onto concrete, lets hope the Gorilla Glass does it's job!!!! I'm still going to get a screen protector, hate scratches and finger prints!!!! :p

The odds are in your favor to win a Mozo cover. Enjoy that phone!

LOL, hopefully there is a competition to win one!!!! They are quite expensive, but then I guess its real Leather and it keeps it's functionally, I think I will be buying one, first time I don't buy a case and just replace the back, pretty risky!!!!

Please, a back cover made out of wood would be fantastic....

That sounds like a very good idea!!!! And hey it could be reclaimed wood so trees would be safe!!!! :p

www.lastucase.com
I haven't heard if they're gonna make covers for 950/XL, but if we show there are demand for them, maybe...

I opted for the leather back cover instead of the flip.

Sucks they don't have any OEM cases or flip covers...

Isn't that what this article is about? Or do you mean cases made by Microsoft?

I thought these had been surprised by Microsoft and will say something if the like on the packaging....

Will the Luminas be compatible with these cases in a sense that when I shut them the screen turns off? Because it is not that way with my 1520 and Nokia's / MSFT's official flipcases.

Its a Lumia...unless that was autocorrect....and no they don't have those features, they're jst regular cases...

Yup, it was meant to read "Lumias". I made a typo and chose what my phone offered me as a correction since it does handle "Lumia" pretty well, the plural, however, seems to be a different story. Sad to hear that they won't turn the screen off ... was really hoping that they'd have that feature since they seemed to have MSFT's blessing ... So I guess I will opt for the normal backcover if I do get a 950 ...

Your phone should do this anyways if it has a proximity sensor....

Sadly it does not although it has a proximity sensor. The sensor does help to prevent accidential activation in your pocket but it sadly cannot turn your screen off.

Oh, maybe something Microsoft should think about in Windows 10, it blanks your screen and makes it so you can't touch any more buttons on your screen even you get a phone call, so it should be possible!!!!

I think we should really stop using the name 'flip cover' isn't that offensive? =s

How about folding sheath?

I want the front of my device with the large screen to be protected. But I don't want to hold 2 pieces on the street like when peeling it out of a simple case. So I am always looking for a slim case with detachable front. Had one made by Krusell for my HTC TyTN II and TITAN. The mechanism could be made more clever to be slim of course. Currently I am really please with the CP-623 for my 1520: Lies even better in my hands than without it and is removable fairly quick.

That black one is awesome!

If you live in Norway, Denmark or Sweden, they are for sale at Komplett.
There are more models on https://www.komplett.no/search?q=mozo%20950
And som ranting: I sent a tip about this 2 weeks ago. Why don't you listen to me... Sorry for my bad mood. ;)

The official cases are available to buy before the phone itself. By a wide margin no less. Sheez Microsoft, can I just get the phone already?!

They start shipping cases when phone are out. It clearly says "pre-order"

It says clearly on the site €59.90http://www.mozoaccessories.com/shop/index.php/default/coming-soon/lumia-...

Vertical flip? No thanks...

Horizontal flip available too.

It would be awesome with this portfolio update if logo would also be able to make a case with a screw mount just like the camera case for the Lumia 1520. ​

I love the red one and the brown one !!! Posted via the Windows Central App for Android

Would be nice if they make something with some credit card slots on the cover

What I want to know is if Windows Central will be selling this?????

The flip covers have been available for pre-order on amazon uk for a while now

Does the flip cover also replace the back plate (i.e. is it a back plate with a front cover attached to it)? Or is it more like a case and you keep the OEM back plate on?

I don't like that angled seam. Otherwise dat black leather doe

Why they don't make those "premium" covers and cases for others Lumias?

They look nice but I prefer a case that flips sideways rather than lengthways.

I'd bite if it's real leather indeed.

What they should do is make a vertical leather flip case - but with a strap & magnetic closeure that reaches over the top of the phone and covers the camera lens, protecting it. Igadgitz makes on for the Galaxy S5.

If you can get one....... I placed an order but did not receive any type of email confirmation / receipt. i've emailed mozo repeatedly and as of today, still no confirmation / receipt of my transaction. All i have is the charge on my credit card. While Mozo may have a decent case, their website and ordering system seems as though its still under development. I suspect they won't be selling many cases over the internet until they have a working presence.