MSI's new Windows gaming laptops include one with a mechanical keyboard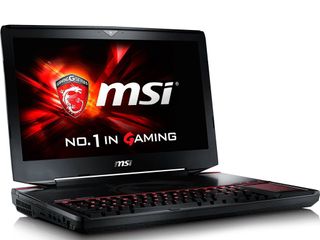 MSI used CES 2015 to show off some new Windows gaming PCs, including a new laptop, the GT80 Titan SLI, that includes an integrated mechanical keyboard designed by SteelSeries.
Microsoft is helping MSI to promote its new Windows gaming PCs. Of the GT80 Titan SLI, It states:
The laptop will go on sale later in January with the rather steep starting price of $3,399.99.
MSI and Microsoft are also promoting another gaming laptop, the GS30 Shadow, that supports an optional Gaming Dock that can accommodate even the best graphics card picks inside. Microsoft says:
It also goes on sale in January for the starting price of $1,999.99.
Source: Microsoft
Windows Central Newsletter
Get the best of Windows Central in in your inbox, every day!
Huh that's a bit expensive. I much prefer Alienware

A bit, hell noooo.. Pricing is insane

Alienware is just another overpriced brand name. I can build a machine with the same or better specs for less than half the price..

But you can't build a laptop...

Hahaha... Lol... True. ;)

I think he meant to custom spec out a laptop as in Sager/Clevo.

There is no way the sum of those parts add up to anywhere near $3,399
Seriously, is there nothing you can do on these that you can't on an ultrabook?
Do the graphics even register that well on a laptop screen? Just seems unecessarily steep...

You can't compare this to an ultrabook. Did you read the article?

This isn't an "ultrabook" competitor... it's a gaming PC. With that said, I'd rather build a desktop gaming machine with better specs and pocket the extra grand or more..

What is a mechanical keyboard exactly??

In a mechanical keyboard, each key has its own separate spring mechanism to actuate the keys. This keys are also more tactile and confortable to type on. They are also a lot more reliable and well built. Once you get used to a mechanical keyboard nothing else feels the same.

Each key on mechanical keyboard has a spring mechanism below it unlike the normal keyboard that use kinda rubber material.. Last longer and super duper comfort. Really love the "click" sounds on it. Lol. 90s pc used to have it , lucky I found one and it still works.

Some one will be along to tell you shortly. Oh look they're queuing up!

An atheist, cross fitter, vegan, all run into mechakeyer, who stops taking first? ;)

LOL, I know I shouldn't laugh so hard but the visual is just....

For the GS30 Shadow. Is that $2000 for the laptop and the dock?

Laptop and dock, just looked it up :) Posted via Windows Phone Central App

Ridiculous to spend that kind of money on a machine that will be outdated in a year

It says the graphic cards can be updated if needed in future. What more do you want?

Were will you find a compatible new graphics card? Even though it uses the standard MXM form replacements are ridiculously expensive.

You mean like committing to a phone contract when they're all imported upon within 12 months? PC hardware improves at a slower rate than mobile/ARM stuff.

Dual 980s, it's not gonna be outdated in a year lol

Yeah, and Bill Gates said no one would ever need more than so much memory...I forget the number, it was so small. Something k.

Been reading a book about that very phenomenon. You are correct.

I want a gaming dock with the next surface mini... That would be the perfect thing. Still "mine" (settings and all that) on the go. Powerhouse at home. I really just want one device. I don't want a tv PC or a desktop. Shit I wouldn't mind plugging my phone into a dock at home. Bt handsets, gpu booster with an hdd. Ahhhhh the future.

Well...I was going to say RT, but I need Steam... Mini, yes smaller than 13 inch, like the first rt. Mini would imply just smaller, but the same. I love my Dell Venue 8 Pro. So... Blah

You want a 8 inch gaming tablet? wtf

Nooo. I want a device that is small that is a personal use device that can be docked that then turns into a powerhouse home machine. Maybe even my phone!
...
Ps there is the NVIDIA shield tablet that's small.

I always think gaming laptop is for those relatively richer guys lol. Expensive + shorter life span (constant heating). Even gaming on desktop is bit off too, if you want to game, you should just get a xbox/ps lol.

Gaming laptops are nice but way expensive. Desktop isn't bad though. It's very versatile and there is a lot more variety in the types of games you can play. Plus you can hook most PCs up to the TV and use a controller to play. I still love my consoles but as I get older, PC gaming is actually pretty cool too.

PC gaming is, and always will be, a totally different ball game than "just getting an xbox/PS". It's a whole different world.. People spend thousands of dollars on hardware that will have 10X (or more) the performance of an Xbox/Playstation. PC games are designed to take advantage of this hardware for the ultimate graphics, resolution, and framerate. PC gaming is an entirely different league of gaming.

Yes, but you can't deny the Simplicity of an XBOX/PS or Console gaming... 1st There won't be any issue popping up (well, at least wont be as often) preventing you from playing the game, hang, or crash, etc. 2nd... A game made for a console will always work on the console because they are made with the console in mind, so all of them will work with the most efficient configuration (though not as high of graphic as PC will manage to do) without the need to go in depth into the setting screen. 3rd Nothing beats the simplicity of entering the room, saying "Xbox, on", sit on a couch, and grab the Joystick... Game (at least if the Xbox register you, lol)

Not for sale in India.. Lol

Lol I can buy a car by 3400$ !!

At that price you could get a gaming PC and a surface

Exactly! If you price those equivalent desktop gaming PC components out separately and build it yourself, you could build it for less than 2 grand.

MSI is the best GAMING Notebook of the world! I'm notebook retailer... MSI QUALITY is AMAZING! military Class 4....is superb

In my eyes, I'm actually not that bad when it comes to gaming. Even though my computer is an HP dv6t from 2011 that has an Intel i5 2nd-Gen processor, an AMD Radeon graphics card, a 1366x768 HP BrightView display, and a standard laptop keyboard.
I also have a Cyborg R.A.T. 7 gaming mouse and a Razer Starcraft II Banshee gaming headset. They're the best I have when it comes to gaming hardware.
I'm hoping to get a new laptop over the summer, before I head off to college. Most likely an HP. Because I've never owned a computer made by any other brand and their products are super reliable.

Good to know, now off you go.

I got an i5 pavilion laptop and personally I am a retro guy who rather play all the old N64,Sega,Nintendo and Amiga games and have no problems at all playing that. Its not all about the graphics for me. Its the gameplay. Who remembers sensible world of soccer, speedball, syndicate, cannon fodder? Oh yes.... All classic games...

No one remembers, keep the dream alive, baby.

I like this - will buy it if and when it has uk availability. A full bore pc weighing just above 4kg? I'm all in!

Ultrabook & gaming ? Just an dream suh...

Yeah, that's way above my budget for any computer. I guess it does pretty much have it all to be future-proof for the next 5 years though.
Windows Central Newsletter
Thank you for signing up to Windows Central. You will receive a verification email shortly.
There was a problem. Please refresh the page and try again.