Music section dropped from Microsoft Store for Insiders
As we draw closer to the demise of Groove Music as a service, Microsoft is closing up shop on music sales in the Windows 10 Microsoft Store app.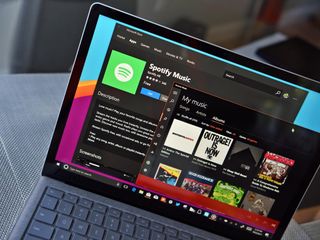 (Image credit: Windows Central)
In October, Microsoft announced that it was throwing in the towel against Spotify, and it would move to shut down the Groove Music Pass subscription service by the end of December. As part of the shutdown, Microsoft said it would also stop selling music on the Store, and it has now taken its first steps toward that goal as we draw closer to the December 31 cutoff.
The latest update to the Microsoft Store app on Windows 10 PC and Mobile for Insiders removes the "Music" section (via MSPU), dropping the ability to purchase music from the app. For now, the option is still present for non-Insiders and on the web (opens in new tab). However, it's likely we'll see it disappear from both by the end of December if Microsoft sticks to its stated timeline.
With the Groove shutdown, Microsoft is encouraging people to make the move to Spotify, even going so far as to add an option to move your playlists over from Groove. However, you'll also want to make sure you've downloaded any purchased music ahead of the cutoff as well.
The update to the Store app is hitting Insiders now, and it should be available to everyone before December is out. Aside from the disappearance of the Music section, Mobile Insiders can also look forward to the return of some Fluent Design elements to the app.
How to transfer your Groove Music playlists to other streaming platforms
Dan Thorp-Lancaster is the Editor in Chief for Windows Central. He began working with Windows Central as a news writer in 2014 and is obsessed with tech of all sorts. You can follow Dan on Twitter @DthorpL and Instagram @heyitsdtl. Got a hot tip? Send it to daniel.thorp-lancaster@futurenet.com.
Not forward to losing music videos section

I actually enjoyed using the Music purchase section. Now I will not use the Microsoft Store for anything beside app updates.

Its already gone on Production ring. Or at least on Release Preview ring.

MS will maybe just buy Spotify? Then a company to battle Netflix/Disney and they are on their way!!!!

I wish they would... But, it's been said that Spotify said they would never sell to an American company.

Plus if MSFT bought another European company like Spotify, then MSFT would ruin it just like they did with Skype and GroupMe

I totally see a day my purchased movies will be gone

They won't "be gone", neither is the sound, if you store your stuff before closing stores.

I wonder if the next will be Movies after groove and then game.

.....LOL.... and the funny thing YET .... NO ITUNES ON THE WINDOWS STORE. (Remember that?) ROFLMAO!

Hey, I don't want to say it, but... It's coming soon.

I don't remember and I'd never want such a toxic thing like iTunes in my machines.

I wish I could do the same, but my wife still uses an iPod.

MSFT will likely release it on December 31st and then say that they did commit to releasing it in 2017. 🤣

I understand MS wanting to rid themselves of the streaming portions of Groove in light of fierce competition from the likes of Spotify and others. What makes absolutely no sense to me, given the sunk costs, is why you would stop selling albums/mp3s in the Store?

Nadella doesnt see the need to have a music store on windows, itunes and Google services should be enough as per him

Microsoft should stop selling music because streaming services + Youtube is the way people listen music today and more in the years to come. Microsoft should stop selling movies and tv shows, i'm sure they almost sell nothing because no mobile platform. People prefer subcribe to netflix or buying movies from their ISP directly from their TV set. Microsoft should stop all their mapping solutions. Waste of money and time. No one use microsoft maps because there is no mobile platform.

While I have done some work with music licensing, I'm not sure exactly what terms MS could get (probably better than my companies have). It is possible that MS pays an ongoing cost to the record labels (which are paid separatly from the artists) to carry their catalog at all. Music licensing is the most painful and convoluted licensing work -- each artist and often each album need to be licensed separately and contracts executed with both record labels, artists, and all copyright and license holders, which often includes bizarre owners like the widow of the backup drummer. And while I prefer to buy my music and own it than to stream songs from a monthly subscription service, perhaps MS concluded that the market is moving so strongly in that direction (toward subscription services) that it just didn't make sense to keep paying for music in the Store. I wish that they had as evidence of their commitment to the consumer space, but it may have been the rational decision based on costs and complexity (where complexity = management time).

If the store was only for mobile I would wholly agree but since it is the same store as desktops it feels as though Microsoft is banking on iTunes and Spotify as key focal points to support their OS in it's various forms. At the end of the day though i understand it but it shows that they are bowing out of the first party offerings where they are not a market leader. So if you're using something of theirs that isn't one of the best, you should prepare

I was gonna say exactly the same thing. Selling music is not the same as streaming

They should have integrated a 3rd party music store rather than drop it completely. The store is incomplete without music in it. ios and play have music but windows look else where kinda silly.

This partnership could have been whichever music service you choose, it would then dynamically adapt maybe? Idk, when I was demoing the Microsoft Store app, the customer seemed to think twice when I did mention that the Music section was going away. This partnership would have been better if the Music section became a hub for Spotify whatever a user chooses to use rather than completely remove it. The Store app is longer a complete solution.

I really hope they are going to expand the partnership and integrate spotify into the groove music app. i am starting to like the playlists and social features of spotify but the spotify program is just aweful. :/
Groove on the other hand just recently got another update and it is getting more beautiful with every update... It really is a joy to use it.

Loved the Windows Store with the music and movies and now books. I will not be putting any money into the windows store, I just can't trust it.

If Groove is going to stop selling albums, what are the best places to buy music now for on PC and mobile?

If you are fine with mp3s, Amazon is a great place. I buy some stuff, especially collector editions in flac format, and for that I used us.7digital.com. Very easy to convert flac to mp3. They also sell mp3s.

Anyone want to still see Nutella remain as the CEO?

I like Nadella and so do MS shareholders. It's sad that (the thing you like) has gone away, but Nadella is a good person to be steering MS in the years ahead, and not (just) for financial reasons.

Ok, now we need full Cortana support for Spotify. Seriously, that app needs to be updated to UWP ASAP.
Windows Central Newsletter
Get the best of Windows Central in in your inbox, every day!
Thank you for signing up to Windows Central. You will receive a verification email shortly.
There was a problem. Please refresh the page and try again.