Music writing app StaffPad discounted to $50 on the Windows Store through April 3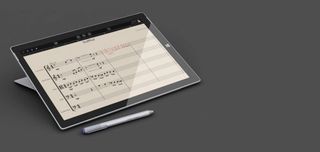 Attention aspiring songwriters: StaffPad, an incredibly impressive music notation app designed for Surface devices, is currently being offered at a 29% discount in the Windows Store, bringing it down to $49.99 from its previous $69.99 price tag.
If you're unfamiliar with StaffPad, the app allows you to use a stylus to write notes directly onto a virtual staff. The app then reads the notes you've jotted down and translates them into full, print-ready musical notation. Additionally, the app sports full playback and export options, as well as OneDrive integration for syncing your scores across multiple devices.
As we noted yesterday, the app only works with devices that support both pen and touch right now. However, if you're an aspiring musician or professional composer intrigued by what StaffPad has on offer, you can snag the app for a discount for the next three days from the store link below.
Download StaffPad for Windows 8.1 (opens in new tab) ($49.99, regularly $69.99)
Source: Darrell Prichard (Twitter)
Dan Thorp-Lancaster is the former Editor-in-Chief of Windows Central. He began working with Windows Central, Android Central, and iMore as a news writer in 2014 and is obsessed with tech of all sorts. You can follow Dan on Twitter @DthorpL and Instagram @heyitsdtl.
I have no need for this app, not a musical bone in my body, but I sincerely hope that they get some people to use it. It looks like one of those apps that shine in the MS appstore. I do think that masses of people on W7 will be upgrading to W10..... Should help the entire ecosystem.

This app could be functional on the small screen... W10 could do good if MS, and developers, worked to get as many apps as possible universal.... Expensive apps like StaffPad, that are $50, or more,, would definitely benefit from being universal.
........
The W10 free update is just going to have to be advertised... MS is actually going to have to market a damn update... Weird, but marketing it would indeed move a lot of people over to W10.. People absolutely love F.R.E.E.

Microsoft won't advertise it and no one will know about it lol. They don't even know Windows 8 has an App Store.

Yes you are right, i know many duffers using windows 8 and don't know even the app store exist.

this app has a scene in some surface advertisement, pretty cool but they don't even tell the name of the app

I hope that the app will succeed and that many developers will be encouraged to put attention on quality and not only on price...

Super specific... :) thanks dev... We need more such apps to build a stronger side of the Windows hybrids.. And tablets

I bought it and used it with my 6th grade students today. We wrote a short little song :-) The app is super cool. Well worth it for me (music teacher).

I feel really bad for our school's band director who bought a surface rt. I will advise her to see if the MS store will give her any trade in value towards the new surface 3. She would LOVE this app

My wife is a musician ... Going to buy her this as a gift

Which devices do support both pen and touch? Only the Surface?

My Asus tablet has both, as do a few Lenovo ones

Dell has some tablets as well.

The Toshiba Write I think

Looks to be quite the step up from your typical free to $1.99 app, for sure. Good quality software is expensive (this is only expensive when compared with expectations of an app store).

I use lilypond with Frescobaldi for my scores, but this looks nice. MusicXML is important. Maybe when I get my SPx I'll try this out.

Akai, Cakewalk, Ableton, Korg, Boss, Pro tools, Reason, Tuscan, MXL, Fender, Line6, Fostex, and more.....
........
Windows 10 needs all these apps to appeal to producers around the world.... I would buy every single one...
......
Just imagine being able to interface your guitar, or any other instrument, to your smartphone for real time audio processing, and recording,,, anywhere❗.... This is the kind of stuff MS needs to be doing to attract more users.

Agreed. Hopefully they can talk some of those companies off the Apple-first-and-foremost bandwagon. It's been a thing with recording and Apples since I've been around guitars. I've been longing for MS to break that myth and I thought the Surface Music Cover could have fixed that but they never released it to the public. Still mad about that...

That was crazy!.... MS shows an accessory, but never releases it.. SMH.

Agreed. Apple is doing great in that market and their product is surprisingly really good, another is they're getting more fame from that region.

If you are going to have a $50 app in the store, you need to have a free trial. I would like to try it and show it to some friends, but I would never use it long term. If it had a trial, I would be a salesman.

As a musician, this is a huge leap. I use sibelius on all my desktops and laptops for work, so this is huge!

That's too too too much of money for an app...

If you think this is too expensive then you are certainly not even a target audience for this app to begin with so why complain? Software like this is very complex.

You obviously don't get the uniquessvand demand for this type of app. Musicians will drool over it. Those who compose or arrange, anyway.

Dont worry, its not for you anyway.

Is this the app showcased in the surface 3 ad video? Posted via the Windows Central App for Android

Wow that looks incredible! Better than NotateMe!

NotateMe is designed for Android and iOS devices and works on small screens even without a stylus.

Man writing with your finger sucks! And even when you use a capacitive stylus, the accuracy is just awful. And no palm rejection either, so writing feels super unnatural. It was overall just a very uninspiring experience for me and I would rather just use paper. I gave it a real good try.

I'm using it on a Samsung Note 4 phablet with stylus (does have palm rejection) -I bought it especially for NotateMe. I find it invaluable. You can also take photos of sheet music with it and hear them played back.

Ok I never understood the point of Photoscore. Aside from the inaccuracies and notes I had to fix when I tried it out in the music shop, I was like, why do I need digital sheet music when i already have sheet music right I front of me? For me, the ultimate goal is paper. I know it isn't for others, but for me, photoscore was an expensive add in that gave little to no value.
As for using it on a galaxy tab with stylus, that would have been much better than the iPad I used. But the interface just looks so much better in staffpad. I don't like how half the screen is used to display my scribbles. Once it is translated, I really have no need or desire to see my messy chicken scratch. The whole point of using a program like this is because you DON'T want to see handwritten scores. Not to mention, it works on all advanced pen and touch devices, so I suppose you could also use it on something like that 80" surface to get a view like you NEVER could with paper. The flexibility of pen hardware in windows is one of the very attractive parts. There are tiny pen tablets like that Toshiba Write 2, and I wonder if it would work on Wacom Cintiq devices too. So many possibilities! So many more options for teaching. This is the app I've been waiting for. Notateme was close, but not quite.

We'll have to agree to differ. PhotoScore is great for practising and I get 100% accuracy most of the time... I tried StaffPad and it was difficult getting it to recognise my handwriting, which is the whole point so for me it's a waste of money.

Nice to finally see an app tat does something useful with the pen, beyond drawing circles around text.

LOL! Yes Microsoft really needs to highlight the unique utility of inking across multiple programs besides just drawing circles and arrows.

Bought it and it sucks on sp2. Real hard to get the notes right. There are no instruments for metal like guitars. Was hoping to write some symphonic metal but not with this app.

Suggest it to the developer.. i mean there is no reason this program couldnt evolve into a multi-facet tool for music composing! :)

Strange...I got it on my SP2 and have barely managed to put it down! Works pretty damn well! I've found that instead of thinking about the input as much like using Sibelius (note length, articulation then pitch) ideas just flow a lot easier. It's great that you can export xml to work further in sib or finale if you wish later. There are already extra instruments you can purchase and no doubt more will come. something to def ask the dev about. There are obviously areas for improvement (recognition of flats is problematic and no option to add lyrics although that is coming) but as a v1.0 it's incredible. The most polished and functional store app I've yet to see, and was made in the UK!

That is amazing. Their promo video is really well done. I think I will buy this just because it is incredible.

I sense problems in the future. If it was an MSI installer downloaded from the developer's website while activating with a key, all was good,and the price was right. Because it got published on the store, people think it's expensive, demand a trial and won't buy it. Just because it got published on the store doesn't mean it's a fart sound app. I don't think we need to buy just because and to show support, but we do need to be more open towards higher quality applications being published via the store.

General users bitch and whine about $1 apps. But REAL musicians that have been doing this for a while are no strangers to paying premiums for digital sounds and music. I paid $600 for a Roland SCD15 daughter card on my $249 SoundBlaster in 1993 just so I could PLAY sequenced music on my computer. My friend paid over a grand for a Roland SCC1. It's obscene. And good music software cost more than $50 over 25 years ago, so $50 in today's dollars is an absolute steal. $75 is a steal. But a trial would be great though. Even if you know you love the features on paper, you can't know for sure if the program flows well with your writing style. A trial where you can save, but can test all the features would be great.

I am a musician, and music teacher. If you have ever purchased music notation software you would know that this app is priced right. I have been using it on my Surface Pro 3 for a few days and it works well. Can save as a xlm file and them be opened in Finale (popular music software).

One of the best apps ever

Bought it instantly since this is what I've been waiting for, for years... Kudos to the developer(s) and thank you for this info, Dan!

Hmmm I think a 3-7 day trial wouldn't hurt, it would just help. Ppl such as myself who are content with the tools they have that trial could show us that this is better than what were working with now and get us over to buy it.

If you're a musician you may want to have a look at my app Chronotron Speed Changer as well :-). I'd be grateful if the app got some press coverage.

Hi, i Just discovered your app, it's exactly what I was looking for, kudos for the great job.
Just bought it, perfect for my students and working my drums!

Thanks a lot.​ Niche apps go mostly unnoticed because they get no press coverage, even though it's often such apps that make the platform appealing. I know people who have got a Windows tablet just to be able to run such apps.

Yep! I have been looking for This on the Windows store but never round yours! So glad to read commentaries!

Great app Ianier! This is going to come in real handy during lessons.

Thanks for your comment. I'm a guitar player and I use the app myself. That's how it all started I've contacted Windows Central many times to try to get some coverage but no luck so far, probably because the app is for a niche market. However, as I said in the other post I believe it's apps like Chronotron Speed Changer that make Windows shine. The app is unique to the Windows platform, and I would dare to say there are no apps on any other platform having the same set of features (e.g. real-time video playback and YouTube integration).

Bought this and running it on an original SP. Nice discount and amazing app.

This is awesome. If I could actually read and write sheet music is use this but I'm a tablature bum.

You can learn! Not that complicated, just do 5 minutes everyday and it will come easy!

I don't want to be a hater but the price is way exaggerated. You can do this for free by creating a doc in excel or word. Or you can use fresh paint. Or you can buy cubase elements for 99$ where you can do also what this app does beside creating, mixing and mastering music. For 119 $ you can buy a Steinberg professional external sound card and they will give you for free Cubase Ai.

I think your mistaken :
- I've done that with fresh paint and even if it was ok, the result is clearly not the same.
-cubase has nothing to do with it, everybody doesn't need an external sound card, and you can't write sheets on it, do you? (I use ableton)

Pitit_batteur with the sound card steinberg gives you for free Cubase Ai a light version of Cubase whitch has score editing. If you don't need the soundcard you can buy for 99$ Cubase Elements that I guarantee you is 100times better and it does much more things. I am happy that those kind of apps are coming t windows, but I also own an iPad and I could say that in this field windows is 10 years behind. Apple has much more apps of this kind and the price is much much lower. Being one of the first "professional" app for windows the price is exaggerated. I would pay for it max 3.99. Don't misunderstood me, I love windows and I am a windows fan but I prefer to do other things with 50 bucks

No worries, you don't even need to be a windows fan ;-)
I didn't knew cubase had score editing, I actually don't like cubase, but that's another debate.
What is interesting in this app is the fact of writing with the pen, notes and annotations, a thing you can't do with an Ipad (even of you may do something similar, I imagine).
The precision of the pen and tha ability to recognize instantly is quite amazing.
Anyway what matters here is that there is definitely a great app for musicians, which is a good thing :)
Windows Central Newsletter
Thank you for signing up to Windows Central. You will receive a verification email shortly.
There was a problem. Please refresh the page and try again.