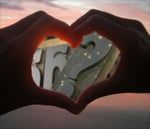 It's Valentine's Day, so today's contest has got to be about showing the love. A couple of comments on this Google Maps post asked for more info on how to set up GPS with a WM phone, so later today I'll get up a quick video how-to and screencast. But let's get some community love (get your mind out the gutter) going here too.
How to Win
Just post a comment on this entry (form below, be sure to include your name and email address!) with your favorite Windows Mobile tip or trick. It can be esoteric like the GPS bit I'll post later, or just something neat.
The Prize for today is obvious, given the theme, Bejeweled Valentine's Day Edition for PocketPC or Smartphone.
Show the love!
(Full Contest information here - must use valid email address to register.)
Get the Windows Central Newsletter
All the latest news, reviews, and guides for Windows and Xbox diehards.
I would have to agree with the first poster. My favorite WM trick is using ORB to stream tv so now I can watch tv anywhere!

My favorite WM trick is using Google Maps to avoid traffic.

Hi,
I came across WM Experts and thought I'd fill you in on Mobile Answers, a phone-friendly version of Answers.com for your Treo, Blackberry or any other smartphone.
Clarify unfamiliar terms you come across in emails from your phone. Settle trivia bets while you're sitting at the bar. Get familiar with your surroundings on business trips. Mobile Answers is located at mobile.answers.com and makes available the massive, virtual library at Answers.com: 4 million topics, in your pocket, without any downloading.
Try it out, and if you like it, we'd love to see you blog about it. Feel free to pass this to fellow bloggers or submit your blog to the Answers.com Blog Directory.
Liz Cohen
Chief BlogWatcher
Answers.com(tm)"
Submit your blog to the Blog Directory.http://mobile.answers.com