MX Player is legit for Windows and Windows Phone, but still early 'prototype'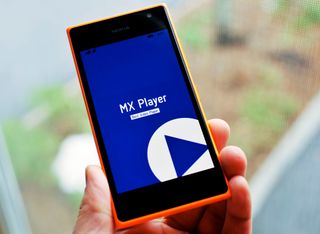 Yesterday we reported on MX Player arriving for Windows and Windows Phone. Considering that the player is massively popular on Android (partially due to poor native playback on that platform), MX Player arriving on Windows and Windows Phone could be perceived as nothing but good news.
However, at the time we expressed uncertainty as to its legitimacy for various reasons, including the developer not mentioning its existence. Because of this, we would held off on celebrating until we could confirm whether it was real or not (our emails to the developer went unanswered). Today, we can finally say that yes, it is real but we are looking at some very early stages of development.
Two pieces of evidence confirm that the app is authentic. For one, the developer himself left a concise endorsement buried in the XDA forums:
Additionally, on their website if you follow their links deep enough, you can see a mention of the Windows Store privacy policy.
Unfortunately, that is it right now for any official endorsement of the app, as their website front page still does not mention their involvement with the Windows and Windows Phone ports.
For now, the MX Player app is nothing more than a rudimentary media player. Some early reports suggest that it does not yet handle MKV files, just MP4, reducing its usefulness to those on Windows Phone. Still, we are certainly glad to see the app on the Store and look forward to future updates. For now, you can try either app as both are free and no risk at this time.
Daniel Rubino is the Editor-in-chief of Windows Central, head reviewer, podcast co-host, and analyst. He has been here covering Microsoft since 2007 when this site was called WMExperts (and later Windows Phone Central). His interests include Windows, Microsoft Surface, laptops, next-gen computing, and for some reason, watches. Before all this tech stuff, he worked on a Ph.D. in linguistics and ran the projectors at movie theaters, which has done absolutely nothing for his career.
Daniel = Sherlock of Windows Central

Looks like they are ready to give a tough competition to VLC.

I knew it, I knew it, I knew it.

Famous words after paternity test.

Sir I regret to inform you that this child is biologically and Internetly yours. You may claim your child at the Claim Your Child department room # WCENTRAL. Have a good day Sir.

Unable to download to my 730 trying last two days

You're getting excited over nothing it's not that great

Just now I installed it really nice one, expecting quick updates from J2

Even im facing the same prob bro on my 720. It's showing 'pending' most of the times.

Are you facing the problem with this app or other apps too? And Which Internet connection are you using?

Mostly with this app.. Using 2g.

Download and install manually

At least the big media players are popping up one by one... This is good news regardless.

Flood gates opening again for official apps?! Nice! :)

I sure hope this is the case.

I knew that the first time of course it's legit

the zoom feature while playing a video is not there ...hope it will come on next few updates. good to see so many popular apps are coming to WP. :)
Offtopic: I'm waiting for miniclip 8ball pool to arrive on wp.

You know, there is a player with Zoom feature in Windows Phone store ;)
It's called Video Explorer :)

Why even publish it yet? Seems it would get nothing but bad press and bad reviews.

My guess is the developer was unfamiliar with the ecosystem and how to run a private (or even public) beta. But yeah, tossing your app out there with no detail or intention could be perceived as poor marketing.

Good that I've already downloaded it :P if it gets removed. Maybe it just needs a BETA title update.

For making a competition for vlc :)

Only 10 reviews in India! Though I used it and watched a movie!!

Thanks for the info Daniel!

It's as if he called the queen of England a fraud.... My dry humor... Idrcare

No, they are not. I stand by 100% our article and our doubt. MX Player already has problems with illegitimate clones of their app on Amazon and other Stores, it was not disingenuous to express uncertainty, especially considering how poor this app is right now in terms of features and usefulness. We expressed doubt, said we would try to confirm (they never answered our emails) but also said the apps were free and no risk. Nope, we did well.

Agreed. I greatly appreciate that earlier article. I don't know why its a problem that the WCentral folks were concerned, and it wasn't an unwarranted concern. They definitely did the right thing by giving everyone a heads up

The thing that im actually mad about is that during the renaming of wpcentral. suggestions was ask for the new name of the site. I said windowscentral and some guy I forget who. said no way that's going to happen it would impossible, because it would cause problems with Microsoft. It would sound like its and official Microsoft site..... Go figure !

I agree. I really thought that article was a bit shitty.

We are trying to look out for the reader. Many apps and games have come and gone that were believed at the time to be real only to be unofficial ports. I am certainly not going to apologize for trying to verify a story. Blame the process. Or ask the developer how come they didn't announce anything in their official forums at XDA, or even their website. Don't blame us for expressing doubt. Go re-read the comments in our original article and how many readers also agreed that it looked fake.

You have to admit that most official apps on windows phone/tablet seem like some third party knock off. At least when they are first released. (sad but true)

Not always true candy crush saga was released yesterday and it worked and looked perfectly plus they already updated it today that was fast but son. Developers do give you half ass apps I figured king would since it took them so long to even bring it to windows phone but so fare the did a damn good job.

I would agree the initial article was spot on with advising users that this "could" be a fake app. Had it in fact been a fake, we would be saying thanks. Better safe than faked. And Daniel, as promised, has advised it is legit. No issues here. Thanks Daniel.

Actually, they were ridiculing people who thought is was legit... Mr. Rubino it seems has a serious ego problem. And no sense of the obvious either, seeing as he completely missed the OP's obvious admittance to dry humor...

This guy Rubino won't admit when he's wrong. Or at least retract his earlier statements.

I will never use the video player app so really dont matter to me... I was just joshin

Daniel please... apologize to me, I went into a crisis thinking it could be fake. never do that again. NEVER. Anyway, all I know it's this app, even being an early prototype, might work better than VLC in the end. it's nice it's a legal like a drugs... oh wait. anyway, of course this release sucks haha. but I didn't find it too bad, of course it should have had a label like (preview) or something. but anyway! good good. thanks to the sun for this wonderful day with MX player. it's good people will see you with different eyes now, knowing you are just a prototype but you are real.

Oh, get over yourself. Fake or not, it's just a media player. No need to go into a crisis over it

whats the point? what can it do that wp8.1 cant do natively?

At this stage? There really is no point AFAIK. The developer would have done a bit better to express their intent in the app description e.g. "Hey, this is a prototype with not many features that you have come to expect from MX Player yet enabled. Bear with us as we go through this process, oh and please send feedback here".

does it even attempt to do anything that wp8.1 cant do on its own?

Not yet. At least on my devices, it just crashes, so that's different...lol

Not showing any files.. What to do?

Is the clean master also legit @ Daniel Rubino

App is sucking big time. UI sucks. No zoom feature. Cant play mkv. Even the refresh n search button looks crap.....yes I know its a prototype.

Atleast this beta works unlike the VLC beta app

Lol I am using four players! Xbox video. Moliplayer free (china). Vlc. Mx player.

I love it when you guys makes mistakes..prematurely don't write any article..

We didn't make any mistakes. We provided the links, said they were free and no risk, but we expressed doubt as to whether they were real. Considering the amount of tips coming in on the app, we decided we had to say something to get the story out, so we did. As to us thinking we're "cool all the time", no sorry, we're not children.

Didn't you realize Vishnu? Rubino makes NO mistakes. How dare you try to hold him accountable?

I was kidding Mr.Daniel Rubino!!however the app is pathetic,btw I'm a huge admirer of your work with the website..

Vishnu now thinks he's cool because he perceives he has "caught" Windows Central making a "mistake". So cute. And childish.

"That's" "enough" "double quotes"

When you grow up, you will look back on these types of comments with regret and shame.

I'm guessing this comment was from a wmpoweruser fan.

Great news. Good to see options.

As long as its simple and fast, it'll win my heart.

But Why devs of this app didn't told us before that they were gonna launch this app??
But still its good that it came to WP

So the moral of this story is..... Don't download it yet.

Facing problems with downloading. The app is showing 'pending'. What do i do? :/

Done a thousand times bt still not happening

I hope they release a full version soon its always good to have a choice.

Prototype, huh. Maybe the developers should've labeled the app as Alpha or Beta to avoid confusion.

Yesterday we reported on MX Player arriving for Windows and Windows Phone. Considering that the player is massively popular on Android (partially due to poor native playback on that platform), MX Player arriving on Windows and Windows Phone could be perceived as nothing but good news. Does this statement make any sense to anyone?? How can an app be massively popular due to it having poor native playback?? Are you saying that Android users are complete idiots.

NATIVE playback.. i.e. Default player on Android.Not the app.. Hence the aforementioned massive popularity.

" (partially due to poor native playback on that platform)

On the PLATFORM, native playback is NOT VERY GOOD, so you need NEED a third party app like MX Player to make up for it. Hope that clears it up.

Ok I now understand clearly.

Yes, "native" generally refers to something that is built in to the OS itself. Easy to misunderstand the quote if the term is unfamiliar to you.

I understand the reason why the earlier article expressed doubt on the authenticity of the app's origin. Hundred, if not thousands of us would be bombarding the editors with emails/tips to report on it. If Daniel had posted the article after verifying authenticity, we'd call him out for posting it too late. Let's be easy with our pitchforks with this one.

Yup, the comments would have all been "pssh, OLD NEWS, y u so slow WC?". Can't win either way.

"Can't win either way" Should be the WP moto

The native android music player is crap? I wonder if android users cry incessantly, day in and day out about it like WP users do.

I have not seen any one using their native music player, they opt for third party apps.
And, they don't whine, that's because they're the majority, they just cant say look at /* insert some OS*/, they have got that we don't have that, it is simple that they think they are at the paramount and if no one else have that then they are fine with not having that.
We whine because they have it and we don't.

Sorry man, there's no justification for whining. Ever.

I don't think the current Xbox music app is crap. It works very well most of the time. Could it be improved, yes.

Cool.. Actually not that cool. I'll stick with Xbox :D

Windows phone users always be excited about getting some new things in their phone #exicted #windows10

May be its time to say thanks VLC!

Not surprising to see egg on Mr. Rubino's face. He's always so quick to attack readers in the comment section for missing details, etc. That type of attitude tends to backfire when you make your own mistakes, doesn't it?

Trying to identify the mistakes he did here. Oh wait, there is none! People were writing nonsenses about him, and he have the right to defend himself.

The only "nonsense" was that first article. Someone could have done their homework and just released this article in the first place. But finger-pointing at the developer for a couple unanswered emails is a green light for uneducated journalism? I guess when you're Daniel Rubino.

He made an article stating that the app was free and there was no risk in downloading it, then said they had concerns about whether it was legit or not. He made no mistake, after he was able to verify it he let us know. Good work Mr Rubino.

Yes...nice work Mr. Rubino. You jumped to conclusions in the first article. Then user 'Dexter467' linked the XDA post in the comment section to prove your assertions were false. Then 9 hours later you write the second article with NO credit given to Dexter467. Fantastic journalism...At least you have this guy convinced.

"massively popular on Android due to poor playback on that platform". Huh? That statement makes absolutely no sense.

I think he meant native playback

It's saying this app is popular because the built in player on Android is poor.

*Installs in the hope it gets worth using eventually*

Well, well all that does point to authenticity but I still have my doubts. Will wait until the developer comes out and acknowledges the app.
Edit: Just skimmed through the comments, jeez some people need to relax lol...
The earlier article was right on the money, better safe than sorry. I guess some people just can't resist being armchair pundits and analysts.

Not seeing any value to this app.

Sound the horn. Its coming!

Case solved... Thank god we are getting what we want ....

Daniel is right.. Mistake is with the developers and their poor marketing.

Awesome that MX Player is coming to Windows phone ....
Also just found out that you can do wifi file sharing in Windows phone : https://www.youtube.com/watch?v=tphdxRdpf8o

Based on WC's current behavioral standards, it would now be fair for another tech site to publish the same article as this and claimed to have "corrected" Widows Central's incorrect first article.

Cant find any videos.sucks

The first article was well-intentioned, but the wording was completely wrong. Daniel originally said the app was "likely fake". That implies there is a strong case or some clear evidence to support such comment. A couple of unanswered e-mails and the amount of clone apps everywhere is nowhere near enough. As a journalist, he should know that the right (or wrong, in this case) choice of words is essential to the job. Better luck next time.

I've send them an email too but yeah still no answer :p

Now if only ES File Explorer would take a leap of faith over to WP I'd be all set!

Its true Android users have to install an extra codec for native configuration of the app. I.e as to run fine

Please update as well as android phone

Is it any good? In comparison to vlc player?

Application not Opening Just crashing .....in My Lumia 520 Pls help
Windows Central Newsletter
Thank you for signing up to Windows Central. You will receive a verification email shortly.
There was a problem. Please refresh the page and try again.