MX Player updated for Windows Phone with subtitles and more improvements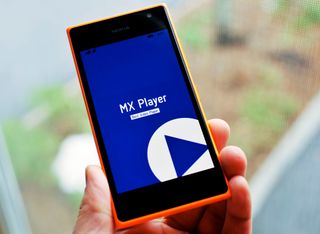 The Windows Phone version of the MX Player media app got an update today with a few improvements listed. It also shows that there's a new subtitle function with several formats.
Here's what been improved and added in this latest version of the app:
a. Modify player function
b. List management practices to improve
c. Intermittent modify the reading of the file.
a. MicroDVDSubtitle (.sub)
b. TMPlayerSubtitle (.txt)
c. PowerDivXSubtitle (.psb)
d. WebVTTSubtitleBasic (.srt)
The developer behind MX Player first launched the Windows Phone version, along with one for Windows 8.1, in December but said it was a prototype, meaning it lacked many of the features found in other versions. This update shows that the developer continues to work on the Windows Phone version and we should see even more improvements and additions in the future.
Download MX Player for Windows Phone (Free)
Windows Central Newsletter
Get the best of Windows Central in in your inbox, every day!
Nice to see MX player getting more features.

LOL you comment a "." just to be the first one? HAHA

Yes I did. Cuz I wanted to troll John, by saying "I'm stalking you" then changed my mind and wrote a typical comment xD

I do have a life, and I like to see others smile, even though I might not see them, but I know that they did. :)

Woo 1st UPDATE in 15435444444447866775457888888886335685422222222 years!

Yet again, updated comment

Such a big effort you made, yet you aren't first. :P

You have failed this community

Not years, it will be light-years

Hope u knew lightyear is a unit for distance.

Oh really man! LOL! Thank God you were there to make that correction.

Yes but distance and time go hand in hand :)

Do all of you remember the hub bub about this app not being official here on wc when it first came out?
..
Open mouth...insert foot.

Nice, but now with that OneDrive/Xbox Music integration ... sorry

This is why developers tend to stay away from our platform.

Because I prefer another service? Yeah right.

No because you are being unappreciative of something which isn't even complete now... And plus Xbox music still is.
. Poor to say the least... I don't remember when was the last time I used it.

"I don't remember when was the last time I used it." so you talk stuff you don't even know if you haven't even used it in who knows how long?... oh right... your comment makes sense.

Thank you VS729. Some people are just rude like that. I hope Windows Central does something to limit this before this secedes in killing this blog. And if anyone thinks it can't happen, we all remember what happened with MySpace. It was big at one time too. As it is, bloggers and developers seem to be less interested it publishing here because of people like that are allowed to disrespect the work of others.

No you're not rude, you're just unappreciative. :) *just my own observation. Hahaha dont take it seriously

Hate VLC. Yes to Xbox Video. Here the link
http://www.windowsphone.com/s?appid=6affe59e-0467-4701-851f-7ac026e21665

Have you tried VLC after the recent update?

Love VLC, MX player Xbox music and Xbox video

Well said.
Those guys make hate and war.

But but you shouldn't hate anything lol jk :/s

So this IS the original app. Thought it was a copy. Hmm....Wish Win10 cud give an option for what player to play for the selected video when clickin.

You can see it starting in Windows8.1.1 I.e denim update but font work nice now.. Hope work fine later with option to choose default

VLC is really making efforts with minimalistic nice design..
I will see vlc to be a comlete programming app at release of windows10..
MX player is developing slowly if they are also ready at same time frame it would be better..

MX PLAYER player slowly lol. You don't know but VLC for WP is developing since last 2 years. The VLC you see today is 2 years of work.

And I thought the developer is dead In a car accident. Lol

Refuses to start. W10 TP. 730.

Not better than other versions of OS

Good try to see the update

Used MX Player on an Android tablet and it worked perfectly and had some unique features.

John you f*cked up the article byt not closing some tags or something - try reading it in Windows Central 8.1 APP. I can see a lot of stylesheet after the editorial

https://wpdev.uservoice.com/forums/110705-dev-platform/suggestions/66981... . Please vote for removing background downloading bug

I m happy with default media player !!

Loco Music Player is one of the best WP music player @_@

I actually thought this was some kind of copy. Now I'm quite eager to try this out. I've been looking for a metro video player which supported subtitles. Media player classic is the beat option I have for windows 8 so far (mainly cos of the pressing anywhere to play/pause)

Hope it gets it's way to Xbox one so I can ditch the plex.

It does not ​even open in my lumia 1320. 1 mb?

I'm looking for a Media Player to use which supports subtitles. Currently looking at VLC but will give MX player a try

Try cc player..its awesome

Xbox Video supports subtitles and works fine.

But now we have vlc working very smoothly

VLC still can't load SRT subtitles automatically with the video being in the same folder. It is such a pain to load the SRT manually whenever playing a new video. Simple thing like this still taking ages to come.

Vlc can't load subtitles in my mkv videos

I will download it the time it will move from joke stage, keep the updates coming

video explorer plays subtitle..but good to have options.btw mx player is not opening in W10TP.

Moor the better. MX Player was my go to app on Android.

Unable to download. Pending download...

This is good i will try it out.

Developer should change the app logo. It's too old, the new logo which is on Android looks good.

Still considering Moliplayer one of my best WP app investments.

Still crashing on my Lumia 730..

Ok I can't see any way to use subtitles with it and the last vlc update broke subtitles on it too. Help?

Hmmm. I see you just wanna say something.

MX player must compete with VLC for the crown.
Of course that currently belongs to neither

Mx player DOES NOT work AT ALL on my Lumia 520 wp 8.1.

Can anyone tell me whenever I am checking update for mx player....it is showing that it is not available in the store....why is this happening?

Mx player not available in store
Windows Central Newsletter
Thank you for signing up to Windows Central. You will receive a verification email shortly.
There was a problem. Please refresh the page and try again.