Top 4 Windows 10 apps that are 'truly universal'
By Zac Bowden last updated
Here's a list of our favorite Windows 10 apps that we consider to be "truly universal," meaning they work across PC, Mobile, Xbox and more.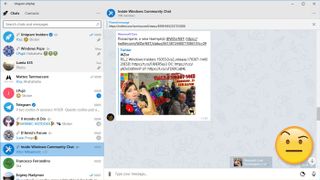 Lots of new Windows 10 apps have been making their ways into the Windows Store thanks to Microsoft's Centennial app development bridge. Unfortunately, many developers who are bringing their Win32 programs to the Windows Store aren't making truly universal Windows 10 apps.
The Centennial bridge is great, but for the most part it doesn't benefit Microsoft's universal platform of devices. Windows phones, HoloLens and Xbox can't run those apps. So I thought it would be a good idea to shine the light on a few of my favorite true universal Windows 10 apps.
When I say true universal, I mean apps that run across PC and Mobile at the very least. My selection of apps run on most of Microsoft's universal platform products. Let's dig in.
Unigram
Telegram is a chat service like WhatsApp, and as a Telegram user, I've always wanted a universal Windows 10 app that I can use across devices. Unfortunately, Telegram hasn't delivered, but Unigram is an excellent third-party alternative. Unigram is the universal Telegram client I've always wanted.
Built by the Telegram community, Unigram features a Windows 10 design that's easy to use. It has a light or dark mode, and has most of the core Telegram features already built in, including phone call support and group chats.
It's worth noting that the app is currently in alpha, so if you're a die hard Telegram user it may not have all the features you need. It does have most of the important stuff, however, and I have yet to come across something Unigram doesn't have that I need.
Price: Free
Platforms: PC, Mobile, Xbox and HoloLens
Get Unigram from the Windows Store (opens in new tab)
ReddPlanet
I know most Windows users choose Readit as their Reddit client of choice, but I much prefer ReddPlanet. Yes, it's another Reddit client, but it's a damn good one. It's customizable, with the ability to favorite subreddits for quick access.
It also has notification support, so when someone replies to your comments or threads, you know about it. It's also super customizable, with the ability to change everything from the color accents, to whether the navigation bar is blurry or not.
I really like how this app is designed, and I particularly enjoy its mobile experience. This is an app I use on phone more than my PC, because it makes browsing Reddit so much easier when on my Lumia 950.
Price: Free
Platforms: PC, Mobile, Xbox, HoloLens and Hub
Get ReddPlanet from the Windows Store (opens in new tab)
myTube
myTube is possibly the best YouTube client for Windows 10. Its developers recently launched a brand new updated design that makes the app far easier to use and better to look at. It's fully featured, allowing you to watch 1080p video, reply to comments and see channels.
It has a built in save video feature, which allows you to download your favorite videos for offline viewing. You can also save just the audio, which is great if you want to listen to music. It can play video and music in the background too.
This is another one of those apps that I use on my phone more than my PC. The app has a beautiful UI for both platforms and is even available on Xbox, which is superb.
Price: $0.99
Platforms: PC, Mobile, Xbox, HoloLens and Hub
Get myTube from the Windows Store (opens in new tab)
Appy Text
Appy Text is a lightweight text editor that's great for writing articles on the fly. If you like writing in dark apps, Appy Text features a great dark mode that looks beautiful on OLED screens. Appy Text is also a great looking app.
The app has a number of built-in features, including a word count, font changer, markdown support and more. I generally use it for writing quick articles on the go, where I know Word 2016 is a bit overkill. The app is free, but it has a paid option.
You can actually get away with using this as your only text editor. It's essentially Notepad, but better. It has a few additional, needed features, including tabs, and is a nice simple way of writing.
Price: Free with paid option
Platforms: PC, Mobile, HoloLens and Hub
Get Appy Text from the Windows Store (opens in new tab)
Your thoughts?
So that's our list. There are plenty of other truly universal Windows 10 apps out there, and this is just a small taste of some of the apps you can find. Let us know what your favorite Windows 10 apps are in the comments.
Zac Bowden is a Senior Editor at Windows Central. Bringing you exclusive coverage into the world of Windows 10 on PCs, tablets, phones, and more. Also an avid collector of rare Microsoft prototype devices! Keep in touch on Twitter: @zacbowden.
There's only one Windows app I use (apart from the Xbox one) and that is Next-Player, which is like Groove but done well. It's available on PC, Mobile and Holographic. No idea if it'll also eventually go to the Xbox or not, but that's one I recommend people who are frustrated with Groove to try out.

Actually, Groove is an exceptional app. Probably one of the best W10 right now. It was buggy and slow when launched. Not anymore. Top app!

Groove is a total mess on my 950. It has not-infrequent bouts of struggling to start music, hanging for 30-60 seconds after telling it to go before I actually get music. I went up to the gas station today and tried to start something, locked my phone, and took off. After 10 seconds, I realized that the music hadnb't started, so I unlocked it and tapped it again. It started, then a few seconds after, it finally caught up to itself and restarted the song because I had now tapped it twice. All told, it was probably a minute and a half from when I tried to start listening to music and actually got what I asked for. This isn't incredibly common, but I'd say it's 3 times/week that I see this. Then, of course, there's the artist tagging .Still waiting on the day they stop calling this metalcore band a German soul singer.

You get downvotes for this. Amazing how stupid the people are.

I get downvotes on basically everything becuase people on this site hate my willingness to attack what MS does poorly. It's made all the better by the widespread unwilligness to explain why they downvote becuase they typically have no meaningful argument.

Could be because people don't recognize these issues and shows this by a downvote. Several upvotes would indicate people having the same issues. I don't have these issues myself, except in areas with poor data connections.

That's an absurd way to do it. Trying to invalidate factually existing bugs with a downvote is nonsensical. Ignoring the problem doesn't fix it, and explaining a positive experience shouldn't be that hard for such people. The problems I described should never have any relation to my Internet status becuase I'm playing locally stored files. If they're breaking local storage with data, then that's horrendous application development and a serious regression from previous iterations of the app.

So you're getting downvoted too. Does this mean you're wrong or you're right?

Or maybe people are just expressing their opinion that they don't think that groove "is a total mess." I assume that you are going to whine about being downvoted, but then again, you call people stupid for using what they like, and you get what you deserve.

I don't care if I'm downvoted. The points don't follow mean. They have no value. What I mind is the abject laziness of being incapable of logically defending an argument and using a button to prove the ignorance. Making up some insult I didn't even use to defend your point is a perfect example of such ignorance as well, by the way.

I don't have these problems. Defended well enough? :)

It could be that not everyone has the time or desire you have to write out cogent thoughts to multiple responses and clicking the button is a quick and dirty way of expressing agreement or disagreement. Nothing wrong with that, and it doesn't require sweeping generalizations about either apps or the actions of others.

The problem is not about that. The problem is that they are downvoting him about a fact. There is no place for opinion here. He is saying his app doesn't work. How can you disagree with that? Exceeept of course, you just "disagree" because he is it's the Groove App. From. Microsoft.

Either you have no reading comprehension or you're just like Trump making up stuff. And by the way, your logic that everything is an opinion doesn't work.

Sorry dude, I didn't comment on whether Groove is working for me or not. Don't assume facts not in evidence. I complained about sweeping generalizations and defended the use of voting for folks who may want simply to agree or disagree with a comment.

8.1 vlc app does far better job recognizing artists. Heck it even recognized the guy from Naruto OSTs

That sounds exactly like the Android app, not the Windows app

Keith Wallace is right. Groove is buggy on my Xbox One & 950xl. I ditched the suscription since I notice it can not handle 1 hour playlist without issues.

Unfortunately not for me on L930 and 640. Crashes out of the blue, sometimes refuses to run in background and I have to wait 10 to 30 seconds for the song to actually start playing if I tap the play button. I like it but it's anything but bug-free.

The problem with Groove is it isn't available for Xbox outside the US ('MURICA F*CK YEAH!)

According to Wikipedia, Microsoft's Groove Music is available in 23 countries.

23 countries. Hahahahahahaha.

Opened it up to see what that music player is. That it has Last.fm scrobbling alone is enough to convince me to try it. Installing it now, thanks!

Adding Loco Music Player Delight to the list too.

Can Next Player work with music on OneDrive? If it does I'm giving Groove the boot too. Groove is definitely better than it used to be, but I also get the issues the other poster mentioned on my phone and it is really frustrating.

"which is like Groove but done well"? Next-Player can't even scan my files for music. It's stuck in the scanning phase and then the whole app gets cycled out for not doing anything and put in background where it does not continue scanning the library. Finally at the end of the day I am left with an app that can actually never start playing anything. :) (BTW I have 7000+ songs stored on an SD card, and so far the only app that could handle them was Groove)

And it's free today in myAppFree

Well, unfortunately truly universal means Windows Mobile as well. Hence the sad result.

My favorites: Plex, GeoPhoto, Disqus, OneNote, Nextgen Reader, Client for Youtube, Audible, Groove, Spoticast, PopcornTrivia, Workinghours, HP AiO remote, Remote Desktop, VMware Horizon Client, Wunderlist and Enpass, 17 Track and finally Trakter

I don't know about that ivakara33. myTube is best YouTube experience I've had on any OS or device -- the beta version has introduced Mini View too.

I switched to AwesomeTube when MyTube was changing and the beta was just bad then. Awesome tube changed a few times and now Mytube And AT are similar but both good with a couple differences. Check out Awesome Tube

Tell you what app needs fixed is WC. A terrible mess. If you jump to settings and back, you lose everything - your place, the article, then it takes forever to reload.

Mine doesn't even load (on PC) It gets stuck on the splash screen and then disappears into Oblivion

Here's another candidate, SomaFM, a music streaming app for somafm.com. Runs on any device that support Windows 10. I like it for playing background music on the Xbox One while gaming. https://www.windowscentral.com/e?link=https2F%2Fclick.linksynergy.co...

windows store lack local apps like banking, weather, restaurant and etc

Gets my upvote --- it always blows my mind how facts receive down votes on WC.

Re: aka TheCuddler,
I don't understand why down votes distresses people. It's just a "disagree or don't like something." Too many delicate flowers who want everyone to think and be the same. Certainly people should be up voting too and they don't, so we need to remember that when compare the up and down votes.
.
Just my thoughts.
Best Wishes

That just depends on where you are and who you do business with. Microsoft's own MSN weather seems to do a fine job, and my online banking app (W10M) works great.

Re: aka Ibodnano,
My banking app (Wings Financial) works great and the Microsoft Weather app does too.

Why is Windows Central not in this list?

We prefer the website. It pays our bills ;-)

What about all the "reviews" of products and games that fill this site since windows phone has failed? they should pay a lot too :-)

I was wondering the same thing guess they don't want to toot their own horn lol.

They don't update it anymore, so they can't even recommend it....

except for the update from a couple of weeks back ;-)

🙄🙄🙄🙄🙄Please... Still can't delete comments on the Windows app. They've stopped feature updates.

You mean... The Windows Central app is now in the featureless2 branch?

Omg lol I just wish it actually opened in my PC

Cheating to include Microsoft apps I reckon.

You guys should do an article on Perfect Thumb apps, they are universal and top notch. Like developer spotlight type articles.

I used to love his apps when I had a Lumia

It would be cheating if MS apps were, by default, the best. That is absolutely true with OneNote. Kudos to the OneNote team for making the effort to make the Universal OneNote app the poster child for what you can do in UWP. On the other hand, the rest of Office Mobile is sort of languishing, isn't it? It has even been made to hard to find in the store if you have a tablet or PC. The saviour seems to be Centennial. Hey we can save ourselves a lot of effort by just 'wrapping' what we already have in UWP clothing. Never mind it is no more touch/tablet friendly than Office ever was. Never mind it doesn't scale like a real UWP should, conforming the UI to the device form factor. But hey, we can sell it in the store, so Office is available on Windows 10S.

Hmmm maybe, but it's not as if all their new apps are UWP or that all their UWP apps are good - Groove and OneNote stand out for me though and I take your point

OneNote is the best app in the world period.
......
I still say they need to add an internal floating calculator to OneNote. That would be a killer addition.

I wish our Facebook app was as good as OneNote.

Facebook sucks on every platform.

Yeah, but let's be honest... Does it take as long to load, and CONSTANTLY resets, then reloads, FOREVER, on iDroid? Because,.It's just ridiculous on Windows. I doubt it's that bad on iOS.

I liked it much better before the experimental features were made mandatory. And the mobile version still lacks a number of the features available in the PC UWP version.

Before the latest changes it didn't feel professional enough to compete with the desktop app for me personally

Podcasts (beta) by David Catuhe is mobile, desktop, and Xbox at least. Killer feature is that it supports background music playing on Xbox one. This has been my go-to app for a long time now.

8zip, Torrex, Connected Devices, Zalando, VLC, Crunchyroll, Twitter and many others are GREAT 3rd party universal apps. It would be great if WC had a section listing all the good apps that are available in the Store for every category. It's not the wasteland many people portray.

All About Windows Phone, aka AAWP has this kind of directory. Check it out!

AAWP is a great web site and podcast.

I couldn't agree more. Although for some strange reason, Zac is a ********* and still uses the native podcast app.

mas-o-chist is not a swear word.

London Travel by Irtiqa is now my Tube / Oyster app of choice. I also like 'Birthday Hub', 'Traffic Assistant', 'TVPlayer', 'Uber', and Warhammer that are available on desktop and mobile. There are still some great older apps that work on Windows 10 mobile - British Airways, Certificates, Connect Cashless Parking, Currency (by XE), Fast Tip Calc, Netflix, OBD Auto Doctor, Translator, UK Trains and Waze. I use these all the time. Of course, there are all the Microsoft apps, Twitter, etc etc e.g. ask Cortana on your mobile 'Translate 'say a phrase' into Japanese. You'll get the translation and can click on the sound icon to say it. Works for Chinese, French, Spanish etc.

My favorites: Plex, GeoPhoto, Disqus, OneNote, Nextgen Reader, Client for Youtube, Audible, Groove, Spoticast, PopcornTrivia, Workinghours, HP AiO remote, Remote Desktop, VMware Horizon Client, Wunderlist, Enpass, 17 track and trakter.

NextGen Reader is a very cool app. I've been using it since Windows 8 (or was it Windows Phone 7?)

Pillbox is my current friend.

Will have to recheck it was pretty much useless last year when I tried it

WhatsApp still has to bring an UWP app. I wonder what's taking them soo long...I just need UWP WhatsApp. That's it. What do you guys think?

I think it's because they're known for backwards compatibility and since the 8 app works on 10 they see no need to update it. It'll be interesting to see what happens when windows 10 switches to CSHELL and Silverlight apps aren't supported on mobile

The so called Windows 8 app also works on Windows 7, probably. I expect it's advertised as minimum of Windows 8 because it connects to the Windows Notification system. None of this explains why they don't just make a Windows 8 Store app. That would make more sense than using legacy Win32 code. Especially as I read a rumour they're bringing the Win32 app to the Windows Store via the Desktop bridge.

Agree, I've been in the beta program for ages but it's still pretty much the same

For me, it's Baconit, Plex, Home Remote, Team Viewer & CBS.

Is Baconit UWP now? Last I used it, it was an 8.x app.

Developers are intended to built their apps using centennial platform. It is the responsibility of Microsoft to create a better platform from centennial to UWP for the developers.

Ember for Emby. My favorite Universal app.

I use RadioStorm a lot, an app dedicated for public Swedish Radio. That said, I'm really biased since I'm the developer :-)

I would like to have an app as PayPal fully working around the world with paying by NFC

I mean sure that'd be nice, but I really think their revolutionary app that tells you to use their website (and that's it) is really a better path. (Sarcasm)

There's still one you can use for PayPal. It's called edge pinnable site app :)

I didn't know of Unigram! Thanks ! Even after the W10M update for Telegram, it has always been way behind other os versions. And Unigram supports calls?! Unigram has my support, and seems perfectly fine so far !

The offical Telegram app got phone calls with the update yesterday :)

Why can't HoloLens run Centennial apps? Isn't HoloLens just an Intel x86 PC with an Atom chip?

Think I'll stick with Readit unless it goes T.U. on me again.

I prefer NextPad as my Text Editor, dark/light themes, tabs, updated regularly, etc. & free

I'd recommend, among the so many great apps already mentioned, Explorer for 9gag & Diarium. Explorer for 9gag is constantly updated, supporting everything new that comes to the site - including audio support. Love the consistency and passion the developer brings! And Diarium is another that is updated regularly. It is a personal diary app that goes by dates, and one can connect FB/Instagram/Twitter, and it will compile all of that for every day,including the location you wrote the entry at, shows the number of steps you walked, uploads to OneDrive and sync between devices. A bloody good app for a diary! And you can export backups and single entries!
Honourable mentions: Monocle Giraffe, PicsArt and Office Lens, 8trX

For me Groove Music, Grover Pro, MyTube!, Readit.

For language learning, Duolingo is worth checking out. Available on PC/Mobile/Holographic/Hub.

I personally like Action Note, it's fast and it syncs across all your windows 10 devices. It also keeps staying in the notification area so it's easy to access it. For collaboration, and not just as a single user, I love CollaBoard. It's a UWP app as well and runs smoothly on all devices. Never used it on my Xbox yet though 😁 Almost forgot: TuneIn Radio !

👍 Appy Text and myTube. I use them equally on mobile and PC.

Grover Pro, but it needs Bluetooth position seek support.

So this is the "top 4" after two years UWP. I think I'm going to cry myself to sleep tonight.

Awesome Tube is excellent. There's a free advert version too. Is MyTube much better?

Yes it is better than original app on android

Yes it is better than original app on android

I like to mentions my own apps, ScribePad, as one of truly universal apps. Although ScribePad store description are available for Desktop, Mobile, Xbox, and Hololens, I have no idea ones would use the apps other than on Desktop or Mobile, :p

Edited: available on Desktop, Mobile, Hub, and Hololens

Edited: available on Desktop, Mobile, Hub, and Hololens

MyTube is even better than the original app (if it's exist)

Mspoweruser has a great universal app than the windows central. It features chaseable live tile, notification with pictures, and it's available almost everywhere.

I would add Trakter (trakt.tv client) and Audiocloud

I happen to like OneVideo on phones and desktop, with almost perfect OneDrive and UPnP implementation. Still not on Xbox, but they say not for technical reasons. Wonder why MS still doesn't recognize the fact, that Xbox is a far more attractive UWP-target than Windows, and makes it deliberately hard to target. And Readit is a fine app, despite ReddPlanet looking good,too.

I don't thing developers know there are windows mobiles... Awful job marketing their products and capabilities...

enigma2 Companion: https://www.microsoft.com/store/apps/9nblggh6cb2x

"" Top 4 Windows 10 apps that are 'truly universal' ""
Sorry, but ClientForYouTube is much more "true universal" than mytube..

It has same design and layout (1:1) as WC/msn weather/sport/news app

This is lame. Who do you think you are fooling....? The guy in the mirror. I could not do banking on my Lumia because Win 10 did not have banking apps.....

How is that related to this article?

It doesn't have all the banking apps. But it does have some.

And the wallet has not started to include more follies of cards for wallet pay... It has been forever that my bank is listed as "coming soon"... I am talking years!!!!

Chase is the only one listed as coming soon. Is that your bank?

Their is A LOT of banking apps, perhaps not your bank though. However, they better start make some universal apps so people can use them on their Windows 10 laptops, surfaces etc.

I have switched over to ReddPlanet after reading this, nice to have a change from readit and it looks great.

After all these years only 4 :sigh:

Groupme is my favoritie universal app.

FeedLab by ClevLab is a good Universal App for reading RSS.

I have and use all four of these! Great apps! Got AppyText on the MyAppFree deal.

Really, any main stream app that is truly universal? This is a joke Nadella, get it together...

Don't even know if I am supposed to cry or laugh after reading this article. Dead platform. Pathetic apps. And I am pretty sure OneNote si much, MUCH better than that pathetic text app. In OneNote I can start a note on my phone, open it on my PC and continue seamlessly. Can I do it in that app? Because if not that's not a universal app, it's the same as having 3 different apps on 3 different devices. And btw it's 2017, people don't WRITE articles/messages, they DICTATE them. In more that 40 languages. Of course only on Android/iOS. Please let MS know about it. Pretty sure they'll get dumbstruck at the news...

Dead? It sure not dead. It is supported untill 2019 July. Then it won't get more security updates, just like when Android phones are able to update to newer Android versions. Beside that now software developers makes Universal apps so people can use them on Xbox, PC and Surface tabs, that means my Lumia 950 Xl can use those apps as well ;O) Damn awesome with all the new apps lately showing up even the Spoticast that is a third party Spotify app makes it feels like a dream surfing music on the run. Also prepare yourself for the Andromada impact when the new microsoft mobile device hits the shelfs within the next two years. That is a device that runs the real WIndows 10 and not the mobile version. Nothing is dead it is just EVOLVING as it should. Even Android evolves so old devices cannot run the newer software.

OneLocker, Deezer, Awesome Tube, NotepadX, Grover Pro, Newflow, SofaScore... All better than these... Zac, go home, you're drunk 😵😁

Windows central app? Haha

MyTube! is awesome... I love this app... specially the feature to continue on another device where I left off (using the share button).
Windows Central Newsletter
Get the best of Windows Central in in your inbox, every day!
Thank you for signing up to Windows Central. You will receive a verification email shortly.
There was a problem. Please refresh the page and try again.