My Very Hungry Caterpillar, an interactive children's game for Windows 10 and Windows Phone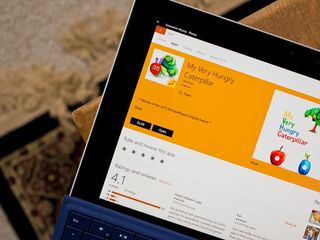 If you have children, your Windows Phone and Windows 10 tablet can be a great educational tool. There is a host of children's games in both Stores that can not only be educational but also a fun way to keep your kids occupied.
My Very Hungry Caterpillar is a fun, interactive game where you are tasked with caring for a bright and colorful bug. From feeding him an endless supply of apples to guiding him across a pond full of rubber ducks, My Very Hungry Caterpillar is full of surprises to help develop nurturing and social skills.
We took the Windows 10 version of the game out for a test drive from a Surface 3 tablet and found My Very Hungry Caterpillar to be a very appealing children's title.
When you first launch My Very Hungry Caterpillar, your colorful caterpillar will be roaming the screen beneath two fruit trees. Activity meters can be found in the top left corner of the screen and interaction can be accomplished by touch or mouse (touch is best though).
The game begins with an interactive tutorial where triangles will appear to guide you child through the game's actions. For example, one of the tasks is to feed your caterpillar. A triangle will appear on one of the apples' in the tree and guide the fruit to the ground. Your child can tap/hold on the fruit and drag it to the ground to let the caterpillar gobble it up.
For each piece of fruit you feed your caterpillar, the taskbar will move a little closer to being filled in. Other tasks your caterpillar can get involved with includes chasing a bouncy ball around the screen, setting sail on a raft to play with a bunch of rubber ducks floating in a pond, growing flowers, push him on a swing and more. The layout of My Very Hungry Caterpillar has the activities spread across multiple pages in panoramic fashion.
At the end of the day, your caterpillar will get tired and you'll need to find him a place to sleep. My Very Hungry Caterpillar has a tree stump that is just ripe for the caterpillar to nap on and even provides you a leaf to cover him up. Once your caterpillar is tucked in snugly, the screen will fade and when the light is restored your caterpillar is good to go again. Just pull back the leaf and your caterpillar will be looking for something to do.
Overall Impression
My Very Hungry Caterpillar is a fantastic game for our youngest of readers. I think if you drift too far away from the preschool ages, the game's appeal will fade. The graphics and animations are well drawn-up and the user interface is perfect for the age group. Parents may have to walk their children through the first few activities, but that isn't a bad thing. This gives parents a great opportunity to not only explain the mechanics of the game but also to explain why it is important to feed a pet or let them be active.
My Very Hungry Caterpillar is available in both the Windows 10 and Windows Phone Stores as a Universal Game. The game has a free trial to let you try things out and the full version is running $3.99. I cannot find much to complain about with My Very Hungry Caterpillar and found it to be a solid children's game. I would suggest taking advantage of the trial version to make sure it is age appropriate for your child.
If you try My Very Hungry Caterpillar, let us know what you think of things in the comments below.
Windows Central Newsletter
Get the best of Windows Central in your inbox, every day!
George is the Reviews Editor at Windows Central, concentrating on Windows 10 PC and Mobile apps. He's been a supporter of the platform since the days of Windows CE and uses his current Windows 10 Mobile phone daily to keep up with life and enjoy a game during down time.
Ha, amazing. The book is an absolute classic. Remember books?!

My children are obsessed by the very hungry caterpillar. Even my 1 and a half year old enjoys playing this game and yes reading the book :) (or actually getting the book read to him).

Amazing, kids will definitely love it

Excellent! I used to read this to my students. Downloading now! I support devs that take the time to support the Windows ecosystem.

Looks great for my 3 year old ;)

The book is a classic and great for the toddlers!

This game is amazing and worth every penny! There's so much more to it than the review mentions. After each night of sleep, new screens with new activities open up. After a few nights of sleep, he turns into a butterfly and the game starts over again, with each completion adding a new butterfly to the screen. In addition, seasons change within the game. Leaves change colors. Fruit changes. They just added pumpkins for Halloween for example. My toddler loves it.