MyPodcasts is a sleek way to listen to podcasts on Windows 10
By Sean Endicott published
Podcasts are a great way to catch up on the news, learn history, and enjoy some comedy, and a quality player makes all the difference.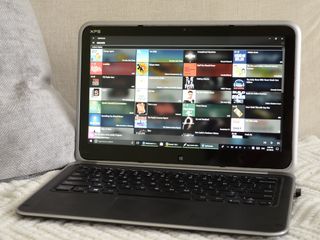 If you enjoy listening to your favorite podcasts, *cough*, then it's important that you find a player that lets you enjoy all of your content. MyPodcasts allows you to listen to your favorite shows, and even lets you do it at a variety of speeds.
While Windows 10 has a plethora of podcast apps, MyPodcasts stands out with its impressive feature set and attractive design.
The app is available for Windows 10, Windows 10 Mobile, HoloLens, and Xbox One. There is a free version, or you can upgrade to pro for $4.79, though that's a sale price compared to the usual $5.99. You can try out the pro version for 14 days for free.
Feature-packed
Podcast apps rely largely on the libraries that they source content from. If you can't listen to the shows you want, it doesn't matter what features are availalbe. MyPodcasts has all of the podcasts that I listen to, but you'll want to check for your favorites.
While the most important part of a podcast app is content availalbe, features such as a mini player make listening to that content easier. MyPodcasts jams in just about every Windows 10 feature that you could imagine using in a podcast app, including mini player, Continuum support, light and dark modes, and being availalbe on pretty much every version of Windows 10. You can also listen to content and varrying speeds and use a sleep timer to let your podcasts lull you to sleep.
It also puts these features into a familiar package with Windows 10 design cues, including Fluent Design elements such as reveal effects. I love the design of MyPodcasts. It has stiff competition but in my opinon it's one of the, if not the, best looking podcast app availalbe on Windows 10. When you combine that with its impressive feature set, you're left with an impressive app.
Stability issues
Unfortunately, stability issues and syncing problems keep MyPodcasts from being perfect. The app crashed multiple times in my testing and OneDrive syncing doesn't seem to work, at least not between the Windows 10 version and the Xbox One version. I'm not alone in complaining about stability issues for MyPodcasts as many of its reviews echo the same problems.
Speaking of the Xbox One version, I can't recommend using it. It still relies on using a cursor to navigate the app. This isn't impossible to use but is much less convenient than other podcasts apps on the Xbox One that allow you to scroll through menus.
Overall thoughts
MyPodcasts has a beautiful design that fits right in on Windows 10. It's feature-filled and easy to navigate but has stability issues that hold it back from earning a higher rating. It's relatively inexpensive for the pro version and is availalble on just about any hardware running a version of Windows 10.
I genuinely hope that the developers of MyPodcasts can iron out these issues because the app has so much potential.
Pros
Beautiful design
Takes advantage of Windows 10 features
Available across multiple devices
Cons
Stability issues
Xbox version is lackluster
Syncing issues
Sean Endicott is the news writer for Windows Central. If it runs Windows, is made by Microsoft, or has anything to do with either, he's on it. Sean's been with Windows Central since 2017 and is also our resident app expert. If you have a news tip or an app to review, hit him up at sean.endicott@futurenet.com.
I use Grover Pro and Boxcast on Android. Grover Pro is really great and continues to get better.

Only issue I have with these desktop podcast players is I listen to podcasts on my Android phone as well, so being able to sync with a podcast provider (Castbox for example) so I can switch from phone to PC would be great.

Yes I was having that problem before too, I hope there's a true native W10 podcast app that also has a good android counterpart. I use "podcast player - free", formerly "player fm podcasts", on my android phone ever since I first changed to android from W10M. It has really nice features, though they recently changed it to a subscription model, but the free version has been working fine for me. The nice thing is that you can also listen from a browser since it syncs up in the cloud somehow. I THINK you can still do that with the free version, but haven't tried in a long time ever since they changed to a subscription model for the more advanced features. If I was a more hardcore podcast listener, I'd pay for the subscription

Try PocketCasts. It does have a one-time fee, but it's excellent. Syncs your podcast status to the web, automatically downloads new episodes, etc. The web player is great, they just really need to implement an UWP app for us Windows users (so we can have offline playback).

I like Grover Pro overall, but have issues w/ it syncing between my Desktop and my WM10 device. When it syncs, all of the feeds on my mobile are corrupted. Also hate that accidentally tapping one podcast episode will completely trash my existing playlist with no warning. :-/ Other than that, it's been really good to use, especially the "speed up playback" options to increase playback just a little and the hooks into my car's controls so I can skip forward/backward in an episode instead of to the prior/next podcast.

Dev here! Just released update (v1.4.87) to address stability issues :)

Why would anyone pay for this when they can use iTunes for free? I can't imaging listening to podcasts on my Television, unless they're video podcasts. And an AppleTV is [much] cheaper than an Xbox One, anyways.
Windows Central Newsletter
Get the best of Windows Central in in your inbox, every day!
Thank you for signing up to Windows Central. You will receive a verification email shortly.
There was a problem. Please refresh the page and try again.