myTube! update includes playlist bookmarking, new download qualities, more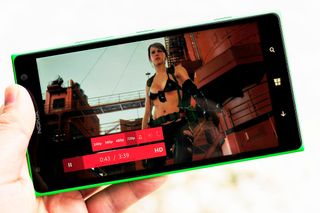 MyTube! is getting a pretty major update with lots of changes today on both the Windows Phone and Windows 8.1 version of the app. There are a number of highlights, but perhaps the most notable is the ability to install the trial version of the app without restrictions on either platform if you've already purchased it on the other. Also worth noting is that users can now bookmark playlists from other users' channels and download videos in 480p and 1080p.
Here's the huge list of changes in both myTube! apps in version 2.3:
If you paid for the phone version of the app, you can install the trial of the PC version with no restrictions (and vice versa)
Adds support for bookmarking other channels' playlists to your account
Support for downloading more qualities
Shows file sizes when downloading videos
Quality options for video downloads now show up more quickly
Added watch later support back to "Open in myTube" share page
Will now recognize if you liked/disliked individual videos in the past
Channel thumbnails added to comments
Adds option to warn you before playing videos on mobile data connection
Adds ability to unrate videos - Support for more regions
Receive a notification when a download is finished
Search box design improvement
Fixes bug where "unfavorite" option didn't appear
Fixes bug that occasionally caused subscription videos to not appear
Fixes minor bug that caused subtitles not to update during some videos
Marginally adjusted margins
And the following is a list of changes to just the Windows version of myTube! version 2.3:
Adds large tile support
Moving the mouse now also brings up the player controls
Mouse cursor will hide when playing videos
Adds YouTube keyboard shortcuts for playback (such as using L and J for seeking forward and back) - Adds button to completely stop videos (useful for devices with no back button or keyboard)
You can now use the arrow keys to select search suggestions - Fixes bug that caused left/right scroll buttons to remain on screen on touch-only devices
Fixes bug that caused the app to scroll erratically when pressing left/right keyboard keys
There's no doubt that myTube's developer has been hard at work, especially given the giant list of changes. One thing to note after downloading is that videos downloaded in 480p and 1080p are only viewable within the myTube! app due to how the videos are served by YouTube. Other formats should be playable outside of myTube! however. If you'd like to grab this update, you can hit up the store links below to pick it up for Windows 8.1 now. At the time of this writing, the Windows Phone update doesn't appear to have populated in the Windows Phone Store quite yet, but it should land shortly.
Dan Thorp-Lancaster is the former Editor-in-Chief of Windows Central. He began working with Windows Central, Android Central, and iMore as a news writer in 2014 and is obsessed with tech of all sorts. You can follow Dan on Twitter @DthorpL and Instagram @heyitsdtl.
You can actually watch downloaded videos (except 480p and 1080p, as stated in the article) outside of MyTube? Never knew that! How long has this feature been available?

First added it in January this year :)

Developer please add an option to hide the annotations on top of the videos. Looks terribly ugly. Thanks.

I don't see the option in the settings. Where is it?

When playing a video with annotations, bring up the player controls then press the quality/settings button. There will be an annotations button near the top of the menu that comes up, tap that to turn them off.

Hi Dev! Where can I find the downloaded videos to view outside of myTube? Which folder for WP8.1 and W8.1 respectively?

MyTube still hasn't transferred my purchase universally to my PC. Still sets a limit to how long I can watch videos for on my PC. Both phone and PC use same Microsoft account/email. Tried numerous times to contact the developer but no responce. Anyone else experiencing this? And yes, I read the article, but the issue still persists for me.

Update myTube on the phone to 2.3 and open it at least once. Once the PC version is updated to 2.3, you should be able to use it with no restrictions (it may take 15 minutes to an hour for the info to sync after you open the phone version). The Store will still say you're using the trial, but the app should have no viewing restrictions after that.

Appreciate the help. I'll let you know if it works out.

That hot chick from metal gear is actually hot =D

He talked about adding Chromecast support eventually right?

Did you find API's for notification on reply to my comment on a video?

Haven't found anything for that in the YouTube APIs. Though, it may exist in the Google+ APIs, I'll take a look into that.

Thanks! You just deserves applauses...I hope you'll find it with Google+.

Are you working on adding option to "Upload Videos" ??

That's actually what I was planning to start working on this afternoon ;)

Great! I really hope to see it in coming future. Please dont drop this idea. :)

I bought this one a couple weeks ago. I'm now thinking I should have gone with Tubecast though, because of all the recent updates putting it ahead of the pack. I hope mytube intends to catch up. Subscriptions don't seem to be up to date all the time either, which is kind of bunk.

Some big features are planned for version 2.4 and 2.5 (especially 2.5), so keep an eye out ;) Hmmm, do you mean your subscriptions show you videos from days ago, rather than the most recent videos?

I've seen this very rarely happen on my M8 for windows device. I've also had were subscriptions wont show and or tells me to log in but wont let me. After a bit though when I go back in it loads up just fine. Fyi if it means anything.

Thanks for the reply! I look forward to seeing these big features. As for the subs, basically what Zero mentioned. Sometimes, nothing loads up, and when it does, it doesn't seem to load any more than the 15 most recent videos. I also think it would be nice to be able to customize the behaviour of the app in some ways. For example, when you finish watching a video, I'd rather return to the video page, so I can play it again, rather than having the screen always jump to the "suggested" videos, which may or may not be related to the video I was just watching before.

I see, I've fixed some issues with the subscriptions feed in this update. Are you still experiencing these problems? I'll add scrolling to the video page after a video in the next update, others have requested that as well :)

Looks good! The subs continue to load as a scroll down. I look forward to future updates and will try to give more feedback.

No idea how Tubecast is better. When I had Tubecast on my phone, I kept wishing myTube was released. I was so happy when it was.

I believe if you stack them feature against feature Tubecast has a few more (If you don't care about casting they're basically even), but I had the opposite reaction as you. I held on to the Mytube! phone app for so long waiting for the windows app to drop, but was so disappointed with it when it did that I immediately switched all devices to Tubecast.

"Received notification when a download is finished" .. That means background downloading right?

Yep! The app acvtually always did background downloads, but I figured notifications would be convenient :)

Thanks alot!! :) Actually I didn't know that works , glad now I can minimize this apps meanwhile doing another task..

My first purchased app ... and it was worth every penny (and beyond). THE best YouTube app with a UI that makes even my pals on Android drool. Great Job @Ryken100 ... Looking fwd to exciting times ahead with myTube! ... Way To Go!

Mmm. No update showing in UK. And again asking to pay. Bloody store. :(

No update for me either in UK.

Install the trial, then request a product key from within the app. That won't make the Store recognize that you've paid, but it'll at least remove all trial restrictions from the app. The update got certified a few hours ago, so it may take some time to appear for you. Hope you get it soon :)

Ask them just click the "Buy" button..It will tell u something like this if u already purchase the apps I don't quite remember actually lol but it sounds a bit like this : "u already own this apps , u want to reinstall ?" ...

I tried to reinstall after a phone reset. It wouldn't allow it to install from app history. Then tried to install the trial and that didn't work. Finally I paid $.99 for it again and it was stuck on Pending. I don't know what to do now.

If you restart your phone, does it still say pending?

Hey Kinaton , just click the "buy" button , it will automatically check whether u already purchased it or not and let u know.. Lately lot of apps are showing the same thing too when I try to reinstall some of apps that I've purchased. Probably store bugs...

Store bug, as several apps are showing as not brought even though in history as paid. Request key asks for key, was this emailed before, don't remember getting it.

No update showing in Chicago on win 10 mobile

No update yet here in India...

Does this supports casting to Xbox

Hey there. Is this update available for anyone in the Windows 10 Mobile store? My phone is running build 10166, but it seems like this update and a lot of apps not developed by Microsoft are getting updates but not showing in the Windows 10 Mobile store (for example right now I got an update for Outlook Mail but not MyTube).

So this is the best youtube app on Windows mobile right? Coming from Android so I want to make sure I get a good one :) is there any restrictions I should be aware of?

metrotube, tubecast and mytube are the best youtube apps out there.

Yep, those are the fundamental 3 tubeapps for WP, you can't go wrong with them, even google can't do better!

I recently came across MyTube and really like the design so it's the one I recommend.

Finally supports 1080p download? That's what i have been waiting for! Tubecast's 1080p download is not reliable, hopefully mytube can do better.

Can we download to sd card and share it in windows phone?? Also can we use other video player to view the video..in windows phone?

Yep, the downloads go to your Videos folder, so if that folder is on your SD card, that's where the downloads will go. 240p, 360p and 720p can be played back in other apps, but other qualities will only work in myTube.

Great app with awesome design. Tried it and bought it 10 minutes later. Thanks :)

Am gonna download and use this.Earlier I was using tubecast

How to delete history showing in you tube thru my tube app. Kindly suggest

myTube can't yet delete the history of videos you watched on the YouTube website, but I'll put this on my list for the next update :)

WOW! Now that's a beefy update! Updating now!!!!

I wish authors would make transparent tiles.

You can enable the transparent tile in ithe settings :)

What about a loop/repeat video option?


When playing a video, tap the screen to bring up the player controls, then press the quality/settings button, there will be a repeat icon in the menu that comes up

Thank you very much for your continued support of this app. I will miss it as long as I am on android. Thankfully the desktop app will keep me from mourning too much.

Can't download my tube. Showing error all the time. Did soft reset too.

Install "Ryken Beta Apps" from the phone Store and sign up for myTube Private Beta.

I want myTube! tile to be live tile I know that there will be live tiles if i pin something inside of the app But it would be even nicer if itself had live tiles

By the way myTube! is the best YouTube app with amazingly unique ui and amazing transition effects. And it consumes less memory than Tubecast while the app is running Thank you developer

I'm planing to make the main tile live in a future update, but it won't show the same info as pinning a subscriptions or popular tile. Thanks! :D

Ewww man, why cant I hide the annotations? There should be an option so that we never have to see those ugly texts and buttons. Developer if you are reading this, please consider adding the option in your future updates.

"One thing to note after downloading is that videos downloaded in 480p and 1080p are only viewable within the myTube! app due to how the videos are served by YouTube. Other formats should be playable outside of myTube! however." Can someone explain to me what does this mean, exactly? I did, once, download a video with this app and i found it hidden in my AppData folder. Is this normal? Or is there a setting wherein I can set a download location? Any help would be apprecited. Thanks in advance! Edit: I am talking about the Windows 8.1 app... not the phone version...

The video files for 480p, 1080p and any other quality higher than 1080p are served with no audio. The audio mnust be downloaded as a separate file. These videos will play without sound outside of myTube. 240p, 360p and 720p videos should be saved to the "Videos" folder on your device, and can be played in other video players. If for some reason the app can't access the Videos folder, the videos will go to the app's private storage (which you seem to have found :) ). There's no setting for downlaod location right now. Audio files always go to the app's private storage.

@Ryken100 is there any way via which we can upload videos also???

Not yet, but working on it ;)

without cast features this app lacks behind the competition

Well, I ended up buying the PC version as I assumed it would realise I didn't have to pay before the money went through. Oh well, still a bargain.

Sorry about that! The Store isn't always so smart

Good app but there are still big UI and UX problems the app should feel and follow Windows 10 design the last this is features and the logo I really hate this to line before and after mytube why can not you change it to MyTube simple and better than |mytube|

There will be a logo change and design update when the app is updated to support Windows 10 :) What changes would you like to see to the UI and UX?

Hey first of all thank you and I hope you will keep improve this good app I would like to be able to move back and forward when listen to music on the background now I only can go back and only full back from the start of the song and it is sucks becouase I most of the time listen to 1H of music play and want to go back 1 or 2 song or 2-3 song forward and I just can not do it Moreover when I click on song name on background music down to the volum control it open mytube and I really would like if it will take me back to the song page about the UI and UX it should be like windows 10 style is the hamburger menu and cricles also when I go to a chanel I would like to be able to organize the list from the most popular and not only from new to old the last thing is a liittle bigger buttons bigger pictures and replay button will be nice too also I think it is easyer and nicer to see comment and video on the same line without the need to open the video on a "new page"

I can't install mytube since I buy my Lumia 830. I always get the 80004005 error code. Someone knows why?
Windows Central Newsletter