myTube for Windows Phone update adds video upload notifications and more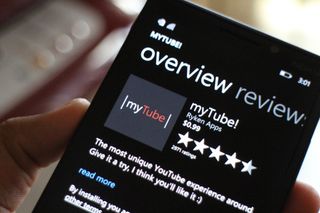 MyTube remains one of the best third-party YouTube apps for Windows Phone. Today, there's a new update that adds the ability for the app to receive video upload notifications, among other improvements.
Here's a look at what you will get when you download and install the 2.2.0.0 update:
Ability to receive video upload notifications from 10 channels of your choice (go to that channel's page to enable notifications)
Developer messages no show up as small notifications, which you can tap to view the full message
myTube's share page changed to focus on watching videos, rather than adding them to the "watch later" list
Layout change for "add to playlist" popup
Layout fixes for devices with on-screen navigation buttons
Fixed bug that sometimes caused a crash when signing in with no internet connection
If you have never tried myTube, the full version costs $0.99 but you can also download a trial version for free from the Windows Phone Store.
Thanks to Abhishek and Aamir for the tips!
Download mytube for Windows Phone ($0.99)
Windows Central Newsletter
Get the best of Windows Central in your inbox, every day!
I asked for this feature on twitter & its here! Thanks Ryken.. But i wonder y only 10 channels? Is it a limitation?

That's because more channels = faster battery drain

I hope he adds an option to upload videos within the app...

Too bad we can't upload videos to YouTube from our mobile phone.

We can. VideoTube by Fela Ameghino. http://www.windowsphone.com/s?appid=9378167b-25e6-4762-9f26-2a2560d23be1 Video Download/Upload. Free without ads.

There's upload to YouTube app, which is the best

Has been withdrawn by MSFT, was in the news.

Its back now.. MS apologised. Also in the news.

if it wasnt for the better live tile i would have prefered mytube from tubesast. the funny thing is that tubecast copied the old mytube live tile. why mytube changed its live tile i dont know. it was way better before.

I was literally just this second umming and ahhing about which of the apps to pin to my start screen because of this very issue. You are right. Tubecast has the nicer tile.

still remains the best youtube client on WP.
really wish MS clears it for universal app on PC store.

Anyone here who has a Lumia 520? Mytube on the 520 is so laggy... Forced to use Metrotube because of it...

There is a slight delay in touch responsiveness (about 2 seconds), and also huge battery drainer on my 520. But this is expected, because the 520's hardware is almost ancient in today's world. I've gotten used to experiencing slight delays on some apps.

I think it crashes and lags because of the 512MB of RAM. My old HTC 8S also faced such problems.

I hope 60fps will be fixed soon...

60 fps works like a charm. It might be because of your device limitation (512mb Ram).

I wish the DOWNLOAD option would work.
That's why I stopped using it.

Yep, it also gave me errors while downloading earlier.. I had to download through my pc.. You should try too..

Awesome. Still hoping for a casting feature..though. Would pay for it as an in app purchase in case he makes it like that.

I still have no idea how to play a video from sharing the page to mytube I'm feeling quite dumb here lol

Its a little tricky, if you open any video from the browser (IE) when you tap the share >> choose MyTube from the list, it will open the app and go to the video you were watching on the browser.

Yeah I get that far but then nothing moves from that page it'll either just add to watch later and close or do nothing(haven't tried it after this new update though)

I'm really annoyed by the fact there's still no desktop app (I know it's not the dev's fault)

hmmm, which to prefer....the email notifications i get when a new channel updates, or this new mytube notification...or both :)

Have they added back the ability to install to SD card yet?

Easily the best WP app on the marketplace.

It's worth the price imo. Ever since moving to android, I've found myself wishing I still had myTube instead of the stock youtube app. This app along with Weave will always have a special place in my heart.

why cant i download mytube?