NAVIGON updated, adds traffic, Bing integration and FreshMaps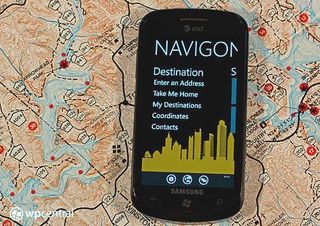 NAVIGON is a handy navigation app for your Windows Phone. One of the keys features (and appeal) to NAVIGON is the app's downloadable maps that reduces your dependency on a data connection while on the road. NAVIGON was recently updated to bring a trio of new features to the table.
First up is Traffic Check. Traffic Check will inform drivers of current traffic conditions with an easy to read graphic. The graphic gauge indicates traffic conditions with a green, yellow or red field based on the conditions.
Next up is Bing integration. Integrated with Bing Maps, users can now navigate to addresses they find on Bing Maps. NAVIGON will appear as an app option in Bing that will send the address to NAVIGON. From there, NAVIGON will generate turn by turn directions from your current location to the address. This makes finding and address and generating directions a little easier if NAVIGON is your navigator of choice.
NAVIGON FreshMaps is a new feature that will keep your maps more up to date. NAVIGON will provide users with the latest map available at the time of download. But for those who want to stay more current with their maps, FreshMaps will provide the latest maps every three months over a two year period. FreshMaps pulls the map updates from NAVTEQ to ensure the most accurate mapping possible. The service does come at a cost though. FreshMaps will cost you $39.99 but will be offered at a reduced price of $24.99 until August 30, 2012.
Overall, the update does bring some nice features to NAVIGON. The traffic check will help you navigate around town and the Bing integration makes building routes a lot easier. We'll say that FreshMaps is a nice feature but not for everyone.
There are two versions of NAVIGON available over on the Windows Phone Marketplace. NAVIGON USA is currently running $49.99 and has downloadable maps for all fifty States. NAVIGON Europe is currently running $99.99 and has downloadable maps for all of Europe. Unfortunately, there isn't a trial version available for either version.
You can find NAVIGON USA here (opens in new tab) and NAVIGON Europe here (opens in new tab) at the Windows Phone Marketplace.
George is the Reviews Editor at Windows Central, concentrating on Windows 10 PC and Mobile apps. He's been a supporter of the platform since the days of Windows CE and uses his current Windows 10 Mobile phone daily to keep up with life and enjoy a game during down time.
100 euros?? Hahaha, come on! I think nokia maps will do its job.

Dollar =! Euro. Still steep but worth it: 84.99 euro's. Or wait for temporary price cuts.

I got mine (Navigon Europe) for 53 Euros. They have it on sale from time to time, just keep your eyes open.

Sure, Nokia will do for most people and has some unique features but navigon is a real navigation app with lots more on screen info and (with freshmaps) updated maps 4 times a year.
It also had offline-maps for a while now and you have lots of POI. The maps are clear and the directions are really great.
I do think that they need to make a trial version (say a week or so) to let people see that it still is an awesome app

I already bought Navigon but now they want an additional $25 if u want new maps after this update.

And the $25 map update is a promotional price.

$50 for the US but $100 for Europe?

Right....

Hey, Europe has like 25 countries, USA is only 1.
Sorry couldnt resist ;)

No trial, and two negative reviews about Canadian use... I'll pass, Nokia Maps is free and offline maps for Canada.

Maybe ill bite, has test to speech and lane guidance which nokia still hasn't got. Paying that much extra for map updates is not the way to compete though.

Good luck to them. All I want is UK maps for $29.99... Don't need the whole of Europe.. You know what they say.."A company that doesn't adapt dies". There will come a time when no one would care about Navigon.

Agree. Navigon should also deliver a version for only parts of Europe. And therefore for a cheaper price. I nevertheless got the Europe version.

Really they should just have one app that works for all countries. If the app was cheap, they could charge per country or perhaps provide one country free with the app an pay for additional.
So if you just want USA, Canada, UK, etc., great. If you want all of Europe, you pay more.
Seems silly to have multiple Navigons in the store.

You say that you get the latest maps available at download - does that mean at the time you download the app or when you actually download the maps? I'd curious if you just delete the local maps and redownload them, does it then get you the latest and greatest?

I still prefer Navigon over Nokia Drive (only slightly though) because of TTS and a few other features, but searching for destinations is FAR superior on Nokia Drive. If Nokia Drive keeps improving like they do and Navagon wants to charge $40 for new maps, they're gonna have nobody to sell to.

Navgon seems to be the only FULL gps solution, to bad its so expensive :'(

This is a really nice upgrade. I purchased Fresh Maps. I don't know if it was that or the 4.2 upgrade, but I now have access to maps for Canadian provinces, Puerto Rico, and the US Virgin Islands. The lack of Bing integration was also a big issue for me. No more writing down and retyping addresses. Drive is prettier and simpler and fine for address searches but the feature set of Navigon is really impressive. The best features for me are Local Search, TTS, and POI srarches by city and along route. I had exactly three annoyances. They were lack of Puerto Rico, lack of Bing integration, and having to click OK at the disclaimer screen each time. Still have to click OK, but I think I'll get over that :-).

I love Navigon ... I got it for $25 which is a steal and is better than any gps on windows phone out there... Yeah Nokia is nice and will be looking forward to it as another option. Also I love the look of Navigon...It has a better looking display and a few more options and with this update it made it the superior over all other gps apps. If they should ever have a half price again it should be a no brainer for people to hop on it.

I now have access to maps for Canadian provinces, Puerto Rico, and the US Virgin Islands.amd also Mexico

It also adds proper Tunnel Navigation! Nice! Also a compass in pedestrian navigation but that may have been there before

Too expensive and no mention of postcode support.

it does support postcode. Try to get it when on sale, i got mine for 53 Euro

Does it do transit and bike directions?

It has profiles for car, truck, motorbike, bicycle and pedestrian.

They recently updated the iPhone maps to include street view why can't they do same for Windows Phone.

Bing map already includes streetview built in. Zoom on an address U will see
Nokia GPs hardware is crap anyway so only morons will spend the money for this app

Moron? Nokia GPS is top notch. A fix almost instant. Even between buildings.You obviously do not have a Nokia phone.

Really !!! Can't street view anywhere

Ridiculous app in light of Nokia Drive. :/

Not everyone owns a Nokia ;)

Nokia drive is free but not really very good. We used it recently on a drive we know very well - approx 200 miles or so between Wales and London. By the end of the journey the main thing that we concluded was that ithe software had comic potential, but not much else. Not only was the route selection poor (the distance and time estimates when we set out we quite a lot higher than the route we usually take) but the directions were truly stupid. WTF does 'turn slightly left' mean when the reference is to a standard junction? Furthermore, when we arrived in London, the map was clearly out of date - there were a whole series of mini-roundabouts that weren't marked on it. Cue the 'turn slightly left' instructions once again, which had us in stiches at one point, as we had to negotiate two mini-roundabouts in a row (the software threw a hissy fit at this point).
In a week or so we are off to Athens for a holiday, and we intend to hire a car. There is simply no freaking way that I'd want that awful software navigating me in a place where I don't know the roads. Navigon may cost a lot, but when you're driving in difficult circumstances or an unknown urban location, it might be best to avoid the 'free' option.

I used Nokia Drive on a 1500 mile round trip which included wales and had no problem with it. I have previously owned the Navigon software but the lack of UK postcode support meant it got sent back pronto (Previously discussed the ridiculous returns policy on Zune). We had two other cars with me on this trip one with an incar SATNAV which was horrendous and the other using an older Tom Tom as well as a Garmin. With all these addtional SATNAVS I can tell you it faired no worse and in some cases better.


Basically it is too expensive and lacks postcode support outside of Bing maps. I can buy a TomTom Classic or a Garmin Nuvi 1340 for the same price, and that includes the bloody hardware!

Not disagreeing with your comments but how well did you already know the route you were tking? If you didn't know it well then how could you say how good the software was? The point I wanted to make was that Nokia drive was clearly poor when we used it on a route we knew very well, and could compare it to our previous experience (and also that of using a TomTom, which was generally OK - certainly far better in London). The errors it was making were not trivial, and its route choices in London were abysmal and at times embarassing. It 'lost' us on several occasions (this may, of course, be a hardware issue) and when we ignored the instructions (when we knew them to be crap) it took far too long to realise we had gone on another route and re-calculate, sometimes missing crucial junctions in the process. In a busy urban situation these failings are simply unacceptable, and the experience caused me to lose confidence that it could get me to where I wanted to go in an unknown environment. I would not like to have to interpret 'turn slightly left' when approaching a roundabout on a road system with which I am unfamiliar. Such an instruction is, truly, hopeless.


Having used satnavs a lot I have been happy to use the Nokia Drive on my trips recently but I rarely travel into London anymore and I can see how in London in the more complicated mapping areas would be a problem as I have experienced this issue on satnavs in the past.

My worst trip ever was a combination of Satnav naivety and traffic rerouting. Took me into the congestion zone via tooting and then back out via the woolwich ferry... Now that was bad and was caused by its naiviety on marked road speeds and its desire to avoid closed roads.

Having said that 95% of the time the Garmin Nuvi that I had at the time when I was going to London almost every week on the whole saved me many hours diverting but it does not always pan out.

Horses for courses I guess.

Just my 2 cents. I have used Navigon since it was released on WP. I have used it as my primary nav app despite having Garmin and others installed on my phone. It is a very simple, easy to use nav app with accurate maps and accuracte navigation. The feature set is quite robust but not perfect. I own a Samsung Focus S therefore I have not had the pleasure of trying Nokia Maps (it sounds great though). Long story short, there are no perfect navigation apps but Navigon is worth the price of entry and will most certainly do the job quite well.
At the end of the day you have to decide what is important a robust nav app is to you and how often you will use it to make the cost worth while. There are quite a few nav apps in the marketplace from very simple to quite dynamic at various price points. Hopefully this will help some of you on the fence with Navigon. Depending on your needs, most of you won't be disappointed. Good luck.

Quick note: After selecting a destination, Navigon offers up to 3 possible routes that you can choose from. Navigon recommends 1 route with 2 other routes all outlined in different colors. This is a big plus. Food for thought.

Does Nokia offer Avoid Tolls and Lane Assist? I know Navigon and Garmin does.


There is a cheap one that works very good GPS TURN BY TURN for $2 and has voice

This is quite good value for the money (I paid 5€ for it), but it has some limitations: You need to be always online, this can be VERY expensive when you are roaming.
Sometimes the map doesnt load quick enough, so you do not see where you are (only if the device switches from UMTS to GSM).
Also there is no lane assist, the routes are planned awkward sometimes and I experienced troubles due to not clear instructions at on-ramps.


How does the Bing integration work with navigon? I looked in settings and don't see the feature to turn on...

http://channel9.msdn.com/Shows/Inside+Windows+Phone/Inside-Windows-Phone...

The mapupdates are €19,99 in Europe and allow you to update every quarter for 2 years (so 8 updates). Sure, you can do better but the updates are finally a garantee that they are up 2 date, which doesnt seem to be the case for the Nokia versions.

I have NAVIGON on my 7 Pro, and since downloading the update minutes ago I now have full postcodes appearing in search, where before I did not.
Unless I'm mistaken, this seems to be an answer to prayer. Can anyone confirm I'm not a bit thick?

*** NEW IN VERSION 4.2 ***
- FreshMaps: The latest maps at all times with NAVIGON FreshMaps XL! For a single fee, you'll receive map updates every three months - with the latest map updates from the experts for a period of at least two years!
- Latest Map Guarantee: Guarantees that you receive the latest maps when you make your purchase!
- Traffic Check: Get information about the current traffic conditions in your area before you set off.
- New languages: Czech, Polish, Hungarian, Greek, Russian
- UK postcode navigation
- Link from Bing Search to the NAVIGON app on your Windows Phone

http://www.windowsphone.com/en-GB/apps/da8734ed-666a-4227-81ea-8fc937752d98
Windows Central Newsletter
Thank you for signing up to Windows Central. You will receive a verification email shortly.
There was a problem. Please refresh the page and try again.