NBA 2K Players Tournament: Who's left and how to watch
Even with real hoops sidelined, the best NBA 2K20 player can still be crowned.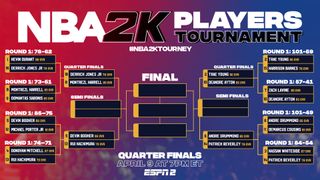 (Image credit: 2K)
What you need to know
The NBA 2K Players Tournament is underway, with 16 NBA players competing in NBA 2K20 while their season is on hold.
Some of the most notable players were eliminated in the first round, including Kevin Durant of the Brooklyn Nets and Donovan Mitchell of the Utah Jazz.
The quarterfinals will be televised on Tuesday night, with the semifinals and final on Saturday, April 11.
Since the coronavirus pandemic has ground the entire sports world to a halt, there have been various efforts to create some sports-like programming with the help of video games. For the NBA, that's taken the form of the NBA 2K Players Tournament, where 16 athletes compete in a single-elimination tournament broadcast live on ESPN's networks and streamed on multiple platforms.
It's remarkably straightforward: Just two ballers going head to head in a standard online game of NBA 2K20, with the added bonus that viewers can see and hear them chat with each other from their respective homes. The players were allowed to submit a list of eight NBA squads each for use in the tourney, with some strategy involved since they can only use each team once. That led to a humorous moment in the opening round as Devin Booker of the Phoenix Suns seemed to scoff at the idea of using his own real life team (the Suns, you see, haven't been good for a while).
The rankings for the NBA 2K Players Tournament were determined by each player's in-game overall rating, so Kevin Durant was the No. 1 seed even though he clearly is not the best NBA 2K20 player in the league. Both he and Donovan Mitchell, arguably the two highest profile athletes involved, were sent packing in Round 1. There's more than bragging rights on the line, too, as the winner will get to make a $100,000 donation in his name to a charity involved in coronavirus relief.
With the quarterfinals set to take place on Tuesday, April 7, here's who is playing who to advance to the semifinals:
Derrick Jones Jr. (16) vs. Montrezl Harrell (8)
Devin Booker (5) vs. Rui Hachimura (13)
Trae Young (2) vs. Deandre Ayton (10)
Andre Drummond (6) vs. Patrick Beverley (14)
You can watch the quarterfinals by tuning in to ESPN 2 from 7-11 p.m. ET on Tuesday night. The semifinals and final — which will be played in a best-of-three format — will air on Saturday, April 11 on ESPN, though the times have yet to be revealed. NBA 2K Players Tournament games can also be live streamed or watched on-demand via the ESPN or NBA apps, NBA.com, and the NBA 2K20 Facebook, Twitch and YouTube pages.
Play like the pros
(opens in new tab)
Get your game in shape

OK, so maybe you aren't going to be invited to the NBA 2K Players Tournament any time soon, but you can do what the pros are doing by picking up NBA 2K20, which is loaded with content this season and marked down a lot from its original price.
Windows Central Newsletter
Get the best of Windows Central in in your inbox, every day!
Windows Central Newsletter
Thank you for signing up to Windows Central. You will receive a verification email shortly.
There was a problem. Please refresh the page and try again.