Nearly 25% of our readers can't upgrade to Windows 11 because of its requirements
Roughly a quarter of our readers can't make the jump.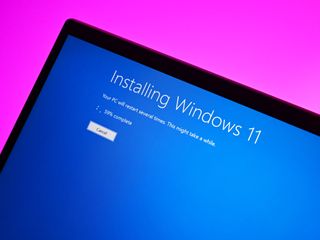 (Image credit: Windows Central)
What you need to know
Windows 11 was released on October 5, 2021.
Its hardware requirements have been controversial due to the high CPU bar and TPM 2.0 mandate.
It turns out nearly 25% of Windows Central readers will be held back by these requirements.
In honor of the operating system's launch, we asked Windows Central readers whether they'd be upgrading to Windows 11. Almost 36% said they'd already upgraded, with over 15% on top of that saying they plan to do so by the end of launch week. However, nearly one out of every four respondents said they wouldn't be able to upgrade because their PC didn't make the hardware cutoff for the new OS.
It's no secret that the CPU and TPM requirements have been causing headaches for many PC users. The entire country of China is not tolerating the TPM requirement, to give one example. Many average users across the world do not have machines with recent CPUs or a Trusted Platform Module chip that fits Microsoft's guidelines. To hear that nearly a quarter of Windows Central respondents fall into that category is noteworthy, given that many of our readers tend to be more knowledgeable and up-to-date on tech than the average person.
That alarming statistic aside, other poll results include that almost 20% of voters are waiting on upgrading, and over 4.5% claim they're never going to upgrade to Windows 11. While never upgrading to Windows 11 is a bold goal given that it's going to dominate PCs for the next few years, it's not impossible. After all, a lot of Steam users are still opting for Windows 7. And keep in mind how many people never saw Windows 8 for even a single day.
Windows Central Newsletter
Get the best of Windows Central in your inbox, every day!
Robert Carnevale is the News Editor for Windows Central. He's a big fan of Kinect (it lives on in his heart), Sonic the Hedgehog, and the legendary intersection of those two titans, Sonic Free Riders. He is the author of Cold War 2395. Have a useful tip? Send it to robert.carnevale@futurenet.com.
Sometimes you must modernize. Windows has been seen as insecure for ages due to being backwards compatible at all costs... it's finally breaking that and creating a more modern OS requiring modern security. Modern being something that has been available for a while already...

Tho the security has absolutely nothing to do with the "more modern OS". Windows 11 is Windows 10 with a filter. Read around on social media like Twitter. Majority still thinks Microsoft's security reasons are poppycock.

Oh yes Twitter. Thats bound to be where reasoned debate goes on. :)

It's not just Twitter. Logic about windows 11 is split in all kinds of directions. People are either sure or absolutely confused or stuck in the middle being a lemming following what everyone else is saying.

Anything less than an 8th gen processor can't do the necessary security. Remember SPECTER and MELTDOWN? MS has done a poor job communicating this Sometimes it's good to leave the old behind.

My 3yr old Surface Laptop with i7-7660U says the CPU isn't compatible, but when I go to the list of approved CPU's that it says for me to check, it's listed there as compatible. My TPM is turned on and that wasn't the issue. Kinda sad that MS won't even support their own hardware that came loaded with Windows 10. Yet my last laptop was a Samsung that came with Windows 7 and I was able to upgrade that to Windows 8, 8.1 and 10. I guess in 4yrs when Windows 10 isn't supported I'll have to buy a replacement device if they don't allow for my Surface Laptop to be upgraded.

Sorry to hear that. Sounds like a clever way for them to sell more hardware. Windows 12 should drop in 2027 so make sure you buy a good model.

It may be the TPM version? But if you manually check everything and it all fits the requirements then it sounds like a bug. It doesn't automatically mean Microsoft is "milking" people or doing something malicious. Plus they can't make you not upgrade it, you can still do it with the media creation tool to do a clean install. Now the question of what happens after that is different, whether they may limit updates or just make you sign an additional agreement. I don't remember what the official answer was.

Yeah, my 3 year old 2-in-1 isn't compatible either, but I'll just stick with Windows 10 for a couple more years and then upgrade my system.

I can easily understand pcs from 7+ years ago not being "compatible", but it's frustrating when literally all 6 or 7 PCs at home aren't compatible as well as a few thousand at work because they are all gen 6 or 7 intel CPUs (Skylake and kabylake cpus) that work perfectly fine. At least 10 will get updates for a few more years.

I bought my sb1 in 2016 and genuinely it's awesome. There's no real reason to upgrade. Maybe 2025

This happens everytime whenever new Windows announced. Majority of Windows 10 users were affected by this OS. IMO, MSFT should force pre Windows 10 users to upgrade their legacy hardware and lock their OS remotely. Although they know who's using which Windows and which one is pirated.

managed to install it on a Mac Mini (Late 2012) 16GB ram and a 860 EVO SSD... No bootcamp, just a straight fresh install. Tweaked the installation ISO as described online and everything works perfectly fine, for now at least. Its a headless home server anyway so its not doing anything too complicated.

What's this tweak you speak of?

"Tweaked the installation ISO as described online" It's probably the one described online, that you could find for yourself in 30 seconds or less if you bothered to look.

I think a more accurate statement would be that out of all the computers in our homes, we can only upgrade 75% of them. I've already upgraded two but the others are just too old. It is ironic that my 6 year old computer is fast enough for Microsoft Flight Simulator but not good enough for Windows 11.

It's almost like speed and security are two different things.

Just buy or upgrade your pc.
is the ones how is mad about this thinking buying a 6+ years old phone run a12 right out of the box??

My 3 year old PC isn't compatible according to Microsoft so... it's pretty crap.

What is the percentage of users in the Dev/Beta program for the Win10 install base? I'm thinking a lot less than 36% so the adoption rate of WinCentral users isn't indicative of a trend. The poll should have an additional line, who has installed Win11 but wishes they could roll back to Win10 except for the headache of reinstalling all their apps and recovering data. I tallied upgraded to Win11 but I wish I never tried it as the payoff is not there. Been seeing a lot of watchdog timer crashes vs. none in Win10 ever.