Netgear Orbi RBK50 vs. Netgear Orbi RBK40: Which should you buy?
We're a virtual company made up of tech experts from across the globe. We live and Windows PCs and their accessories, including routers, and use plenty to find the best picks for you.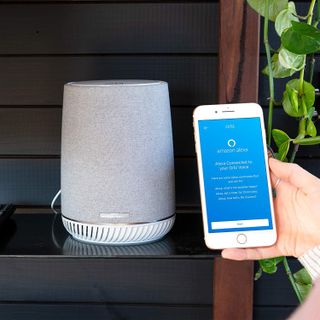 NETGEAR Orbi RBK50 Router & Satellite
Two in one router

While RBK50 is the pricier option, but it's capable of extending your WiFi coverage while also offering better backhaul and wireless performance.
For
Up to 5,000 sq ft coverage.
Better backhaul.
Parental controls though Circle with Disney Smart.
Against
Buying the whole package is pricey.
Budget option

The RBK40 edition covers 1,000 less square feet, but it's great if you're on a budget since it's about $100 cheaper than RBK50. Circle by Disney is also available, for parents who want parental controls on their internet options.
For
Cheaper than the RBK50.
Router still compatible with expansions.
Parental controls though Circle with Disney Smart.
Against
Up to 4,000 sq ft coverage.
Looking at the two options of the Orbi Home routers and satellites you might say they look pretty similar (and they definitely do). The real work is behind the plastic of the device, so let's see what's under the hood.
NETGEAR Orbi RBK50 vs. NETGEAR Orbi RBK40 tech specs
Swipe to scroll horizontally
Header Cell - Column 0

NETGEAR Orbi RBK50 Router & Satellite
NETGEAR Orbi RBK40
Performance
AC3000
(1733 + 867 + 400Mbps)
AC2200
(866+866+400Mbps)
Coverage
5,000 sq ft
4,000 sq ft
Wireless standards
Radio 1: IEEE®, 802.11b/g/n 2.4GHz, 256QAM support

Radio 2: IEEE®, 802.11a/n/ac 5GHz, 256QAM support

Radio 3: IEEE®, 802.11a/n/ac 5GHz, 256QAM support
Radio 1: IEEE® 802.11b/g/n 2.4GHz, 256QAM support

Radio 2: IEEE®, 802.11a/n/ac 5GHz, 256QAM support

Radio 3: IEEE®, 802.11a/n/ac 5GHz, 256QAM support
Front Haul Antena
2x2 on 2.4GHz
2x2 on 5GHz
2x2 on 2.4GHz
2x2 on 5GHz
Back Haul Antena
4x4 (1.7Gbps)
2x2 (867 Mbps)
Memory
4GB Flash
512MB RAM
4GB Flash
512MB RAM
Ports
Router: 1 WAN, 3 LAN

Satellite: 4 LAN
Router: 1 WAN, 3 LAN

Satellite: 4 LAN
Beamforming
2.4 & 5GHz bands
(1733+866+400Mbps)
2.4 & 5GHz bands
(866+866+400Mbps)
Performance
Both of these options have the memory space for 4GB flash and 512MB of RAM so you don't have to worry about the stability of your internet connection with either of these routers, especially since they both support beamforming. If you look further into it, the RBK50 has a backhaul antenna that supports up to 1.7Gbps while the RBK40 supports only up to 867 Mbps. This is important when it comes to your bandwidth and will allow the RBK50 to transmit data at significantly higher speeds. Chances are if you're just getting a new router for your home, you won't need the added support unless you have a lot of company over or you do a bit of online gaming.
But that's not the only reason that Orbi RBK50 is about $80 more in price. The RBK50 offers an extra 1,000 square feet of coverage for your household. While the RBK40 only offers up to a total of 4,000 square feet, the RBK50 offers up to 5,000 square feet. So if you're working within a smaller house, or apartment, the RBK40 will do you just fine. For those of you with larger houses or multiple levels, I would spring for the RBK50 instead.
Features
All Orbi expansions are compatible with both of these routers. There is an indoor expansion to bring you another 2,500 square feet of coverage, as well as an outdoor expansion that is safe to hook up in your backyard that also offers up to 2,500 feet of extra coverage. If you want to watch some Netflix while relaxing in the pool, don't worry, Orbi's got your back.
There is also a speaker option called Orbi Voice. This speaker works basically the same way a Roku does, boosting and pulling its own signal to make sure you have the best connection for the music you want to hear. The Orbi Voice even has Alexa and Google Assistant built in. It acts as an add-on satellite for your device, so not only is it boosting the signal of itself, but it's making your WiFi better too.
Any of the Orbi devices, whether its the routers, satellites, Voice, or expansions are incredibly great looking. Their sleek design makes it very easy to blend in with any environment while also providing you with amazing coverage. So spread them out across your home and upgrade your internet and style.
Orbi RBK50 is for the best performance
If you're on the move to upgrade the WiFi and make your Home a little smarter the RBK50 might just be the one for you. Between Alexa and Google Assistant giving you voice control options, this is the best router of the two for a connection that will make sure everyone in your house is happy.
Go all out
NETGEAR Orbi RBK50 Router and Satellite
More space, better connection

With this mesh system, you get 5,000 square feet of coverage and up to 3.0Gbps on your internet speed. There are eight total Ethernet ports between the router and satellites, and even the ability to take it a step further with the indoor and outdoor expansions.
Orbi RBK40 is for the best price
Bottom line, if the lure of a larger square footage doesn't entice you than you'll be just fine getting yourself the RBK40 to save yourself a few bucks. You still get the parental control options and the connection is still great.
On a budget
Less money without sacrificing too much performance

Faster internet speeds to fit the budget of your average home. Still compatible with Orbi expansions, or using it for yourself for some online gaming.
Get the Windows Central Newsletter
All the latest news, reviews, and guides for Windows and Xbox diehards.
Essa Kidwell is an expert in all things VR and mobile devices who can always be found with an Oculus Go, a Pixel 2, and an iPhone 7+. They've been taking things apart just to put them back together for quite some time. If you've got a troubleshooting issue with any of your tech, they're the one you want to go to! Find them on Twitter @OriginalSluggo or Instagram @CosmeticChronus.