Network Data is a universal Windows 10 app to track all your usage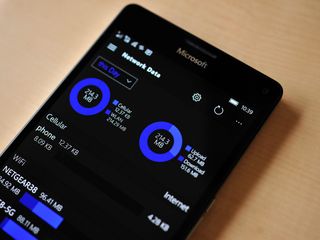 For many people, an unlimited amount of data is not a common feature in their part of the world. Whether it is on a mobile phone, tablet or laptop keeping track of how much info your computer sends and recieves could be important for keeping in line with your data cap.
Windows 10 and Windows 10 Mobile make tracking your data usage easier, but for some it is not enough. Step in Network Data to help fill in the info gap.
Network Data
Building off of Window 10's Data Usage feature the Network Data app goes a bit further by letting you break down data usage by the network device. The app is made by the same developer behind WiFi Tool, which is also an excellent app for monitoring Wi-Fi networks on your phone or PC.
Options include letting you view data by cellular versus Wi-Fi and with the latter, analyzing by particular Wi-Fi networks. Additionally, you can view data usage over time, filtering by all time, this month, this week, day, or even the past hour. Tapping each network interface presents a nice graph with upload and download data.
Finally, under Settings, you can switch themes (light versus dark), language, Live Tile design, and Notifications (e.g. to be notified on network connection and disconnection).
Like Birthday Hub the app for Network Data runs on phone and PCs and looks fantastic. Its usage is limited to those who need such information, but for many on a restricted data plan, it is an invaluable addition to your app library. Network Data runs for $1.39 and is well worth the cost. WiFi Tool is $1.99.
Daniel Rubino is the Executive Editor of Windows Central, head reviewer, podcast co-host, and analyst. He has been covering Microsoft here since 2007, back when this site was called WMExperts (and later Windows Phone Central). His interests include Windows, Microsoft Surface, laptops, next-gen computing, and arguing with people on the internet.
10 is not baked yet, yet no apps come for 8 (8.1) anymore :)

No point in investing in dying Silverlight.....

Why would anyone spend months developing an app for an OS that is being phased out?

By developing a Universal app for Windows 8.1 & Windows Phone 8.1 their app will reach more users because it would run on Windows 10 and Windows 10 Mobile as well as Windows 8.1 and Windows Phone 8.1. It would actually be smarter to develop for the "dying" OS.

Not when the majority of phones will get a free upgrade to W10M soon.

Windows 10 for PC has been out for months already.

What are you doing over there man! Keep on saying that win10 is not baked while we use it as a daily driver

That guy is an obvious troll.

I hoped that it was free. For how long will I be able to use it as a free trial?

Got this yesterday & its worth paying for...imho

Well not everybody is rich enough to spend money on apps. These features are inbuilt in android. Though i hate android buy it has a lot of features that windows phone still needs. This is so ironic Microsoft's PC is the king in computers and is very flexible but the king of mobile os is android and it too is very flexible. I think maybe MS should make its os same as pc. Very flexible just like a pc better than android.

Well not every developer has the free time to spend months developing apps for no benefit whatsoever. "Refuse to spend money on apps" --> "Hey, how come WP doesn't have any apps?"

Rich enough to spend money on apps? You must be a VERY poor guy if you can't even afford change money on apps.

I'm pretty sure if you can afford a phone (any phone, even a budget one!), you have some money lying around for a tool like this. I literally take my small pocket change for the day and think "what app should I buy?" You're helping the devs, the app ecosystem, and you get a great app! PS: Use Bing rewards if you really, truly can't afford apps. Get points, earn credit, free apps.

There is a similar feature built in to Windows 10 Mobile? So I am guessing you are not using W10M.

Does it stops the data when it's finished??

Everything can't be free. Good work is worth paying for. I would also pay to be rid of the ads in some of the free apps.

if you cant pay the dev a half beer how are you paying your internet connection?

How will he use the App if he paid for the App and couldn't pay his internet bill though? Posted via the Note 4/Nexus 7 (2013)/Lumia 1020/Lumia 2520

Seriously, it's $1.39. That's more like the bartender's tip on a beer. Great work on your apps, and thanks for supporting the ecosystem :)

Did you download WiFi Tool when it was free a few weeks ago? It does all these

Just state what's not true don't be lazy... Maybe it's something not important/ WiFi tool app tracks my data usage for the last month, week, day or hour

well, you could use the APP and find it out. WiFi Tool doesnt tell you the overall upload and download traffic, WiFi Tool doesnt have a Traffic Live Tile, WiFi Tool doesnt shows you the Traffic of all WiFi networks in one view, ....

Wait...w10m doesn't come with the MS data sense app? It's The wp8.1 app I use the most.

It does you find it in settings. No need for an app when there is already an inbuilt feature within windows 10 Mobile

Ill buy this app but imho, this should be baked into the os. The fact DataSense isn't currently in win10m is a crime.

It's baked into the OS. But this app is really better

What ?? Data sense is still not on WP10 im kinda glad i didn't update my main phone yet... WTF MS !! What others build it apps is missing from wp8.1 to wp10 ??

Yes, it's in settings under N&W:Data Usage.
Shows how much data each app used on Cellular/WiFi.

You're an Insider and can't figure out where is it? My god... First thing to do in a new OS. Go to "Settings" and go through all menus to see what's new ¬¬ Edit: Sorry, you could bought the 950/XL/550 and is not an Insider.

I'm not an insider and it's there (950XL)

I didn't say that you need to be on Insider program to have the feature, I said that a Insider member should know where to look and find these things. But, if he's not an Insider, perhaps he couldn't find the Data Sense.

Whats really lame is theres no backup restore of datasense(or anyway of handling different cards) tracking

Data sense has always been in win10mo under the name Data Usage

Thanks god !! So we can still pin it to the start screen ??

Sure you can, but it will refresh once a month...

Thats ok, its like data sense !!

What they currently have is a poor version of the wp8.1 iteration. Yes the functionality is the same but it doesn't have a live tile which for me is a major loss as I liked the ability to 'glance' at my usage. Now I have to go into the settings to see the info I need.

try the Live tile from this APP, 15 minutes refresh rate

It has a Live Tile. You need to pin from the "Settings". You can see a ScreenShot here: http://forums.windowscentral.com/windows-10-mobile/393174-best-thing-sin... (Wifi: 5.78GB; Carrier (VIVO): 43.96MB)

He's saying that the pinned data usage from settings has a poor refresh rate to be specific he mentioned once a month which I don't think is true.

Yes I am referring to the pinned tile which is lacking in win10m(im not a wp newbie, I just didn't think id need to go into so much detail). Also, I made no mention of its refresh rate which I know is definitely not once a month.

The pinned tile is not lacking in W10M. Just go to the settings and "press and hold" to pin ;) (did you see the screenshot on the forum?)

It is in win 10 Mobile. Look before you post something misleading.

OG comment, yes was misleading but my point about removal of live still stands valid. It is currently very counter intuitive to have to use a glorified 'shortcut' to see information I could previously see without interaction with the object(tile). And next time, if you read the follow up comments you would see my clarification.

This is not Good Work.. He developed Wifi Tool and now this, he shouldn't charge for all.

im not charging for all, most of my APPs are free. more than 90% of the users didnt payed WiFi Tool. It is not possible to keep an ecoystem alive without paid APPs.

True but you should merge both apps in one for $1.99 you will get a lots more sales!!

WiFi Tool is AWESOME. I gladly paid for it. I'm trying Network Data but anticipate purchasing it so long as it works well. Keep up the great work. I pay for apps that are good because good work needs to be rewarded and encouraged. Don't let turkeys like this convince you your work is not good.

it looks beautiful! even that WiFi app was gorgeous

Hey fish head im not a turkey and was only suggesting that both of them shouldn't be paid apps....

Nice work man, keep it up, your app has the functionality that should be in the data usage app that is baked into the os.

WOW! I wasn't expecting a reply from the Dev.... I promise to buy this app just because you replied... I love Wifi Tool and got it for free also. Keep up the good work.. And what other apps do you have so I can check them out.

nice move mate, believe me, its extremly hard to be an APP Dev, you have no idea. especially on Windows. I do like free APPs too, but sometimes you have to charge if you want something.

Ignore people that aren't willing to pay. Those are usually the ones that are bothersome with the question "why aren't there more apps?" Why aren't you guys supporting the devs!

This is the most important question.
"Why aren't you guys supporting the devs!"

I'm one of those people who picked up WiFi Tool when it was free, in retrospect I'd gladly have paid for it, have used it to troubleshoot WiFi issues in several locations already. Thanks man.

keep up the good work m8. dont listen to those free loaders ...

Helgor no need to explain yourself to those people complaining about a $1.39 app! Keep doing what your doing and keep getting paid! I know you and many developers work extremely hard. Thanks for supporting W10 and having a presence in the forum. Best of luck to you!

App pricing is the funniest debate. Folks want minimum wage to be $20. They pay $6 for a cup of coffee. I've loaded both of your apps referenced here. I bought them. And I still haven't bought you 1 cup of coffee. :)

Wow. The complaining over a tiny app fee!!! I'm going buy this app just because of the moaning and groaning. Plus its a fine app for which I am grateful.

Wonderful app like all of Helge!

Sounds really interesting.

Being able to see how much data you've used on specific wireless networks is oddly satisfying.

Super app.. Much better than the inbuilt Data usage app in wm10..
Thanks for sharing, dan.
Kudos to the developer

This is the problem with MS, these features are better on older OSs, esp 8.1 features had better implementation of features

Daniel, you confused me with the out of blue comment regarding Birthday Hub.

me too, i believe he wanted to point to WiFi Tool

Guys! how do i scan the QR code in Windows 10 Mobile. There is no option in Camera> lenses. Before 8.1 has it.

3rd party app is required.

Great job! Nice work done with the app. Keep making these!

Why not just make a built in app work as it should and there would not be a need for this one? It is a nice app though...

I used to use DataSense which was part of WM 8. It worked fine and it was free. DataSense is not included in WM10 though. ??? Not sure why MS has left this out.

Uh, I think it's pretty clear that Data Usage, the replacement for Data Sense, is included in W10M. On a different note, from some of the posts I read everyday, I think the biggest threat to W10M is the group of high maintenance princesses that complain about an app - sometimes even when its free. People, if you like the OS then let's get out, support the devs (they need money too), and offer some constructive criticism back to MS. For all of the problems I hear about here, I believe that Android and iOS have just as many...

Guess i didnt know about Data usage. And here I am complaining about MS because i thought they left it out... But it does sort of point that MS keeps changing apps, names, etc and it can confuse people. Present company included.

I cant buy it everytime it sas an error on theere side how do i resolve this ????????

Nice app - just bought it (we do need to support app developers). One feature that would be nice to see is tracking cellular data remaining on my monthly limit. It would be nice to have it on the app main page but I see that info is one click away by using the gear icon which takes me to the OS data usage screen. It really becomes more useful if data remaining was displayed on your live tile.

i will add this feature in a future update

nice app i got it a few days ago. saw it on twitter. haven't used it all that much yet.

Tried it. It works. Bought it. ☺
Windows Central Newsletter
Get the best of Windows Central in in your inbox, every day!
Thank you for signing up to Windows Central. You will receive a verification email shortly.
There was a problem. Please refresh the page and try again.