WiFi Tool for Windows 10 goes free for a limited time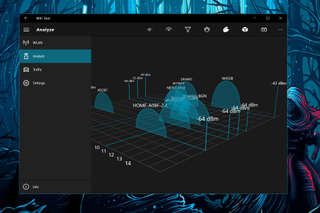 WiFi Tool, the Windows 10 app that allows you to analyze the wireless networks you connect to, has gone free for a limited time in the Windows Store. Normally priced at $1.50, WiFi Tool allows you to filter, sort and group available networks, switch between networks instantly, monitor your network traffic and much more. It offers both 2D and 3D visualization, showing you how far you are from the network, as well as both a light and dark theme for you to toggle between.
On the mobile version, you'll have access to a Live Tile that can display customizable real-time information for you. If you're interested in grabbing WiFi Tool while it's free, you'll want to act quick as this deal appears to end around 7 p.m. EST on January 15.
WiFi Tool is available for Windows 10 and Windows 10 Mobile.
Download WiFi Tool from the Windows Store (opens in new tab)
Windows Central Newsletter
Get the best of Windows Central in in your inbox, every day!
Jared started off writing about mobile phones back when BlackBerry ruled the market, and Windows Mobile was kinda cool. Now, with a family, mortgage and other responsibilities he has no choice but to look for the best deals, and he's here to share them with you.
Why should I waste any pennies on this?

It's free? So your question is just weird.

They either noticed it very late or it was a very short term "deal" to boost downloads/traffic to it.

that way it's even dumber, to post an article about this offer few hours before it ends...

Time is money..so he has a point (for himself) ;-) I understand..don't agree..just understand

The app shows Free Trial, and the app cost $1.49, how long is the free trial?

Yes, why would you waste 0 pennies...

Because some people know how to benefit from a WiFi analyzer, and this one looks promising. Plus, it's free - download now, and maybe later on you might want to use it so you already have the license to download again for free

As a Systems and Network Administrator, I'm incredibly happy to have just found this app and would gladly spend many many pennies on it.

Well it's free at the moment so.... I got it weeks ago before it was free and it was worth every penny. The graphical display made it pretty clear that my closest neighbors were running on overlapping channels with my WiFi network. I changed my channel to a less congested one (again the graphical display helps a lot when trying to determine which channel is ideal) and I haven't had a dropped connection since. Previously, I was having some issues which is why I went looking for a good app in the first place.

You and others who are like you are the reason we have an app gap, I can purchase this without a second thought

The only reason for the app gap is the market share. If it had anything to do with people not wanting to buy apps (something that exists just the same on other platforms) you would at least have the free apps (like Snapchat, bank apps, etc.) There's a reason most app developers switched to the freemium model

A developer would ignore the market share if the users were more supportive, all most of us do here is to complain about apps' prices if not apps we say the phones are overpriced just because an Asian manufacture sells cheap inferior quality stuffs that lack updates.

Hmmm, that sounds like you don't know the uses of a good wifi analyzer tool. Or read the article and ut two and two together. Which is fine. But know it can be very useful for the pennies, definitely.

Its years away from being on the level inssider is

Make it universal. We need it for free on mobile ;)

it is universal and available on mobile, for free. i just nabbed it.1st on my PC, then went to the my library section and there it was on my 950.

You dont gain lisence for it? so when reseting your phone you wont be able to download it again for free?

Thanks @ashram appreciate it.

seems some people need to be spoon fed info :(

You're optimistic if you think spoon is enough..

it is a w10 universal app! so also works on w10m

I love this app. And... He is one of us! Support our own!

Seems good. one thing I liked seeing when I opened the store was the original price, and then it said how it's free for now, and how many hours left are for the deal to end. I don't even think I would use it much but it's free so, nothing bad to get it.

This app is actually really nice! Its worth the $1.49 so having it free is a big bargin imo. Thanks to the dev who made it. Keep up the good work! =D

Wow, this is a great find! Beautiful design and good functionality - I dont think you could do this with the old Windows Phone 8 APIs, so this its definitely good to see on UWP... :) Ive just analysed my connections at home and changed my wifi channel now I can see the interference - made a huge difference!

Since the app is useless for getting these apps now, maybe this will work? https://www.windowscentral.com/e?link=https2F%2Fclick.linksynergy.co...

Thanks for the heads up on this.

I planned on changing my wifi channel this weekend to see if I could get less interference when using the Microsoft Wireless Display Adapter. I hope this helps out.

Fantastic find! I was waiting for the quality WiFi scanner for ages.. Finally! I'm really happy now. Thanks WC!

I just grabbed it. It says 4 hours left.

Anyone else getting this error? WiFi Tool Error init_WifiSwitch: App is not allowed to control radios. EDIT: Fixed by enabling 'Let apps control radios' in Settings->Privacy->Radios.

please go to windows settings -> data privacy -> rdio and allow this app to use your wifi, and it will work

Cool! Maybe now I can see if neighbors are using my Wifi! :P

FYI: Your router admin page should have a menu that shows connected devices (and tools to block those devices if needed).

Make sure to write this to disk and NOT the sd card! Performance takes a hit with SD.

Maybe if you have a cheap SD card

Class 10 128gb. Not the fastest, but among the fastest.

Cool. I went with this. Fast... less capacity. Can also handle 4K video. http://www.amazon.com/gp/product/B013CP5IWO?psc=1&redirect=true&ref_=oh_...

NIce. I knew that one was slightly faster, but the 128 gb one was on sale for $50, which saved me a ton of money. I rarely take 4k vid, and mostly use it for pictures, apps, and music. (music takes up a ton of local storage) I've saved the phone's disk for more important things though. How are you liking the 64gb one?

I've been waiting for something like this for a long time. I got it for free, but can i retro pay? It's worth it if the dev continues to work on it.

I predict this one will come handy, got some visual glitches but its great functionality, very nice to see it being universal

Why can't I tell the web store to buy and download to my device for my PC like I can for my XBox? I don't have windows 10 at work.

Its been like that since w8

Hey Microsoft I wanted data sense to have these features, and if you're reading this now it's too late!

Is this just a copy of other app WiFi Commander in a store or what? I saw it before http://www.windowscentral.com/moodflow-series-tracker-and-wifi-commander-are-3-universal-apps-im-excited-about

Awesome (for the price)! Thanks WC for letting us know and to Helge for offering it.

Missed the sale by 28 min :/

Can I download it for Windows phone 8.1? Is there a way to get around this?

Basically wp8.1.x just doesn't have the support for this kind of thing

It was midnight here when sale started and now its gone :( its in "india" :)

HI, im the Dev, i still got 5 or 10 free promotional codes, hurry up and contact me to get one in case you couldnt download it for free. HelgeKeck@hotmil.com

Fantastic App Helgor. Let me ask you, do you have any interest in building a PDF/EBook reader? We need a really good Windows 10 universal reader

currently not thinking about this, want to finish this app and than i have to finish another app im working on. dont knwo what im going to do after it

Well, if you need some ideas, let me know.

Thanks helgor I downloaded it... :) 5stars

Its not showing me free..it says $1.49 and Free Trial. is it location based free?

Have you seen the rating on this app? Its off the hook!

Epic fail not to get the press release out *before* the deal ends.

Running the app in Windows phone will suck the life out of your phone connection and everyone around you. Continuously sniffing your neighbors wifi networks will probably drive them crazy as you reduce their performance while the analyzer is running. It's bad manners and probably against the rules of the service provider.

"against the rules of the service provider." what service provider, the dude/dudette that owns the WiFi router next door? *LoL* (If they are a provider of services, why do they refuse to give me the password to their home WiFi already :/ )

#SimplyLoveThisApp this app is a freaking steal at 1.50. People who don't see the value in this app please stop your whining.

Very nice app, but I disabled the background agent run, seems to drain the battery off during nite. There is no need for this app to have agent running, while not in forefront..

Why is the 'download app' link gone in the Windows central app? The link to the app never works. Always giving me errors connecting to the store... Lumia 950XL

As an IT tech, I found this app to be interesting enough to download. I pulled out my 640 (which I keep only as a "test" phone in my backpack) and went to get it. Tapped on FREE TRIAL, and my download queue shows "Starting download". That's all. Can't get it out of the queue in order to retry. Seems everything I try with WP10 has some issue. As always, I wind up turning off the phone and putting it away for a few more weeks. While not anywhere close to perfect, it makes me appreciate my iPhone. How long should I have to wait for a download to start?

you are an IT tech and don't understand the basics of the insider program? Windows 10 mobile is not released for the Lumia 640 unless you use the insider builds, that are ...well basically beta software, so it will have issues.. that is the point of it. Rapport the issue and it might get fixed. (I'm a rocket scientist .. "mom, why is the sky blue"?)

Lumia 640, 950, 950XL...what difference does it make? The same build is shipping on the retail 950 and 950XL, and you're telling me something as basic as downloading an app from the app store, this far along in the "beta" cycle, is an issue? MY POINT EXACTLY. At this point, some semblence of basic, stable functionality should be present, which to me, is the ability to download an app from the Windows Store. In response to your silly analogy, I'm an IT tech, not a app developer.

You think that if you where App developer you would understand technonlogy better? The app developer, if you did not understand that, has nothing to do with issue downloading from the store .. you are not downloading the app from their personal computer, or server.. the app it self can not be causing an issue before it is downloded either. Lumia 950 and lumia 950 XL where build for Windows 10 mobile, and shipped with Windows 10 mobile.. 640 was not . It is not the same hardware in a 640 as in 950XL for instance .. so even if it was the same build, it does not mean same issues would exist or happen. sersiously are you really an IT tech? As what .. a Engadget editor, a The Verge employee? ...or are you maybe an Apple "Genius"
Windows Central Newsletter
Thank you for signing up to Windows Central. You will receive a verification email shortly.
There was a problem. Please refresh the page and try again.