New apps for Xbox consoles unlock more entertainment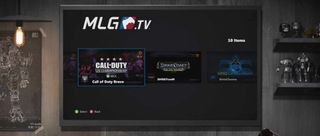 The Xbox team are bringing new experiences to both Xbox One and 360 consoles. Whether you're a hardcore gamer, sports fanatic or into your feature films, the Xbox team is working hard to make both consoles the centerpiece of your media collection. Improving on features and content already available, Major League Gaming will be rolling out alongside the likes of Encore. Head past the break for the details.
Serious gaming just got more serious
Are you into your gaming? Seriously, do you even game? We ask because anyone who is familiar with the competitive side of gaming will have heard of Major League Gaming (MLG). The Major League Gaming app for Xbox 360 launched yesterday, enabling those with Xbox Live Gold subscriptions to enjoy matches in Australia, Canada, the UK and the US.
The app opens up the world of MLG in the living room, showcasing the best gamers competing in popular video games. As for Xbox One, an official MLG app will be hitting the next-gen console later this year. More details are expected at a later date.
Catch the ball with MLB for Xbox One
Not to be confused with Major League Gaming, Major League Baseball (MLB) has just launched on Xbox One. Again, those with Xbox Live Gold subscriptions and MLB.TV premium accounts will be able to enjoy HD streams of every season game through 2014. Full game archives will also be available, just in case you miss a match.
It's a sweet solution for those who enjoy kicking back and enjoying a live game or two.
Encore Play and Movieplex Play come to the 360
Both entertainment apps have launched on the Xbox 360. If TV and movies are more your thing rather than sports and gaming, these apps from Starz provide access to more than 1,500 premium movies, as well as additional TV episodes of favorite shows. Xbox Live Gold subscription is required along with an account through a participating TV provider to enjoy content on your console.
Both apps are available in the US and will be coming to Xbox One "in the future".
EPIX almost ready with Xbox One app
Lastly, Xbox 360 owners who also hold accounts with Time Warner Cable Digital Basic and Preferred TV can access content at no additional cost through June 18th. All that's required is for you to sign in with your TWC credentials and you're done. More details on the Xbox One app will follow (just like the other entertainment apps above).
With the Xbox One billed as the one box you'll need for multiple types of media, this is yet another strong move by Microsoft and Xbox. We look forward to more support in other markets, including the UK (hello, Virgin Media).
Source: Xbox (opens in new tab), via: Major Nelson
Windows Central Newsletter
Get the best of Windows Central in in your inbox, every day!
Rich Edmonds was formerly a Senior Editor of PC hardware at Windows Central, covering everything related to PC components and NAS. He's been involved in technology for more than a decade and knows a thing or two about the magic inside a PC chassis. You can follow him on Twitter at @RichEdmonds.
I'm still waiting for HBO Go :'(

+ xbone! And HBOgo for windows phone!

Get these kind of apps for Windows 8

What did I miss? The TWC app has been on 360 for a long time. Not on the One, though...?

most apps aren't. the XB1 app ecosystem is like a freaking dead zone. This is why my 360 gets used more than the XB1: apps.

XBOX ONE needs all the 360 apps ASAP. There's only a few apps on the ONE.

XB1 apps needs to be a type of apphub sumission period.

I have an Xbox 360, but never game. Use it for media only, think they need to do more. Have catch up services for 3 out of 5 tv channels in Australia. But need 7 and 9. They need to work harder, that is why i pay my Xbox gold subscription!

You pay your subscription, to game online. Its as simple as that. The rest is just a bonus. In saying that, those additional 2 apps would be most welcomed!

oh what I do for a NHL Gamecenter LIVE app. I emailed them about it but they're just cozy with their 360 app...get with the times!

Just wondering... Does MLG have an app out? (iOS, Droid)

Still waiting on HboGo and Starz

I'm still waiting for Crunchyroll and NHL Center Ice!

freakign crunchyroll ships PS4 on day one, and still hasn't shipped XB1 much less win8. But who'd make them really? how does one go about makign an XB1 app, call 1800-ballmer?

Stream your anime through IE (most have a special site)

IE is no replacement for a native app as you know, and IE on xbox is particularly freaking terrible.

And they make u pay for it which is why my xbox has not been powered up since beginning of december.

I know WHT right? It's like they had a meeting in redmond where the goal was: "hey how can we make our console as unatractive as possible". They succedded.

"Full game archives will also be available, just in case you miss a match." How you know UK Editors aren't experts on America's pastime. Baseball's not played in matches, sir.

Plex please. Followed by Sky Go. I fear neither are forthcoming.

The sad part is that if they let the WP and Win8 community create basically xbox apps via a visual studio template, app-hub submission and and SDK that is built on top of XAML/C# or C++, we would have 10K xbox apps by now. I guess they are just waiting on sony to do it first because you know, it would KILL them to lead for once.

No CS GO and mouse support? Really?

How about they get freaking HBO GO out already!!!!

Would like a Cineplex app for Xbox one so I can access my ultra violate movies..

Vudu links to ultraviolet, in case you weren't aware of it. You have to sign up on web first and add cc, BUT you don't get charged anything unless you buy/rent something. Actually when I signed up I got 5 movies free.

Still waiting for NHL GameCenter. :(

To be honest the lack of Apps on the One is disappointing. What is more disappointing than the slow trickling of Apps is ones that I had on the 360 such as SkyGo and the BBC iPlayer not and still not being on the One.

Also whilst I am moaning they should be converting some 360 classics to the One and making them available especially if they already own them. This and the lack of Apps are key things missing if they want to increase adoption.

I was wondering what was up with apps on Xbox One..

I love Microsoft products, what I don't like is that Microsoft takes too long to implement updates and new features. Xbox One should have been ready with many apps and many fixes. Its should not take months to get it together. Microsoft should hold off on announcing new updates till its time for it to be available the next day. Don't announce things months in advance.

Major League Bummer-- MLB.TV is subject to local blackout restrictions. ie as a Cubs fan in the Chicagoland area, I can't watch a Cubs game thru this app. Cord-cutters beware!

YES MLGTV APP! Finally thank god!

Not seeing any of them listed yet in the Xbox One app store. Are they supposed to be available already, and I just am unlucky on the roll out, or are they coming this week or something?

Watched an mlg player from optic once. Dude was so mad and rage quit halfway through match. This mlg app must be an early Aprils fools joke, right? I've played against a few so called "pros" in mw3. Terrible players, went so negative you'd think it was their first time playing CoD.

Im still waiting for Skype for the 360, was kind of shitty that they removed the messenger, come on dont make me buy a xbox one just for that.

Still no WWE Network? Come on man.

My most wanted apps are Spotify and Plex! And XBMC, but that's highly unlikely.

SPOTIFY on second plane would be AWESOME
Windows Central Newsletter
Thank you for signing up to Windows Central. You will receive a verification email shortly.
There was a problem. Please refresh the page and try again.