New Call of Duty: Advanced Warfare trailer gives us more Kevin Spacey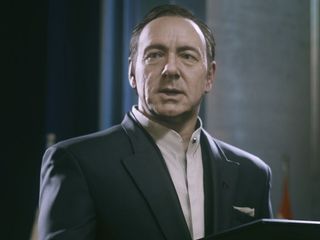 Activision has just released the latest trailer showing off more of the single player campaign from the upcoming near future first person shooter Call of Duty: Advanced Warfare, showing us more of Jonathon Irons, the CEO of the fictional private military company Atlas that's portrayed, in both voice and likeness form, by actor Kevin Spacey.
The three minute trailer gives us an idea of this near future world, where a global terrorist threat has attacked nuclear reactors in five countries at the same time. Governments have now turned to Atlas to help keep the peace but it's clear that Irons is going a little power crazy, and that should give Spacey a ton of room to work with in his voice and motion capture performance.
The trailer shows soldiers wearing jetpacks, using advanced weapons and even accessing small bug-like robots for recon missions. The final part of the trailer shows a couple of seconds of multiplayer, with a full reveal promised on August 11.
Call of Duty: Advanced Warfare will be released on November 4 for the Xbox One and Xbox 360, among other platforms. and, as with previous games in the series, Microsoft's consoles will get first crack at the post-release DLC content for the game. What do you think of the new trailer?
Source: Call of Duty on YouTube
Windows Central Newsletter
Get the best of Windows Central in in your inbox, every day!
Someone please make it stop!

Is it tickling you...lol...I won't stop :-)

I think it's cool! :D ..but I'm not sure it's relevant to WPcentral..

I'm still unsure about this one. Ghosts was horrid, and MW3 (the last thing Sledgehammer worked on) was one of the worst multiplayer experiences I've ever played. This looks OK, but all we're basically getting is the looks of a Michael Bay movie (tech and explosions everywhere), nothing to show that the core mechanics that have been broken for so long are getting fixed. The thing is, it's getting close to the point where I just don't care anymore. There are a lot of quality games coming between late-2014 and mid-2015, and finding out this game looks good at launch means I've probably already bought 2-3 other games to tide me over, so I'd skip this game. Hopefully the reveal is great, because I'd like an excuse to get CoD again.

Just get Battlefield, tons more fun

Battlefield's claim-to-fame is launching with oversized multiplayer and more bugs than pixels. I'm not interseted in pounding my head on a wall because the game keeps crashing. I was actually offered a free copy on PC, but turned it down because I knew that it was too broken to function. I could consider Hardline, but then again, I already have PAYDAY, which that game seems to want to copy.

I haven't played COD in forever, and swore by battlefield. But BF4 has made me not buy into the hype. I'm gonna skip the next one, at least initially. I've got sunset overdrive, MC collection and destiny (all more my style shooters) to tide me over anyhow.

I really disliked the Destiny beta, the game felt too small for an MMO and too bland for a new shooter franchise. I'm definitely getting Halo at launch and will get Sunset Overdrive at Christmas or something, but the next games I'm looking at are sports and racing--The Golf Club, Forza Horizon 2 or The Crew, and NBA 2K15.

Play TLOU, no joke it is for me the best story telling game ever made

LOL, I'm not buying another console to play a game that doesn't interest me in the first place. I'd never touch that game with a 10-foot pole.

Lost all interest in this Franchise and Activision. Battlefield 3 and 4 have been excellent all round.

Agreed BF4 was rushed out but the crashes are gone and the bugs mostly ironed out. The CTE shows DICE are actively supporting the game with new ideas and the dlcs are generally brilliant. The game was (& still is) very ambitious and to me a lot more fun than the frag fest that is call of duty. Learn the maps, the game modes and you can hop into a game to suit your mood.

I will get it. I love cod mp

Shut up and take my money. Wait. How is this Windows Phone related?

.. and its the same Dx9 crappy engine

Its even more worst than Ghosts. Posted via Windows Phone Central App

Ghost was just stupid on so many different levels.
Advance warfare is gonna be awesome. BTW I'm focusing on the campaign plot and not necessarily gameplay.
Multiplayer will be interesting. I'd love them to introduce multiple "real-world" factions to have some kind of role on maps. Perhaps AI guerilla warfare groups attacking both teams in different locations on the map. Just to sh¡t in Atlas' cereal PS. The Spacey persona is perfect

Meh. CoD lost me as a customer with Ghost. Too many other games to use my limited time on. Maybe I'll pick it up a few months after launch at half price.

Oh my, look at those facial animations!
This is so next Gen. Wth who cares?!
Make an innovative game and maybe Ill pay more attention

One thing Activision is great at, is the deadlines they promise. Microsoft can take a leaf out of their book.

I'm looking forward to The Division...I'm tired of the same old cod....bf4 bugs really pissed me off...I'll wait and let someone else take my money

For the first time, i think im going to skip COD. Destiny will have most of my gaming attention.

I never played a Call of Duty game until I tried out the free mulitplayer demo they launched back in March. My immediate reaction was that it was slow and boring in comparison to Titanfall. I doubt that will change here. That said, Titanfall has no single-player experience and, based on the trailer above, I must admit, this game looks intriguing. Of course, I'll wait for the reviews to see if it lives up to the hype first, but if it does, I may renege on my promise to never buy a Call of Duty game ever. Having said that, the fact that Halo: Master Chief collection will come out one week later probably means that this Call of Duty game will have to be amazing for me to get it.

Call of Duty needs to go back to WW2 or even WW1 as its the centenary year. All this futuristic crap is becoming boring, give me a real battle from a real war, with Spacey playing a role, and I will give them my money. As said previously, Ghosts wasn't great and that was due to a poor storyline more than anything. Wake up Activision before your CoD bubble pops!

Can't wait to play this on my WP8.1!!!!!!!!!!!!!!

It's only for Console and PC
srsly
Windows Central Newsletter
Thank you for signing up to Windows Central. You will receive a verification email shortly.
There was a problem. Please refresh the page and try again.